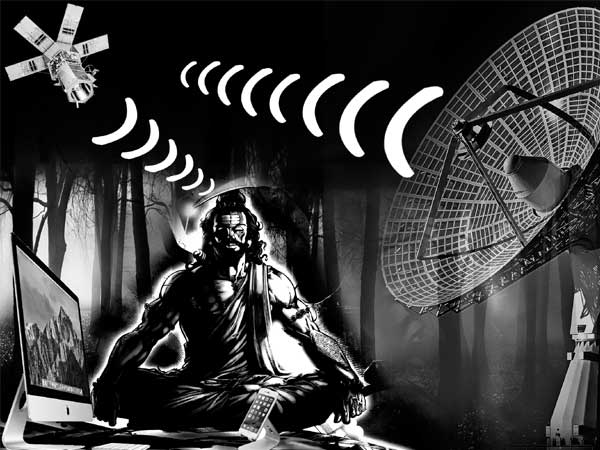 Steeped in Sangh moorings, BJP leaders across the country are mocking science and scientific finds, asserting with great delight that most of what is available contemporarily is replete in Hindu mythology, opening up a great debate and of course leaving a trail of humour in its wake on socmedia. In what has become a recurring theatre of the surreal, the BJP leadership top down is constantly claiming that - We Were First - with a catalogue of shocking comments

​ BIPLAB DEB, TRIPURA CM SAYS INTERNET EXISTED DURING MAHABHARATA
APR 17, 2018 - "The Europeans and the Americans may claim that it is theirs, but it is actually our technology."
"How can he see through Sanjay's eyes? There was technology available at that time... internet was there, satellite communication was there."

SATYAPAL SINGH: Minister of State for Human Resource Development
JAN 15, 2018 - "There are mantras which codified 'laws of motion' much before it was discovered by Newton. Hence it is essential that traditional knowledge must be incorporated in our curriculum."

JAN 19, 2018 - "Darwin's theory (of evolution of humans) is scientifically wrong. It needs to change in school and college curriculum. Since the man is seen on Earth he has always been a man. Nobody, including our ancestors, in written or oral, have said they saw an ape turning into a man."

SEPT 19, 2017- "Why are students not taught that before the Wright brothers, an Indian called Shivkar Bapuji Talpade was the first to invent the airplane? This person invented the plane eight years before the Wright brothers. Are our students taught these things in IITs or not? They should be."

VASUDEV DEVNANI: Rajasthan education minister
JAN 9, 2018 - "We all have studied that Newton gave the law of gravitation, but delving deeper, we can find that Brahmagupta-II came up with the theory of gravitation 1,000 years before (Newton). Why don't we include this fact in the curriculum?"

Mar 19, 2015- "If you want to save yourself from cancer, there is a need to protect cows because cow urine is effective in curing cancer completely."

HIMANTA BISWA SARMA, Assam Health Minister
Nov 22, 2017- "People cannot compensate for the sins that are committed against the Unseen. Many often wonder why a person has been afflicted by cancer, why a young man has been affected by cancer. But when you see the background, it will be found that it is divine justice, nothing else."

RAMESH POKHRIYAL NISHANK, Former chief minister of Uttarakhand
Dec 4, 2014- "Today we are talking about nuclear tests. Lakhs of years ago, Sage Kanad had conducted a nuclear test. Our knowledge and science do not lack anything."
"Astrology is the biggest science. It is, in fact, above science. We should promote it."

RADHA MOHAN SINGH, Union minister for agriculture
Sept 15, 2015- "The idea behind yogic farming is to empower the seedswith the help of positive thinking. We should enhance the potency of seeds by rays of parmatma shakti."

PRIME MINISTER NARENDRA MODI
Oct 28, 2014- "We all read about Karna in the Mahabharata. If we think a little more, we realise that the Mahabharata says Karna was not born from his mother's womb. This means that genetic science was present at that time. That is why Karna could be born outside his mother's womb."

"We worship Lord Ganesha. There must have been some plastic surgeon at that time who got an elephant"s head on the body of a human being and began the practice of plastic surgery."

"Indian rishis using their yoga vidya would attain Divya Drishti. There is no doubt that the invention of television goes back to this."
—Prime Minister Narendra Modi in a foreword to a book written by Dinanath Batra

VIJAY RUPANI: Gujarat Chief Minister
Aug 27, 2017- "Each arrow of Lord Ram was a rocket. What ISRO is doing right now (launching rockets), Lord Ram used to launch in those days,"
"When Lord Hanuman could not pick up the right herb which can cure Lakshman, he brought the entire mountain. We wonder what kind of technology existed back then which facilitated the shifting of the mountain. This is also a story of infrastructure development."