,

Thursday, 14 September 2017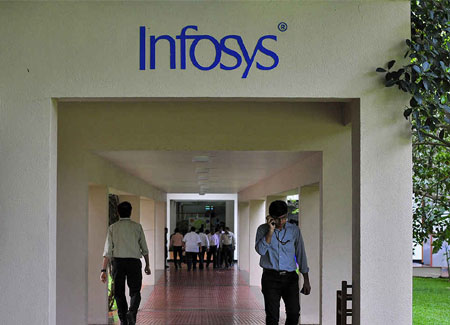 Infosys is opening an innovation hub at Raleigh in North Carolina, which will hire 2000 American workers by 2021. This will be part of the 10,000 jobs created by the company for local workers in the US.
The North Carolina Technology and Innovation Hub will open in early 2018 and occupy 60,000 square feet space in a new facility. It has the capacity to house 500 workers representing another step forward in the company's previous announcement to hire American workers in the country. The company plans to hire the first 500 workers in Raleigh innovation hub within two years and the rest will be hired by 2021, the company said in a statement.
Earlier, in May the company had announced that it will recruit 10,000 Americans by setting up four such hubs across the US by 2021 to focus on new technologies, including artificial intelligence , machine learning, user experience, emerging digital technologies, cloud and big data.
Most of the Indian companies have planned to increase their headcount in the US after President Donald Trump came out with an executive order on H1-B visas in April. In case of Infosys, clients in North America account for about 60 per cent of the f the $10 billion company's revenues. Earlier, Infosys had announced its first such hub in Indiana state, where 2000 jobs will be created.
Towards its plan of hiring 10,000 jobs over 2 years, the company has already hired close to 1,200 American workers, the company said.
The North Carolina Technology and Innovation Hub is part of Infosys' investment in the future of the US tech workforce and will focus on delivering cutting-edge solutions in artificial intelligence (AI), machine learning, data and advanced analytics, cloud and big data," said Ravi Kumar, President and Deputy Chief Operating Officer, Infosys.
"The Hub, located in the innovation incubator of Raleigh, will support the development of co-created solutions for our valued clients in North Carolina and the surrounding region. Attracting and retaining a skilled and motivated workforce is crucial to Infosys, and the new Tech Hub—along with the robust training program we are developing with the North Carolina Community College System and proximity to tier-one research universities—will expand Infosys' existing North Carolina network to better serve clients in the IT, life sciences, clean technology and advanced manufacturing sectors," he added.
New hires will include recent graduates from the state's prestigious network of colleges, universities and community colleges, as well as local professionals who will benefit from upskilling through Infosys' training curriculum. The company is partnering with the North Carolina Community College System to create a custo­mized programme. Infosys Foundation USA has provided multiple grants for classroom technology and computer science training to teachers and schools in North Carolina and it has benefited 4,220 students across 82 schools.