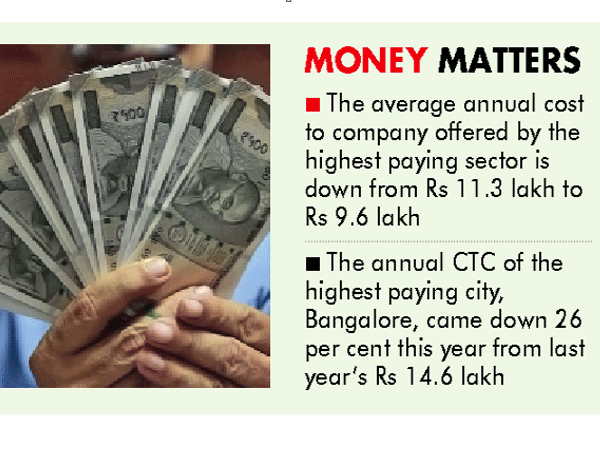 Annual salaries across sectors and cities have come down this year by around 30 per cent, finds a survey by Randstad India. While the average annual cost to company offered by the highest paying sector is down from Rs 11.3 lakh to Rs 9.6 lakh, the highest paying city saw a drop from Rs 14.8 lakh to Rs 10.6 lakh.
As per the salary trends report by Randstad, professionals in pharma and healthcare industry topped the chart of highest paying sectors, paying an average annual CTC of Rs 9.6 lakh across all levels and functions. Last year, FMCG had topped the list with average annual CTC of Rs 11.3 lakh. FMCG, which is at the third slot this time, is offering only Rs 9.2 lakh. IT sector, which has fallen to fourth position this year from last year's third spot, is paying Rs 9.1 lakh against Rs 9.3 lakh last year.
In case of cities, the IT capital Bangalore retained its top position as the highest paying city in the country, with an average annual CTC for talent across all levels and functions at Rs 10.8 lakh. However, the annual CTC of the city came down 26 per cent this year from last year's Rs 14.6 lakh.
On an average, there is a 30 per cent drop in salaries across sectors and regions, finds Randstad. If the average annual salary was Rs 13 lakh last year across sectors and regions, it has come down to Rs 9 lakh.
The average salaries have shown a downward trend from last year owing to the twin phenomenon of a decline in mid-level roles and an increase in the number of entry-level roles. The entry-level roles of the jobs analysed increased from 38 per cent last year to 51 per cent this year, thereby pushing down the overall salaries. Though more jobs in the entry-level have brought down the average salaries, Randstad finds this will create a larger talent pool and will be good for the industry in the future.
Further, in sectors like IT, the traditional jobs have witnessed a drop in salaries by 8 to 15 per cent. While the new technology jobs have found themselves a place in the "hot jobs" list, the largest chunk of jobs in the IT sectors are still the traditional ones.
Apart from specialist doctors topping the chart of 'hot jobs,' most of the other jobs fell under the category of 'new technology.' This included solutions architects, product engineering specialists, blockchain experts, iOS specialists, artificial intelligence/machine learning specialists, AWS specialists, robotics process automation, core java professionals and android engineers.
A specialist doctor with six to 10 years of experience earns an average cost to company of Rs 18.4 lakh due to the higher requirement of these professionals in the healthcare space. Due to the increase in demand for specialist doctors and professionals with R&D skills, pharma and healthcare also topped the chart of sectors that paid the highest. Solutions architects drew an average annual CTC of Rs 15.1 lakh followed by product engineering specialists with Rs 14.8 lakh.