Even as the war raged in Kashmir, with the Indian Army trying to repel the tribal lashkars, harried Kashmir policy specialists were using their heft to keep India's strategic and defence interests alive and not give Pakistan any border concessions under UN supervision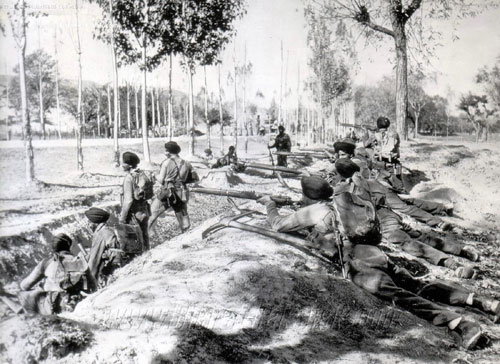 When you drain a swamp years later, you are bound to find skeletons. For Pakistan, Kashmir remains an unfinished business of the Partition. India's position obviously differs for it holds legal, moral, ethical and constitutional validity over the truncated state of J & K which acceded to India on October 26, 1947. But ancient dogs use ancient tricks; Pakistan's game plan hasn't changed in all these 70 years, for its original boilerplate was 'Operation Gibraltar,' where tribal lashkars were used as invading forces to pouch Kashmir Valley. It continues to use proxies to avenge the perceived loss of Kashmir to India. As in chess, more so in war, you have to anticipate your adversary's tactics by playing scenarios in your mind. Attack or defence? The way forward has to be first mapped out in the head and then channelised as a stratagem on the board or ground. As the war between India and Pakistan carried on over 1947 and 1948, till the United Nations finally declared cessation of hostilities by declaring Truce on January 1, 1949, both India and Pakistan like two combatant Grandmasters pondered over their next decisive move.
Hitherto unpublished secret and confidential documents available with this writer show the fluid state of play and how harried but resilient Indian officialdom was focused on making the accession a success even as it repulsed the lashkars and Pakistan Army regulars. Using a combination of steely resolve and intent, Kashmir policy mavens strategised constantly to keep ahead of the eight ball. Pakistan, past master at throwing a curve ball using its Janus face contemplated subterfuge and trickery through diplomatic heft stayed in the mix to make our life difficult. The sequencing of events given below is appearing in public domain for the first time:
CCD No.2400
This telegram will NOT be distributed outside Indian Government Departments or Headquarters or retransmitted even in cipher other than OTP without being paraphrased.
SECRET
Telegram
From: Foreign, New Delhi
To: Principal Secretary,
Jammu & Kashmir Government, Srinagar.
DTO – March09 NIL
IMMEDIATE.
No.2400. For Narayanan from Vishnu Sahay. Following telegram has been informally handed over to us by Chairman of Commission. BEGINS. For Gen. Delvoie from McCone. Pak army reports that the following names — 13 civilians are imprisoned in Srinagar and will be shot or hung within the next few days for subversive activities against the (Sheikh) Abudllah Government. Names of civilians are (1) Raja Inaat Ullah (Zaichaldara), (2) Raja Habibullah (Zaichaldara) (3) Khwaja Ghulammohd Kar (Sopor), (4) Mohiddin Pakta (Sopor), (5) Khwaja Ghulam Mohiuddin Pandit (Sopor), (6) Ghulam Ahmad Karnai (Doabagh), (7) Sheikh Aftikhar Ahmad (Srinagar) Inspector of Customs, (8) Ali Mohd Wakil (Amira Kadal Srinagar), (9) Abdur Rashid (Sahid Gang Srinagar), (10) Mohd Iqbal (Sahid Gang Srinagar), (11) Ghulam Nabi Bazaz (Maharaj Gang Srinagar), (12) Abdul Mahid (Islamabad), (13) Wakil Mr Naqi (Hawal Srinagar). Pak Army has referred matter to Pak Government to attempt to prevent such action. Such action has NOT been taken against corresponding persons this side. ENDS.
Please let us know the facts immediately. Obviously the matter must be considered in the light of possible retaliation on other side.
-------------
Min. of State (Mr.V.Sahay) (6), PS to PM, APS to PM, (3) & JSX.
The following day, PM Nehru's PS, Dwarka Nath Kachru, dashed off a missive to Vishnu Sahay on this sensitive issue which could blow up into another major flashpoint, given the incendiary situation on the border. In parallel, the problems on the Truce Line and points of strategic importance for India were actively being pushed very aggressively. Every inch of territory was being contested by India and Nehru himself was in the knowledge of day to day affairs through his Kashmiri Pandit PS and eyes and ears Kachru. Very much like a game of chess, moves were made to safeguard Indian defence interests. And all this was happening with regular breaches of the UN ceasefire by Pakistani regulars. It was tenuous and tense, much like walking on egg shells.
TOP SECRET.
-------------
10th March, 1949
My dear Mr. Sahay,
I have just received a copy of your telegram to Narayanan, the Chief Secretary to the Kashmir Government. I am very well acquainted with the matter referred to by you in this telegram. Those people are being tried under the Enemy Agents Act. Their trial started in the beginning of January and a special tribunal is trying their cases. The trial is still going on and the manner in which Pakistan seems to have raised hue and cry about it obviously reveals their intention to take some retaliatory measures openly. You are perhaps aware of the fact that dozens of Kashmiris both Muslims and non-Muslims have been shot dead by regular Pakistan Army in Muzaffarabad and other places before and after May, 1948. Charges of treason were brought against all these people and they were taken into public squares in the towns and shot dead in the presence of vast crowds who were forced to collect in order to witness the scene.
Yours sincerely,
Sd/- Dwarkanath Kachru
-------------
Shree Vishnu Sahay, I.C.S.,
Secretary to the Government of India for Kashmir Affairs,
South Block, New Delhi.
12th March, 1949
My dear Mr. Sahay,
Please refer to my letter of the 10th, I have now received some more details from Bakshi Sahib regarding the trial of the 13 civilians in Kashmir.
The Enemy Agents Act was promulgated in the beginning of 1948 perhaps in the month of February. These 13 people were arrested about three months before the ceasefire order became operative on the 1st of January, 1949. Further that their trial started in the month of December, 1948, about a month before the ceasefire.
2. The trial of these people is going on in a properly constituted court of law and it will be many months before the trial will conclude. The government of Kashmir is not taking any particular interest in the trial in the sense of prejudicing the decision of the court. The matter being sub judice they are unable to furnish any further information about the evidence at their disposal.
I also understand that the Kashmir Government have sent you a communication regarding this matter
Yours sincerely,
Sd/- Dwarkanath kachru
-------------
Shree Vishnu Sahay, I.C.S.,
Secretary to the Government of India for Kashmir Affairs,
New Delhi.
SECRET.
MOST IMMEDIATE. 10th March, 1949
Dear Mr Sahay,
Reference our conversation on phone this morning. I have since had a talk with Bakshi Sahib (DY CM J & K) on phone and he is more or less in agreement with what I told you earlier.
2. The district of Gilgit, as you are well aware, has two distinct divisions. There is first of all the Western and North Western Division of this area which was given on a ninety years lease to the British Government by the Maharaja of Kashmir and was called the Leased Area or the Political Division. The letter from the Prime Minister, therefore, perhaps refers to this area alone. The second division of Gilgit is the civil area and comprises of the whole area of Gilgit minus the territories mentioned above. Roughly speaking, the borders of this area on the side of the Political Division are formed by Bunji, Nanga Parbat and Babusar on our side. This area was directly administered by the Kashmir Government through a Wazir-i-Mazarat. The civil administration in Gilgit had headquarters at Bunji. Subsequent to the transfer of power on 15th of August, 1947, the whole of the Political Division of Gilgit was restored to the Maharaja of Kashmir and the whole area of both these divisions was administered by the Kashmir Government through a Governor.
Skardu and the whole of Gilgit, as I have already stated earlier, were directly governed by Pakistan subsequent to the invasion through their political officers and Frontier Constabulary, etc. It was not even governed in the name of "Azad Kashmir". The province of Ladakh never came under even partial control of the raiders.
3. Regarding our claim to the area between Gurez and Burzil Pass, we have not only direct but circumstantial evidence also. Even before the ceasefire our political workers were living and functioning in this area and the civilian population lived peacefully with these people. After the ceasefire, our patrols went there to look into the conditions and see if it was necessary to keep any permanent patrols moving up to that place. Since no Pakistan troops and raiders were present there our Army Chiefs did not consider it necessary to station any garrison at Burzil. The patrol then came back and reported the conditions as normal. We also expected that Pakistan would honour the ceasefire arrangements but contrary to our hopes we discovered that Pakistan had sent up a patrol to this area thereby violating the ceasefire agreement. Naturally, therefore, it goes without saying that the people of these areas and our workers who were there before the ceasefire will testify to the non-existence of Pakistan troops or influence in this area before the ceasefire.
Our Army Command perhaps might be able to furnish some more evidence on the point.
Yours sincerely,
Sd/- Dwarkanath Kachru
-------------
Shree Vishnu Sahay, I.C.S.,
Secretary to the Govt. of India for Kashmir Affairs,
New Delhi.
RESTRICTED
8/AC.12/TC/SR.2
14th March 1949
ORIGINAL: ENGLISH
UNITED NATIONS COMMISSION FOR INDIA NAD PAKISTAN
SUB-COMMITTEE ON TRUCE AGREEMENT
SUMMARY RECORD OF THE SECOND MEETING.
Held on Saturday, 12th March 1949 at 10.00 a.m. in New Delhi
Present Chairman
Mr Williams (United States)
Mr Samper (Colombia)
General Delvoie (Military Adviser)
Major Gen. Kalwant Singh (India)
Lt.Col.J.Sataravala (India)
Mr V Sahay (India)
Major General W.J.Cawthorn (Pakistan)
Brig. Sher Khan (Pakistan)
Mr M. Ayub (Pakistan)
Mr S.M.Sharif (Pakistan)
Mr Marin (Secretariat)
The chairman explained that the records of the Sub-Committee meetings would be only brief summaries containing the principal points and the decisions of the sub-Committee. He thought that the definitive record of the work of the Sub-committee and of the representatives of the High Commands would be an agreed line of demarcation and, ultimately, a truce agreement signed by both Governments. If the representatives of the two Governments wished to keep more detailed records of the meetings themselves they were of course free to do so. However, he said, if there was a particular point they wished to be sure was included in the official record of the Commission, they could request that this be done, either through a memorandum or a verbatim record.
General Kalwant Singh (India) told the Sub-committee that he had been unable to prepare an answer to the Pakistan statement given by General Cawthorn at the first meeting of the Sub-committee because he had found it too closely connected with political issues and that consequently had to refer the statement to his Government.
General Cawthorn (Pakistan) replied that he understood General Kalwant Singh's difficulty but expressed his disappointment that he could not return to Karachi with a definite statement from the Indian Government. Referring to his prepared remarks of the previous meeting, General Cawthorn said that he wished to explain the basis upon which he had made the statement regarding the declared objective of the truce agreement being to create a military balance between the forces on each side (document 8/AC. 12/TC.1, page 2). This, he said, had been the understanding of the Pakistan Govt. as a result of Mr Korbel's explanation of the 13th August 1948 proposals to representatives of the Pakistan Govt. at a meeting held with the Commission on 31 August 1948 in Karachi. General Cawthorn said he wanted the Sub-committee to know that although his remarks had been drafted on his own responsibility after arriving in Delhi, he had had a definite basis for making the statement he did concerning "military balance". After consideration of the two maps submitted to General Delvoie by the representatives of the two Govts, the line which Pakistan had proposed as a "demarcation line" to replace the "ceasefire line" was accepted mainly in the following areas:-
(a) North and East of Poonch;
(b) from Tithwal to Keran;
(c) from the North of Sonamarg towards the South of Marol and in the direction of the glaciers.
There was disagreement concerning the following:-
(1) two Indian posts located in the vicinity of Patrana (18 miles south, south-east of Naushera) which would have to be withdrawn eastwards if the line was accepted;
(2) one Indian post located near Aniwas (1 mile north-west of Jhangar) which would also have to be withdrawn east of the line.
It was agreed that in these two places the local commanders with the help of UN Observers would endeavour to reach an agreement keeping in mind that wherever possible the demarcation line would be held along easily recognised features.
(3) The sector between Chakothi and Tithwal.
General Kalwant Singh said that the Indian High Command had been informed of the results of the conversations held between the opposing local commanders regarding this sector. As soon as he had completed his study of the problem he would transmit his opinion to the Military Adviser.
(4) The section from Keran to the Tilel Valley.
General Kalwant Singh said that the Indian High Command awaited information from General Thimaya about the disputed positions located in that area. He would transmit to the Military Adviser as soon as possible the opinion of the Indian High Command regarding these sectors.
It was also agreed that (A) positions and lines sown on the maps submitted were approximate only, firstly because it was not possible to pinpoint positions on a map of the scale used, and secondly because exact positions or lines could only be drawn on a map after reference on the ground; (B) while military forces on both sides should be free to move about on their side up to the line of demarcation, there would be no shifting forward of their present positions of any static posts or positions.
Genl. Delvoie said that he would have maps prepared for the two govts indicating the line of demarcation agreed upon at the present meeting, with a different type of marking indicating those areas still in dispute.
Genl. Cawthorn said that he expected that the next joint meeting of the Sub-committee would be held in Karachi, but that he did not believe it would be of any use to hold that meeting until the Indian Govt. was able to offer its written comments concerning the Pakistan statement or was able to offer alternative proposals.
The meeting rose at 12.10 p.m.
NOTE: Any corrections to this provisional summary record should be submitted as soon as possible to Mr S.Lourie.
NOTE ON THE MEETING OF THE TRUCE SB-COMMITTEE HELD ON 12th MARCH 1949
1. At today's meeting of the Sub-Committee of UNCIP regarding establishment of a line of demarcation between the opposing forces the origin of Pakistan's claim that the establishment of a military balance during the period of the truce agreement had been settled became clear. General Cawthorn, their Deputy Chief of General Staff, referred to the minutes of a meeting of August 31, 1948, which was held at Karachi and at which were present Sir Zafrullah Khan, Mr. Colbel the then Chairman of the UNCIP, Mr. Huddle, Dr Lozano, Mr. Graeffe and Dr. Siri. At this meeting apparently Sir Zafrullah Khan raised the question of how the Azad held territory was to be protected during the period of the truce if the Pakistan army undertook to withdraw. Mr. Colbel then apparently referred to 35 Battalions of Azad troops and said that that would keep the military balance. It was alleged that the other members of the Commission agreed with this views. I raised the point that no information about these conversations had been conveyed to us and thereupon Mr. Williams, Chairman, said that the Commission's practice was that the definitive portion of all conversations and negotiations was that contained in the resulting resolutions, aides memoire and in the report to the Security Council. A lot was said in conversations which could not be held to contain the final decisions. Mr. Ayub, on behalf of Pakistan, said that the aide memoire practice was started by the Commission only in December 1948. At earlier meetings notes were kept by the Secretariat of Pakistan and of the Commission, and that the notes taken by the Commission's Secretariat would support Pakistan's version of this meeting. General Cawthorn claimed that the proceedings of this meeting at Karachi could hardly be considered as mere conversations. The matter was for the time being disposed of with a statement from Mr. Samper that this was a matter for the Commission as a whole and for the two Governments and not for the Sub-Committee.
2. The above provides the clue to the claims made in Pakistan's communiqué and to their criticism of what S.Baldev Singh said to the troops in Kashmir about Pakistan troops clearing out and Azad troops being disarmed.
3. Our line obviously is that we are not bound by what the Commission said at the August meeting in Karachi and that the operative documents are the resolutions and the aides memoire.
4. The next point raised by Mr. Ayub was about the preparation of a record of the meetings. Mr. Samper said that it was not necessary to follow a policy of having approved memoranda for every meeting. All that was necessary was to record the conclusions.
5. The meeting then discussed the two maps. Details of the points of agreement and the points of disagreement will be recorded in a note which the Chief of General Staff is sending us. In brief the main point of disagreement continues to be the area between Gurez and Burzil. Pakistan claim that though their regular troops were not there, their irregular troops known as Chitral Scouts were in occupation at the time of the 'ceasefire' and the fact that an 8 men patrol went to Bagul before ceasefire and came back does not establish our occupation. Our claim is that there were no hostile soldiers in this area at all and the fact that our patrol went there safely and came back and recovered some ammunition shows that effective occupation was ours. We shall hear further from the Sub-Committee on this.
6. The dispute over the mountainous region to the north of Kashmir (excluding Gilgit) still remains and it will have to be taken up with the Commission at a later stage.
7. At the end the Chairman said that the Commission had received a reply from the Government of India to General Cawthorn's note and was preparing a reply which would be sent to both Governments. It would then perhaps be possible for the General Staff on each side to discuss truce terms. General Cawthorn suggested that the next meeting should be at Karachi and that at that meeting there should be specific proposals from India regarding the truce agreement. It was agreed that when the broad question raised in the Government of India's reply had been settled, General Kalwant Singh will get in touch with the Sub-Committee to indicate when further discussion on the truce terms should be held.
Sd/- Vishnu Sahay
Secretary for Kashmir Affaris,
12.3.1949
-------------
March 19, 1949
My dear General,
Reference your DO of 14 March 1949 forwarding a copy of the summary record of the second meeting of the UNCIP sub-Committee on Truce Agreements vide UNCIP secretariat no.8/AC.12/TC/SR.2 of 14 March 1949.
1. Reference your para.4(c). Para 4(c) of the Summary Record of the second meeting of the UNCIP Sub-committee on Truce Agreements saying that the ceasefire line, as proposed by Pakistan "from the north of Sonamarg towards the south of Marol and in the direction of the Glaciers" was accepted, is not correct. The ceasefire line as drawn by us runs along features different from those proposed by Pakistan. As no agreement was reached regarding the ceasefire line in this area, I represent that this fact be recorded in your summary record. This means that the ceasefire line from Keran up to Marol for the Burzil Pass still remains unsettled.
2. Reference your para.4(3) – Please refer to our signal no.220918/MO3 of 12 March 1949 to Pak army. A copy of this signal was also sent to you through Secretary, Ministry of Defence. We have made it clear that the recommendations made by the local commanders in Tithwal area were beyond the scope of "local adjustments", as agreed upon between the two Commanders-in-Chief during their meeting on 15 January 1949. The matter is still under active consideration.
3. Reference your para.4(4) – Please refer to my d.o.no.15458/1/Mo3 of 16th March 1949, under which I forwarded to you a copy of General Thimaya's letter to Western Command regarding his views on the Burzil, Tilel, Followai and Kel areas. The views of Army HQ India regarding the disputed ceasefire line from Keran to Marol via the Burzil Pass, are contained in this Headquarters letter no.15456/1/MO3 of 11 March 1949, paras. 3(a) and (b), which was forwarded to you by Secretary, Ministry of Defence. I consider that suitable extracts from the above quoted letter, which you will remember I read out to the sub-Committee on 12 March 1949, should be included in this Summary of Record.
4. I shall be grateful if all above amendments are included in the Summary Record of the meeting of 12 March 1949.
Yours sincerely,
Sd/- Kalwant Singh
-------------
Lt. General M. Delvoie,
Military Adviser to the UNCIP,
Baroda House, NEW DELHI.
Extract from D.O. letter No. 15458/1/Mo3, dated 20th March 1949, from Maj-Gen. Kalwant Singh, Chief of General Staff, Army Headquarters, India, New Delhi, to Vishnu Sahay, Esq., I.C.S., Secretary Kashmir Affairs, Ministry of States, New Delhi.
Reference your D.P.No. 1-13 of 18 Mar
5. I have made a note of the views of the JAMMU and KASHMIR Government as intimated to you by Mr NARAYANAN, regarding our claims to LUBGIRAN, KERAN, DOARIAN, SHARDI, BURZIL Pass and GILGIT WAZARAT. Our ceasefire line map has been shown to you quite often and a copy of this has been forwarded to the Secretary, Ministry of Defence, under our covering D.O. letter o.15458/1/MO3 of 17 Mar 1949.
(a) Regarding LUBGIRAN. We have already claimed this area and you will find all the details regarding this in our letter no. 15458/1/MO3 of 11 Mar 49 para 3(c ). A copy of this letter is already with you. You will remember that our claims to the ceasefire line from CHAKOTI to TOTJWAL are still under dispute and remain unsettled.
(b) Regarding KERAN. This area is already with us.
(c) Regarding DOAROIAN. You will notice that this locality is on the RIGHT bank of the KISHENGANGA River and although we have claimed the entire watershed of the KISHENGANGA River, as per the suggested demarcation line drawn in accordance with para 1(b) of our letter No.15458/1/MO3 of 11 Mar 49 (copy with you), I do NOT think that we have much hope of getting this place.
(d) Regarding SHARDI. This area is NOT within our ceasefire line, but you will remember that it has been claimed in the suggested line of demarcation . PAKISTAN claim to have a post at SHARDI and I am doubtful if we will get this area, unless the UNCIP decide to give to us all the territory as claimed under our suggested demarcation line.
(e) Regarding our military claims to BURZIL area. You are already aware of all facts connected with this issue. Details of this are contained in para 3(a) of our letter No.15458/1/MO3 of 11 Mar 49 (copy with you).
(f) Regarding our political claims to the GILGIT WAZARAT. Reference our conversation of 18 Mar, I hope that you will be sending a memorandum on the subject to the UNCIP.
-------------
SECRET
22nd March, 1949
My dear Mr. Sahay,
1. I have got the following papers from your Office yesterday evening and I thank you very much for the same:-
(a) Notes on the meeting of the Truce Sub-Committee held on 12th March, 1949.
(b) Extract from D.O. Letter No.15458/1/MO3, dated 20th March 1949, from Maj-General Kalwant Singh to Mr Vishnu Sahay.
(c) Summary Record of the second meeting of the United Nations Commission for India and Pakistan sub-Committee on Truce Agreement held on 12th March, 1949 in New Delhi.
(d) Copy of a letter from General Kalwant Singh to Lt.-General M.Delvoie, Military Adviser to the UNCIP.
2. Could you now please send me copies of the following :-
(a) Copy of General Kalwant Singh's D.P. letter No.15458/1/MO3 of 17 March, 1949 to the Defence Secretary regarding the ceasefire line.
(b) Copy of letter No.15458/1/MO3 of 11 March, 1949, regarding Lubgiran, from General Kalwant Singh, to which he refers in his letter of 20th March, 1949.
(c) Copy of letter No.15458/1/MO3 of 11 March, 1949, from General Kalwant Singh, regarding Doarian.
(d) Copy of General Kalwant Singh's letter No.15458/1/MO3 of 11 March, 1949, regarding our military claims to Burzil area.
3. Bakshi Sahib is coming this afternoon and he is anxious to discuss these matters with you. I hope you will be able to spare some time for a lengthy talk with him sometime tomorrow. He is meeting the Prime Minister at lunch tomorrow.
Yours sincerely,
Sd/- Dwarkanath Kachru
-------------
Shree Vishnu Sahay, I.C.S.,
Secretary to the Government of India For Kashmir Affairs,
Ministry of States,
New Delhi.
SECRET
18th April, 1949
My dear Mr. Sahay,
After receiving a copy of the Truce Formula from you yesterday I contacted Bakshi Sahib on phone and explained to him the various points contained in these proposals. His reactions to these proposals – and I am sure he was expressing the opinions of Sheikh Sahib and his other colleagues also – were extremely unfavourable and he asked me to communicate with you immediately and to say that acceptance of these proposals would be disastrous for Kashmir. He also told me that he had already sent you a note regarding these matters.
Regarding the Truce Line he said that we should stick to the lines indicated by us in the Memoradum and that the maximum concession that could be made to Pakistan was to give them important areas in the region of Haji Pir and in Muzaffarabad to the north of Shardi. Important concession had also been given to Pakistan in the Mirpur District. The mountainous area referred to in the Secretary-General's note is no doubt sparsely populated but it has very great strategic and political importance which we cannot afford to ignore. In the immediate context of the situation the loss of this area would result in a severe political set-back for the Kashmir government.
In short the Kashmir government want the whole of this area to be made over to us so that the Indian army can garrison it for purpose of defence and security and the Kashmir Government can administer it as an integral part of their territory.
Regarding the disbandment and disarming of the Azad Forces and the role of the Pakistan officers in this connection, we have not taken any decisions so far. According to the Secretary-General's note it is a matter for discussion with our army. The Kashmir Government would like to be acquainted with the course of discussions regarding this matter also so that they can also present their point of view.
Regarding the selection of the Civil Armed Force, the Secretary-General has rightly expressed the Government's inability to allow Pakistan officers to select it. I could not discuss this point in detail with Bakshi Sahib and so I do not really know what steps they would wish us to take regarding this matter. I will, however, contact him again sometime today and then let you know that he feels about it.
Yours sincerely,
Sd/- Dwarkanath Kachru
-------------
Shree Vishnu Sahay, I.C.S.
Secretary to the Govt of India for Kashmir Affairs,
Ministry of States, New Delhi.
Distribution:-
1) Hon'ble the Prime Minister, India
2) Hon'ble Shree N.Gopalaswami Ayyangar,
3) Shree Girja Shankar Bajpai, Secretary-General, External Affairs
4) Hon'ble Ghulam Mohammad Bakshi.
It is clear that while India and Pakistan were dealing with intractable problems with the Commission, Sheikh Abdullah's J & K Govt was an equal participant, even if it was absent from the formal confabultions. Kachru's role was thus crucial, for not only was he Nehru's point man in this dialogue, but was also keeping the state govt constantly in the loop. Just as he referred matters back to Nehru, deputy PM of J & K Bakshi went back and forth to Sheikh on every imponderable. The extreme rigidity of character that Pakistan exhibited during these meetings and their ability of twist facts and aspects with great aplomb made it that much more difficult for the Indian side. For India, it was expedient that a firewall was built to defend Kashmir, all imperatives were focused on doing that. As we have seen over the last 70 years, the judgmental error of going to UN notwithstanding, every nook and cranny of the Kashmir border post the Truce was vital for the same names reverberate in ISI C Wing's dreaded jihadist echo chamber even today. Pakistan proxies infil from the porous areas in Keran, Tithwal, Burzil et al and the Indian security forces who stand vigil on a concentric circle of a massive security grid continue to repel them. Deja Vu.
@sandeep_bamzai