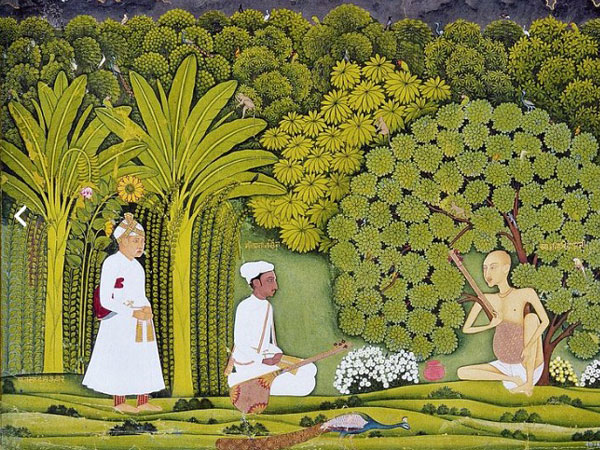 I first heard the song Diya jalao sung by K.L.Saighal from the Hindi film Tansen, when I was a toddler. My parents were fond of music and this particular record became one of my favourites after my mother told me about Tansen. I was fascinated by the thought that a song sung by him could light a diya. Just imagine! Even nature could not refuse his request.
However, it was many years later that his name came up again with my first visit to Fatehpur Sikri, Akbar's dream city. By then I had learnt all about the singer who became a member of Akbar's Navratna—his 'Nine Jewels' and the unique 'Anup Talao', was the special platform on the pond, where Tansen performed for the Emperor.
A visit to Tansen's shrine was the next step. A short train ride took me to Gwalior. The small shrine of "Sangeet Samrat Tansen" is located in a garden and next to it stands an ancient tamarind tree, which was green with new leaves, at the time of my visit. The local belief is that anyone who eats the leaves of this tree,will be blessed with a voice and the ability to sing like Tansen.
Tansen's mausoleum, consists of a rectangular elevated platform in which the marble grave is set. Around this stands a delicately filigreed pavilion with deep overhanging eaves. It is dwarfed by the large tomb of his mentor, the Muslim Saint Shaikh Mohammad Ghaus, a saintly fakir who lived in the 16th Century and was revered by people of all faiths. The tombs and countless other graves stand in this special garden, which shows signs of once having been patterned in traditional Mughal style. Ghaus' tomb is built in the shape of a large square with hexagonal towers at its four corners. The walls have elaborate carved stone latticework, each a different design and the whole structure surmounted by a large dome.
Tansen's father Makaranda Pande a resident of Behat was overjoyed when a son was born to him in 1506. He named the child Ramtanu, and was convinced that his birth was a special blessing from the saintly Mohammad Ghaus. The name 'Tansen' was conferred on Ramtanu by Emperor Akbar much later, to honour him for his command over music.
Tansen was trained in music by Swami Haridas of Brindavan, who discovered the boy when he was ten years old. Persuading Makaranda that his son's future lay in his voice, Swamiji took the boy back with him to Brindavan. It was there that Tansen learnt the intricacies of the different ragas and became an accomplished singer. As a Shishya, Tansen never forgot to honour his Guru, and returned frequently.
At Behat, Tansen practiced at the Shiva temple and it has been said that the very walls of the temple swayed to his music, so much so that the temple remains inclined to one side. Tansen is also credited with performing miracles such as making trees and rocks sway, lamps lighting up on their own and torrential rain pouring down, without any clouds in the sky.
After the death of his parents, Tansen moved to Gwalior to live with Ghaus and converted to Islam. He married another convert Hussaini, and the couple had a daughter and four sons, all of whom were musically inclined. Having heard about his musical prowess, Raja Man Singh Tomar of Gwalior brought him to court. Tansen rose to be the foremost exponent of the Dhrupad style of singing, developed by Raja Man Singh and his consort Mrignayani and was instrumental in developing the Gwalior Gharana of music. He was also court singer for Raja Ramachandra Baghela of Bandhavgarh. As his fame spread Mughal emperor Akbar invited him to Delhi and Tansen joined his court in 1552
Akbar was so taken by Tansen's music, that not a single day would pass without his listening to his melodious renderings of Ragas - many of his ragas were created by him during this period. It was at this time also that Tansen, received his title and was included among the Emperor's Nine Jewels. The water of the 'Anup Talao' where Tansen performed every day, enhanced the notes reaching Akbar's ears, on the upper floor.
Tansen died in 1589, at the peak of his popularity and was buried according to his wishes near the grave of his mentor Ghaus. His compositions carry the prefix 'Miyan' such as Miyan ki Malhar, Miyan ki Todi, Miyan ki Sarang, and the courtly Darbari Todi and Darbari Kannada and form some of the most popular ragas for exponents of Hindustani Classical music to this day. To pay homage to this great singer and perpetuate his compositions, an annual festival of music is held in the winter months every year, around the time of his death. Music lovers throng to Gwalior to attend this function which features leading Indian singers, performing his special ragas next to his Mausoleum.
Abul Fazl has the last word. As the author of Ain 'e Akbari he wrote "Tansen was the greatest singer to adorn the earth in the last 1,000 years".