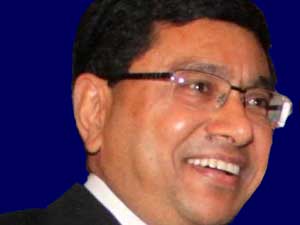 "When everything seems to be going against you, remember that the airplane takes off against the wind, not with it," said Henry Ford and Sanjay Budhia's has been a case in point. His parent company Electrometal India Ltd, which used to export steel products to the US, virtually nosedived with the US administration levying a 33 per cent antidumping duty on all its imports. The never-say-die spirit in Budhia did not let him give up. He started all over again - almost from the scratch - albeit in a slightly diverse area of 'pressed steel tank' and with just one employee. Electrometal Tanks Ltd was the only company in the private sector to start manufacturing this product and was also the first to obtain an ISI certification, a rare feat in those days. A visionary that he is, Budhia soon sensed the huge deficiency and demand for water storage tanks for smaller establishments like homes and offices. Thus came into being plastic water tanks under the Patton brand. Patton water tanks, that started its journey with then controversial ad campaign: "Are you ready for the war?.....The tanks are coming", won many business battles against it competitors over the years under his stewardship. He kept on navigating his company through newer and newer directions as prompted by his business sense, market surveys and his company's own research and development—and all globally benchmarked. Not born to an industrialist parent, he went on to become the managing director of Patton Group, a leader in the field of plastic tanks, PVC pipes pallets, chemical storage tanks etc, EMT fitting products to Fortune 500 companies with five plants in different locations. It caters to the electrical market in the US, Canada, Mexico and Middle East. With the Union Budget 2018-19 having been tabled, Sanjay Budhia, MD, Patton Group, spoke to Ritwik Mukherjee at length on the budget and his group's other plans. Excerpts:
What would be your first reaction to the Union Budget 2018-19?
This is a budget of 'Connectivity'. When I say that, I actually mean connectivity between rural India and urban India, connectivity between Bharat and India, connectivity between social infrastructure and physical infrastructure. The budget has given much needed emphasis on the basic fundamentals of social fabric- health, hygiene, housing, education, electricity on which any strong sustainable long term growth will be ensured. It gives equal importance to health and hygiene as it gives to highways.
While we see a clear focus on the infrastructure sector development in the rural areas, the plans for such development in the urban areas including wider connectivity across the length and breadth of the country have also got the needed attention in the budget.
What according you are most significant takeaways from this budget in this regard?
I would say that it is the Centre's promise of doubling the income of the farmers by 2022 and the announcement of various additional allocation and funds in this sector. And then, protection to farmers with 150 per cent increase in MSP for crops, support to organic farming, doubling the expenditure allocation to Rs 1,400 crore for food processing sector, state of the art facilities to 42 food parks, liberalisation of agricultural exports, allocation of Rs 10, 000 crore to fisheries, animal husbandries and related infrastructure.
In another innovative move, the Union Budget introduces the National Health Protection Scheme to provide benefits to 500 million people with an annual limit of Rs 5 lakh for hospitalisation. It is indeed commendable that this is envisaged as the 'largest government funded healthcare programme in the world.'
The education sector has been given a new initiative of 'Revitalising Infrastructure and Systems in Education' (RISE) which would increase research investments and infrastructure in higher education institutions with a significant outlay of Rs 1,00,000 crore over the next four years.
The job creation by the incumbent government often comes in for a flak. In fact, it is often said that the current government has failed miserably in fulfilling its promises on job creation. Did this budget address this issue?
The budget addressed job creation in a big way by extending government contribution to EPF of 12 per cent of wages for all new employees for the next three years, and also reducing the contribution for women to 8 per cent. The relaxation in the conditions for claiming tax deduction on additional employment will help to boost new job creation in the formal sector which was the need of the hour.
What about corporate tax?
The reduction in corporate tax from 30 per cent to 25 per cent for companies upto turnover of Rs 250 crore, which will cover 97 per cent of the corporate sector is a very welcome move to reduce tax burdens on SMEs. Bengal being one of the predominant states in agriculture should also benefit from the budget due to allocation and spends in agro sector. Equally, SMEs in the state due to reduced tax burden. The target to take agri-exports from $30 billion to $100 billion is very encouraging as agri-exports would be instrumental in doubling farmers income. However exporters were expecting one time exemption or at least reduction in MAT on SEZ units. This has been our pending request to revisit/reconsider which will propel gainful utilisation of the huge investments made in SEZ to the tune of Rs 2 lakh crore.
Having said everything, I would like to add that budget is not a one-day event. It is a Positive Pointer unveiling the growth agenda and unleashing the dormant growth potential of our country and its citizens.
Digressing from the Union Budget, what's new in your own company or group? Any new development?
We have just teamed up with Embassy Industrial Parks and Warbug Pincus for developing industrial parks & logistic parks, which is a new area for us. The new JV proposes to develop 1.1 million sq feet area over a 50 acre land parcel. Embassy Industrial Parks has committed to Invest Rs 1000 crore in Industrial Parks & Logistics parks in West Bengal. In the first phase itself, nearly Rs 400 crore will be invested. Embassy and Patton will jointly explore more opportunities to develop Industrial Parks & Logistics Parks in different places.
While a number of global and transnational companies are now coming to India to start their business, you have recently moved beyond borders and forayed into warehousing business in the US. What exactly are you doing there?
Yes. We have actually set up warehouses in Jonesboro, Arkansas and Norfolk, VA, Virginia in the US, which are strategically close to our customers' locations to stock customer specific products for on-time delivery so that customers remain assured that their ordered materials are available just a call away and also not being reflected in their accounts. Inventory management is done by our expert 'Alert Team', where stock levels are monitored 24x7 and replenished on real time basis to keep the Inventory updated as per prescribed volumes. Regular weekly conference calls with representatives from the same organisation based out in different countries: Philippines, China and the US ensure alignment with commitments devoid of any ambiguity. We have provided customers online portal integrated with the warehousing facilities which gives them the flexibility to create their own product requisitions as per their requirement and convenience.
Our foray into warehousing business is driven by JIT/ETA/OTD - Just in Time, Expected Time of Arrival and On time Delivery, which together, is the name of the game. It is imperative that quality products are delivered at competitive cost and on right time. Zero deviation in quality is the norm of the day.
Mind you that one has to service and sustain in the cut throat competitive international market against adverse cost factors like increasing cost of raw materials, Rupee devaluation etc. Nowadays, it is not customers' expectations but mere requirements that one cannot supply even 2 days earlier or 3 days later than the precise and specified date of deliveries. There is no room for excuses. It is "Either Take it or Leave it."
Promote to FC Interviews: