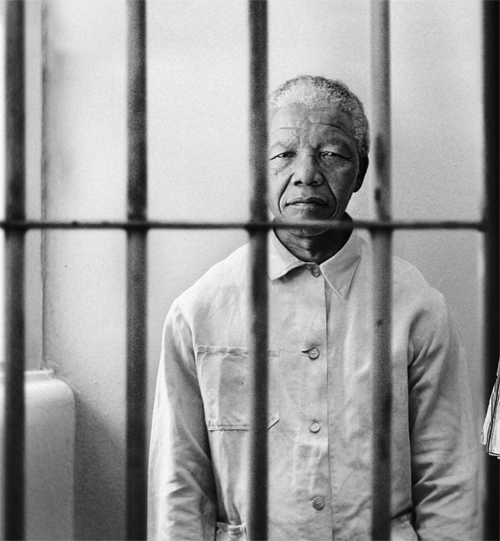 Apart from Gandhi, perhaps no other political leader has reaped the unflinching love and attention of the world as Nelson Mandela during his lifetime and beyond. A man who inspired millions across the world even when he was incarcerated for 27 years and transformed a repressive regime to become its first black president, reveals a political acumen combined with a rare charisma that's befitting a tale of epic dimensions.
Given the magnitude of veneration that the man evokes, it is very easy to fall into clichés or stereotyping when it comes to representing such a personality on the screen. Contemporary cinema is more interested in depicting the flaws and other inner demons of its protagonists; that's what makes them interesting and believable. But despite the creative perils, filmmakers have been irresistibly drawn towards the phenomenon called Nelson Mandela and several films have been made on the man with varying impact. Two memorable films that immediately come to mind are Billie August's Goodbye Bafana (2007) and Clint Eastwood's Invictus (2009).
Based on the memoirs of a prison guard who served as a censorship officer on the infamous Robben Island whose most famous inmate was Nelson Mandela, Goodbye Bafana traces the relationship between the officer James Gregory (Joseph Fiennes) and Mandela (Dennis Haysbert). "I'm in charge of the worst terrorist this country has ever seen," Gregory gloats when he first receives the posting. But through his relationship with Mandela, the officer gradually forsakes his racist views and comes to revere Madiba as he was known.
Supported by a brilliant screenplay that spans a period of 22 years — from 1968 to 1990 when Mandela was finally released — and aided by a captivating performance by Joseph Fiennes, the film manages to showcase the political agenda of the leader without being overbearing or pedagogical. The focus is constantly on the officer and the conflicts that he has to negotiate, both personal and social. Mandela serves as a mentor and catalyst only, unwittingly inspiring the man towards a more tolerant and humane view of life in a country torn apart by apartheid. By the end of the film, we can't help but draw a parallel between its two players, both victims of an unjust society, but on two sides of the racial divide that is sought to be obliterated by the leader's vision.
Clint Eastwood's Invictus takes up Mandela from the point where Goodbye Bafana leaves. "He can win an election, but can he run a country?" screams a newspaper headline in the beginning. That's the central dramatic question that the film seeks to explore when Mandela assumes power in 1994. Based once again on a memoir Playing the Enemy: Nelson Mandela and the Game that made a Nation, written by the South African Rugby team captain Josh Carlin, the film traces the newly elected president's role in inspiring a weak, unmotivated team that goes on to win the World Cup within one year of taking his office.
Unlike Goodbye Bafana, Mandela (played by Morgan Freeman) is in charge here, of a nation that is plagued by scepticism, mistrust, unemployment and inter and intra-racial violence. History has catapulted him to a role and now calls upon him to fulfil his destiny. To prove himself to his nation and also test his own worth as a leader, he chooses to back a rugby team known for its white supremacist ideals!
At one virtuoso stroke Mandela belies the age-old prejudices, surprises his most hardened critics and ignites the beginning of a new political journey seen through the struggles of the rugby team, rousing the entire nation like never before, cutting across all racial barriers. A leader is born.
Notwithstanding the creative liberties that both the films have taken, especially Goodbye Bafana, which is accused of falsification in its memoirs, what is important is the symbolism that the man represents through the films. In an age where most political leaders, lacking in any historical sense and wisdom, employ professional spin doctors to script their every move and speech, an unassuming leader like Nelson Mandela comes across as the last of the titans from a bygone era that sometimes look incredible, and definitely hard to emulate.
(The author is a Mumbai-based filmmaker, instructor and writer)