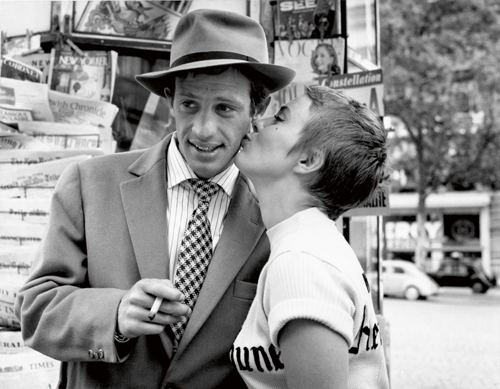 Way back in 1960, iconic French director Jean-Luc Godard in his debut film Breathless showed a man-woman relationship that was perhaps the first on-screen romance that introduced the concept of 'cool'. "Since I last met you, I slept with two other women," Michel, the protagonist who is a gangster tells his American girlfriend Patricia — and she hardly reacts.
Till that time we had films, mostly from Hollywood that steered clear off such relationships which were casual. There had to be a commitment from both sides once the hero and heroine fell in love, and even if either strayed and caused heartaches to his or her partner — they must eventually resolve the complications and reunite. An extra-marital affair or a casual relationship that involved sex carried a lot of emotional burden and consequences. Films of that time did not want to disturb the status-quo and earn the wrath of the censors.
But European films, particularly French, since Godard's Breathless and the French New Wave Movement that it engendered began to explore relationships that did not always carry the burden of commitment. The 1950s bohemian Beat Movement of the US and the Swinging Sixties counter-culture movement of UK that pervaded most of Europe and the US challenged, amongst other things, the sanctity of romantic relationships and experimented with alternative lifestyles. Before long, such attitudes began to get reflected in films, and the tradition continues till today.
French director Jacques Audiard's Rust and Bone (2012) explores such a casual relationship between Ali — a single father working as a bouncer at a Parisian night club and Stephanie, a whale-trainer (played by Marion Cotillard) whom he rescues from a brawl. They become friends. But then Stephanie loses both her legs to an accident involving the killer whales that she trains, and she looks up Ali and engages him to have sex with her to help her adjust to her new body — but with a rider: no emotional intimacy and no kissing during encounters. Ali doesn't mind. But of course, like in any good story, there has to be complications. Stephanie begins to grow jealous of Ali's sexual encounters with other women and Ali also begins to realise that there is more to life than casual sex.
It's not just the denial of love and its gradual acceptance that informs the film, but it packs in a lot of other issues plaguing contemporary Europe. It's eventually a gritty, survival story.
Fatih Akin's German-Turkish film Gegen die Wand (Head-On, 2004) tells the story of Sibel, a young Turkish-German girl who wants to marry a 40-something Cahit, another Turkish-German who has given up on life after the death of his wife and survives on cocaine and alcohol. They meet at a psychiatric clinic in a German town where both are recuperating from suicide attempts. Cahit, a perennially short-tempered man rebuffs her offer; but she has a reason: she loves parties and sex but since she belongs to a conservative Muslim family, she has to lead a restricted lifestyle. Her marriage to Cahit, also a Muslim would enable her to lead just the kind of lifestyle she covets; her condition is that they would not consummate the marriage and keep all emotional attachments out of their relationship. Cahit, after initial misgivings, agrees to the 'marriage of convenience' to help the girl and once they are married, they carry on with their respective wild lifestyles without bothering each other. But of course, they begin to gradually draw towards each other – and the inevitable happens: they fall in love.
Every time this film is introduced to film students before it is screened for their benefit, the students excitedly predict the outcome of the story. Fed on Hindi film mush of man-woman relationship with all its attendant rosy attributes, they expect a happy, feel-good ending. But they are always in for a shock as the film takes a radically different turn, which for fear of spoilers this article would avoid. But this film is a wonderful lesson in ways a relationship story could be handled without being mushy and sentimental.
Indian cinema is till infantile when it comes to such topics. And of course, the times are also not conducive.
(The author is a Mumbai-based filmmaker, instructor and writer)