Naseeruddin Shah has stated what others in the film industry are scared to acknowledge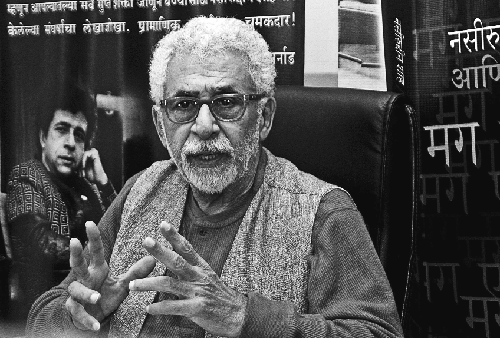 In a poignant scene from Nandita Das's Manto, Shyam, a reigning star from the 40s who was a close friend of the writer, points out to a bottle of rum at the latter's house in Bombay and asks him, "What kind of a Muslim are you?" Manto, who was not a practising Muslim and has been toying with the idea of migrating to Pakistan because of the prevailing communal tensions post-partition, answers, "Enough to get killed."
The scene gains significance in the context of the recent outbursts of Naseeruddin Shah in which he expressed fear for his children: if they were surrounded by a mob and asked about their religion, they will have nothing to answer because they have been brought up in a completely non-religious atmosphere.
The statement was made in the wake of the killing of a police officer in UP's Bulandshahr where the officer had gone to pacify a gang of cow-vigilantes after cow carcasses were found in the region, but was killed by them. Shah remarked that in today's times the death of a cow has more significance than the death of a police officer. He also bemoaned the lack of freedom of expression in today's society and the persecution of dissent.
As expected, Shah immediately began to be trolled by the ruling party's supporters; and his colleagues in the film industry – Paresh Rawal and Anupam Kher spoke out against him on social media and television. Kher commented, "How much freedom do you want?" as if freedom was something that could be negotiated, and Shah better be grateful for the degree of freedom that he has been allotted!
Similar reactions greeted Amir Khan few years ago when he had commented at a public forum that his wife felt so unsafe in the country that she had suggested moving to a different country. The trolls had pounced on him then and companies which featured him in their ads were coerced to drop him.
Reacting to Naseeruddin Shah's concerns, actor Paresh Rawal, who is also a BJP MP commented on a video, quite brazenly, that violence is an integral part of human psyche and intolerance has always been there in India since 1947 – and it did not start from 2014. In a way, he justified the prevailing violence against the minority community.
Of course, Rawal is right: violence and communal tensions did not originate from 2014; but what he and all others who blindly support the ruling party fail to acknowledge is that violence in the name of religion and targeting of a minority community has – for the first time in post-independence history, been patronised and – systematised by members of the ruling dispensation and the culprits been allowed to go scot-free; and in some cases, felicitated for their actions. There is a clear pattern that one can discern: there is a certain method in the madness. This undoubtedly is unprecedented.
For a member of the majority community it is very difficult to comprehend the insecurities of a minority community or a marginalised caste – Dalits for instance, in our country.
In legendary American director Elia Kazan's A Gentleman's Agreement (1947), a liberal journalist (played by Gregory Peck) is asked by his editor to do a series of hard-hitting stories on the prevailing anti-Semitism in the US. Initially reluctant, he assumes a Jewish identity and in the course of his investigations he comes across – for the first time in his life – the bigotry and deep-rooted prejudice that ordinary Americans hold against the Jews.
To his horror he discovers that even those who insist that they harbour no anti-Semitic feelings are capable of hatred; you only need to scratch the surface. But in order to find that out, the protagonist needed to assume a Jewish name to be at the receiving end of such bigotry, something which he could not have experienced if had researched his stories like a white Christian male.
Similarly, in our country, people who criticise actors and artistes – who happen to have Muslim names – for their insecurity, need to experience first-hand what they really go through. But of course, as Naseeruddin Shah remarked, he can't foresee the end of this bigotry any time soon.