,

Saturday, 5 August 2017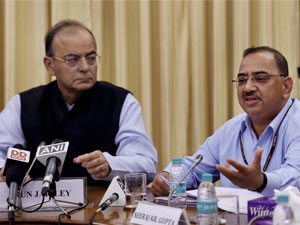 Seeking to maximise revenue from sale of shares in PSUs, the government on Friday launched a new exchange-traded fund (ETF) named Bharat-22 comprising 22 stocks of public sector enterprises, public sector banks and its strategic holdings in companies through SUUTI (Specified Undertaking of Unit Trust of India). ICICI Prudential AMC will be the ETF manager and Asia Index Private Limited will be the index provider. Bharat-22 will have a diversified portfolio of six sectors, including energy, FMCG, finance, basic material and industrial and utilities. This will be the second ETF from the government after it raised over Rs 8,509 crore from three tranches of energy heavy CPSE ETF. "While selecting each of these sectors, we've kept in mind sectoral reforms which have had direct impact on the valuation of these shares... We believe that this ETF will be a fairly successful one," finance minister Arun Jaitley said while announcing the new ETF.
The new ETF will have a portfolio of companies from six sectors with a 20 per cent cap on each sector and a 15 per cent cap on each stock. ETF functions like a mutual fund scheme and is bought by investors as units. Among oil, gas and mining PSUs, whose scrips figure in the new ETF are ONGC, IOC, BPCL, Coal India and Nalco.
The other CPSEs on the list are GAIL, NHPC, NTPC, Bharat Electronics, Engineers India, NBCC, SJVNL, PGCIL and NLC India. State-owned banks figuring in the list are SBI, Indian Bank and Bank of Baroda. The government stake in Axis Bank, ITC and L&T held through SUUTI is also part of the ETF basket. "Government's stake can go down to 52 per cent in PSU banks and whenever possible, we will look for a possible consolidation," Jaitley said.
In his Budget speech of 2017-18, the finance minister had promised to use ETF as a vehicle for further disinvestment of shares. The target for CPSE's disinvestment in 2017-18 was set at Rs 72,500 crore. In the current fiscal, the government has realised about Rs 9,300 crore through nine disinvestment transactions so far. The first CPSE ETF consisted of scrips of 10 PSUs — ONGC, IOC, Coal India, GAIL, Oil India, PFC, REC, Bharat Electronics, Engineers India and Container Corporation of India.
Jaitley said that India has tried the ETF experiment successfully. Globally, ETF asset under management currently stands at about $4 trillion. It is expected to touch $7 trillion by 2021. Large investors (sovereign/pension funds) prefer investing in ETFs since these are low-cost and involves lesser risk.
Asked when the first tranche of Bharat-22 will hit the market, Department of Investment and Public Asset Management (DIPAM) secretary Neeraj Gupta said there is no cap on funds that can be raised though ETF. "It will be different tranches as per requirement of the government," he said.