Courts must intervene wherever they satisfy themselves that discrimination exists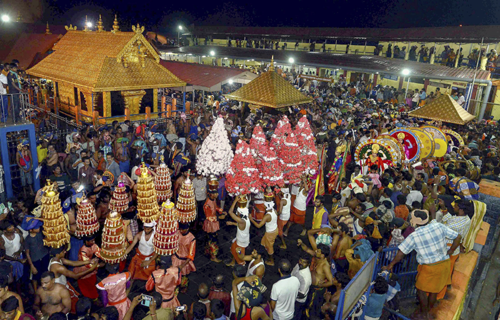 Ruminations: No time to waste
There is no single truth when it comes to social cha?nge. The recent Supreme Court verdict in the Sabarimala case, allowing women between 10 and 50 to enter the temple, contemplates just such a change but clashes headlong with conservative — though not necessarily regressive — sections who want the bar on women belonging to the age group to continue.
Faith is that kind of thing. It blurs the distinction between what is an individual's right – in this case, the right to practice religion freely – and the perceptions of a group on how that faith should be practised. For a slowly emancipating society like India, buffeted by highly voluble and influential sections of the supremely conservative and the very modern, there is ever the prospect of a clash between state power and existing beliefs explained away as tradition. The protests against the majority verdict in the Sabarimala case – with placards going up in favour of dissenting judge Indu Malhotra – seek to challenge the power of the state to define religious freedom.
Justice Malhotra said, "Religious practices can't solely be tested on the basis of the right to equality. It's up to the worshippers, not the court to decide what's religion's essential practice." She also noted, "Issues of deep religious sentiments should not ordinarily be interfered by the court. The Sabarimala shrine and the deity is protected by Article 25 of the Constitution of India and the religious practices cannot be solely tested on the basis of Article 14." She pointed out that "notions of rationality" cannot be invoked in matters of religion and what constitutes essential religious practice is for the religious community to decide, not for the court. "Constitutional mor?ality would allow all to practise their beliefs. The court should not interfere unless if there is any aggrieved person from that section or religion."
Fearing that the Sabarimala judgment would not be limited to just the case, she noted courts should not intervene in matters of religious practice unless it involved social evil like sati. In essence, while the majority verdict looks to end discrimination by allowing entry to the temple for all women, Justice Malhotra looks at the case from the viewpoint of Lord Ayyappa devotees and the freedom to practice their faith.
The state, of which the Supreme Co?urt is a constituent, sho?uld serve as an agent of social change. To limit its interventions to social evil would be an obstruction to this role. Besides, social evil has a wide definition. Its victims can be anywhere, even those who do not come forward to say how they have been victims – for instance, the women who did not go to Sabarimala would be victims too because they could believe that they were
being discriminated against and their right to practise their religion freely had been circumscribed. But, they were silent. Therefore, in a complex and populous country like India, it
might not be best for the courts to be a bystander where it has satisfied itself that there have been victims. To show how, the scope of this discussion needs to be widened to include other issues that extend from social discrimination but do not immediately appear to be so.
Land ownership in Uttar Pra?desh and Bihar was principally with upper caste Thakurs, and to some extent Brahmins. Land reforms in India, which started in the 1950s and in which the courts played a role, upset caste relations in rural India. That happened when the holdings of the upper castes gradually reduced and Jats, Yadavs, Gujjars and Lodhs became landowners. The domination of the lower castes, a continuation of age-old practices, had enabled the upper castes to seize and control economic power as well. However, the government and the courts had a further role to play when the new landlords attempted to block subsequent measures to empower marginal farmers, but that is another matter.
The matter of temple entry has a long history of discrimination in India. When Gandhiji spoke of equal rights to Harijans, he also spoke of temple entry – which the upper castes controlled and barred Harijans from. He realised that this was essential to give Dalits a sense of equality with the upper castes. The fight still continues and covers even those who converted to Buddhism or Christianity to overcome this discrimination. Surely, this is not something that should be outside the purview of the courts.
The scope for courts to intervene to end any form of discrimination – whether in access to jobs, property or temples – is huge. State power must weigh down with full force on anything that discriminates, and especially that which discriminates on grounds that are not rational. The courts sometimes see themselves only in the context of interpreting the law according to laid out provisions. However, for irrational belief systems to evolve or prejudices to end the wait will be long.
There is no way to find out how long. Conservatism has deep roots and does not operate from the fringes. Sati, banned by law, has its voluble supporters even today. The caste system has no place in a modern society but look around and it is all there. A Dalit youth who wants to go to his wedding in a horse-drawn cart has to be accompanied by 350 policemen for his safety. A quick Google search will reveal how many Dalit men have been attacked because they dared to sport a moustache. The Uttar Pradesh chief minister likens the caste system to furroughs in a field and says it brings order in society. An important state politician says there will be devastation equal to an earthquake of 8 to 10 magnitude if the prime minister does not return to power.
This is not something that a democracy can suffer. And then, nothing works in a vacuum. Discrimination in one field should not be considered in isolation because it will have an impact elsewhere. A judgment like in the Sabarimala case is as much about the right to practise religion as it is about women's empowerment. Ending caste discrimination is also about reaping the democratic dividend. The choices are indeed few for the state when it asks which roles it should limit itself to. Much as it may dislike the choice of the word, society will be much the better if the courts arrogate to themselves the role of bringing about radical change.
ananda.majumdar@mydigitalfc.com