Thanks to the clash of titans, the two-wheeler industry in India is poised to touch a world record 2 crore mark in sales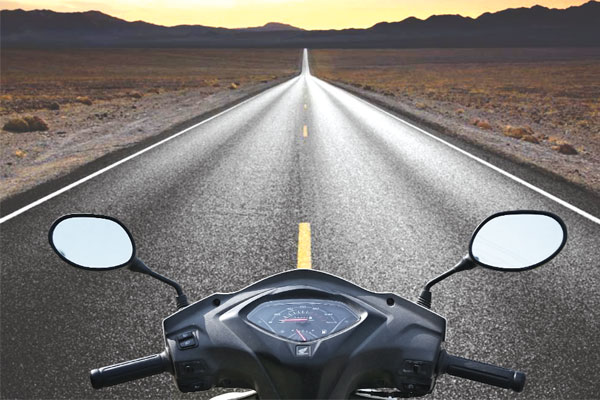 Samrat Balth-akke, a home appliances repairer in Pune, finally bought what he wanted for this festival season.
Despite not getting a discount he was quite willing and paid Rs 75,000 cash down to book the top-end Honda scooter Activa 125, to ensure its delivery on the auspicious Dussehra day.
"The only incentive I got was a few accessories for the scooter," says Balthakke, 36, who also owns a Hero Splendor and a Bajaj Boxer motorcycles.
The mechanic says he bought the Activa because it has the latest telescopic front suspension along with twin spring shock absorbers at the rear to cushion any bumps on the road. Besides, it has enough space to carry his implements on professional errands.
Balthakke is only one of the trendy billions in India who are queuing up at showrooms across the country to buy their favourite Activa 125.
Little wonder Honda Activa is not only the largest selling scooter in India but is also now the largest selling two-wheeler.
With scooter sales rising, Honda Motorcycle and Scooter India (HMSI), the manufacturer of Activa, is catching up with its arch-rival and market leader Hero MotoCorp.
A little over six years after the former partners split, the fight for leadership in the ever-growing two-wheeler scooter industry is now real.
In the April-August 2017 period, HMSI sold 17,11,892 scooters to be the dominant player with a 59 per cent market share while TVS Motor was the second biggest with 4,48,188 units. Hero MotoCorp was placed third with 3,54,797 units.
The total scooter market in April-August grew 18.27 per cent at 28,90,943 units while that of motorcycles increased by 8 per cent at 52,39,340 units.
Separated by just 33,923 unit sales in April 2017, Honda Motorcycles appears closing in to topple Hero MotorCorp, even as the latter appears determined not to lose the home turf.
While the total two-wheeler industry grows at a rapid pace, the distance between Hero and Honda Motorcycles is narrowing in terms of sales.
In May 2017, Hero sold 6,13,019 units, clocking a growth of 7.95 per cent over the same month last year. But Honda, which sold 5,10,381 units in May, grew at a higher pace of 22.73 per cent compared to the same period in the previous year.
Sales at Hero increased 17.43 per cent to 6,11,307 units in July this year, but again Honda's sales grew at a higher pace by 19.18 per cent to 5,11,960 units.
Last August, sales at Hero increased 10 per cent at 678,797 units, up from 616,424 units it sold last year.
It has maintained a consistent trend of six-lakh-plus sales for the fourth consecutive month from May to August 2017. In May 2016, HMSI's flagship Activa had overtaken Hero's Splendor to become the largest selling two-wheeler in the country.
But HMSI breached the 6-lakh sales mark in a single month for the first time with just a 56,617-unit difference between Honda and Hero, the former almost threatening to topple the latter.
In the ever increasingly steep race between HMSI and Hero Motocorp, Honda sales in August jumped 26 per cent to 622,180 units, up from 492,368 units in August 2016, creating a new record.
The two-wheeler revolution in Asia's third biggest economy is in full cry. Aided by galloping scooterisation of the two-wheeler market, scooters have outstripped motorcycles and are likely to reach the 20-million mark by the end of this financial year.
According to auto experts, the two-wheeler volumes in the country would grow by 8-10 per cent during FY2018 as demand recovers in both rural and urban markets. Retail sales at HMSI, for instance, doubled as of September 21.
Yadvinder Singh Guleria, senior vice-president, sales and marketing at Honda Motorcycle and Scooter India, told Financial Chronicle: "Honda's retails grew by an astronomical 122 per cent from 23,702 units in 2016 to over 52,000 units in 2017."
Thus, this increasing pace of scooterisation in India has helped HMSI, a subsidiary of Japan's Honda Motorcycle Company, to challenge homegrown market leader Hero MotoCorp relatively easy in the battle for supremacy in the two-wheeler business.
Predicts Abdul Majeed, senior auto analyst and partner at Price Waterhouse: "Growing at 8-10 per cent, the two-wheeler industry in India will be near the two-crore or 20-million mark by the end of this financial year."
He believes scooterisation would gather a rapid pace as customers are looking for scooters which can be used by an entire family.
Majeed believes scooters are an integral part of the urban Indian lifestyle. Because of their automatic transmission, scooters are easy to ride, making it suitable for everyone in a family.
"They (scooters) are especially in demand among women, because they are easy to ride even in our chaotic traffic without the burden of shifting gears and are practical with numerous storage spaces that help to carry loads safely, unlike a motorcycle," he explains.
Says Guleria dreamily, "One day definitely we would like to lead the Indian two-wheeler market. I think it is too early to predict or comment that which year and when." There is, however, no definite timeline on making this happen.
The competition, far from easing out, is only going to stiffen. Hero MotoCorp currently has an installed capacity of more than 8 million units, which will substantially go up once the plant at Vadodara and the upcoming facility in Andhra Pradesh become fully operational, a company spokesperson said.
HMSI's Guleria says with new capacity from the third plant at Karnataka coming up, Honda has outgrown the motorcycle segment by three times (25 per cent growth of Honda compared with 8 per cent of the motorcycle industry) to become the second largest motorcycle seller in India.
Subrata Ray, senior group vice-president at Icra Research, told Financial Chronicle that Honda Motorcycles has gained strongly because the scooter market, where it is the dominant leader, has seen faster growth than motorcycles and is growing at a higher rate.
Thanks to such rapid sales, India overtook China to become the world's largest two-wheeler market last year.
According to the Society of Indian Automobile Manufacturers, or Siam, the apex trade lobby, India sold 17.6 million two-wheelers in 2016-17 against China's sales of 16.8 million units.
The Chinese motorcycle market, the second largest globally, has been shrinking since 2010 (two-wheeler market excluding electric two-wheelers), posting seven consecutive years of de-growth from 2010 to 2016.
But even at its peak, China had reached a volume of 17.4 million units in 2009, lower than India's peak in 2016-17.
Currently, the Activa family in India has three models on sale, the Activa i, the Activa 4G and the Activa 125. The price of the Activa range begins at Rs 48,059 and goes up to Rs 61,361 at Delhi showrooms.
The gap between the top two-wheeler companies and the others is indeed a yawning one. Last year, for instance, Honda Activa sold a whopping 27,59,836 units. Its rival TVS Jupitar was way behind at 6,13,817 units, followed by Hero Maestro Edge at 3,78,347 units, Suzuki Access at 2,65,181 units, Yamaha Fascino at 2,13,312 units and TVS Scooty Zest 110 at 62,462 units.
The Pune-based Bajaj Auto, famous for its nationalistic 'Hamara Bajaj' scooter campaigns of the heady 1980s and 1990s, exited the segment completely seven years ago in 2010 to focus on motorcycles.
But that decision to stay out of the scooter market has cost the company dear in terms of market share, both in the overall two-wheeler sector as well as in the motorcycle segment. It has, in a way, given HeroCorp and Honda the space they needed to expand.
According to Siam numbers, Bajaj Auto's motorcycle market share declined from 24.3 per cent in FY2010 when scooters were discontinued, to about 18.3 per cent in FY17.
In overall two-wheelers, Bajaj Auto's market share has also come down from 27 per cent 10 years ago to less than half at about 12 per cent in FY17.
The company, however, rightly maintains that it is more focused on high margins than market share. This is why Bajaj Auto remains one of the world's most profitable auto companies, with one of the highest market caps in India.
But in the numbers game, HMSI continues to lead the scooterisation in the country, with the scooter segment now contributing an all-time high 34 per cent to the two-wheeler industry.
Points out Majeed: "With a big shift among customer preference for scooters in the country, scooters will outpace motorcycles sales."
He says the previous two straight years of sub-optimal rains had impacted motorcycle sales as a majority of buyers come from rural markets. But scooter sales come from both rural as well as the urban markets.
"This year, demonetisation and the GST have impacted sales and growth is likely to be moderate," suggests Majeed.
Points out HMSI's Guleria: "Every third two-wheeler sold in India is now a scooter. In April-August 2017, we remained the undisputed leader in the growing scooter segment, with a market share of a whopping 59 per cent, selling 17,11,898 scooters."
What is encouraging for Honda is that the growth in both volumes and market share is happening across all geographical regions of the country.
Within motorcycles, in the 125cc executive motorcycle segment, Honda has grown 30 per cent as against 7 per cent growth of the industry, led by its brand CB Shine.
In the premium 150cc segment, Honda sales have gone up 78 per cent despite the industry declining by 16 per cent.
Similarly, in the 150-200cc motorcycle segment, Honda sales have increased 46 per cent while the industry grew at 38 per cent, according to company figures.
In terms of strategy, Honda is aggressively expanding its network in the semi-urban and rural markets.
"We plan to add 500 network points in the current fiscal, of which we have already added 250 touch-points with another 50 coming in by the end of September," points out Guleria.
Last financial year, scooter sales alone accounted for over 5.6 million, while motorcycles sales were pegged at 11.01 million units (out of these, commuter motorcycles in the 100-110 cc segment accounted for nearly 6.5 million unit sales).
While Hero MotorCorp sold 585,655 units, a 35 per cent share of the two-wheeler market, Honda Motorcycles was inching close with 551,732 units sold, garnering a 33 per cent market share in April 2017.
Such is the dominance of the big two that the third biggest player, Chennai-based TVS Motor Co is lagging way behind, selling 205,522 units, with a 12.3 per cent market share.
Bajaj Auto was placed fourth, selling 161,930 units in the country. In April 2017, domestic two-wheeler sales grew by 7.34 per cent at 16,74,796 units, comprising 10,29,972 motorcycles (0.50 per cent growth), 5,86,886 scooters (25.30 per cent growth) and 57,938 mopeds (-13.58 per cent).
In the last financial year, the top player Hero MotorCorp sold a whopping 64,83,655 units, followed by the second biggest player Honda Motorcycles selling 47,25,067 units. The third major manufacturer, TVS Motor, sold a total of 24,89,773 units, relegating Bajaj Auto to a poor fourth position with 20,01,391 units sales.
But the brand with 33 per cent market share in the two-wheeler market in August (dominant market share of 59 per cent in the scooter segment and 17 per cent in motorcycles) claims it has a strategy cut out for the supremacy battle.
"Every year, we discuss this when our model product portfolio lineup is strategised," explains Guleria.
Honda Motorcycles has a volume target of achieving 6 million unit sales by March 31, 2018. Next year with full utilisation of its capacity at four factories across India, it claims it will even touch 6.4 million units.
Leader Hero MotoCorp is naturally reticent to reveal innermost company details. The company spokesperson told Financial Chronicle: "Hero MotoCorp with its range of iconic and popular products like the Splendor, Passion, HF Deluxe and Glamour, continues to be the dominant market leader in the motorcycle segment in the country."
He said the top brand in the country continues to maintain its lead in the domestic motorcycle market with a market share of over 50 per cent.
"In the 100/110 cc engine segment, the company commands a market share of over 70 per cent. It is also the leader in the 125 cc engine segment," the spokesperson pointed out.
On the other hand, Honda Motorcycles' total installed production capacity stood at 6.4 million units, with its new fourth production line of 0.6 million annual capacity at its plant in Karnataka coming on stream.
"Honda Motorcycles has been more successful because of its strong global research and development set-up, product portfolio in various segments and attractive price brackets and fuel efficiency than its peers," points out Icra Ray. He believes Bajaj Auto lost on the numbers game partly due to its exit in 2010 from the growing scooter segment. It turned out to be a strategic error.
Bajaj Auto has since been focusing on motorcycles and is one of the top players globally, says Ray.
"Bajaj Auto is a global player and one of the most profitable companies with strong export footprints," he explains.
It now looks like the pyramid at the top is going to get steeper. Improved farm sentiments after two seasons of good crop as well as reasonable expansion in agricultural output in the current kharif season along with benefits from the rural employment guarantee schemes, are certain to fuel the two-wheeler industry growth this year. That will also make the race for the market tougher for the two-wheeler players.
michaelgonsalves@mydigitalfc.com