,

Friday, 22 June 2018
India's western neighbour goes to the polls next month in the shadow of engineered verdicts as the powerful military establishment keeps an eye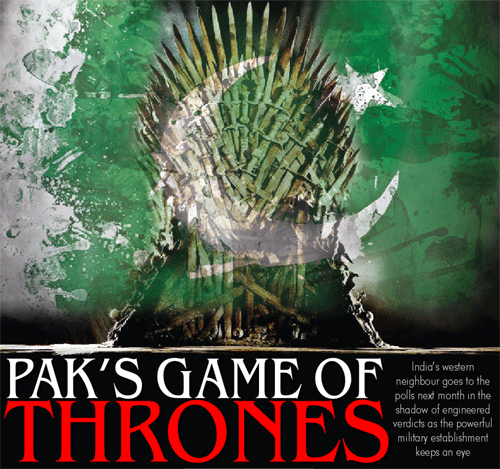 Even as fears persist of unfair polls, pre-poll rigging or deep–seated biases of powerful institutions like the army and the higher judiciary affecting the result, Pakistan is finally going to the polls on July 25. This is only the second time that a democratically elected civilian government has somehow lasted its full tenure, in itself a landmark in a history chequered with military takeovers.
There were many hiccups in the build-up to the polls, before the election commission announced the election schedule, including a last minute resolution from the Baluchistan assembly seeking a one-month deferment on account of Ramzan. Several cases challenging the new delimitation of some constituencies based on the population data disclosed under the 2017 census remained pending in courts till the last minute.
The census could be conducted after 18 years, under army supervision. It assessed Pakistan's population at 207 million, 97.4 million of whom would be eligible to vote. The delimitation of constituencies altered the provincial share of seats in the National Assembly. After reservation of 60 seats for women and 10 for minorities, in a house of 342 members, 272 are directly elected while the reserved seats are filled by proportional representation. Of these, Punjab will have 141 seats, Sindh 61 seats, Khyber Pakhtunkhwa (KP) 39 seats and Baluchistan 16 seats. The Federally Administered Tribal Areas (FATA), though now merged with KP, will have 12 seats and the Islamabad Capital Area three seats. Winning 137 of the directly elected seats becomes the magic number for forming a government.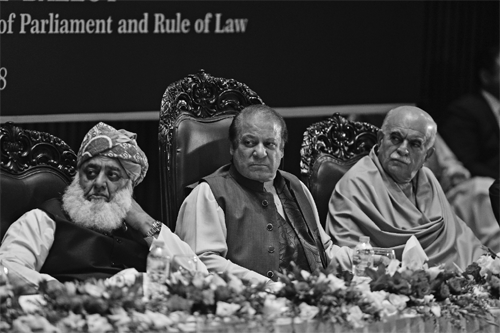 Appointment of caretakers
The 18th amendment to the 1973 Constitution passed in 2010, specified under Article 224, that elections be conducted, both at the Centre and in the provinces, by caretaker governments. Former chief justice Nasir-ul Mulk was appointed caretaker prime minister on June 1, after tortuous negotiations between the ruling party (Pakistan Muslim League (Nawaz) or PML(N) and the main opposition party (Pakistan People's Party). In Sindh, Fazlur Rehman, a former chief secretary was named caretaker chief minister after an agreement between the former government and the opposition but consensus eluded the other provincial set-ups. The choice could be completed only by the Election Commission of Pakistan (ECP). Imran Khan's Pakistan Tehreek-I-Insaf (PTI) made several flip-flops before agreeing to caretakers, both in KP and Punjab. After PTI' s nominee, Dr Hasan Askari Rizvi was chosen Punjab caretaker chief minister, the PML(N) questioned his impartiality. In KP, retired Supreme Court judge, Dost Mohd Khan was made caretaker chief minister. In Baluchistan, the ECP named Allauddin Marri as caretaker chief minister.
Engineered verdicts
Fear of engineered electoral verdicts cropped up after the senate elections in March, 2018. Half the senators retire after every three years and 53 seats were needed for majority in the 104-member upper house. After the election, the PML(N) had 33 seats, the PPP 20 seats and the PTI 13 seats. The remaining were independents and members of smaller regional parties. The Supreme Court directed that the newly-elected PML(N) members could only vote as independents because they had been chosen by former prime minister Nawaz Sharif whose election as party chief was deemed invalid. Despite seemingly having better numbers, PML(N) lost both posts of senate chairman and deputy chairman. Allegations of bribing and use of huge sums of money to buy or swing votes surfaced, apparently at the nod of the 'miltablishment'. Opposition nominees, Sadiq Sanjrani and Saleem Mandviwala were elected.
New Gallup poll, Pakistan
Despite these apprehensions, an opinion poll conducted in May 2018 by Dr Ijaz Gillani's somewhat shady outfit concluded that while there may have been rigging against the PPP in the 1988 and 1993 polls, it is no longer possible to doctor elections. Only 15 per cent of voters were influenced by the personal appeal of leaders, whereas 85 per cent voted for parties. Nawaz Sharif-led Imran Khan by 50 to 45 per cent. PTI's support increased from 17 per cent in 2013 to 25 per cent now. In the same period, the PML(N) has gone up from 33 per cent to 38 per cent. The PPP remains stagnant at around 15 per cent. In Punjab, the gap between the two top parties was widest, with PML(N) far ahead with a lead of 20% over PTI. In KP, the PTI's appeal has risen, while PPP continues to dominate in rural Sindh.
In the 2013 elections, PML(N) won 166 seats out of 342 in the National Assembly compared to PPP's 42 and PTI's 35. It also swept Punjab, winning 214 out of 297 Provincial Assembly seats. The PTI formed a coalition government in KP, winning 39 out of 99 seats while PPP retained its bastion in Sindh, winning 94 out of 130 seats. Baluchistan showed a fractured mandate, enabling the PML(N) to form a fragile coalition with nationalist parties and a rotating term for the chief minister.
This time, there have been question marks about a 'normal' electoral verdict. The PML(N) has felt besieged ever since the Dawn leaks story surfaced in October, 2016. The army leadership took umbrage at the charge, from the prime minister and Punjab chief minister, that Punjab terrorists were not being curbed. The Panama case verdicts, in April and July 2017 brought Nawaz Sharif in the cross-hairs of a hyper-active higher judiciary. It used its suo motu powers under Article 184(3) of the constitution to deem the prime minister neither 'sadiq' (honest) nor 'ameen' (truthful) for not disclosing his UAE 'iqama' (fees), and thereby declared him unfit to hold office under Articles 62 and 63. Nawaz Sharif was disqualified for life. After his sacking, though clarifying that the army was not behind instigating the judiciary, army chief General Qamar Javed Bajwa expounded informally to journalists in March 2018 what came to be known as the 'Bajwa doctrine'. Averring that he had "no wish to derail democracy", he observed nevertheless, that the sanctity of institutions (read judiciary) could not be jeopardised. His main purpose appeared to be to prick the PML(N)'s balloon that sought to generate electoral sympathy for Nawaz Sharif against what was widely perceived to be an 'unfair ouster' and one-sided judgement.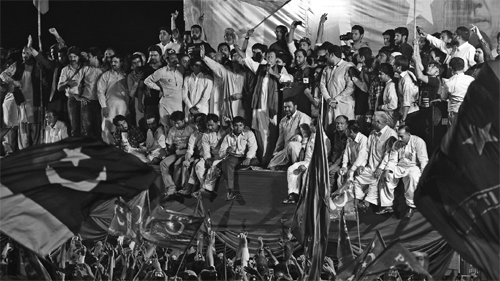 PML(N): struggling with divergent agendas
Ever since, in their election campaign, Nawaz Sharif and his daughter, Maryam, have focused on their 'unfair ouster', of the judiciary having been used by 'invisible forces' and the need 'to honour people's votes' (of 2013). Their confidence about Punjab remaining a PML(N) electoral bastion was borne out in the NA — 120 Lahore (September 2017) and NA — 154 (February 2018) Lodhran by-elections.
After Nawaz Sharif was disqualified, his younger brother Shahbaz Sharif was elevated as party president. The Shahbaz camp possibly believes that reckless posturing or a 'head-on' collision with the Military Establishment may weaken their chances. Some provincial satraps like former interior minister Chaudhry Nisar Ali, who has not been given a party ticket this time, also favoured this line. However, their dilemma is obvious. All field reports show that Nawaz Sharif remains the party's main vote catcher. Any backing down now from the hardline position of playing the 'victim card' would break the momentum of this narrative, showing that Nawaz is weakening. Any soft pedalling against the establishment could signal to 'electables / feudals' and voters, that PML(N) is running out of steam. Though some legislators from South Punjab deserted PML(N) on the issue of a separate Southern Punjab province, it is well known that few such desertions happen before every election and this has not developed into a flood from a trickle, so far.
In this backdrop, Nawaz Sharif's arrest in any of the alleged corruption cases, being tried in a rush by the National Accountability Courts, may heighten his vote catching capacity on the political martyrdom narrative. Ironically, such verdicts may implicate brother Shahbaz Sharif too and reduce his acceptability for the Military Establishment. So, Shahbaz is walking a virtual tightrope, straining to remain acceptable on the moderation/ compromise narrative, his efforts directed at trying to keep the party united, yet winning votes on the agenda of an efficient governance record in Punjab.
Imran's charisma
Imran Khan's original charisma of 2013 as a successful cricketer-cum-philanthropist-turned-politician, professing to work on an anti- corruption agenda has waned. The 2014 'dharnas' were seen as unproductive. Allegations from within his own party — Javed Hashmi's disclosure — revealed controversial links with senior army functionaries, like former chiefs of the Inter Services Intelligence (ISI) Zaheer-ul Islam and Shuja Pasha. These hurt his professed democratic credentials. His public pronouncements have been full of contradictions, sometimes holding out an olive branch to the Tehrik-e-Taliban, and on other occasions criticising the army's actions. His frequent u–turns on various issues have embarrassed senior colleagues, themselves a motley collection of deserting feudals from other parties.
On the personal front, his third marriage to a self-professed, purda-nashin (orthodox) sufi cleric and divorce foibles could well have eroded his popularity among urban youth (and women). Ex wife Reham Khan's disclosures, leaked from a yet-to-be-published book, alleging Imran Khan's questionable character traits and morals, caused panic in party ranks. Former chief justice Iftikhar Choudhry pitched in, claiming he had evidence to prove Sita White's child was Imran Khan's daughter — so he too is neither 'sadiq' nor 'ameen'. Yet, the Supreme Court judges did not disqualify him.
Despite these inconsistencies, the image of 'acceptability to powers that be' has grown. His '100 day' manifesto was carefully crafted and its presentation was well received. Khan seems to be behaving already as PM designate! When his millionaire friend, Zulfi Bukhari was found to be on Exit Control List, while proceeding for Umrah with Imran and his new wife, one phone call to the caretaker chief minister facilitated a 'one-time exception' for Bukhari.
Even with the 'boys' on his side, it is hard to see PTI coasting to victory in the elections. The local bureaucracy in Punjab, from revenue functionaries, provincial police to polling/presiding officers have been known to be loyal to the PML(N) provincial administration for well-nigh two decades. They have developed kinship ties to many PML (N) provincial assembly members. How they interpret the anti-PML(N) or pro-PTI signals from the Military Establishment or whether this enables credible collusion to influence the outcome remains to be seen. The ultimate test here would be how much Imran can win or is facilitated to win in Punjab.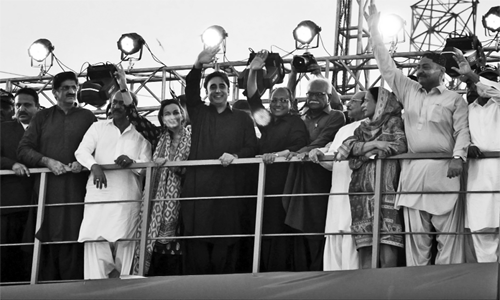 Pakistan People's Party
Former president Asif Zardari has been the arch political maneuverer. He saw his opportunity during the senate elections and got his candidates elected. His main political compulsion is to make PPP relevant again and gain a toehold in Punjab. He aims to become a player in the game of coalition building in a hung Parliament scenario. The PPP stands reasonably assured of holding on to its rural vote bank in Sindh. It could also possibly benefit from the infighting within the Mohajir Qaumi Movement (MQM) factions in Karachi. However, he has not been able to find enough winnable candidates in Punjab. In the perception of civil society, his past corruption remains a drawback. A common slogan used by his opponents is "Ek Zardari sab pe bhaari" (one Zardari is damaging for the rest) and his hope to play 'king-maker' nationally may not materialise. At best, he could shepherd Bilawal Bhutto into a position of governance in Sindh, possibly as chief minister provided the latter is amenable to learn his political ropes on a smaller stage.
Mohajir Qaumi Movement
A united MQM (Altaf) used to be confident of winning 20-25 seats from urban Sindh. This time, a horribly faction-ridden MQM will be wary of the PPP and the army-backed Mustafa Kamal's Pak Sarzameen Party (PSP). The PIB (Farooq Sattar) and Bahadurabad factions will try to put aside their differences. The battle for MQM-P leadership has now veered in favour of Khalid Maqbool Siddiqui. If this patchwork unity survives, the MQM could still hold on to its tally of between 17-25 seats from urban areas of Karachi, Hyderabad and Sukkur.
Role of religious parties
Traditionally, religious parties in Pakistan made very little impact in elections. They could rally street power but conversion to seats was never commensurate with this, except in 2002, when the Muttahid Majlis-e-Amal (MMA) was helped by Musharraf to win in KP, exploiting a virulent anti-US agenda after 9/11. Today, using religious sentiment for political gain is not confined to religious parties. Mainstream political parties have also mastered the art.
In 2013, Jamiat Ulema-i-Islam-Fazl (JUI-F) and the Jamaat-i-Islami (JI) attempted to build their image as anti-status quo/anti-establishment actors, but religious parties secured only five per cent of total vote. This time, in KP, the PTI has entered an electoral alliance with a rival formation, the Jamiat Ulema-e-Islam' (JuI)'s faction led by Maulana Samiul Haq, who controls the notorious Akora Khattak Haqqania seminary, along with the arch sectarian Sipaha Sahaba Pakistan (SSP) and Hafiz Saeed's Jamaat-ud-Dawa (JuD). The religious vote in KP could fragment.
In Punjab, JuD's political face, the Milli Muslim League (MML) has not been registered by the ECP as a political party due to its known terror links but its candidates have entered the fray on the platform of a little known "dormant" political entity, Allaha-u-Akbar Tehreek (AAT), registered with the ECP. In some pockets of provinces and in Karachi, the Barelvi parties, that is the Tehreek-i-Labbaik Pakistan (TLP) of Khadim Rizvi, its breakaway faction the Tehreek-i-Labbaik Islam (TLI), as also the Nizam-i-Mustafa Muttahida Mahaz, and other small sectarian organisations could do well in their constituencies. Some of these groups may use violence to ensure votes.
Fractured mandate in Punjab
Punjab has 141 seats in the National Assembly. The Military Establishment will not want the PML(N) to get more than 100 seats. Manipulated results could see a three-way split, with an equitable balance, perhaps, between the PTI, PML(N) and other motley groups, including 'mainstreamed' Independents of the JuD/ MML ilk.
Khyber Pakhtunkhwa
In KP, PTI's performance as incumbent has been a mixed bag. Police performance improved. The Sehat Sahulat Programme, giving health insurance cards worth Rs 5,40,000 per year, for medical treatment and medicines, at public and private hospitals, even for the poor, has been a success. Yet, corruption has been endemic and allies like JI were left most unhappy. Nawaz Sharif has been drawing huge crowds in election rallies. PML(N) could reinforce its presence in Hazara areas of Mardan, Malakand and other pockets of west KP. Awami National Party could hold on in Charsadda and Swat. Again, a three-way split of its 39 seats could ensue.
Baluchistan
In northern Baluchistan, the Pashtun vote bank could split between religious parties like JuI(F) and Achakzai's Pashtunkhwa Milli Awami Party (PMAP). In the south, nationalist Baluch support would go to a conglomerate of parties like Dr Abdul Malek's National Party, the Baluch National Party (Mengal), Hasil Bizenjo's Baluchistan National Democratic Party (BNDP). The PPP and PML(N) could also win a few seats.
Sindh
As already indicated, the PPP could hold on to its rural vote bank in Sindh, winning about 40 seats. In urban areas, it will be engaged in multi-cornered contests with PTI, MQM and PML (Pagaro).
Implications for the region
Whichever civilian government emerges will be weak. It will not be capable of taking any policy decisions pertaining to foreign affairs or security. India has not figured as an issue so far in the electioneering. Kashmir and alleged Indian atrocities there are relevant but no civilian party can take a position not approved by the army. While there is a political vacuum, the Pakistan army is trying to mend fences with Afghanistan. This effort at rapprochement could be blessed by the West. Again, the new civilian government will not make its own decisions on Middle East tensions, fence sit on relations with Iran and Saudi Arabia, or the vexing issue of contributing Pakistani troops to the fighting in Yemen. Decisions made by the army will prevail.
Holding a reasonably credible, rigging free election will fulfil the army's agenda of maintaining a weak democratic façade. It may not quite achieve Nawaz Sharif's utopian wish, voiced in his sensational May 12 interview to Dawn's Cyril Almeida, of running "a country" without "two or three parallel governments". As tellingly pointed out by retired Pakistani diplomat Ashraf Jehangir Qazi, if Pakistanis introspect whether the forthcoming elections will improve their politics or not, the answer has to be in the negative. As long "as there are almost no influential governing institutions or political parties in Pakistan that are true friends of the people", elections will remain "political tools of the one per cent, not enablers for political participation of the rest", thereby only permitting the army to save the people from themselves.
The writer is ex-Special Secretary, RAW