,

Saturday, 21 July 2018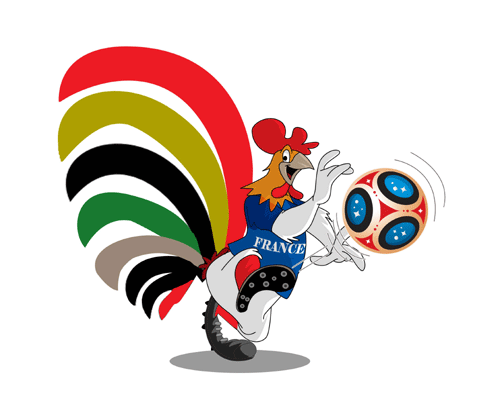 If that little boy washed ashore showed us the grim reality of immigrants, the rain soaked jubilant French team — most of whom are immigrants or born to immigrants — told us what happens when people are given a chance to lead a decent life: They find their higher destiny. The message comes in the right time, too. If there is one question that unites countries across the world, it is this: what are we going to do with the immigrants? The united colours of France showed us how glorious life can be if we only embrace diversity.
Why it is a big deal
According to The Economist, a million people descended on Paris to celebrate and that president Emmanuel Macron may well get a poll bounce as the country's mood lifts. "In 1998 the sitting president, Jacques Chirac, saw his popularity leap from 45 per cent in June to 59 per cent in August after France's victory. It remained above 50 per cent, amid a broad economic recovery, for the next 18 months," reads the article that goes on to explain how football in France represents social mobility.
It is not just Macron who has latched on to "heroes" to champion his cause, the world has suddenly found a reason to rejoice along with the boisterous teammates, who are more black than blanc. Of the 23 players 19 are either immigrants or sons of immigrants. The new-found poster boy of football, the 19-year-old Kylian Mbappé, is from the immigrant suburb of Bondy, a few kilometres from Paris, and is the son of an Algerian mother and a Cameroonian father. The picture they present rips through the "dark menace of nationalism" that has spread its tentacles all around the world.
Says an Indian origin French national Chacko Philip, a lecturer on Geopolitics and Cross Cultural Management at L'Institut des Hautes Études Économiques et Commerciales in Lyon, in an online forum Newsclick, "The integral way in which sports is part of the French society has acted as a bridge, opening people up to understand the culture, composition and evolution of other countries and societies and assimilating the best of everything. And I firmly believe, from my experience, that my son will pursue his dreams without any inhibition or fear, like one of those daring Mbappe runs which he cheered and enjoyed during the World Cup."
Why it won't solve anything
Now that the world had celebrated enough, the reality sinks in: France may have become an argument for bigotry but for an everyday immigrant it is back to ridicule and hostility.
The crises that France face did not disappear overnight — much like the rest of the world France too struggles with the rise of extreme-right wing political movements, increased immigration and low economic growth. In his article for the New Yorker, Adam Gopnik sums it up: "Sports cure nothing, but they do symbolise a lot. What the French victory on Sunday symbolises is that to compete against the world around you means to compete with the world around you — to have the world and all its resources on your side, rather than shutting off from them in an insular tantrum."
In a lucid article for SBNation, Zito Madu argues why France's diversity was their biggest strength, but it's naive to think this team will change anything: "Didier Deschamps' team is an ideal, but as inspiring as ideals are, they are limited in what they can do. France can appeal to our positive emotions about the collective strength of different types of people, and can even become a positive weapon… But this team, though an ideal, will most likely change nothing. It is limited in the sporting context because the real world is too complicated and things like racism and xenophobia can't be fixed with just a wave of positive emotion. Bigotry didn't end because of the victory of the 1998 French team and it's unlikely that the result will be different in 2018. Sports can change individual lives and can be an avenue to connect to other humans, but it takes much more than that to affect real change in the world."
Case in point: Back in April 2007, Lilian Thuram, who incidentally was part of the much feted Black, Blanc and Beur team of 1998 which won the world cup for France for the first time, said in an interview to Spanish newspaper El Mundo, "If I stop playing football tomorrow and I go back to France, people won't see me as a Frenchman, they'll see me as an immigrant."
We might argue that after a decade things might be different. But just a month ago, on June 18, Belgium player Romelu Lukaku, in a moving piece called "I've got some things to say" talks about what it takes to be an immigrant-born player in Belgium to The layers' Tribune. "When things were going well, I was reading newspapers articles and they were calling me Romelu Lukaku, the Belgian striker. When things weren't going well, they were calling me Romelu Lukaku, the Belgian striker of Congolese descent." The million dollar question is: Will Paul Pogba and others have something different to say now that they have the world cup?