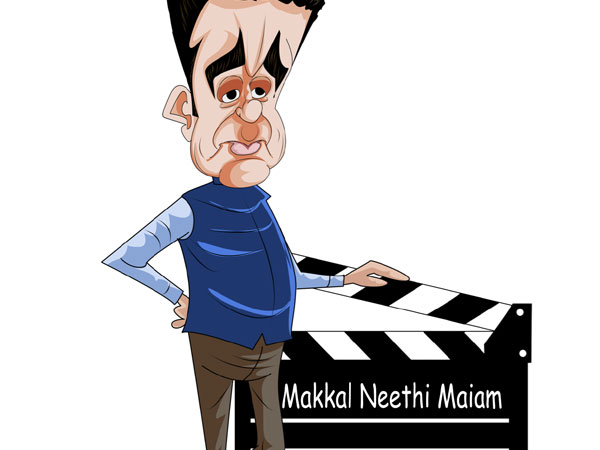 And, just like that, Tamilians could leave their despondency over corrupt and uncouth politicians, dream of that greener pasture all over again. First there was Rajinikanth, who, after much pondering and meditation, finally decided that 2018 is the year to grace the public with his spiritual spiel. Now Kamal Haasan, the newest and the freshest lotus to bloom down south, promises to uplift them from the political muck. Bring that EVM, already.
And to think that just a year ago Tamil Nadu was still grappling with the loss of its brightest star, Jayalalithaa. Still grappling with the indecision of its superstar — two decades and counting — to make up his mind about saving it from going down the drain. Bam, you have not one, but two superstars. Kamal Haasan may cry himself hoarse denying it, but the game has already begun with Haasan scoring one over Rajinikanth. So grand was the launch of Makkal Needhi Maiam that it still reverberates in the nooks and corners of Tamil Nadu, forcing a praise from his friend-still-but-a-politician-first Rajinikanth: "The way Kamal Haasan launched his party was outstanding. His party flag and principles are also good. I congratulated when he came to meet me. Now, I want to congratulate him once again for his successful first public meet."
Trust Tamil Nadu to toss in more actors to spice up its politics.
Down memory lane
Yes, it is true that both Haasan and Rajinikanth have gone out of their way to be courteous to each other. Haasan, who visited the movers and shakers of the political world before he made his grand entry, took a moment to include Rajinikanth in that list. And Rajinikanth recorded his "approval" of the launch. "Even though Haasan and I travel in different paths, our goal is the same. Our routes might be different, but motto is the same: to serve people." But he also took time to tell his fans, "It is being said others are making noise and they [his fans and supporters] are keeping quiet... Let the others make
noise, let us make the noise at the right time." So, not for a moment have they managed to hoodwink Tamilians who are more acutely aware of the fact that history is poised to repeat itself all over again. It is not that long ago that the corridors of power saw the rivalry between its two lead stars — superstar MG Ramachandran aka MGR, the original actor-turned-politician, and his political opponent M Karunanidhi, the equally charismatic screenwriter-turned-politician. The legendary rivalry caught the imagination of the people so much that it became the fodder for a film, Iruvar, for famed director Mani Ratnam. Dust hasn't really settled over the stories of the two and, like a phoenix, rise another duo, promising more action in Fort
St George than on silver screen.
End of freebie era?
Cash for votes is nothing new in Indian politics but in Tamil Nadu it is a religion. A superstar she may have been, but it is Jayalalithaa who is credited with making it mandatory during elections. When another superstar Vijayakanth launched his party DMDK, also in Madurai, 13 years ago, his debut political rally was bigger than Haasan's. The crowd that gathered for Haasan is pegged at 10,000, while the crowd for Vijayakanth could have easily touched 1 lakh, according to reports published in 2005. The devil though is in the detail. No one knows for sure why exactly the crowd turned up for Vijayakanth. And nobody could deny, considering it is what politicians do in Tamil Nadu — and elsewhere — that there was the possibility of having been paid to attend the rally. But those who made it to Madurai on February 21 had one thing on their mind: to end the corruption that haunts the power corridors of Tamil Nadu. Documenting this is a report on Bangalore-based independent webzine, The News Minute (TNM). Among the people that it spoke to at the event, who pretty much echo the same sentiment, are a couple from Trichy, Chitra and Selvam. "We came all the way because we believe that Kamal is the solution to the terrible administration that we have today. Their corruption affects every one of us and we need a way out," say the couple to TNM.
Chalk and cheese
Even before they could get their foot in, Rajinikanth and Haasan have established their differences. Early February saw Haasan tell Burkha Dutt at the Harvard University gathering, "We can exist as friends and be on one side. But polity is different. I am trying to make a difference to my state. Our general intent may be the good of the people. But I believe that there is a certain way in which good will have to come to the people."
So, this is the newest of the political deal for Tamil Nadu: On the one hand, there's Rajinikanth, the man that many waited for years to deliver them from cronyism that surrounded the Tamil political scenario. A messiah, if you will. Ironically, it is quite possible that the weight of this expectation probably overwhelmed the "messiah" in pushing the thought for another day. When Rajinikanth finally decided that he has weighed the thought enough, and that time is ripe for action, he threw in the "spiritual" condition that befuddled many into thinking that he is on a quest to align with the ruling party. Such was the confusion that two days later Rajinikanth was forced to throw in an addendum: "Honest and secular politics is spiritual politics."
Tamil Nadu even though it celebrated its newfound political star — a long awaited one, at that — could never really embrace it like it did with Haasan's Makkal Needhi Maiyyam. In its analysis of the superstar's move, another online website has quoted MH Jawahirullah, the president of Manitha Neya Makkal Katchi, an influential Muslim political party in Tamil Nadu: "Rajinikanth's statement, especially the bit about 'spiritual politics', means nothing and reflects BJP's ideologies. His proximity to prime minister Narendra Modi cannot be ignored. When Modi came to Chennai while campaigning for the 2014 Lok Sabha elections, he visited Rajinikanth's house. That speaks volumes about our fears when the superstar mentions spiritual politics."
On the other hand, there's Haasan, clearly a champion of people who always leaned a little to the left and who filled his message with enough socialism on the D-day that the only thing that was missing was a sickle. In case someone missed the "we-the-people" message that Haasan painted his political story in, he even got the original Aam Aadmi man, Arvind Kejriwal, with him on stage on February 21.
Symbolism apart, Haasan had always made it clear that his intention to join politics came from being fed up with the goonda raj that faced Tamil Nadu. Strip Haasan of the pomp that politics seem to demand these days, you can see the rage that binds him to the common man. By choosing to name Arvind Kejriwal, Chandrababu Naidu, Pinarayi Vijayan and Barack Obama as his inspiration, Haasan, in a way, is also preparing the common man to weigh the good and evil and choose the devil. There is no way he is a messiah is the message that he hugs to.
jemima.raman@mydigitalfc.com