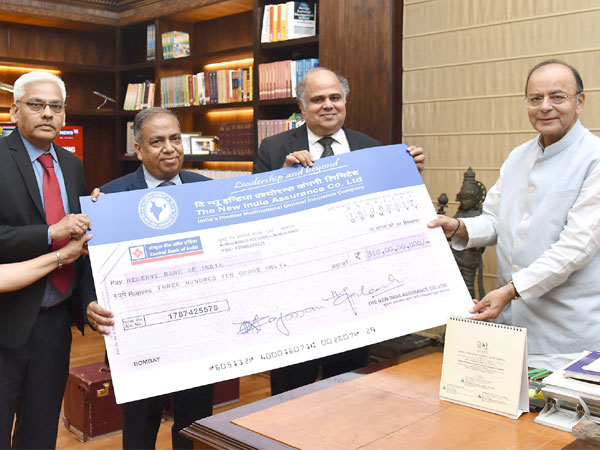 The New India Assurance is the largest non-life insurance company in the country. It got listed in November.
The company chairman and managing director G Srinivasan speaks to Falaknaaz Syed about the company's plans, in-house Third-party Administrator (TPA), the need to increase premium rates in Pradhan Mantri Suraksha Bima Yojana, recommendations for the Union Budget and reinsurance market
From its listing price of Rs 725 in November, the share price of New India Assurance has fallen by 14 per cent. Why is the market not so confident about your company?
It's a new stock in a new sector where there are no benchmarks so far. It will take some time for investors to understand our company. But the company is very solid. New India Assurance made a net profit of Rs 1248 crore in the first half of the current financial year, compared to a net profit of Rs 478 crore in the corresponding period of last year, a growth of 161 per cent. We are a company with the largest profit in the market and expect to reach Rs 26,000 crore of premium income this year. This financial year, the domestic business may see a growth of 18 to 19 per cent with a premium income of Rs 22500 crore while the international book will grow by 5 per cent at Rs 3500 crore. We continue to work on bringing down the claims ratio and have brought it down by 5 per cent and management expenses by 4 per cent. We have posted a growth of 20 per cent in domestic
premium for the nine months ending December 31, 2017 at Rs16,800 crore as against Rs 14,000 crore for the same period last year. Our company's network including fair value is Rs 37,000 crore and our asset base is Rs 73,000 crore. We are the only insurer to have an international 'A' rating. I am sure the market will understand the value in the company and we will get our due recognition very shortly.
The release of film Padmavati has been delayed. During the protests, a fringe political party had destroyed the sets. What are the claims that have come from Padmavati?
There was a small claim of Rs 3 crore on property damage. As far as the distribution side is concerned the film is yet to be released. The policy comes into effect only if the film is certified and released but the film is yet to be released. The policy covers if there is loss of revenue due to disturbances or other insured events, which was not the case as the film is yet to be released. Similarly, if the government bans the film, the policy will not cover any loss. Also the sum insured of the film is small at Rs 80 crore and we have reinsurance protection for the cover and has no major significance for the company.
How are motor and health portfolios doing?
Across product lines, the two challenging businesses are health and motor. We are repricing the health products and working on claims minimisation, as a result, the health loss ratio has fallen by 12 per cent to 100 per cent and we expect it to further fall to 95 per cent by the end of this financial year. Similarly, incase of motor insurance, we have taken several steps such as pruning the Nil depreciation cover and that has led to a 5 per cent fall in incurred loss ratio of motor own damage portfolio. The incurred claims ratio in motor own damage portfolio is 75 per cent. Also the premium rates in Group health insurance is going up and the rates have risen by 20-40 per cent, which is a very positive trend. So both the health and motor portfolios are seeing a significant improvement, helping boost the overall profitability.
What are the new products or business segments that you plan to enter?
Very shortly, we will come out with Title Insurance covers for builders. Title insurance is mandatory for developers under the RERA legislation. And we see enormous opportunities. The policy protects insured from losses arising from certain risks that could adversely affect their title or interest in property. If a title is defective then a title insurance policy will cover the legislation costs. We are also about to launch a policy for Insolvency Professionals (IP). It will be a packaged cover meeting the requirements of IPs. It's a new profession and an IP could commit some errors during their job. This policy will cover their liabilities. The terms of the cover are being designed and we will be launching the policy in next 2-3 weeks. The policy can be of three months, six months that can be renewed after that. Besides we also plan to come out with a simple health insurance policy with certain limits and caps (on usage) which will be an economical and affordable policy for the common man.
Non-life insurance companies are making losses in the mass personal accident insurance scheme like Pradhan Mantri Suraksha Bima Yojana. You had some months back mentioned that the premium needs to increase. What is the update?
The government has promised to look at it when it comes for renewal. So the next renewal for PMSBY is on June 1. The loss ratio in this social scheme is 200-250 per cent and we hope the government revises the price as it will then complete 3 years so that the price is in line with the loss ratios.
What is the price increase that will help the PMSBY scheme breakeven?
The premium for the last 3 years have remained unchanged at Rs 12 for 2 lakh personal accident cover. There should be three times increase in the premium, may be Rs 35. The idea is to provide a cover to the poor. The policy is an important social cause and we don't want to make profits out of the scheme but would want to breakeven.
What are your recommendations for the Union Budget?
We have asked for tax relief on personal lines of covers such as householder's policy. We have also asked for an increase in tax relief on health insurance policies. Currently, there is a tax benefit of upto Rs 50,000 on health insurance covers and we want it to be doubled to Rs one lakh. We have also asked for lowering the GST on health insurance policies.
What is the update on the inhouse TPA of the public sector general insurers?
Our in-house TPA is scaling up in a big way. It is already operational in Delhi and Mumbai and has opened offices in other cities like Chennai, Kolkata, Ahmedabad, Pune. It will be fully operational in the next six months across the country. We see huge benefits from our in-house TPA in terms of better claims management. It will be doing 1-2 per cent of business in terms of number of lives covered but in a year's time, it will do much more.
As your TPA scales up, will you completely do away with private TPAs?
No. We want private TPAs so that there is good amount of competition between our inhouse TPA and private TPAs in providing us (policyholders) with the best of services. But in another 3 years, our in-house TPA should be able to do 50 per cent of the business.
Losing 50 per cent of the public sector insurers business will be a big jolt to private TPAs. Will they shut shop?
Health insurance business is growing at 18 per cent and so the number of people entering the fold is increasing. So, there will be enough business to give private TPAs good volumes.
What is the update on the preferred provider network (PPN) where you negotiated special package rates from several hospitals?
Clearly there is a need to control health care costs in the country otherwise healthcare will become unaffordable for the common man. The government too is taking measures on rationalising health care costs for instance it capped the price of stents. If healthcare remains affordable, people will be able to take advanced medical care and be benefited by the coverage of the health insurance industry. The PPN is working successfully in 12 cities and we have 3000 hospitals under PPN across the country, which includes the top hospitals in big cities.
How has the reinsurance market been this year?
This year the domestic insurance industry has been very fortunate and did not see major catastrophes and I hope this continues. However, the reinsurance market was impacted by several hurricanes in the United States that has resulted in huge losses for international reinsurers. So there will be hardening in reinsurance rates in certain segments such as property insurance. However since Indian loss ratios have been good, so the Indian reinsurance rates will remain stable.