These 10 global leaders are going to change the world like never before, carrying with them varying degrees of verve, aplomb, pizazz and dynamism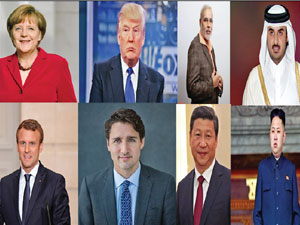 DONALD TRUMP
US president Donald Trump is not the most articulate world leader, but when he uses tough words, the message gets through clean as a whistle. 'Fire and fury' ramped up to 'locked and loaded' for war against North Korea. So he jousts with the Chinese and talks down to western allies. Trump loves a rough tackle. Throwing aside presidential decorum he pulled out a clip from his reality TV days to show how exactly he would like to slam 'Fake News'.
Trump's rise to power was a victory of the Washington outsider and rightwing politics, with the accent on European-style nationalism. It helped that he was fabulously rich and could attract powerful friends -- even Bill and Hillary Clinton at one time. He was not an outsider in the quintessential sense. His political ambitions were well known. The birther campaign against Barack Obama, which he led, had forced the former president to release his citizenship details. What his supporters found attractive about him was that he was not part of the Washington set. That raised hopes of voting in someone who would overhaul the prevalent power equations. The last time someone like him had challenged Washington politics was the Texas businessman Ross Perot, who contested in 1992 and 1996, and was able to rally large numbers of people who were tired of traditional party politics.
Despite the promise, Perot performed poorly on the ballot. Perhaps it was not yet time to welcome the outsider to Washington. Trump has shown that the time to install the outsider in the White House had come. Simultaneously, he has made himself attractive to the conservative White American, to the White supremacists, to Middle America and those in the rust belt who felt they had fallen off the map. 'Make America Great Again' is a slogan that draws attention to just about everything from joblessness and Obamacare to the Mexican wall, ISIS and hitting out at 'Crooked Hillary'. In the initial stages he appeared to be delivering on his promises – on moving to repeal Obamacare, build the Mexican wall, and bringing jobs back to America.
Almost singlehandedly, Trump was pushing up markets across the world. However, typically for a man like Trump and his style of politics, Americans are beginning to realise that the Trump administration is not an innocent enterprise at the White House. His own team has undergone several changes since January 20. The administration is as packed with his family members as it is perhaps possible. His ambiguous stand on Russian meddling in the presidential elections has been questioned. He has been reluctant to outrightly condemn the Klu Klux Klan and the White supremacist rally in Virginia. These have registered on his approval ratings, for which he has typically blamed it on 'Fake News'. The coming days will witness a fight between the Washington establishment and the unpredictable occupant of the White House.
JUSTIN TRUDEAU
Justin Trudeau will be joining his visiting Irish counterpart to take part in the Montreal Gay Parade over the weekend. It is the sort of thing you would more likely expect him to do. With his fuzzy dark brown mop and boyish smile, he gives the impression of being all mush.For good reason. When much of the world was turning its back on Syrian refugees, the 45-year-old Canadian Prime Minister welcomed 40,000 of them with open arms. Sometimes he waited for them at the airport, shirtsleeves typically rolled up, giving the refugees high fives and cuddling their children. On the other hand, like his neighbour –though less noisily – he did not forget to drive in the message of a muscular Canada with a $14 bn hike in military spending to keep Canada safe, and no, he does not think that NATO is dead.
Along the way, as Trump-anxiety hit Americans, he told them they had an open invitation to his country. Later, as the climate change talks collapsed with the US among those reneging on their commitments, he tried to motivate individual American states to work with Canada to ensure the Paris climate deal was not junked. Trudeau can be disarmingly free spirited, sometimes lovably so and controversial on occasion. He plans to legalise recreational use of marijuana, has appointed Harjit Sajjan as his minister (some Indians have panned him for holding pro-Khalistan views) and praised the late Cuban leader Fidel Castro, generally a hated figure for western leaders. Leader of the Liberal Party, Trudeau, whose fame reminds Canadians of his legendary father, former Prime Minister Pierre Trudeau, holds the middle ground in Canadian politics between the Conservatives and leftwing New Democratic Party.
EMMANUEL MACRON
French President Emmanual Macron, who won his election by trouncing his opponents, has had his first 100 days in office ruined by a poor report card – the newspaper La Figaro says his approvals now stand at 36 per cent – and a gritty photographer who chased him down and marred his vacation to the working class seaside resort of Marseille. The 39-year-old centrist leader, with his aristocratic lineage, who was hailed for stalling the march of rightwing forces in the West, is now jostling with an array of problems. Macron had promised a renaissance in governance during his campaign and came to power after trouncing the Socialists and Republicans. Now, many think that he is hitting out at some of the ideals that are dear to the French. One is the sanctity of labour privileges, but Macron could be working towards the kind of labour reforms that will allow companies to hire and fire as they please. Up ahead are anticipated strikes by the powerful leftist trade unions. Civil servants are miffed because their inflation-indexed salary increases will no longer happen. And there are question marks over the formal role of his 64-year-old wife Brigitte, who had one time helped push his case for President.
On the world stage, though, Macron remains a force. Within his own party too he is the undisputed leader. Each law maker is picked by him, and not elected on their way up. In government, he has made sure that his prime minister fall in line with his views. He has forced his army chief of staff to resign for complaining over reduction of the military budget. Some say he is a republican monarch. However, those who support him believe that he has made enough of the right noises to take France forward. Besides, hasn't he brought the Olympics to France – for the 2024 games?
ANGELA MERKEL
Being leader of Europe's strongest economy, which in many ways means being leader of the European Union, German Chancellor Angela Merkel has many responsibilities. One of them, in the post-Trump era, is standing up to Trump. She has doubted America's reliability as an ally for Europe, clashed with him over funding to NATO and trade practices and more recently panned the violence by white supremacists in Virginia, US. Merkel, who will be standing for a fourth term in office– polls show she has the strongest chances of winning – has been uncompromising in her views. That has meant being tough on the Greece bailout, negotiating trade at the G20 or discussing Franco-German alliance with France's Emmanual Macron.
On the domestic front, 63-year-old Merkel has been larger than life ever since she became secretary general of the centre-right Christian Democrats in 1998 and later Chancellor in 2005. She has a ruthless trait which was on display in 1998. A protégé of Helmut Kohl, arguably Germany's strongest post-war leader, she dumped him when Kohl lost the election following a corruption scandal over political funding, and asked people to look beyond Kohl. In 2015, she insisted on an open door policy to allow in refugees running away from ISIS-led violence.
Two years later, with elections round the corner, growing support for the far-right Alternative for Germany party over her immigration policy, and terrorist attacks by Muslims in Germany, she has moderated the earlier position. She now says, every year will not be 2015.
Merkel is also trying to cultivate a fun image to attract the youth in the coming elections. In an interview with YouTubers, she spoke at length about using emojis in the numerous messages she sends out –with all ending in a smiley, and on days she is in a good mood, a smiley and a heart.
KIM JONG-UN
When a small and internationally isolated nation, that can barely feed its people, rattles the world's most powerful nation, it is worth taking a look. Kim Jong-Un, North Korea's baby-faced 33-year-old leader, has perhaps the highest bellicosity quotient among world
leaders. His threat to launch nuclear missiles near the US territory of Guam in the Western Pacific drew counter threats from president Donald Trump – first, that North Korea would face US 'fire and fury' and then that it was 'locked and loaded' to strike against Pyongyang.
As Kim wound down on that threat, he earned praise from Trump for his "wise" decision. With help from China, Kim has fought off sanctions following nuclear tests in 2013 and 2016. However, his insistence on challenging his enemies appears to be testing China's patience as well, but he has soldiered on nevertheless, as the Guam incident has shown – bothering little for reputations or about the consequences to his country. Kim has been just as ruthless and uncompromising on the domestic front. After his father Kim Jong-il died in 2011, his rise as supreme leader was swift. The elimination of real and presumed rivals was remorseless, their bodies sometimes torn apart by anti-aircraft guns or hungry dogs. The most high-profile purge was of his uncle Sang Chong-thaek. After his execution, Kim simply said spoke about the removal of 'factionalist filth'. More recently, in February this year, his half-brother Kim Jong-nam (his father Kim Jong-il, the former North Korean supreme leader had married thrice) was eliminated in a poison attack at Kuala Lumpur airport. News trickling in from his secretive nation says he has married a former singer and has a daughter. His control over his countrymen is complete and he has layered it with well-institutionalised as well as crackpot mechanisms of state terror.
EMIR OF QATAR
Sheikh Tamim bin Hamad al-Thani, has emerged as the nucleus of the Gulf standoff as his country fights off the boycott – he calls it a 'siege' – by four powerful Gulf neigbours, Saudi Arabia, Bahrain, Egypt and the United Arab Emirates. The latest showdown over Qatar's apparent support to Islamist terrorism and providing a base to the Muslim Brotherhood is actually an extension of the complex politics of the Gulf region, where blood relations, memories of past conflicts and apparent slights, and hardnosed business interests, usually over oil, combine to create and incendiary cocktail. Now, with help from the US to sidestep the crippling conditions of a 13-point set of demands put up by the four-nation group, the 37-year-old Sheikh Tamim has been putting up a feisty show, which has included asking his government to fight the sanctions and opening up of the economy to more foreign investments.
On the ground, analysts identify several reasons for Qatar's present troubles. One is that his country shares its rich oil reserves with Iran, the traditional enemy of the Saudis. But they could also be paying the price for a brand of assertiveness against the Saudis that began with the present Emir's father, Sheikh Hamad, who abdicated in 2013. Sheikh Hamad had fought on the side of the coalition forces against Saddam Hussein in the Gulf War when his men had launched an attack on the Saudis, who too had taken part in the war. The Saudis never saw this as friendly fire and grimly nursed the slight when they returned from the battlefield. Later, Sheikh Hamad taunted the Saudis over a border dispute. Besides, the Saudis have not forgotten Qatar's support to al Jazeera, and its coverage of the Arab spring. Among the set of demands put before Sheikh Tamim is one asking him to shut down the channel. The feisty Sheikh, meanwhile, refuses to buckle under and has got the Americans to intercede on his behalf to ask the four-nation group to lift the sanctions against Qatar.
VLADIMIR PUTIN
A Pew research has done the impossible – it has revealed that citizens of Nato countries and others in the free world, including in the US 'protectorates' of Japan and South Korea, trust Russian President Vladimir Putin over US President Donald Trump to do the right thing for the world. There is unlikely to be any real challenge to Putin's re-election bid next year, but things like this could help, along with his shirtless images from the resort of Tuva, where he goes vacationing. It also is a small victory of sorts, for putting in the shade the US President, whose position is described as that of the leader of the free world.
In recent times Putin has built a sturdy reputation for being a master f the art of war and over time raised Russia's profile as a world power, an identity that had suffered after the fall of the Soviet Union. A former KGB agent, he considers a show of strength as a matter of policy. This was illustrated in the annexation of Crimea in 2014, the brutal attack on Chechen rebels, the actions against Ukrain, and the decision to back Syria's Bashar al-Assad, who he believes is crucial to the fight against Islamists. But the urge to dominate has gone beyond that – to trying to control the course of world politics.
Trump, with whom he has had cosy relations, is fighting allegations that the Russians meddled in last year's presidential elections that brought him to power. Similarly, in France, reports suggested that Emmanul Macron's campaign was targeted by Russian hackers – it is well known that Russia favoured Macron's opponent, the far-right candidate Marine Le Pen. In short, he is doing what it takes to make Russia as a world leader, perhaps only using means that were better suited to the former Soviet Union.
THERESA MAY
A Labour Party opponent once said of British Prime Minister Theresa May, that she was steady and serious and it was necessary to do the homework to get her attention. Frivolous comments did not make a dent on her, no matter how loudly put. This was evident when the 60-year-old Conservative Party Prime Minister took over from David Cameron following the Brexit referendum. In the confusing days that followed the narrow win ratifying Brexit, and details emerged of how pro Brexit politicians, like Nigel Farage and some from her own party had been economical with the truth about the drain on Britain's resources that being in the European Union necessitated, she typically brought in clarity. She immediately threw out suggestions of another referendum with the unambiguous words: "Brexit is Brexit."
Tough as nails, May, whose father had been a vicar, had been almost mind-numbingly ambitious. As a student in politics, she had entertained thoughts of becoming Britain's first Prime Minister – and then Margaret Thatcher became Prime Minister, a development that reportedly irritated her, say her friends who went to Oxford with her. A British Prime Minister is, almost by definition, a leader who will have a hand in the shaping of world politics. In May's case, she has a sense of destiny about that role. Perhaps that is why she called for early elections this year to bolster her party's numbers in Parliament which she thought would give her more muscle. Even though she did well to lead the Conservative Party into becoming the largest, she fluffed the opportunity to decimate the Labour Party. Right now, she is work on the details of the post-Brexit situation, only saying "there is a lot of work to be done."
XI JINPING
President Xi Jinping of China is among the handful of world leaders that President Donald Trump is deferential to. China's economic muscle – that India has overtaken it as the fastest growing economy hasn't dented that standing – and considerable geopolitical ambitions make him formidable on the global stage. What he adds to that is a cold disdain for form and diplomatic niceties in the face of his country's interests. Within China, there has been no leader in decades as power as he. Some say he is the most powerful Chinese leader since Mao Zedong, perhaps more than even Deng Xiaoping. Soon, at the 19th Congress of the Communist Party of China, he will get another five years as party chief. He already has control over what is the world's biggest standing army. Neither in the government nor in the party, is there anyone to challenge him. Premier Li Keqiang, himself an important leader, now has reduced powers as Xi has appointed his own advisors to perform the roles that are ordinarily the Premier's. Party meetings, like the one currently in progress in the resort town of Beidaihe – former and current party bigwigs are attending it – have therefore increasingly become staid affairs.
Xi, who came to power in 2012, has consistently shown that he will get the better of the vested interests in the party and even the military. Within the party, as he replaced collective leadership with strongman-style rule, he made the Bo Xilai trial, that involved sex, corruption and murder, a test case to show that the party could not be a shield for anyone. Then, with the help of his chosen ally, Wang Qishan, he launched a breathtaking anti-corruption drive that ended in a purge of tens of partymen. Among them were members of the party's central committee. Four top leaders were sent to jail. All these improved his public standing. And at the base is an agenda for economic transformation of China that, in terms of impact, is said to be as significant as the reforms that began under Deng.
NARENDRA MODI
Narendra Modi has often flaunted his outsider status in Delhi politics. Those who took that as an admission of being a novice to national politics were rudely jolted out of their comfort zones. Since May 2014, when he became Prime Minister of the world's largest democracy, India's 66-year-old leader has shown that he will stop at nothing to break the back of vested interests and ensure the future of his party and government. He has gone on to delegitimise the Lutyens set, attacked old-style bureaucracy and in the process torn to shreds the notion that India's officialdom is too powerful to mess with, and launched a countrywide anti-corruption drive on a scale that no one has attempted before. It has given him unprecedented power and garnered huge political goodwill, especially among the poor who are convinced of his anti-corruption credentials and are prepared to undergo hardship for the cause. This has helped Modi ride over problems that would have hobbled less popular or weaker leaders –economic challenges caused by a tapering down of growth targets, of poor industrial production and deceleration in employment growth.
The result has been his unchallenged position in the party and government, and a rout of the political opposition. When Modi speaks now, he looks well beyond 2019, when the next general elections are due to be held.
On the world stage, Modi has been a sought-after figure. The prime minister has evidently warmed to his role as a world leader. He has made nearly 60 trips abroad as Prime Minister, most of them to the US and managed to develop a personal bond with both Barack Obama and Donald Trump. More than being engaging, he has made a few shrewd moves – his Look East policy has gone hand-in-hand with a quiet diplomacy aimed at pressuring China. The post-Doklam strategy has been not to buckle down without appearing unnecessarily aggressive. It is a strategy that appears to have set the Chinese thinking. Recently, he abandoned India's hyphenated approach to Israel and Palestine, when he visited Jerusalem and flew directly back home – mindful no doubt about what India might get in terms of defence technology from Israel. It won him huge accolades from Israel's Benjamin Netanyahu. The months since becoming Prime Minister, Modi has shown he can sway public opinion to suit his needs. He knows it works best for him, when he goes back to the people to put forward an idea. So far, that has been his biggest asset.
– Compiled by Team FC