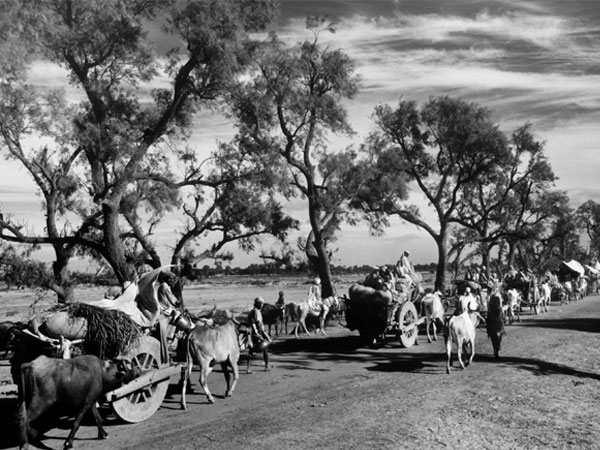 When motives become devious, it becomes parasitic, more so because you don't chase, what you can't catch, particularly when ego gets involved. Many pre eminents have fallen prey to the size of their egos.
Egos have brought people down to terra firma, crashing with a thud, and that too with a 100 kilowatt bang. Sheikh Abdullah was no exception; his ego tripped him when he had everything going for him. In Kashmir's chequered history, there have been many twists and turns, several explained and decoded by this writer on these pages over time. Many legionnaires and characters have graced this epic stage over the last 75 years. From royalty to commoner, Kashmir has seen intrigue, chicanery, perfidy and subterfuge in equal measure.
In the 1960s, a brand new player entered—Mridula Sarabhai, born into Ahmedabad's celebrated industrial dynasty and top nuclear scientist Vikram Sarabhai's sister, she was one of those amazing women who fought for India's freedom. After the tryst with the midnight hour, she grew disillusioned with the Congress, rejected the lure of high office and championed the unpopular cause of Sheikh Abdullah for the last twenty years of her life, even going to prison defending the Kashmiri leader. Her biographer Aparna Basu writes about her mission to save people during partition's worst rioting, "On reaching Amritsar, she found that anarchy prevailed all round. There was a complete breakdown of communications as well as of law and order. Everywhere there was an atmosphere of panic and fear. Half the population of both East and West Punjab seemed to be on the roads looking for refuge. Only a few days had passed since Partition and both the governments were desperately trying to cope with the millions of refugees crossing the border. The administrative paralysis caused by the reshuffling of cadres on a communal basis and the infiltration of communalism into the police and military had, by the end of August 1947, created a situation in which it seemed impossible for Hindus to stay in West Punjab and for Muslims to stay in East Punjab. The governments of East and West Punjab had to face a terrible crisis in the very hour of their birth, even before they had settled down to work or had proper offices functioning. Amritsar was full of Hindu and Sikh refugees, who had suffered greatly in Pakistan—who had been victims of the orgy, riots, loot and arson, and many of whose family members had been killed, raped or abducted and who had lost their houses and all their property. There was understandably a great deal of bitterness against Muslims. In such an atmosphere to work for Muslims was neither easy nor popular. Nehru was hesitant to allow her to go to Punjab without obtaining approval of Mahatma Gandhi. But when news began to pour in that the law and order situation in both the Punjab's had gone out of control, he himself suggested that she should proceed to Amristar at the earliest. 'I felt honoured that I had been entrusted with this difficult and responsible job. Jawaharlal informed Gandhiji on the phone that I was going to Amritsar.'"
Later, she became fixated on getting Sheikh Abdullah justice and devoted many years to seeking his release from incarceration. In My Years with Nehru – Kashmir, written by B N Mullick, the all powerful Director of IB of the time, he argues how freedom fighter Mridula Sarabhai worked against Indian Interests and at a point of time even Nehru could not protect her from the law:
Sheikh Abdullah's greatest supporter in Delhi, as mentioned earlier, was Mridula Sarabhai. Single-handed she carried on an unrelenting propaganda against the Bakshi Government and the Government of India (without mentioning Pandit Nehru), the IB and the Security Forces in Kashmir, calling them the conspirators responsible for the Sheikh's incarceration. One must give credit to her tenacity and single-mindedness for the way she pursued her efforts and, in the end, did actually succeed in converting a large number of MPs and other eminent personalities to the view that the prosecution against the Sheikh should be withdrawn. She knew human psychology and was well-versed in methods of propaganda and she knew that if one repeated an allegation a hundred times, people might start believing that there was some truth in it.
Pandit Nehru, of course, was always kind and tolerant to her, though on many occasions he said she was completely misguided. But he felt that in free democratic India even such persons should be given the freedom to canvass their views. When the Sheikh was released temporarily in January, 1958, Mridula immediately joined him in Srinagar and helped him in his propaganda work. Nobody could accuse Mridula Sarabhai of any anti-Indian feelings, but, unfortunately, she never realised that she was being exploited by extremely anti-Indian and pro-Pakistani people who used her house, her car, her telephone, her money, and almost everything she possessed in order to carry on a conspiracy against India with the help of Pakistan. Even Pir Maqbool Gilani's escape to Pakistan was probably within her knowledge. She, however, met one redoubtable opponent in Pandit Pant and all her pleadings and propaganda left him cold. Ultimately, the Home Minister had to take cognizance of her activities, which were becoming more and more pronouncedly anti-Indian, and order her detention under the Preventive Detention Act. Though Pandit Nehru himself was most reluctant, he agreed to this step because there was no other alternative and all his personal efforts to correct her had failed.
Things came to such a pass that she was detained in Tihar Jail and later placed under house arrest for some time at her home in Ahmedabad. She died in this same house subsequently in 1974. Sheikh Abdullah who was arrested and jailed in the Kashmir Conspiracy case was released in 1964. In 1964, when the whole nation was eagerly awaiting the outcome of the case and the judgement of the court, the case was withdrawn and all the accused were released as a part of controversial and sudden diplomatic decision taken by Jawaharlal Nehru and Ghulam Mohammed Sadiq, the then PM of J & K. We pick up the threads during the mid sixties with detailed correspondence between her and key players in the Indian government:
CONFIDENTIAL
Camp : Srinagar,
Personal. March 13, 1965,
My Dear S. Swaran Singhji,
The recent developments in Kashmir Valley that started from 7th March were perturbing. Large-scale detentions of political workers under D.I.R. and charges and counter-charges called for a study of the local situation. I am convinced that any situation that brings about conflict between Government and the people is not in mutual and national interest. So I decided to offer my services to Sadiq Saheb and Maulana Masoodi Saheb to help in checking of further deterioration. This brought me here on 9th. Herewith Situation Report that I have sent to Sadiq Saheb and D.P. Dhar. I am trying to get air reservation to go and meet them and return to Delhi but this is not available. Meanwhile I take the liberty of seeking your good offices towards finding a solution that would avert a crisis.
Yours sincerely,
Sd/- Mridula Sarabhai
Latest Situation Report.
Since three days it is satisfying to note that there are apparent signs of government having taken such steps that would help relaxation of conditions. As far as Maulana Masoodi Saheb and others are concerned, they are responding to it. One difficulty is of the attitude of the Congress organ, The Khidmat which is publishing taunting and provocative news. It appears that the Khidmat and the Pak Radio are disappointed at the manner in which people have controlled their emotions and bitterness, and their expectations that a situation would be created that would bring people and government into violent conflict has been foiled.
Besides this, there is the element which is of uprooted vested interest of the past government, also are working here to bring government and the people into violent conflict with each other. The general feeling in Delhi is that Bakshi and his group are politically finished, is wrong. The BBC is a deeply entrenched force in every section and government which is using every opportunity towards its object of discrediting the Government on the one side and working as agents provocateur, the only object being that Bakshi Saheb or a government of their choice should come into power.
The Plebiscite Front leadership has always held that the government should take steps against those who violate law and order and adopt coercive means, irrespective of the party they belonged, but the government should use the normal law for this purpose and not the DIR which is unfortunately closing the door for finding out the truth and pinning down responsibilities of misdeeds.
Sd/- Mridula Sarabhai
13-3-65
Camp Srinagar :
March 11, 1965
KASHMIR SITUATION REPORT
On the 5th of February Sheikh Saheb left Srinagar for Haj. He spent the night at Anantnag on the 6th. Accompanied by Beg Saheb, he proceeded further on his journey toward Jammu, reaching Delhi on the 8th evening, and sailed for Jeddah on the 13th.
Soon after Press reports started coming in of alleged social boycott of the Congressmen in Kashmir Valley and arrests of individuals, mostly Plebiscite Front workers under DIR. There were charges and counter-charges regarding the activities of the Plebiscite Front on the one side and the Congress members on the other. Both alleged against one another coercive and violent methods being adopted. The Plebiscite Front protested and complained of Government machinery being used for Congress propagation.
During this period, Sadiq Saheb and Shri D.P.Dhar were in Delhi for some time. Shri Dhar was good enough to give me an appointment. At this meeting I placed before him the complaints of the Plebiscite Front, to the effect that DIR was being used to suppress the people and that people were being indiscriminately often given severe beating. He gave me the other side of the story and alleged that violent and coercive methods were being used against Congressmen.
A list of 75 persons who had been arrested under DIR was sent to me and Shri Naik, the General Secretary of PF told me on the 'phone that they had met Shri D.P.Dhar and had talked to him about all this. They had also explained to him their point of view about boycott and its interpretation (as is given in the statement of the Acting President, Sofi Mohammed Akbar). In a nut shell their interpretation of the boycott meant only to give up being on talking terms with somebody.
After this, on the part of the Acting President of Plebiscite Front, efforts were made to caution people and the Government against being misled by elements who were eager to create
trouble that would bring the
Government and the people into clash with each other, as it is
very clear from the statement made by Sofi Saheb.
The Acting President of the PF clearing the matter further, wrote a letter to Sadiq Saheb, Prime Minister, on the 3rd which was delivered to him by special messenger on 4th at Jammu. Through this he endeavoured to clarify that boycott did not mean anything beyond not to be on talking terms with persons flirting on behalf of Congress as this was the only way to avoid being drawn into quarrels and clashes. Protesting against the indiscriminate arrests and beating of PF workers under the DIR, Sofi Saheb requested him to avoid methods which were used before his government came to power. The letter is Annexure II. (A copy of this was sent to Shri Lal Bahadur Shastri with a separate letter). On March 2, Shri D.P.Dhar gave a Press conference in Jammu and attributed goondaism to PF. The Plebiscite Front General Secretary replied to it through a Press statement.
Besides this, the Plebiscite Front gave wide publicity to its Resolution of February 21 which was the basis of Sofi Saheb's statement. A number of directives were issued on this subject. They had given particulars about investigation into instances of violence; going to the victim and asking him for names of those who are alleged to have been high-handed against him and they gave the assurance that if any party member had been involved they would take strongest measures against him and expose him. Wherever government took action and it was justifiable they accepted it. The objection was only on the misuse of DIR. The best agencies which could take action against wrong-doers was the Party or the court. The Government did not allow this to take place, instead they used the DIR and thus made this matter a political issue.
The Government version that Sheikh Saheb and Beg Saheb's speeches on social boycott were really the cause of creating a situation, appears to be rather misinformed, because on my enquiries I have found that in Sheikh Saheb's presence in Srinagar when a few cases of atrocious method of social boycott was reported Sheikh Saheb in strong words had condemned it and had explained that he meant by social boycott only persuasion within the limits of gentlemanliness and moral attitude.
The official version of Beg Saheb's speeches at Bijwara and Anantnag is contrary to details, which I was given by many who were present at these meetings and had heard Beg Saheb. The purpose of referring to the speeches of Sheikh and Beg Sahebs in this note is not to argue as to what they said or did not say. They are abroad. But from the directives given by the Acting President of the PF., Sofi Mohd. Akbar, no doubt is left that he interpreted what they had said. No one who sees his written statements and directive will have any doubt that the PF leaders used all their influence and endeavours against violent type of social boycott. In the first week of March conditions had so improved in Kashmir that the situation was more or less normal.
7th March arrests: It was in this background that the mass arrests of PF office-bearers and workers from 7th March onwards came here on the 9th noon to offer my services to Sadiq Saheb on the one side and Maulana Masoodi and others on the other for finding a way out and not allowing the situation to take an ugly turn which would force hardening of attitudes on all sides and may result in movements and counter movements. Before I could go to Sadiq Saheb, it was necessary for me to assess for myself on spot the situation and meet Maulana Saheb and others. The following is what I have gathered :
I. What had happened was that in the night intervening 6th and 7th March, almost all leading members of Plebiscite Front, all office-bearers of its various Units had been put under detention under DIR. Besides them, leaders of various other organisations, i.e. Kashmir Political Conference, Jamiat Islamia, had also been imprisoned. Armed Police had been spread throughout the Valley and an atmosphere of some impending calamity existed.
II. A few days before, hectic activities of authorities had already spread panic and fear. When, therefore, on the morning of 7th people heard of the mass arrests, these feelings intensified and everywhere the people looked perplexed, angry and resentful. The bitterness was very intense and even those who were supporters of the government were heard condemning the move. This was the situation not only in Srinagar but throughout the Valley, particularly in Sopore, Baramula and Anantnag. In the last mentioned District, the situation had deteriorated into a grim and desperate one. The angry mob were seen without leaders everywhere. In this situation, mischief-mongers and those who wanted to exploit it, were seen busy to foment trouble.
III. Luckily on the previous night Maulana Masoodi who has been ailing since some time, happened to be in Srinagar for consultations with the doctor. Beside him, Shri G.M.Kara Saheb Founder of the Political Conference, Mr. G.M.Hamdani, Kh.Mubarak Shah and some other responsible men were fortunately available in Srinagar. All got together and took steps to segregate the people from being exploited by such elements who want to compel the Government to use brutal force and thus create a disastrous situation and anarchy and chaos.
There are many elements and political parties here who want to exploit the vacuum that has been created by the arrests of PF and Political Conference leaders and workers. The best way was to get the Action Committee to function. It is a federation of all the parties and hence the best forum to keep the people under one discipline.
IV. On March 8 efforts were made to get permission from the Government to hold public meetings to give a lead to the emotionally worked up people. The first public meeting was held at the Jamma Masjid on 8th in which Maulana Saheb and Mohideen Kara Saheb and Maulana Farooq advised people not to be provoked to violence but observe hartal. They demanded of the Government in their speeches that they having taken a mistaken step should retrace and release those who had been detained under DIR.
Sheikh Saheb's remarks in London that he won't be provoked by the mass arrests helped the people to be calm and considerate. But there are pressures and counter pressures. Arrests are continuing, the show of Police and CRP and their high-handedness, all these are enabling the mischievous and provocative elements to instigate the people against following constructive lead given by Maulana Saheb and others. Maulana Saheb and Kara Saheb and others feel that Sheikh Saheb's instructions not to get provoked and not to convert the situation into an agitation, must be followed to the best of one's ability. They agree that the PF and other political parties have been made a scapegoat by some elements who are out to drive a wedge between the Government and the people. The reports are that in the rural areas and other places, the Police are acting on the directives of the ruling party members. Most of them have played havoc in the old regime and they are today doing the same under the new party labels. Since a day or two government appears to have relaxed all this.
V. The PF workers and office-bearers who belong to pre-1947 period of the National Conference, have played a very important role in the Indian National Congress under the leadership of Sher-i-Kashmir and Jawaharlalji. In 1942, when the Congress was banned in the rest of India, Sheikh Saheb kept the Congress flag flying in Kashmir and the organisation functioning from here. Up to 1953, their association with the Congress was very close. If from 1953, there has been a break, it is not because of their doing but because of the attitude of the Congress towards them. That does not mean that one does not feel concerned for the Congress organization. There would not have been any resistance to the Congress Unit in Kashmir had it come in the normal way. But unfortunately this did not happen.
In fact on January 26, 1965, Congress was brought in abruptly and dramatically in Kashmir with provocative declarations, such as 'Sheikh Abdullah's influence in Kashmir has dwindled'; 'People of Kashmir are eagerly awaiting the Congress'; Congress is coming as a symbol of integration', etc. the worse was the creation of the impression that those who joined the Congress would be forgiven for the sins and misdeeds they had done in the past. Therefore, for some notorious anti-social elements of the National Conference, Congress became a protecting wing. Sheikh Saheb's advice against the Congress of Kashmir was nothing more than what many opposition parties in India advised the people to do against the Congress. The best way to foil the popular apprehensions would have been to allow the Congress to build up on the basis of quality membership, and not quantity, and not making it a prestige issue which has led to the experience of the people that Congress is being built up with the use of Police and DIR on the one side and on the other through money and bribery.
Reports have been received that in rural areas if one wanted any personal vengeance to be wreaked against any, he would pose as a Congressmen being victimised and the CRPF and whole Police force would be at his beck and call. It is alleged that one gets exclusive preference in the shape of services, contracts and rationing etc., if he pretends that he is a Congress member.
Most of the arrests of the PF organisation office-bearers and field workers as also those of the Political Conference and other organisations, have created great resentment against the Congress itself and even those who wanted the Congress now feel that if it is to come here with the Police aid it will be a dangerous precedent for the whole country and must be resisted. It will be doing disservice to the country and the Congress in particular.
VI. The use of DIR for this purpose has been greatly resented. It is being taken as a sign of government's weakness. There are no two opinions regard the need for government action against anyone who unlawfully harasses or coerces another. The sane elements are of the opinion that law provides for this kind of cases and the government should have allowed it to take its course.
VII. There is ample evidence that the elements of the National Conference that was thrown out of power two years ago with Bakshi Ghulam Mohammed are playing a mischievous role just now. In Jammu they are bringing pressure on the Government and pretend to be victims because of their loyalty for India, and demand action to be taken against the PF; in Kashmir they are conducting a whispering campaign against the government for the wholesale arrests and other unpopular acts. They are at the same time trying to instigate the people to take to demonstration and agitation with the definite purpose of forcing the government to use violence against the people. They hope that if this happens, Sadiq's government may quit and most of the Assembly members would rally round Bakhshi and consequently the Government of India will have no other choice but to ask Bakhshi to come back. This is one of the elements which is actively at work. Then there are other communal elements like the Jana Sangh and some others who are out to make best use of the present atmosphere for the Party ends. They also are pursuing their ends.
VIII. I am of the opinion that if the government responds to those who have been left out from the FP and the Political Conference and other parties and who want to resist such elements, this can only be done if the government and the party leaders find a way out to isolate the mischief-mongers and to face them. It is unfortunate that with the arrests of party leaders and workers the following things have happened. Arrests have taken place, little taking note of the fact that during the year a number of them have given up politics and are trying to settle down in other walks of life; persons who have publicly opposed the social boycott idea have also been taken in; people who have supported the present government are also being made victims. In some cases when the Police went to arrest the persons concerned and did not find him, they arrested his minor sons or relatives instead. The Police, the CRP and the Military are patrolling in some rural areas, such as Pulwama and others. This enables the mischief-mongers to wrongly report to them against individuals. It is reported that without discrimination the Police are using force against the victims which leads to general bitterness.
Sadiq Saheb and his government were claiming to be interested to remove the emotional stress on the people so that they would feel that their future is safe in India. But the present action against party leaders and workers accompanied by the high-handedness of Police, and CRPF and using of Congress name by them has unfortunately given an emotional set back, and this is reflected a feeling of fresh bitterness against India. It is helping the anti-Indian elements. The people of Kashmir are no more docile. They feel that this action was unwarranted and was meant to appease the communal elements of India and Jammu. Naturally this is being strongly resented. There is ample evidence that pro-Bakshi officers in the Administration and Police are exploiting this situation to serve the interests of their benefactor and boss of past. Besides this, there are elements who are taking individual vengeance for settling individual grievances against each other.
IX. I was glad to see that there is general feeling amongst those who are leading the people just now, Maulana Saheb and the rest of the PF leaders, who are out, and leaders of other parties and that all efforts should be made to avert the deterioration in the situation. Hence while they try to keep the people away from the path of violent and agitational approach, the government also should stay its hands from further aggravating the situation.
X. It is also the fact that the ruling party and its organisation should not be allowed to miscalculate the present situation as a sign of lack of public resentment against what has happened. People's mood are surcharged with bitterness and anger. It is with greatest difficulty that the leaders who are out have been able to persuade the people to keep cool and not allowing it to find public expression. The ruling party should be persuaded and held back from giving public taunts to the people and other political parties. The Khidmat is playing a mischievous role in this. No one is at war with each other, and hence the question of prestige should not be allowed to come in. the Ministry claims to be democratic and hence they should take the initiative in meeting all the Opposition party leaders who are out and find a solution. The path of repression should be given up. I, therefore, feel confident that if, without delay the government also responds, a way can be found that would stop Kashmir from being a victim of major crisis. In view of the major issues involved that India is facing on Kashmir, I plead that it is not worthwhile to allow the people and the government to come into violent conflict with each other.
XI. In this I have referred to the Congress members activities. Perhaps the Congress organisation have their own version of the situation. I would like to know this, which, I hope, I will be able to have when I meet Mr Qasim Saheb.
XII. Before I end, I want to record on experience that I had yesterday. I had gone to Anantnag to call on ailing friends and families of those who had been arrested. This morning it was surprising to hear of a story about this which I understand has been conveyed to the authorities even. The story is that I had gone there and given lots of money to various families; I had stayed on for the night and was instigating the people. This is no new experience for me. In Bakshi Saheb regime, this was the tactics used against me. This is
another proof that the old National Conferencites are at work to create misunderstanding and trouble. In the present crisis Anantnag seems to have suffered most. Today it has been left
absolutely leaderless. The repression and other events that have taken place has a very bad effect on the people.
Sd/- Mridula Sarabhai
Long Live the Right of Self-Determination
Long Live Sher-i-Kashmir Long Live Plebiscite Front.
The Move of Social Boycott
1. What it signifies?
2. Why do it? And
3. Whom to be observed with?
Statement issued by Sofi Mohammad Akbar, the Acting President of the Jammu & Kashmir Plebiscite Front explaining the principles underlying the directive of social boycott.
----------------
Since social boycott is a new thing and the experiment has not, during the course of political movement in the State of Jammu and Kashmir, been tested, many queries have been coming in from various quarters in this behalf since the people were asked to socially dissociate with those persons who had become members of the National Congress of the State of Jammu and Kashmir. It will facilitate my task to reply these questions all together and explain the matter in the following few pages rather than answer each question separately. In this way I shall have answered the questions as well as guided the organisation in this behalf. They will thus be helped not to deviate from the right path on account of any misunderstanding or ignorance. They must not commit any breach of social practice which is not warranted under the discipline called Tarki Maulaat. I do hope that it will enable the people to correctly understand the significance and spirit of this social corrective and make it easier for them to act rightly and strictly within the ambit of directives.
Briefly put, the question raised are :
1. What is social boycott?
2. Why social boycott?
3. Who is to be social-boycotted?
To take up the first question what is social boycott?
Social boycott is not any movement; it is an expression of protest and grievance. There is no impulse of hate behind this protest and grievance. There is, on the contrary, at work a kind of sentiment of past common bonds. It is our common inference that often enough a child looks sullen and sulky to its mother; that parents are distressed at the ill-behaviour of their offspring; that brothers and friends cease to be on talking terms with one another. When we probe into the distressful expression of these purely innate sentiments, we come to realise that the expression of sulkiness, sullenness is not actuated by hate but by the outraged sentiments of love and compassion. Therefore, the corrective of social boycott when used rightly and properly proves to be highly effective and intensely forceful instrument to secure the desired objective. It is to be impressed and borne in mind that if it is misused or abused, evil and opposite consequences might flow.
There are different phases of social boycott. When under the leadership of Mahatma Gandhi, the Indian National Congress resolved to adopt the instrument of non-cooperation, the programme ranged from the boycott of foreign goods to non-participation in the elections of the Legislative Assembly. At times even students were asked to abstain from attending their colleges and schools. But the most effective and fruitful part of this social protest lies in the severance of mutual conversation and social contacts. The fact of the matter is that out of all forms and expressions of social boycott, the resultant impact on the mind is most powerful when mutual conversation is given up.
Apparently a man could think that no great harm would come to him merely when others cease to be talking with him, but as a matter of fact it turns out to be entirely otherwise. The psychological upheaval caused to the mind of your adversary by your resorting to calculated silence and cessation of mutual conversation could not be made possible if you were to enter into discussion, controversy or argumentation with him.
Do not forget that when you raise your grievance and protest against any person and sever your connections with him by means of social boycott (Tarki Mualaat) your purpose is to show that your adversary is in the wrong. Your resentment is not directed against his person but against his wrong action. When you feel that in spite of your advice your adversary is obstinately wedded to wrong path, that he would not retrace his steps from his suicidal course, you declare social boycott with him in order to make him realise what he is doing. Provided he is not a fanatic, an obstinate fellow, a man devoid of intelligence, he would certainly reconsider and rethink calmly, review the real subject matter of contention so that he is helped to become conscious of his mistake. Once the mistake is found out and accepted, he would try to mend his behaviour on which account you had taken recourse to social boycott.
You must perfectly understand the true spirit of the weapon of social boycott. You must comprehend the real and finer aspects of this social corrective and keep them always before your eyes. If the person resorting to social boycott exceeds the legitimate bound within which he is to act, then psychologically speaking, the entire programme will badly fail and suffer a crash. If your adversary who is socially boycotted, is given an opportunity to complain against you on account of your having exce3ded the limits envisaged in this respect, i.e., if you maltreat him by word or deed, your endeavours will not bear the fruit which is the basic purpose of social boycott. I would like to invite your attention in this connection to the views of Sher-i-Kashmir Sheikh Mohammed Abdullah which he expressed in his speeches delivered a few days just before he left for Haj.
"You must call for social boycott of all those persons who go about
styling themselves as the representative of the people and under cover
of this claim barter them and tighten their bondage and sufferings. You
must not be on talking terms with such persons who are the opponents
of freedom. Don't have social relations with them in order that they
realize their own mistakes."
The following is an excerpt from the speech of Sher-i-Kashmir delivered on the Protest Day, January 15, at Hazratbal.
"You should gently persuade the persons who are against the Plebiscite Front, make them realize that they should not play to the tune of their enemies. They should realise that by their conduct and behaviour, harm will be caused not to themselves only but to the posterity also ultimately. Do no quarrel or contend with them. If they do not refrain through persuasion, you should sever your social relations with them for that would mean that they are deliberately against the people for achieving ends of their own selves only. In respect of 'Tarki Mualaat', you must strictly adhere within the limits of instructions indicated by an example in the days of Prophet Mohammed (May blessing of Allah be on him) when his two associates had kept up their contacts with the foes. If you act on this principle it will be convincing proof of the fact that you do possess the urge and desire to be free."
Excerpt from the speech of Qaidi Azam, Sher-i-Kashmir delivered on the
Protest Day, January 29:
"There are persons who work against the interests of the people; who are against our freedom. Go to them and persuade them by your gentle behaviour and argument that they are strengthening the hands of our opponents; that by their action they would bring about not only their own fall but also harm their progeny and throw the entire people into chaos and distress. Tell them that it is still time to retrace and file up under one banner—the symbol of the struggle for attaining freedom for the people. Tell them that their past mistakes would stand obliterated. If they agree with you, honour and embrace them. But if they persist in their attitude then our path is one and their different. Then sever your contacts and cease to converse with them.
We do not want to quarrel or dispute with them. If under excitement, you take a wrong step this will give your adversary a chance to complain against you. The purpose and intention of 'Tarki Mualaat' is not to resort to violence. It is just what Prophet Mohammed had intended to be done. You are of his followers. Whatever he has been pleased to lay down in this respect, adhere to it and act on the instructions which you receive from your organisation, the Plebiscite Front."
Excerpt from the speech of Sher-i-Kashmir delivered on the ID day at the
Jama Masjid :
"Please bear my words in mind. The measures you adopt to make 'Tarki Maulaat' effective should be peaceful and in consonance with normal principles and based on sympathetic persuasion which it is necessary to observe in order to achieve the result which is in view. The purpose is to achieve end, not to get involved in quarrels and disputes. We will gain that end by cessation of conversation. It will make the person intending to enlist himself as member of the Congress to ponder on his decision. He is to think that his action is harmful for himself and his people, and to become a member of the party which has closed its eyes to the future of lakhs of people of this country and which dare to deny so brazenly the fundamental right to self-determination, is tantamount to be a party to their disaster and destruction."
If he were a sincere man, he might take stock of the realities and certainly own his mistake. He would refrain from enlisting in the party opposed to the people's weal. On the contrary, if he were a selfish and self-centered person, acting under the spell of some allurement, he would persist in his mistake. But when you silently sever your contacts with him, he would be deprived of all excuse to lighten the burden of his bosom by justification of his conduct. In this way peace and calm would not be disturbed and the people would be save d from the mischief. Do bear in mind that you will achieve the end only when you fully comprehend the importance, efficacy and value of social boycott and keep it within its restricted bounds.
Why Social Boycott?
I have already impressed it on your minds that with the aid of social boycott, we may e able to bring back our colleagues to the right path. There are persons who for want of proper understanding, place hurdles on the road to people's freedom. You have to persuade them to reconsider their choice and effect self-correction.
It is an open secret that the freedom struggle in the State of Jammu and Kashmir has entered a critical stage. The people well remember the several mile-posts it has left behind. I need not enumerate them here. The speeches made all along from Jammu to Srinagar by Sher-i-Kashmir and his colleagues after their release from jail last year and the endeavours made by them right from New Delhi to Rawalpindi, were actuated by the sole object I have stated above. Presently, Sher-i-Kashmir Sheikh Mohammed Abdullah
and Beg Saheb in their tour abroad are busy acquainting the people to the world with the point of view of the inhabitants of Jammu and Kashmir and it is to attain this end that they are educating world public opinion.
True it is that Prime Minister Pt. Jawaharlal Nehru is no more in this world. He has gone the way destined for all of us. But the task which he had taken up in his hands has remained unfinished. It is necessary for his successors to complete it. Although Panditji is no more, but the guide line of the steps he had desired in April and May, 1964, to be taken towards the settlement of Kashmir problem is before us. The next step and what is needed to execute it, may be taken and done accordingly. Th whole world supports the view that the Kashmir problem should be settled by mutual negotiations amongst India, Pakistan and the people of Kashmir. Only the other day, the Prime Minister of France M.Pompedou in both of his joint communiqués with the Pakistan President, Field Marshal Mohammed Ayub Khan and the Indian Prime Minister, Lal Bahadur Shastri, issued respectively during his visits to Rawalpindi and New Delhi, has stressed the need for a satisfactory settlement of the Kashmir problem by mutual negotiations without any further delay.
It becomes the duty of every citizen of the State under these circumstances that by word and deed he should support the demand for the settlement of the issue and refrain from installing any hurdles in the path leading to this end. Do nothing which delayed the settlement any longer. Under the leadership of Qaidi Azam Sher-i-Kashmir Sheikh Mohammed Abdullah, the Jammu & Kashmir Plebiscite Front has been whole-heartedly supporting every endeavour directed to secure an early settlement of this problem. Other freedom-loving organisations have been also striving to this end.
There is, on the other hand, a clique of self-seekers who, first under the name of the National Conference and presently under the tricolour of the National Congress have made it a fashion for the last ten or twelve years to say that the Kashmir problem has been settled and there is no dispute now. But the Union Government itself admits that the Kashmir problem is to be settled, but the sycophants are out to deny the very existence of this issue. In the first instance, the National Conference itself was busy in this campaign of denial and now that it failed after strenuous efforts of past ten or twelve years, this clique believes that merely by change of 'Conference' into 'Congress', some magic might work as if by closing the eyes to the reality, the reality itself would cease to exist.
In these conditions, it is necessary that the people should refrain from enlisting themselves as members of the so-called national Congress. You should dissociate with such of the people who do not desist from it. This dissociation is called 'Tarki Mualaat'.
Whom to boycott with?
Though this last question has already been answered, it might not be out of place here to further elucidate the point. It is obvious that only those persons are to suffer 'Tarki Mualat' who have filed themselves against the people, and did not refrain from being members of the National Congress in spite of solicitations not to do so.
It is common knowledge that there are wise and unwise, selfish and selfless people in every part of the country. At times they grind their own axes under cover of apparently some good cause. The freedom fighters have to be extra-careful and cautious lest any person should use the weapon of 'Tarki Maulaat' to wreak vengeance for his private grievance. It is, therefore, that you are instructed in very clear terms to cease your contacts with such persons only who seek membership of Congress.
Bear in mind that when a man denies that he is member of the Congress, do not take notice of what others say on his account. No social boycott is to be
done against him simply because other people allege that he is a member of the Congress. In brief, extremely great caution, high sense of moral responsibility and peaceful persuasion are the
pre-requisites and spirit of social boycott. It is, therefore, incumbent on the workers, big and small units of the Plebiscite Front, to explain these principles to the people so that the programme of social boycott remains within its restricted bounds, and remains a social corrective.
Sd/- Sofi Mohammed Akbar
Acting President,
Jammu & Kashmir Plebiscite Front.
Dated : Srinagar,
February 25, 1965
@sandeep_bamzai