,

Saturday, 11 November 2017
Online shopping is going places in India, peppered by the inevitable human touch. Sangeetha G and Mini Tejaswi report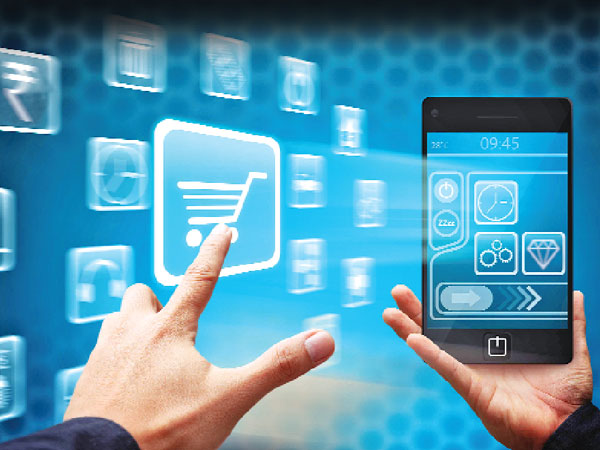 Shobha Kapur, who lives in Delhi, has been making online purchases of consumer electronics, groceries and other utilities for a long time. She has also been browsing jewellery on an online portal for more than a year.
Despite being internet-savvy, she remains hesitant about buying the beautiful pieces of jewellery she has discovered online.
Naturally, jewellery is no grocery. It is around this time that the jewellery portal started its 'try@home' service in the city.
It is just what the doctor ordered. Kapur decided to try the service at once. The representative arrived with the samples of the jewellery she had selected, in addition to a few more.
Kapur went through the designs, talked to the representative and placed orders for not just one, but two pieces of jewellery valued at worth lakhs of rupees. Since then she has converted to become one of the loyal customers of the portal.
Buying and selling on a virtual platform is a fast growing market, estimated at several billions of dollars.
Convenience to access products and services across the globe, availability of large assortments and lower prices are driving the world into the arms of e-commerce.
No business can ignore the online space considering the pace at which customers are adopting it and the reach it provides. But in e-commerce, benefits like low prices, selection and convenience have been substituted by face-to-face interactions that have shaped commerce over the centuries.
The virtual world is also fast advancing with newer technologies like artificial intelligence (AI) and augmented reality, eliminating the need for human intervention in commerce.
Still, there are categories - and even within those categories certain segments - that need the inevitable human touch. The comfort of talking to a human voice and reassurance of meeting a person before closing the deal is something that has not been and cannot be eliminated, at least, in some categories.
Any e-commerce company that seeks to build brand loyalty also cannot do away with bringing in a human element, especially if he is offering an experience along with a product or service.
Studies have demonstrated that the rapid growth of e-commerce has contributed to a steady decline in customer loyalty. The experience of several e-commerce companies in India has provided ample evidence – if any evidence was needed, and apparently it does these days - that discounts and offers cannot buy loyalty.
Niche players have come up with business models that cleverly merge the virtual and real world using the human element. In an otherwise loss-making e-commerce space, these models are helping them reap rich returns.
JEWELLERY
When it comes to high value items like jewellery, customers are still reluctant to trust a virtual site, make a payment upfront and wait for the consignment to arrive. Jewellery business in India is still largely a family-run enterprise.
In many parts of the country, the family jeweller still arrives at home to showcase the designs and take orders. Even when there was no hallmarking or diamond certification, jewellery was bought and sold and it was the trust in the jeweller that prompted customers to spent their millions.
While e-commerce has been taking baby steps in India, the market saw the emergence of a few online jewellery companies as well. In course of time they understood the ways needed to win the buyers' trust.
They brought back the concept of family jeweller who carried the choicest inventory to rich households for the women to choose, buy or customise. These virtual companies got a face, earned trust and started seeing higher conversions with home trials.
It works like this. CaratLane has 'try@home' service in Delhi, Mumbai and Bangalore. Customers can select five jewellery pieces from the website and ask for try@home service. The sales personnel will take samples of those pieces along with another 150 odd samples to the customer's home. The customer can try them, place the order and the jewellery will be delivered later.
Caratlane also has 28 kiosks across eight cities, which has real inventory of over 1,000 pieces and another 1,000 samples. A customer can try them and talk to the store person before either ordering online or buying from the store.
Says Atul Sinha, senior vice president, Caratlane.com: "There are three types of jewellery customers. The traditional customers want to try and buy from the store. The second type would browse online, but buy from the store. The online customer, largely young, is confident of buying online. We cater to all and in a category like jewellery, people seek the reassurance of speaking or meeting someone before making the purchase."
According to him, Caratlane's try@home service has been registering 50 per cent annual increase in the number of requests for the past three years. The conversion rates are quite high as compared to online, as two out of three customers end up buying the goods.
The contribution of stores to the business too is significant. In most locations where Caratlane has opened a store, the overall sales, including online purchases, have gone up.
Likewise, Bluestone.com has on offer home trial facility since 2015. Currently, the service is available in 18 cities. The teams make approximately 2,000 visits to customer residences across the country.
Home trial service accounts for 30 per cent of the revenues of Bluestone and the company is expanding the service to tier II cities as well. It has roped in Bollywood actor Alia Bhatt as brand ambassador for the home trial service.
Points out said Gaurav Singh Kushwaha, CEO & Founder, BlyeStone.com: "Human interaction at the time of purchase is fairly important in the jewellery business, mostly because customers need reassurance that the products they are purchasing is of the best quality and have the right certification. Our jewellery consultants come with in depth knowledge of the pieces they carry as well as the jewellery industry, and are able to answer any queries that customers throw up."
"Customer response to this whole idea of being able to try out a sample of jewellery in the comfort of their homes has really been both positive and overwhelming. It has definitely brought us closer to our customers," says Hardik Kapoor, founder, Jewelsify.com.
Fashion
There are a few fashion portals like Myntra and Jabong, which have seen good growth in recent years. People may buy a t-shirt or a shirt of a certain size or a saree, which does not have size issues.
However, the discerning customer obviously does not want to pick up ill-fitting apparel from the online portal. He is willing to pay a little more for a product sold along with an experience.
There are premium and luxury fashion boutiques in the online space, which offer a lot of customisation. For them too, human element is indispensable.
Explains Sabena Puri, co-founder of Stage 3: "You cannot take the human element out of fashion. When it comes to styling, people want expert advice and feedback on how they look in certain costumes. People do browse through the offerings. But there are multiple levels of human interactions before a transaction is closed.'
When a customer logs on the website, there is person who comes on chat to take down data like measurements, colour, texture and other preferences.
Stage 3 asks 15 questions to understand the style, background and preferences of a customer. There is a stylist available to help with latest trends, apparels to match with certain occasions and accessories that go with apparels.
Stage 3 has also opened physical styling rooms in a few key cities. People can choose certain apparels and they will be sent to the styling rooms, where they can touch, feel and try them before buying.
Online luxury fashion store Pernia's Pop-Up Shop allows the client to custom-design his own couture. 'Sketch to Reality' is an augmented reality shopping experience that allows one to use his/her imagination and design that perfect outfit for that perfect occasion.
One can pick a favourite illustration from an array of wide choices and get creative. From embroidery to colour, silhouette to fabric, Pernia will make your dream outfit as it was envisioned, says Pernia Qureshi, founder of Pernia's Pop-Up Shop.
According to her, 90 per cent of the outfits sold through her online store are custom-made and hence there is high level of human interaction involved.
"We are like a large boutique shop that can be accessed online from any part of the world. Online gives us reach as we ship products to overseas markets like Australia, UK, the Gulf region, Canada and the US as well as smaller cities within India. But it is the human intervention that makes us unique in terms of customer experience," points out Qureshi.
Tailorman, the made-to-measure menswear portal offers 'travelling tailor' service. The stylist will take an appointment with the customer and visit him at his place of choice.
He provides styling inputs and recommendations, carries samples of fabric to choose from and takes the measurements. A customer relationship manager then handles the entire process, from the time the customer comes online till the customer provides feedback on the product.
Says Priyanka Prakash, VP-growth and marketing, Tailorman: "We provide customised menswear for all occasions and have jet setters, businessmen and high net worth individuals as our customers. On a monthly basis, we see 50 to 60 per cent increase in appointments and revenues are growing by 100 per cent."
These fashion portals have discovered that return rates are significantly low in their business as the outfits are custom-made and a lot of conversations go into the process to ensure that the apparel matches customer's preferences.
"Cancellations or returns largely occur when a certain occasion is cancelled," points out Stage 3's Puri.
A large number of sales come from repeat customers. "Almost 80 per cent of our sales come from repeat customers. We build a relationship with our customers. It is like a family or a large community. Many new customers are brought in by our existing ones,' she adds, for good measure.
REAL ESTATE
Real estate is another high-value purchase, which involves a lot of contemplation. It is not a category that is purchased simply by browsing and clicking online. Elara Technologies, which owns Housing.com, Makaan.com and PropTiger.com, believes that human involvement is crucial for online real estate business.
Housing.com and Makaan.com are online classified portals, which direct the customers to offline real estate brokers. PropTiger is an online broker.
Sunil Mishra, group chief strategy officer, Housing.com, PropTiger.co and Makaan.com., explains the nuances. "Human interaction happens at three stages for real estate deals. There is a customer service person, who provides voice-based services to resolve the doubts and queries of the customer who wants to know more about the property. There is a pre-sales team, which gets in touch with the customer to understand why a search was left inconclusive. They offer more options, as per preferences. The third is a relationship manager, who physically takes the customers and shows them around the property. At an average, a relationship manager makes 3.2 visits with the customer to the site before finalising a deal. In between several rounds of phone conversations happen," he says.
Being classified real estate portals, Housing.com and Makaan.com's interactions with customers are mainly voice-based.
PropTiger has 400 relationship managers to carry out offline interactions. The online medium helps bring down the number of shortlisted properties by 40 per cent and makes the process faster and more efficient.
Mishra says only 10 per cent deals happen without the involvement of relationship managers. "Those are properties of well-known top-end brands, mostly bought by rich NRIs. For them properties valued Rs 25 to 50 lakh will be just five per cent of their wealth. For remaining 90 per cent of the deals, site visits are unavoidable,' he adds.
Elara Technologies plans to add virtual reality or augmented reality to give a clearer picture of the property. This will make transactions faster and efficient, but will not do away with human intervention.
TRAVEL
Travel is a highly evolved category in the online space. A large quantum of travel bookings has moved online. Still, there are a few services that require a human voice or a person interface.
"If it is purely travel, the ticket can be booked online. But when you are buying an experience, you have to be clear and doubly sure about what is being purchased," says Ratna Chadha, chief executive of Tirun, exclusive India representative of Royal Caribean Cruises.
Once a customer comes online, there will be a representative who will try to understand the needs and focus of the travel and configuration of the group.
Explains Chadha: "The representative will catalogue the various offerings, advise the customer about the weather, suitable timing and do a cost-benefit analysis based on his budget. Once he finalises on the cruise, he is directed to the travel agent who takes care of the visa and insurance requirements. The transaction is completed at this stage. Till the customer embarks on the cruise, there will be multiple conversations on documentation needed, clothing to carry, dos and don'ts, etc."
There are customers who also call back the agent or the representative during the travel for things like medical emergencies. But that is not very common as in most cases the ship crew takes care of the guests.
Says Chadha: "Customers come back thanking us for the experience. Almost 90 per cent of our business comes from repeat customers and word of mouth is what brings new customers. There are instances where customers have finished a cruise and have immediately booked for another."
Anand Malhotra, category manager of TravelTriangle, believes such handholding is quite common with travel packages. "Since holiday packages are not your typical off-the shelf products, TravelTriangle provides the ease of online booking coupled with expert guidance from its travel agents."
"The options to consider the ideal honeymoon destination are rising on account of new international locations in Bollywood movies and an endless supply of online travel content. Quite often we get requests wherein the couple has a vague idea of where they want to travel. To address such demands, we have an in-house team of holiday planning experts dedicated to nurturing and helping honeymooners finalise their destination. All the couple needs to do is put up a request on our platform and our team solicits their requirements and helps them decide their destination," he adds.
INSURANCE
In the financial space, insurance is a relatively complex product to understand. And even within insurance, products like health and life are slightly more complicated.
Typically, agents who explain the product to the customer sell insurance. This human element cannot be avoided even when insurance goes online. A pioneer in online insurance space, PolicyBazaar knows it better. It has 1,500 people who provide support services to the customers.
"People buy insurance because they are scared of losing all their wealth to emergencies. However, they are equally apprehensive about the complicated jargons of insurance. We try to explain to them as much as possible about the products and what to expect from them. In investment products, the returns come much later and customers need reassurance," states Jerry Bhutia, director, PolicyBazaar.
When a customer makes searches on PolicyBazaar and the chatbox opens up, he can also ask for the assistance of a representative. The representative will do a more in-depth search on his behalf according to his requirements and explain all the features of the products.
In the case of health and life insurance, 95 per cent customers seek assistance, while in less complicated products like motor and travel, 50 to 55 per cent ask for it.
The customer can make the transaction on the PolicyBazaar site. The guidance does not end with the transaction. At the time of renewal or while making claims, customers can come back and seek guidance.
Bhutia finds that 90 to 95 per cent of customers, who have bought the policy through the site, come back for help at the time of the claim.
According to him, when compared to an agent, an online site is much more transparent. All the data is before the customer to verify.
Bhutia adds: "We had a customer who wanted to know more about investment products, but had no plans to make an investment. After talking to our representative, he went ahead and invested Rs 10 lakh in a product. He mailed us on how helpful the site was in making that choice."
Such is the major role that representatives have to play in the business of PolicyBazaar that their numbers have shot up from 30 to 1,500 in nine years.
EDUCATION
With online courses and online content, education would have gone virtual. But the need for a teacher who can explain concepts and clear doubts is indispensable, even in the online space.
Most education sites provide chat or voice call facility for students to reach out. A human voice that reads out the content is always much more interesting than reading them on your own.
Says Ishan Gupta, MD- India, Udacity: "The Udacity Student Support team ensures that every student receives the kind of engagement they need – whether it is course counselling and guidance to help them select the right field and programme of study for their career, or query resolutions around the course or product being offered to them."
Udacity was launched in 2012 in US. Their India operations, which started in 2015, has over 8 lakh student students on its platform taking free and Nanodegree courses and a pool of reviewers, coaches, community forums and mentors available to resolve student doubts 24x7.
Says Gupta: "It is somewhat ironic. Even though our courses are about technology and its applications, we have repeatedly found that engagement at a human level with our students is irreplaceable. The work isn't over at the point when our student has chosen to purchase our course – indeed the work has just begun. This is why we have focused so greatly on student engagement and set up our Student Support team."
He says their coaches and mentors are constantly available to respond to any doubts or queries, whether related to the course or to the institution.
"We want to hold their hands through the learning process – guiding them when required, pointing them to the right resources and taking their pulse every short while to ensure that they are happy with the education they are receiving. It is easy to forget that there is so much educational material available on the internet, but without this level of engagement and guidance, people can't come to terms with just the material. While information is present in massive measure on the internet and is easily accessed, learning is only possible through sustained engagement. In the case of online learning or Edtech, this has to become a part of the process and not an incidental action, which is how we have treated it," adds Gupta.
ASSISTED e-COMM:
Even in categories that typically have high online presence, including consumer electronics, FMCG and computer peripherals, e-commerce companies have realised the importance of a human face.
Assisted e-commerce tries to reach out to a whole lot of customers reluctant to transact online. As per this model, the e-commerce company partners with an offline retailer, who showcases the products to his customers and takes orders on their behalf. The orders are delivered at the offline store, from where customers can pick up the products. Here, the offline retailer is the face of the e-commerce company and his presence provides the much-needed trust to the customer.
Says Amit Sharma, CEO and co-founder, ShopX: "There are 30 to 40 million active e-commerce users in India, while there is 400- million-strong middle class who are use Whatsapp or Facebook, but are not comfortable buying things or making payments online. The nearby retailer or mom-and pop store in the locality provides the trust needed in transacting online."
ShopX has already tied up with 45,000 retailers in 230 towns in the south and west of the country. The target is to get 10 lakh retailers on board in three to five years, as it becomes a pan-India operator.
Amazon had launched its 'Udaan' project some time ago, intending to work with mom and pop stores. Just Buy Live, Storeking and Shotang are some of the experiments happening in this space.
Says Harish Bijoor, one of India's best-known brand experts and founder of Harish Bijoor Consults: "This model of assisted e-commerce needs a lot of activation at the ground level. Training the intermediary or the offline retailer is very essential in this case. Scalability will become an issue if the retailer is not trained properly and this also needs manpower. However, the opportunity is humungous as it brings millions of retail outlets into the digital channel." A whole new eco system, you could say, has materalised.