Much of the growth in the reserves happened in the last three years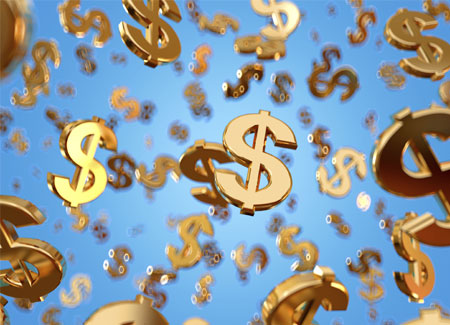 India's foreign exchange reserves touched a record high of $400.73 billion for the first time. Much of the growth in the reserves happened in the last three years.
Data released by the central bank after a lag of seven days showed that as on September 8, the foreign exchange reserves was at $400.73 billion, up by $2.6 billion from a week ago.
Economists, however, said the reserves were built on capital account surplus and not on current account surplus, which needs to be addressed.
Nearly 90 per cent of India's forex kitty consists of foreign currency assets which includes holding of bonds that are denominated in dollars, euros, pounds, yen and other hard currencies.
As per the data, about $376.20 billion were held in foreign currency assets. Gold's value in the total reserves was about $20.7 billion, while the special drawing rights of the International Monetary Fund (IMF) stood at $1.5 billion. The reserve position in the quota allotted to India minus IMF's holding of rupee was $2.3 billion.
Soumyajit Niyogi, associate director at India Ratings, said, "High amount of forex reserves is advantageous for India that structurally runs a high current account deficit. Starting from 2013 when the forex reserves were depleted to $ 270 billion, the central bank has added $ 130 billion which is one of the quickest pace."
"Global interest rate differential with India, stability and attractiveness of the Indian economy and extremely low oil prices in the last couple of years have helped the central bank develop these reserves. However, the forex reserves have been built on capital account surplus which is volatile and not on current account surplus.This issue needs to be addressed properly," added Niyogi.
In fact, India is already the 8th largest economy in the world in terms of forex reserves. India's rising forex reserves also represents the shifting oil dividends due to sustained weakness in oil prices.
While the other seven countries (China, Japan, Switzerland, Saudi Arabia, Taiwan, Russia, Hong Kong have built their forex reserves largely on the strength of their strong trade related earnings, India runs a large trade deficit of nearly $150 billion per year but this forex reserves are largely driven by foreign portfolio investors and foreign direct investments.
Foreign portfolio investors (FPIs) have been consistently buying into Indian equities and Indian debt. In fact, Indian debt has been specifically attractive or FPIs as they get the dual benefit of an attractive real rate of return as well as a strong to stable rupee.
In fact, the real yield spread between Indian benchmark bond and the US benchmark bond is wide enough to encourage risk-on debt flows into India. Secondly, there is FDI which has picked up momentum in the last three years. Last year, India received over $50 billion in FDI making it the largest recipient in the world ahead of China and the US. FDI is relatively stable long-term money as against FPI flows, which is normally classified as hot money. It is this aggressive inflow of FDI and FPI flows that is adding to the forex kitty.
Prathamesh Mallya, chief analyst, non agri commodities and currencies at Angel Broking, said, "The primary risk of rising forex reserves arises from the fact that this accretion is happening due to the RBI mopping up dollars from the market. When dollars are mopped up by the RBI to prevent the rupee from strengthening, there is a proportionate increase in the rupee supply in the financial market."
falaknaazsyed@mydigitalfc.com