,

Friday, 20 October 2017
Technology has entered our lives like never before, introducing a paradigm shift in the way we live and consume content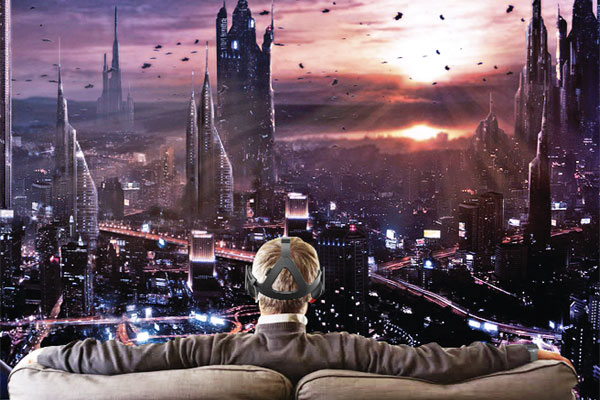 Good smartphones are getting cheap and cheap smartphones are getting good. Can't ask for a better combination, can you?
The current state of smartphones is looking far better than it has ever looked. In fact, it would not be inaccurate to conclude that a good smartphone is available for everyone in every price range.
From as low as Rs 4,000 to as high as Rs 1,00,000 smartphone manufacturers have made this mini personal computer accessible to all.
As manufacturers are aiming to provide the best possible technology at every given price point, it is we the people who have to make the choice of what makes our lives effortless.
Eight-core powerful processors to 16-21 megapixel cameras, all day battery to seamless integration of artificial intelligence (AI), smartphones are evolving by the day.
As a matter of fact, the current breed of mobile phones is more powerful than we frankly need them to be.
And thanks to Reliance Jio and the arrival of 4G-enabled devices in the Indian market, smartphones have penetrated the larger population of India.
People, once constricted by means of voice calls and SMS texts to connect with one another, are now enjoying month-long video calls at the price of a McDonald's meal.
"Earlier I use to listen to FM radio or watch downloaded videos to pass time but now, with unlimited internet access, any video on YouTube or any song I wish to listen is literally a few taps away," says a gleeful ice cream vendor outside south Delhi's elegant Select CityWalk Mall in Saket.
The smartphone coupled with cheap internet availability has definitely made our lives entertaining.
When asked about the future of smartphone in the Indian context, Mahesh Lingareddy, founder and chairman, Smartron told Financial Chronicle: "Smartphones are like remote controls to access and information. But the value is shifting towards and cloud, internet of things (IOT) and artificial intelligence. And this is the future. There is a paradigm shift in the way we consume content."
Smartphones have come a long way, from being a 'good-to-have' gadget to a 'must-have' device, these phones have seeped deep into our lives and psyche – indeed they have come to dominate it.
There are multiple ways with which you can unlock your phone; face scanning, iris scanning, via voice and the most popular of them all, with your fingerprint. But in the race to be complete screen at the front of the display, we have shifted the placement of fingerprint scanner to the back of the phone. However, a new technology has surfaced that allows a fingerprint scanner embedded in the display screen of the device.
There are many mobile phone brands that have mastered the supply-chain mechanism of these smartphones and how to market them, staying ahead of the competition.
Apple is considered as a premium smartphone, while Samsung devices are considered powerful. New entrants like Oppo, Vivo and OnePlus (all come under one umbrella, BBK Electronics Corporation) provide the best of everything at a much cheaper price.
The top among mobile phone brands has to be Nokia. The market leader in India, Nokia once shied away from the smartphone industry. But in the recent past, the company has made a comeback with Android OS. Nokia 3, Nokia 5, Nokia 6 and the flagship Nokia 8 has entered the Indian market and has been received fairly well.
The point is this: Will Nokia relive its previous glory days is the big question as the market is now dominated by other big players like Apple, Samsung, Oppo and Vivo?
The era of the smartphones was popularised by Apple a decade ago when they launched the first iPhone. Before that, phones use to be loaded with features but with the iPhone, the entire market changed gears. The original iPhone may very well be termed as the first smartphone of the current generation of phones.
Artificial Intelligence: A tightrope stroll
"The development of full artificial intelligence (AI) could spell the end of the human race…It would take off on its own, and re-design itself at an ever-increasing rate. Humans, who are limited by slow biological evolution, couldn't compete, and would be superseded."— Stephen Hawking
We may be at pains to understand Stephen Hawking's vision for the future as of now, but the way human beings have made our tasks simpler, there is essence to what the iconic English theoretical physicist and cosmologist says.
To build a washing machine was a great feat to achieve but there was the need to make it better, so up came an automatic washing machine. As we race towards the future, we have allowed our machines to become self-aware and make our lives better. In the recent past, we have developed machines that are able to understand and adapt to our lifestyles.
As a result, machines have themselves become smarter. Thanks to artificial intelligence, the solution to every problem is just a few voice commands away. The best way to see AI work in its alpha version is to look into your smartphone.
These days, every smartphone comes with a built-in voice-assisted pocket personal assistant. Google, for most Android devices and Siri for Apple iPhones have made our lives better in every way conceivable.
And AI has been working for us for a long time. The predictive text in evidence and the way the smartphone keyboard works silently, helps typing faster.
Simply put, artificial intelligence or machine intelligence is intelligent behaviour by machines unlike the natural intelligence (NI) of humans and animals.
Any device that perceives its environment and takes actions that maximises its chance of success at some goal is defined as artificial intelligence. Colloquially, the term `artificial intelligence' is applied when a machine mimics `cognitive' functions that humans associate with other human minds, such as `learning' and `problem-solving'.
Taking this basic understanding of AI and moving it to another level is done by Smartron, India's first global technology original equipment manufacturer (OEM) and IoT brand.
They have developed an intelligent ecosystem that connects a range of devices, sensors and systems to tronX.
Elaborating, Smarton's Lingareddy, explains, "We have been working for more than two years on creating a new connected ecosystem fueled by AI + IoT and tronX is at the core of this brave new world. TronX is the first of its kind AI-powered IoT platform and a kind of next-gen operating system (OS) designed to run seamlessly across a wide range of devices, sensors, vehicles and systems. TronX gets the perfect balance between hardware and software to have an efficient and safe future."
What Stephen Hawking postulated emerges from a fear that AI will be able to take complete control of our lives, maybe even end the human race. He thinks of a future where the entire world is dependent on AI, but that is unlikely to happen. We will be more dependent on AI, but intelligence taking over our lives and ending the human race is a subject best left to Hollywood fiction writers.
Virtual Reality: worthy knight of the future of technology
On October 10, 2017, Facebook founder Mark Zuckerberg received flak for his 'tone deaf' virtual reality (VR) tour of the hurricane devastated island nation, Puerto Rico.
What was meant to be a meaningful communication between the islanders turned out into a satire of tech demo culture. This was a strong reminder of what virtual reality is not. But, virtual reality is way more than travelling the world in your animated avatar.
The industry size of this relatively new technology boasts of reaching a mammoth figure of $48.5 billion by the end of 2025.
A report by news agency Bloomberg states that China's VR market will be $8.5 billion and that there are at least 200 startup companies working in that country's vast VR industry.
So what gets the ball rolling for VR? In simple terms, virtual reality is a computer-generated simulation of a three-dimensional image or environment that can be interacted within a seemingly real or physical way by a person using special electronic equipment, such as a helmet with a screen fitted inside with sensors.
There are two major categories of VR as of the present: mobile (Samsung/Google) and PC (Oculus). Samsung with its gear VR headset has turned a lot of heads; their 2017 model has fixed everything that was ergonomically wrong. Google's cardboard, the cheapest VR headset available, sold almost 88 million units worldwide. But Google is betting big on its Daydream headset.
With the launch of Pixel phones, Google didn't let go of the Daydream headset and has made its presence felt.
But the major player in the VR arena is Oculus; in fact, it has been in the market ever since the technology existed. The Mark Zuckerberg- owned company has earned the reputation in the Silicon Valley as the future of technology.
Big players like Intel are also working towards a headset called Project Alloy. The future may be restricted to VR, but it has definitely lured some of the biggest names in the industry.
One of the biggest caveats of VR is its limited network. Over the course of time, it has struggled to span out of the entertainment and gaming domain.
VR continues to live (read suffer) from the hype it once created. The hype was to build an intense ecosystem of application, which would be used in medical, education and enterprise arenas. Even though the entertainment section certainly looks very glamorous, VR is just not able to grow at the rate it was once thought it would grow.
VR is still a 'good-to-have' technology, but to be a 'must-have' product, a little more push towards developing a sound ecosystem is needed.
Augmented reality
Augmented Reality or AR is a relatively new step in the mobile phone arena. It is a technology that superimposes a computer-generated image on a user's view of the real world, thus providing a composite view of his/her surroundings.
With the advent of Google Tango and Asus Zenfone, AR has really shaken up the market with its applications. The sale numbers may not reflect the potential of the technology, but AR seems to stay here in the long run. More on the lines of productivity, AR is built to help professionals in designing.
One can clearly see the divide between the VR and AR. While VR is shaping up to be an entertainment-centric system, AR is more focused on productivity. They are capable of doing both, only if major tech giants can see eye to eye and develop a common sphere of both the technologies to help each other out.
Wearable Technology: Future on your wrist & on things you wear
Wearable technology or wearables, which are worn on the body as accessories, have been around for some time now. In 2004, fashion design label CuteCircuit unveiled a Bluetooth-connected electronics called the HugShirt.
The product was the first wearable technology that took the form of a garment of clothing. Time Magazine included this product in the "Best Inventions of the Year" special issue.
Watches with calculators have been around since as late as the 1980s. Many advances have been in evidence in wearable technology in the recent decade and the automation has weaved its way into what we wear or use as an accessory.
Smartwatches
The craze of wearables started with the crowd-funding-backed startup called Pebble. They reinvented the smartwatch in 2013, selling a million pieces.
Following the trend, in March 2014 Motorola unveiled the Moto 360 smartwatch powered by Android Wear. Soon, Samsung joined the race to lead the smartwatch industry and launched Samsung Gear in 2013. And finally, after months of hype and anticipation, Apple announced its own smartwatch, the Apple Watch in September 2014.
There have been many smartwatch manufacturers who have entered the race, but have left due to the slow acceptability of these watches.
Biggies like Motorola stopped manufacturing after they released their second generation of smartwatches in 2015.
It is only Apple that has taken significant strides in this field. The company not only continues to make these watches, they continue to make it better. Their third generation Apple Watch has cellular capabilities making it a completely standalone mobile device.
Other wearables
But all has not been good in the wearables arena. In 2010, Google started developing prototypes of its optical head-mounted display Google Glass, which went into customer beta in March 2013. The product was dourly criticised for its poor design and a $1500 price tag. Soon enough, in 2015 the product was taken off the market.
Smart-jackets
In September 2017, popular denim brand Levi's, in partnership with Google and Jacquard, launched the absurd-sounding Levi's Commuter Trucker Jacket.
A stylish looking denim jacket, which has an interactive touchpad, can be used via gestures on its left sleeve. The end of the left sleeve is made of a slightly different denim material that's been specially woven with conductive thread, allowing the sleeve to act as an interactive touchpad for the jacket.
The jacket is proof that the future of wearable tech lies not in tiny screens on our wrists, but in the stuff we are already wearing. The jacket is priced at $350 and requires a special app to put it to full use.
This pricey step that makes wearables a reality, is definitely a step in the right direction.
Television: Picking up the pieces
Television (TV) has been an integral part of every Indian life. Long before the smartphones or high-end cameras came into our daily lives to entertain us, this piece of technology took care of the entertainment bit.
As time went past, TV became an essential product in our lives rather than just being a fancy piece of technology that was needed to show off. It bonded families into one and waws rightly hailed as the flag of being revolutionary for decades.
But in the recent past, there have been a few changes in the pattern of consuming content and that has affected the role of TV in our lives.
As we race towards the future, it is really debatable whether we can leave TV behind us. Like other technology products, TV has evolved to match up with trending times to meet our needs.
Ever since we became dependent on the internet, our behaviour of content consumption has changed. Rather than being a passive receiver of information, we now want to be a part of the information and voice our opinions. A smartphone with internet connection allows us to share our ideas and thoughts, whereas a TV doesn't let us do it.
But thanks to Netflix, Amazon Prime, Hotstar, HBO Go and many other internet-based streaming services, people have been lured back to the idiot box. Interesting engaging content has made TV the object of desire once again.
Smart TVs have made applications that you use on your phone available to the TV. The problem is that a TV is not mobile enough for you to carry around in your pocket. So, with all its smartness, the idiot box fails to provide solid usefulness.
As for the hardware, the idiot box has slimmed down to the point where the thickness of the slimmest TV equals is not chunkier than a pen.
From black and white TVs to colour screens to flat-screen TVs to LCD (liquid crystal display) panels, LED (light-emitting diode) panels, AMOLED and UHD panels, the hardware of TV has seen an amazing journey.
As of now, LG recently unveiled a 77-inch TV called Signature OLED TV W. It is as thick as a regular ball-point pen and costs $14,999.
With companies still betting on TVs with such expensive price tags, there is no way the small screen is going anywhere out of sight. Rather than being a front-runner in providing entertainment, TV is likely to continue doing what it does the best.
Smart Homes: Well reserved for the future
Way back in the early 2000s, an interesting 6-minute feature video was shown on a popular infotainment channel. The video showed how the future of our homes would be.
Hosted by Alie Chang, the documentary on Microsoft's 'smart-home' was a futuristic outlook and showed how technology can help us improve the quality of our lives. From securing our homes to having a voice-assisted computer registering all your requests and processing them – this was the future envisioned for our homes.
Fast forward to 2016. With the current technology, we have achieved almost everything that video showed. As it revealed, a smart-home involves the control and automation of lighting, heating (such as smart thermostats), ventilation, air conditioning and security, as well as home appliances such as washer/dryers, ovens or refrigerators/freezers through the use of technology.
Internet connection is used for remote monitoring and control.
But perfect as it may seem, smart-homes lag behind on a few aspects: putting every technology available under one umbrella, for example. There are manufacturers who make peripherals like security systems, which will be connected to your smartphone.
But a seamless flow of information, with the help of one software, is yet to be achieved. A 'Nest' product has devices, which can be controlled via an application on smartphones. But to integrate the 'Nest' application with Google Now or Siri, which is often used, is where the dilemma comes in. One may not want to share a client's personal information with others.
The other aspect is making the entire shebang cost effective. But such a concept comes at a hefty price tag, which is not affordable and a little too futuristic for the masses.
At present many homes in France, Ireland, US and other developed nations enjoy carrying the tag of a smart home. But for the Indian, such a concept is reserved for the future.
But the market of smart speakers in India is slowly making its presence felt. A smart speaker is a personal assistant for your home. One can talk to it; ask for it to do small tasks related to internet, like play a song or add reminders to your calendar, set an alarm.
At present, there are three major players in the smart speaker arena and they all are betting big on the ball game. Google Home, Amazon Echo and Apple Home Pod have launched three different set of speakers at three very different price points. From affordable small speakers to extremely loud ones, companies are going all out to sell you the affordable smart home.
Gaming: Console wars to dismal condition of Indian gaming
With extensive piracy of software and consoles of over 80 per cent, India's video game market has long lagged behind the rest of world, with publishers and distributors of video games struggling to find their place.
This delay is aided by the fact that the country has never had a culture of gaming. However, this situation is changing due to the increase in the average incomes as well interest in gaming.
Gaming can be categorised into three main sectors: a gaming console, PC and mobile. While there has been tremendous growth in the mobile gaming, console and PC gaming lag behind. There are many aspects attached to it. Cheaper smartphones with fewer graphics are a handicap as intensive games available for the mobile devices garners more users, thus pushing up popularity.
From the big joystick to comfortable on-your- palm consoles, gaming devices have become accustomed to our needs. A few years ago, Nintendo Wii & Microsoft Xbox with Kinect, gave a new direction to the gaming industry. Incorporating body gestures with games was revolutionary in the gaming world. It made one believe that they are actually a part of the game.
The future of gaming in India may have a lot of ground to cover, but gaming itself has found a future in Virtual Reality. Video games in 2017 are very well scripted, include top notch graphics and give a wholesome immersive experience of the game.
With the advent of virtual reality, the way we perceive gaming is shaping up to be quite something else.
anirban.halder@mydigitalfc.com