Government institutions, the biggest repositories of works of art in India, are doing a remarkable job in adding value to rare treasure troves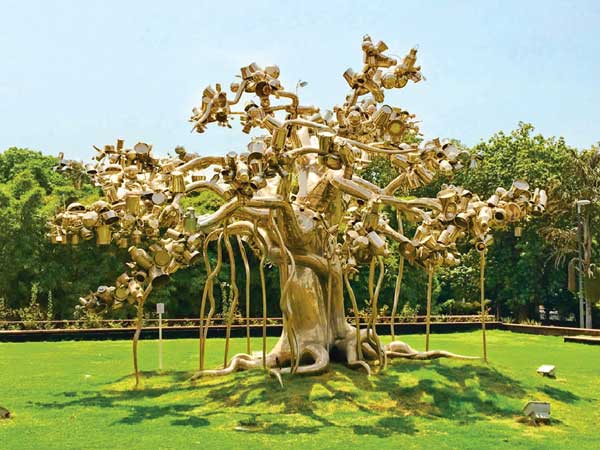 Indian art is experiencing a global moment of high. Recently, Bhupen Khakhar's 'De-Luxe Tailors' left people gaping as it fetched £1.1 million at a Sotheby's auction in London. Indian artists are being actively collected by museums internationally, and exhibited within the biennial circuit, say experts.
A FICCI-KPMG report pointed out how India's art market is estimated to have been at around Rs 1,460 crore in 2017 and even demonetisation could not drain it off colour.
From once being a market focusing on antiques, the Indian market had grown to around $50 million by the late 1990s. Between 2001 and 2008, prices for most Indian artists rose by 150 per cent or even 200 per cent in some cases. Artist Ram Kumar, for instance, was best priced at around $32,000 in 2003. By 2007, his top work is said to have hit $500,000, a jump of 1,462 per cent.
Upward swing
The market actually started peaking when Tyeb Mehta's 'Mahishasura' sold for $1.58 million at London auction house Christie's, in 2005. Also who can forget that Vasudeo S Gaitonde topped the list of top flight artists from India, after an untitled painting by him was bought by an anonymous buyer at a Mumbai auction for $4,415,008 in December 2015. This oil on canvas by Gaitonde, one of India's foremost abstract painters, has been the most expensive work of art by an Indian to be sold since 1965, according to art market intelligence firm Artery India.
While all these paint a glorious picture of the demand for Indian art, it is pertinent to mention that the biggest treasure troves of Indian art still lie with the government.
Needless to say when it comes to art – whether medieval miniature paintings, realism era, ethnic art, contemporary impressions, or ancient manuscripts – everything is available with white papers and study material in national galleries and museums. Often these vast collections are in desperate need for restoration and conservation.
If one were to go into chronology, the Indian government took deliberate steps to emerge as the biggest repository of art ever since independence in 1947. However, it is worth a mention that the culture of art repositories began in the country with the Indian Museum or Jadu Ghar, as it was popularly known, way back in 1814. It took shape in the cradle of the Asiatic Society of Bengal, the earliest and largest multipurpose museum that houses one of the best collections of art from the Mughal era, works from the famed Bengal School apart from English and other Asian artists. In short, the Indian Museum can claim credit for setting the repository movement rolling in the country.
Most of the collections are from the erstwhile British government. As Delhi became the capital city, things changed. BR Mani, director general of National Museum, recalls: "In 1947, a large collection of objects was sent to the UK, which was displayed in London's Burlington House. When it came back during India's independence, all those objects were stored at Rashtrapati Bhavan where the idea of setting up a National Museum was first conceived.
Hence, objects that belonged to the Archeological Survey of India (ASI) during pre-partition days – many objects collected from the sites of Harappa, Mohenjadaro and Takshila, along with sculptures from Gandhar and Kangra School of Art – landed at the National Museum in Delhi. These were the museum's first acquisitions. It was decided that ASI, along with the National Museum, would display the treasures belonging to ancient and medieval periods. That explains how it is possible to get a good glimpse of a Raja Ravi Varma painting, manuscripts, murals and miniature paintings from the Mughal era at the museum.
Contemporary art
Art treasures also comprise contemporary art. It was to find a base to showcase such art that the National Gallery of Modern Art (NGMA) was formed in New Delhi. Today, NGMA is one of the best repositories of art from the 1850s onward in India. With branches in Delhi, Mumbai and Bengaluru, this museum offers a huge collection of contemporary Indian art. It has a treasure trove of over 17,000 works of art on display. One can see priceless works from maestros like Rabindranath Tagore, Nandalal Bose, Jamini Roy, Ramkinkar Baij, Abanindranath Tagore, Gaganendranath Tagore, Satish Gujral, Amrita Shergil, Binodebehari Mukherjee, Syed Haider Raza, Nicholas Roerich and scores of other artists, both Indian and British.
The idea of a repository goes beyond the collections. The value it imparts to those who want to study works of art is important, says Adwaita Gadanayak, director general of NGMA and an eminent sculptor and artist. For instance, in her book 'Monuments, Objects, Histories: Institutions of Art in Colonial and Post Colonial India', scholar Tapati Guha-Thakurta quotes William Hedges, the most prominent of European scenographic painters in India, to say the natural scenery offered an ideal site for "picturesque" painting. By the turn of the 19th century, colonial rule started demarcating Indian architecture and landscape. Thomas and William Danielle too started representing architectural relics in their landscapes. Guha-Thakurta writes that Danielle's paintings represent one of the earliest detailed images of north Indian architecture. Hence if one were to study social anthropology, lifestyle, fashion, history or even art, these stand as the best examples and offer reminiscences of a bygone era.
Most of these paintings are priceless possessions acquired by the museums and galleries, explains Gadanayak. Many of his acquisitions are donations from other museums, or private collectors. The artists NGMA displays generally have a huge market value. 'Saurashtra' by Raza fetched a record-setting $3,486,965 in 2010 at Christie's. The price was owed to the fact that Raza himself considered this to be one of the 10 most important works of his life.
Similarly, 'Radha in the Moonlight' by Raja Ravi Varma sold for $3,387,900, again at Christie's. This 1890 oil on canvas was originally in the collection of Shungrasoobyer Avergal, the dewan of Travancore. It was inherited by his great-grand children who sold it.
Untitled (Figure on Rickshaw) by Tyeb Mehta sold for $3,240,077. Mehta, a key member of the Bombay Progressive Artists Group, was inspired by the rickshaw pullers he'd seen during his annual summer holidays in Kolkata.
Art movements
The Bombay Progressive Artists Group was a movement that began as early as the 1940s as a swadeshi movement of art. The late 1940s and early 1950s saw the formation of artists' groups in India, a most significant turning point in the development of modern Indian art, says a white paper on the subject. It was consciously the starting point of the Bengal School 'Revival Movement', and the naturalistic practice of art taught at art schools. 1947 provided the setting for an intense nationalistic fervour combined with a fresh nationwide excitement and optimism, despite partition pangs.
During the late 1940s, Calcutta, as it was then known, witnessed artists like Somnath Hore and Chitta Prasad amongst others, who responded to the Bengal Famine, while those who gathered courage to move away from the Bengal School formed the Calcutta Group comprising artists like Nirode Mazumdar, Paritosh Sen, Sunil Madhav Sen, Gopal Ghose, Prodosh Das Gupta, Shubha Tagore, Rathin Mitra and Gobardhan Ash. They developed into serious artists as they worked through the 1950s. As a research paper on the subject says, the formation of the Calcutta Group and the exhibition of Jamini Roy's work in Mumbai during the late 1940s were an inspiration to artists in western India.
The white paper adds: with the setting up of the Shilpi Chakra Group during the year 1947 by refugee artists arriving from Lahore, besides other migrating artists including Sailoz Mukherjea, B.C. Sanyal, Dhanraj Bhagat, Dinkar Kowshik, K.S. Kulkarni followed by Satish Gujral's return from Mexico, the dormant situation suddenly picked up dynamism in Delhi. To mention further developments in Western India, several contemporary artists like N.S. Bendre, K.K. Hebber, Baburao Sadwelkar, V.S. Gaitonde and S.B. Palsikar, were associated with what was called the Bombay Group. Two younger artists, Akbar Padamsee and Tyeb Mehta had affiliated themselves to the Progressive Artists Group while Jehangir Sabavala also charted the course of his career at that time. Also, artists like Sankho Chaudhuri and then young KG Subramanyan moved to Baroda by 1950-51, where an active scene began emerging there as winds of change blowing from Mumbai. Thus, the Baroda Group of artists were formed in 1956 with then youngsters like Shanti Dave, Jyoti Bhatt, Triloke Kaul, G.R. Santosh, Balkrishna, Ratan Parimoo, Praful Dave, Gulam Sheikh, Himmat Shah, V.R. Patel among others. Similar activities in Madras are also recorded with DP Roy Chaudhury's sculptures and the rise of KCS Paniker and S. Dhanapal as teachers of painting and sculpture respectively. During the 1950s, these artists organised the Progressive Painters' Association culminating in the formation of the Chola Mandal, as a South Indian answer to modern art movement in the rest of the country.
Although the first exhibition of the Progressive Artists Group was held in 1949, in erstwhile Bombay, the group came formally into existence as early as 1947. Artists like FN Souza, Raza, KH Ara, HA Gade, MF Husain, SK Bakre and critic Rashid Hussain formed the integral part of this movement. The NGMA has a
big display of these artists who were part of swadeshi movement.
Acquisitions
Gadanayak agrees that a national repository cannot afford to pay such high prices for the paintings it acquires from collectors, especially works of eminent artists which are auctioned regularly in the global art market. Earlier, there was a purchase committee under the Ministry of Culture, which ceased to exist over two decades ago.
"We are trying to revive the purchase committee again," he explains with some hope, adding: "The alternative is to do this with sponsorship from big business houses. We are in talks with Air India, which has a huge art collection in store. We are hopeful of acquiring them. We often request individual artists to share their collections, which many of them are unable to restore."
The gallery did not always have a problem acquiring expensive art. The purchase committee could fund artworks worth Rs 1 crore. The gallery even made purchases for sculptor Subodh Gupta's work worth Rs 2.5 crore. It showcased Gupta's solo exhibition, 'Everything is Inside', featuring itinerant images such as a luggage trolley carrying two large suitcases; a motorbike laden with milk pails.
The National Museum has a different story to share. According to Mani, the purchase committee was disbanded after some fake purchases. However, he proudly describes how the museum acquired the Nizam's jewels in 1995, when the Indian government bought the jewels for Rs 218 crore (about $70 million), many years after the death in 1967 of Mir Osman Ali Khan, the last Nizam of Hyderabad. The story goes that the Nizam's trustees agreed to sell the famous collection to India in lieu of tax. The government had tried to buy the collection for less than $25 million. Fifteen years later, the Supreme Court fixed a price of about $70 million, much less than the $350 million the family, along with a big auction house, estimated the jewels were worth. Other acquisitions of the National Museum involve 400 musical instruments gifted by sarod maestro Sharan Rani, says Mani.
The Indira Gandhi National Centre for the Arts (IGNCA) – a centre encompassing the study and experience of all the arts – has an acquisition policy that is all its own. It has a clearly demarcated policy of acquisition of material and slides that are rare and likely to become obsolete.
According to Dr Sachchidananda Joshi, member secretary, IGNCA has acquired source material in the form of books, slides of various forms in visual art and culture. The Kala Nidhi Division is the main repository of the source material. It has four major units to store, process and maintain material for research study – reference library, cultural archives, reprography unit and slide unit.
The slide unit has a collection of more than 80,000 slides on Indian art that include paintings, sculptures, architecture, illustrated manuscripts collected all across the world. Recently, it acquired famous filmmaker Shyam Benegal's personal works, donated by the filmmaker himself.
The purpose of a repository, says Joshi, is not just to keep the things with you but extends by giving back to the society with some more structured research study. "That's what we are doing. We always depend on eminent experts. Most publications we have are often old books that cannot be valued in terms of the material. How do you value a book from 1916? For that we depend on experts who give a free and frank opinion," explains Joshi.
The acquisitions are across mediums. IGNCA, for instance, procured the late film critic Shriram Tamrakar's film collection. Tamrakar, who has often been referred to as a walking encyclopaedia of the Hindi film industry, spent a considerable amount of his life writing on international films and Hindi cinema. "We deputed an expert committee to decide on it when his son wanted to hand over the collection to us for Rs 10 lakh only as a token of respect to his father. We have a clear acquisition policy," says Joshi.
Fortunately, he maintains, most of the collections so far have been donated to IGNCA. "Only acquisition doesn't help, unless we restore and curate them and put them to some use. We have identified scholars who would study and bring out white papers for people to research on," Joshi adds.
Conservation
In 2010, UNESCO brought out a report on the terrible conditions at India's top eight museums, citing sub-standard maintenance, lighting and signage, among other issues. In response to that, the Ministry of Culture put together a 14-point
museum reforms agenda and things have moved forward since then. The Chhatrapati Shivaji Maharaj Vastu Sangrahalaya (CSMVS), or the old Prince of Wales Museum, has already started a successful revamp in this area.
There often lies a very fine line between being tourist attractions and centres of study, especially where art is concerned. How then does one
preserve this innate value as a culture's conscience keeper?
Says Gadanayak, "If you see Ramkinkar Baij's works in Shantiniketan that are lying in the open and you will feel sad. A sculpture has a life. Baij used a lot of concrete in his work. Today cracks have emerged in those sculptures. Maybe 10 years down the line you may not be able to even recognise them. What I saw as a student, those details are missing now. If we start restoring, we may not be able to gain the past glory but we may be able to let it stay the way it is today."
With the help of the Ministry of Culture, NGMA is in the process of restoring these sculptures. The National Gallery of Modern Art is starting its first big project of restoration of Ramkinkar Baij's works. It is expected to start in the next two months.
To restore something, he feels, we must feel the essence of it and be attached to its value. "Sometimes we do not know what the artist has used. Ramkinkar Baij has used toothpaste in some places instead of paint. Now, how to restore and preserve that? Moreover, in concrete structures, he has even used bamboo. It is our duty to conserve it, with the help of scientists on how to develop the binding that is getting loose over the years," explains Gadanayak.
Joshi too agrees that conservation, especially preventive conservation, is a big challenge, given the exclusivity and obsolescence factor involved in the field of art.
"We have a full-fledged conservation unit. In restoration there are two parts. Archeological restoration is one part, which is being done by the ASI. What we are concerned about is conservation of books, paintings and metal works. For that we have the best conservation labs. Our prime focus is on preventive conservation, where we have tried to evolve a natural method where we make minimum use of chemicals. If you see, earlier people would keep books, manuscripts for years together and had their own indigenous methods of conservation," Joshi points out.
With prevalent chemical treatments in conservation, most people have forgotten the natural organic methods in vogue worldwide. "So we have started this method and do conservation of textiles, books and metal works. That's a full-fledged unit," Joshi explains.
Conservation, indeed, is the biggest challenge and the repositories in India do not have enough manpower to cater to their own needs. From, the institute will start a full-fledged diploma course on preventive conservation, a one year PG Diploma course. "We are doing short-term conservation courses for those who are already involved in conservation, but are not acquainted with the latest technology. We are conducting workshops," he adds.
Apart from the regular acquisitions, the National Museum claims to have started its own excavations at Kunal in Haryana where remains of pre-Harappan and Harappan culture are buried, says Mani. This is being done with assistance and collaboration from the ASI. Mani says the artefacts will be put on display soon in the Museum. "We are getting their condition report prepared. The artefacts are about 8,000 years old dating back to 6,000 BC."
The museum has a separate conservation wing for objects and artefacts, since the objects are fragile. "Since we also are the nodal agency for exhibitions abroad, whatever objects are exhibited outside or object that come from other countries, a detailed status report is prepared by the conservators," Mani adds.
Most experts agree that management and conservation of these antiquities is a tough job. IGNCA is working towards museum reorganisation for repositories in India in a scientific manner. Joshi says there are hundreds of museums in the country but there isn't a proper management facility or climatic conditions to conserve or preserve the rare artefacts. Proper storage facilities are few. "If you go and see a store or museum you will get nightmares," says Mani.
The organisation has done a recent study on the status of museums in India. Next year, there are plans to start a center for museum studies at INGCA. It would be an academic programme – not to blame anybody but at the same time to facilitate the conservation of India's rich treasure troves. Collaborations, screenings of movies of different genres, and workshops for adults and children contribute to an increase in footfalls.
The entry of private players like Kiran Nadar Museum of Art (KNMA) in 2011 has upped the game and created competition. In the last six years, KNMA has been visited by over a lakh of art lovers from all over the world.
As Gadanayak puts it: "We need to capture young artists, students and have discussion and interaction rather than being only a place of drab school study tours. This is very important for evolving young minds. We are creating interaction sessions where schoolchildren come, meet, paint, work with clay and create sculptures, participate in competitions and understand the culture. We need to create a practical friendly atmosphere."
He says, it is when one touches the clay one puts one's impression on it. There's a distinct aroma. Children need to feel things and be like the clay where one can mould oneself to new thoughts and ideas. He plans to add a foreign section and a section dedicated to water colours in the gallery. "Students need to see the different varieties of work with water colours. Sometimes an expert can give a demo of water colours and make it a great learning experience. That's what we intend to do – merge with the millenials," he says.
NGMA plans to spread its wings across the nation, go to the grassroots to collect and display the works of art.
Spotting fakes
Meanwhile, the art world is faced with the big problem of fake properties. Today reprints are the biggest issue. That was big reason why the art purchase committee was disbanded
two decades ago, claims Mani. "Today even experts find it difficult to make out the difference between copies and original paintings. However, we think if there is a genuine work available in the market and we do not have it, we can always put a requisition to the ministry," he says.
NGMA says it has a clear-cut policy with checks and balances in place to avoid fakes. Gadanayak explains there are specialised people who do the work of studying the piece of art with an eye on style of the artist. "Let's say it is copied in such minute details that the original style of the artist, line drawing everything is impeccably copied. Then we bring it to the lab where we scan the treatment layer by layer under the scanner. The fake may have some differences there. Sometimes lets say even if that is copied with perfection, then we test the carbon tests to detect how old the layers are. We take technical support from scientists," the NGMA DG explains.
Fake art is a huge market. In fact many people who buy from auctions are not aware of many things about art. They are guided to buy a particular piece because the value of the piece will double in a few days or months. "He is not aware of the fake.
"One duplication can change someone's life as these paintings thrive in crores of rupees or millions of dollars," Gadanayak explains.
Smuggling is another big issue that affects the market. The National Museum in the capital recently acquired three objects that had been smuggled to Australia and landed with the National Gallery of Art in Australia. "We proved to the international court their origin and that they had been smuggled out India and got them back. We have lots of objects from the Mughal era too – most of them have been acquired as gifts from private collections," he recalls.
While masterpieces, on display at either the museum or NGMA are never sold or valued but Gadanayak says most of the works of art at the gallery are priceless. Today an invaluable piece of Jamini Roy has an initial tag of £12,000 when auctioned. However, an artwork from the north-east may sell for a meagre Rs 50,000 but the actual worth could be over Rs 5 crore. "We can give them a platform where their worth is judged and when they go under the hammer at auctions they can derive better value," he explains.
In fact, many private displays or exhibitions at these galleries and museums go under the hammer at auction houses using their display tags at these prestigious repositories. Gadanayak says the gallery has started displaying works of eminent artists who barely got fame in their lifetime – like Dhanraj Bhagat, whose paintings and sculptures portray the soul of the swadeshi movement. Coming from pre-partition era, his work depicts the oppression and reality of life. Bhagat frequently experimented with new and unusual media that reflected in his use of geometric shapes and colour. Only at a later stage of his life did he get recognition with a Padma Shri.
"What NGMA can do is to help artists with a platform and it automatically enhances the valuation of those works. After Dhanraj Bhagat's show, the value of his artwork has gone up," he says, adding that the worth of any artefact gets enhanced five times after an exhibition at the national gallery. "But we cannot allow the sale or valuation as a repository of art. That is done by auction houses," Gadanayak adds.
Need for recognition
Biman Joshi, chairman of All India Fine Arts & Crafts Society (AIFACS) and an advisor with NGMA says: "Dhanraj Bhagat was my boss. He didn't get any recognition in his lifetime. When I became the advisor NGMA, I made sure we held an exhibition of his work."
There are serious and sincere painters who are not able to market their work. But they are still appreciated, Joshi notes. AIFACS a mother institute, which has been there as an autonomous body for the last nine decades, is known to have given opportunities to all maestros during their initial days.
"Any artist in the beginning of his or her career can use it as a footstep. Great celebrities like Husain, Sankho Chaudhuri , Bhabesh Chandra Sanyal, Raza, Sunaina Anand, Amrita Shergil and Satish Gujral have used AIFACS as a pedestal. Our plan is to take AIFACS out on a national level," he says.
Joshi agrees that government institutes can easily help enhance the value of art. Recently, its sister concern Lalit Kala Academy held exhibitions at IGNCA where artists put up their paintings with a decent price tag. "You want to display, you are free to do that. After that you can go ahead and sell. Lalit Kala Academy is our sister concern, we are venue partners but not content partners in their exhibitions. The selection or artist, sale or allotment of stalls is theirs. We are not anywhere in the picture. But, of course, the value rises."
There are two types of exhibitions that go on at IGNCA. One that IGNCA wants to display and the other one where any artist, by hiring the galleries, can display his or her work, he says. IGNCA is not bothered about the price tag he or she is putting on the work. There are stipulated charges with MOU with the artist in the latter case.
"If IGNCA is putting up an exhibition, then it has a meaning. It's not any exhibition. In the recent past, there was an exhibition on Shivaji. There were 140 paintings done by a father and son duo after the coronation ceremony and the reign of Shivaji. They were classic paintings and had a large content of history attached to them. We did not sell them, nor did we put a price on them. That was because they were a part of a collection of an artist put on display," recalls Joshi.
Also there was an exhibition on Ajanta in the recent past, where the artist had digitally recreated Ajanta paintings. "That was a unique experience. Thus these exhibitions that IGNCA conducts and organises have a very special focus for which we do not expect or entertain the person involved in the exhibition to put any price tag. Because those things are classic beyond any imagination, we do not allow sale here either," says Joshi.
Some private galleries are doing remarkable work in this area with display and auctions. When Christie's held an auction in India in 2013, it shook up the market for Indian traditional art. The auction is known to have established the highest price for a work of art ever sold in India, with total sales of Rs 96.59 crore which was double the pre-sale expectations and speculations. In 2014-15 it set new records totalling Rs 75.27 crore and Rs 97.69 crore in sales indicating the success and huge demand for Indian art.
The trend continues. Today Saffronart, a premier auctioneer with Indian roots, and DAG Modern, have set a new trend of the auction route to value artworks. While repositories restore and create value to works of art, these auction houses are helping broaden the scope of the Indian art market.
sudeshna.banerjee@mydigitalfc.com