The New Year promises to be exciting, bringing in its wake fresh ideas and presenting new personas without overlooking the old challenges that continue to loom. FC looks ahead what could be a crucial period for this Republic in its 71st year, through the eyes of those who matter.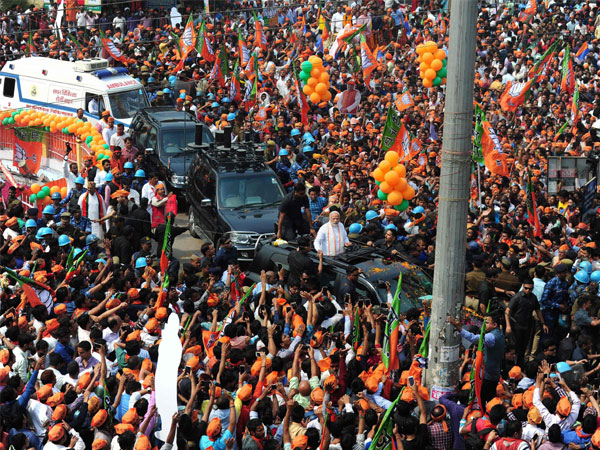 Soft Hindutva has almost overnight acquired hot button status, courtesy Rahul Gandhi's successful temple run in Gujarat. So much so, that communist and must-be-atheist Manik Sarkar is also busy visiting temples in Tripura. In the run-up to 2019, Hindutva has a new sheen, hue and connotation. Leading to increasing ghettoisation of the minority community. The politics of appeasement is thus giving way to marginalisation instead of greater inclusiveness. India 2017-18 stands on the cusp of a new age, discarding the age of identity politics. A fork has come on the road where miasma and prevarications have been junked, it is a strategic shift when the GOP decides to accept what was thought to be politically incorrect, for there is a fine line between calculation and candour. The short path between the two is strewn with deceit.
For when you buy into a delusion, then you end up living a lie. The new India has chosen its path, it walks the path of Hindutva. One can argue offering the counterpoint that Muslim women voted in large numbers in UP 2017 because they were repressed and repelled due to triple talaq and gave vent to their collective spleen by voting for the BJP. Agreed, but it still does not justify the quantum of the mandate secured by BJP. Is India then pursuing fossilised mores, taking the path to perdition, walking the talk of regression, retrogradation and ossified ideation? No, certainly not, this is merely an assertion of quiet Hindu nationalism, but equally of the heft of majoritarianism, breaking away from the decades old policy of pandering to minorityism. Of course there is always the lunatic fringe, the lumpen proletariat and the hot heads who use such an all encompassing vitiated environment for vigilantism, supported as they believe by the postulate of might is right. The rabid right has to be quelled, bottled and locked up if it resorts to invasiveness and intrusion. There is no room for such a fringe, if it uses Hindutva as a right to be violent and unruly. The law must deal harshly with such errant offenders.
New dawn
With the Lok Sabha passing the triple talaq bill and criminalising it, making it illegal and void and awarding a jail term of three years for the husband, a new dawn has been ushered in by the BJP. The Muslim women vote bank has been breached with this singular move. The proposed law would only be applicable on instant triple talaq or 'talaq-e-biddat' and give power to the victim to approach a magistrate seeking "subsistence allowance" for herself and her minor children. The woman can also seek the custody of her minor children from the magistrate who will take a final call on the issue. Under the law, instant triple talaq in any form – spoken, in writing or by electronic means such as email, SMS and WhatsApp – would be illegal and void. Tough love for Muslim men.
Anyway, this is a minor digression, though this move sits well with the sequential progression that India's body politic seems to be taking. For politicians from the Samajwadi Party and Mamata Banerjee's Trinamool Congress, the Muslim vote bank is vital and they are refusing to cut the umbilical cord. Congress strategists have come to the conclusion that the Hindu vote is aggregating behind PM Modi. We saw that first in the May 2014 hustings and then saw it again in Assam and most recently in UP. The bastion of Bengal is yet to be breached, though. One will have to wait to see whether this hypothesis will work on the ground in Bengal, BJP President Amit Shah appears to be working overtime on this. The May 2014 result at the hustings was revelatory for it clearly showed that Modi and his neo BJP had managed to construct a grand Hindu coalition of votes. This was a brand new model, at odds with all the social engineering attempts of the past at cutting across caste and religious fault lines. You have to believe this because when you win 71 plus 2 Apna Dal seats out of 80 in Uttar Pradesh, then all modules and models are cast into the Ganga. Consolidation of the Hindu vote behind Modi was what happened.
Breaking caste and community based models, the aspirational first time voter in the 18-22 age group voted with its hands and feet for Modi, empirically this translated into 47 per cent of the vote. Of course, Modi's development pitch attracted a vast swathe, as did anger against the UPA at the centre and four and a half CMs in UP courtesy a warring family. Backing my theorem is an article from the Hindu which says – First, the BJP regained the support of lower Other Backward Classes (more than half of the Kurmi community and Most Backward Classes voted the BJP). Second, the party garnered a substantial proportion of Dalit votes, mainly among the non-Jatavs. And third, there was an unprecedented level of polarisation among the upper caste voters in favour of the party. Since the 90s, the BJP in UP has had two main support groups: the upper castes and the lower OBCs. Modi's repeated emphasis on his caste background in his campaign speeches seems to have helped the BJP improve its vote share among OBC voters. Remember that Modi himself is a Modh Ghanchi. One thought that this was a one off, but when the same thing was repeated in UP assembly elections three years later, it made one sit up and take notice. For now it was a neon sign flashing in our faces.
UP 2017 battleground
Let us come to what became ultimately a seminal election. I would think bigger and perhaps more important than the 2014 general elections. UP 2017 was a battleground like no other. As is the wont of the liberal and compromised media (a pink paper), a nauseatingly faux narrative was spread. I give you the example of an analysis based on a Post Poll (and an Exit Poll for the last voting phase) conducted in Uttar Pradesh by Lokniti, Centre for the Study of Developing Societies (CSDS), Delhi, for ABP News. The survey was conducted from February 14 through March 8, 2017 among 6,269 voters in 395 locations (polling stations) spread across 65 assembly constituencies. These are the same constituencies and polling stations where Lokniti had conducted the earlier rounds of the Tracker survey in July and December 2016, and January 2017. It maintained that the Uttar Pradesh assembly election looked all set to go down to the wire. According to the CSDS-ABP News Post Poll survey, both the Samajwadi Party-Congress alliance and the Bharatiya Janata Party are locked in a very tight contest. Both the parties are likely to get around 32 per cent of the total vote. Mayawati's Bahujan Samaj Party is expected to a finish third with a likely vote share of 25 per cent. It must be said here that maybe CSDS-ABP just got it completely wrong as pollsters.
Neo realpolitik
As opposed to the Muslim vote bank, the rapid rise of the Hindu vote bank, standing as one behind PM Modi is a phenomenon which is a reality that the new India has to deal with. In 2014, the young and restless – aspirational and ambitious – connected with Modi's brand of neo realpolitik predicated as it was on development and growth and jobs. Three years later, how and why did the Hindus cutting across all caste and community identity politics once again stand behind Modi? Call it covert or overt Hindutva, it succeeded, paying the BJP and Modi a dividend in spades.
In Uttar Pradesh, the BJP won 312 seats, including some of the Muslim-dominated seats such as Deoband, Chandpur, Moradabad Nagar, Noorpur, Naanpara and Nakur where pundits reckoned that Muslim votes got divided between Muslim candidates of the Samajwadi Party and the Bahujan Samaj Party. The communal violence in Muzzafarnagar actually worked to the detriment of the ruling SP, as did the administrative lacunae owing to multiple power centres. Against that the BJP under a tireless and indefatigable Modi succeeded in getting votes of Hindu backward castes minus Yadavs and Scheduled Castes minus Jatavs, it was a spanking new paradigm, leaving everyone wondering how a Hindu consolidation had come about. Twice now in UP, one has been witness to this aggregation and it cannot be dismissed as an urban legend anymore. The fact that the Congress chose to walk the same path in Gujarat is telling. Imagine Manik Sarkar too has succumbed to this temptation.
The aggregate vote share of BJP and its allies was 41.4 per cent in this election, an eyelash less than the 43.6 per cent it received in 2014. Even their performance over the seven phases of this election closely mirrors their performance in 2014. They had a strike rate of 90 per cent in phase 1 (93 per cent in 2014), 75 per cent in phase 2 (73 per cent), 80 per cent in phase 3 (75 per cent), 83 per cent in phase 4 (77 per cent), 85 per cent in phase 5 (85 per cent), 67 per cent in phase 6 (88 per cent), and 80 per cent in phase 7 (100 per cent). Curiously, the BJP and its allies only fell marginally, in comparison to their aggressive 2014 performance, in the final two phases of the election where Gorakhpur mahant Yogi Adityanath and Narendra Modi himself were expected to deliver Lucknow for their party.
Modi's Hindutva pitch based on an edifice of Hindu Rashtrawadi was much greater than the combined secular template of the opposition. With cash cull hitting Mayawati's treasury operations, Modi played the Hindu card. In his Fatehpur speech on February 23, he delivered the kayo punch on the opposition's glass jaw: "If you create a kabristan in a village, then a shamshaan should also be created … Bhedbhaav nahin hona chahiye (there should be no discrimination)." This worked like clockwork as it tied in perfectly with the subliminal Hindu rashtra messaging eloquently, squeamishness be damned.
According to the India Today Axis poll in the run-up to the hustings - Apart from Brahmins and Thakurs, a major section of non-Yadav OBCs are also supporting the the saffron party.
58 per cent of Muslims are in support of Samajwadi Party, 3 per cent BJP, 14 per cent BSP.
67 per cent Yadavs behind Samajwadi Party, 14 per cent with BSP, 6 per cent with BJP.
59 per cent of Brahmins supporting BJP, 9 per cent with BSP, 14 per cent with Congress.
Among OBCs, 56 per cent are supporting the BJP. 15 per cent of OBC with BSP, 13 with SP and 7 per cent with Congress.
The grand Hindu coalition can work in states where there is a Hindu-Muslim divide and the latter have a sizeable population. It did not work in Punjab, Delhi or Bihar, but it did work for both parties in Gujarat. Mamata's Bengal is where the BJP is chipping away, the process is slow. Conversely, it worked in Assam, in Jammu division of J&K and may act as a catalyst in the coming Tripura state election.
@sandeep_bamzai