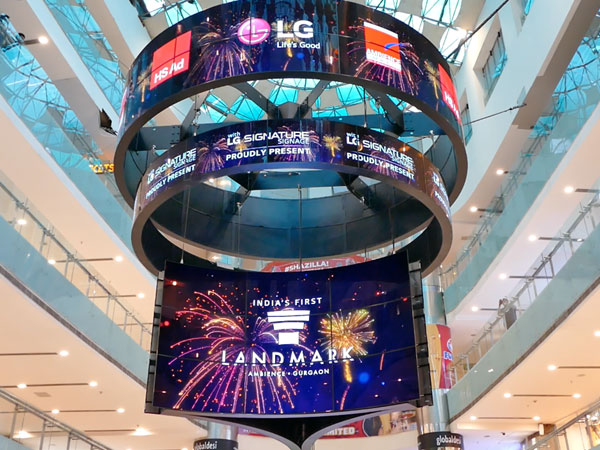 The nerds of the world usually have their eyes peeled in the direction of Las Vegas towards the start of every year. The reason being the annual Consumer Electronics Show, where the best, brightest and most fascinating new technology is unveiled. This year, CES was held between 9 and 12 January, and, as expected, dazzled with a brilliant array of new technology. Among the fascinating reveals was an unusually bendy television from LG Display.
Now, flexible displays have been around for a while—remember the excitement about curved TVs?—but a 65-inch screen that can be rolled up like a poster is quite something else. "Crazy" and "indistinguishable from magic" are just two examples of how the world is viewing LG's new roll-up TV.
LG first floated the idea of a roll-able display back at CES 2016, but it was more bendy that roll-y, a little more than a proof of concept, a little short of an actual marketable prototype of a consumer product. Things have changed since then. The 65-inch OLED 4K monitor displayed at CES 2018 rolls up into a 10 cm tube and fits perfectly in an ultra-modern living room space.
Even though the 65 inches and the 4K resolution were not the most impressive display features showcased at CES—LG Display themselves had a monster 88-inch 8K TV for show-goers to ogle at—this particular model won hearts and minds by obligingly disappearing into a rectangular tube when not needed. But rolling up and down were not the only things it can do. It also changes aspect ratios as the amount of screen on display changes. For example, it can go into a 21:9 mode to display wide aspect ratio movies without the black bars at the top and bottom. There is a special narrow view mode, when just top bit of the screen is visible, to display the apps that are available on the TV, such as for weather information.
As displayed at the CES, the rolled-up screen disappears into a rectangular tube, but according to LG, this box can be customised, or the screen can be constructed to roll inside a piece of furniture or the surrounding décor. It can even be made portable—indeed, the idea of rolling up a 65-inch TV and carting it around does seem like magic.
Hold on to your purses—the roll-up TV at CES was just a prototype, and it will be a few years before we will be able to walk into a shop and walk out with one of these tucked under our arm. That said, LG spokespeople claim this prototype is closer to becoming a consumer device than the 88-inch 8k TV. At present, one can expect to shell out upwards of Rs 4 or 5 lakhs for a 65-inch UHD display, so it's a safe bet that when one of these rolls up and tucks itself away in a box, it's not going to be cheap.