Swiss watchmaker Romain Jerome has come up with high-end Pokémon tourbillon that is set to make one super-fan super chuffed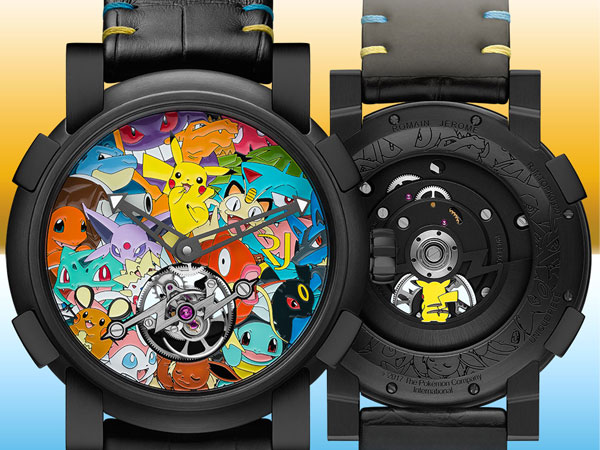 Most of us have, at some point in our lives, owned pop culture merchandise—from caps or T-shirts popularised by movies and sports teams, to accessories referencing various other fandoms, including books, music groups, toys, games and more. But what is that point at which branded merchandise crosses over from being indulgent tat to the hallowed halls of a collector's item?
Perhaps Romain Jerome, makers of high-quality custom watches might be able to answer that for us.
The Swiss watchmaker has come up with a unique high-end Pokémon tourbillon watch that could just be the merchandise to end all others. We'll get to why that is in a moment, but first a bit about the watch itself. Of course, Pokémon needs no introduction in this day and age, but for those curious about what a 'tourbillon' is, here is a quick explanation.
Meaning 'whirlwind', a tourbillon refers to a sort of watch mechanics where the watch escapement and balance wheel (the parts that keep a mechanical watch ticking) are housed in a rotating cage. When it was discovered back in 1795 by the watchmaker Abraham Louis Breguet, it was in an attempt to increase accuracy as the rotating cage negated the effects of gravity when the watch was left in a particular position. Today there are other more accurate watch mechanics available and tourbillons are only popular in high-end watches, displayed in a transparent enclosure for collectors to marvel at its intricate movements. The average price of such a watch is likely to be around $50,000 at the lower end.
Back to our unique Pokémon piece. It is housed in an all-black 48mm PVD-coated steel case, with black alligator leather straps highlighted with blue and yellow stitching to match the Pokémon theme. But without doubt the standout feature is the handcrafted enamel dial. Featuring cloisonné enamel detail created and coloured entirely by hand, it features numerous Pokémon characters in different sizes, creating a sort of pop-out effect. Pikachu, arguably the most famous pocket monster, gets to be the centrepiece. Pikachu's signature lightning bolt too gets pride of place with the tourbillon bridge shaped like one. The casing is designed so as to be able to view the oscillation lightning-bolt tourbillon from the back as well.
As a one-of- a-kind piece, the Romain Jerome Tourbillon Pokémon watch is set to make one super-fan super chuffed, provided they have the wherewithal to spare the $200,000 for it. For others who might have their heart set on an RJ Pokémon collector's item, there is always their RJ X Pokémon model—no tourbillon, but with a hand-painted enamel Pikachu holding centre stage—at a mere $20,000.
Of course, Pokémon was not the first video game franchise to have captured Romain Jerome's attention. Super Mario Bros, Tetris, Space Invaders and Pac-Man, among others, have all been featured on RJ watches. And lest you think these are children's toys, we shall point towards the price tags—all in the $20,000-plus range. For collectors in India, there are online sellers, such as Chrono24.in, who will import them with buyer protection guarantees.