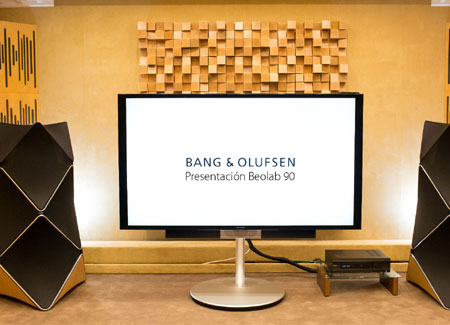 When Bang & Olufsen's BeoLab 90 was first unveiled a couple of years ago, Wired.com dubbed them the speakers you'd trade a couple of children to own. These speakers are indeed a work of art, and not exactly the kind of thing you would pick up on a whim during a weekend shopping stint. Maybe the fact that it costs about as much as a small house might have something to do with it. But to focus on the price tag above all else would be a travesty to this technological marvel.
This audio powerhouse took Bang & Olufsen all of three years to research and build. Creating perfect sound in a room meant for listening is one thing, say the makers of the BeoLab 90, but it's a whole other thing to create perfect sound in a room designed for living. Not just able to project sound in a 360-degree direction and pair with all your digital devices, this is a modern-day, intelligent speaker that can use its "brains" to adapt its acoustic output to your living space.
Under the hood, you have 18 channels of digital amplification tucked away, adding up to a cool 8,200 watts, powered by an advanced digital sound processor. Input sources include RCA, XLR, USB, S/P-DIF and Toslink. There is wireless connectivity as well. All technicalities aside, the BeoLab's USP is its smarts. This "intelligent" speaker claims to adapts its sound to different situations. Active room compensation technology takes into account the size of the room and its contents, and the position of the speaker in it to tailor sound output; beam width control lets you narrow or widen the acoustic range to adjust the range of sound; while beam direction control gives you the freedom to focus the sound in any direction. The BeoLab 90 can be controlled either by a remote unit called the BeoRemote one or via a smartphone app.
Needless to say, from the outside, the BeoLab 90's design aesthetic reflects its claim to being with the times, with elegant curves that seem to float on air and, of course, no apparent "front". Built on a solid 65 kg aluminium skeleton, it is covered with acoustic fabric stretched across the drive units. This is supported by a wooden base that curves up from the bottom, seeming to hold the entire structure in place. The aluminium crown, the outer fabric and the supporting wooden panel can be customised on order.
What about the sound quality one can expect from this? We shall give it to you in the words of the manufacturers themselves: "This is as loud as you can possibly go without front row tickets for a stadium concert, and as detailed as you can possibly get without enjoying your albums in a professional recording studio." And it had better be great, for at $40,000 apiece ($80,000 for the pair), you had damned well be sure you're getting the right bang for your buck.