Here are the super-expensive and exclusive gadgets that could be difficult to wrap one's head around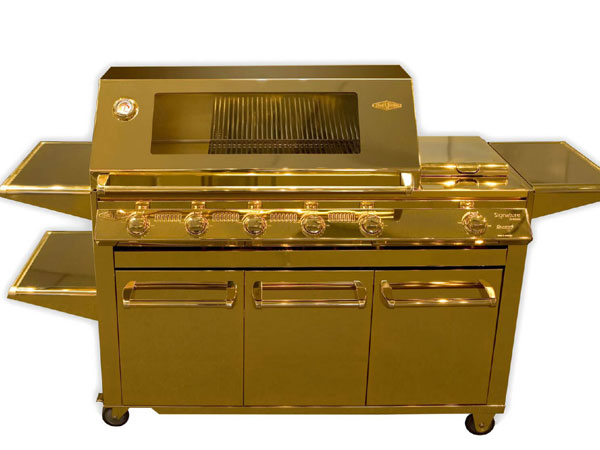 If you want to spend your hard-earned millions on mouse made of gold and inlaid with diamonds, a one-of- a-kind handcrafted Pokémon watch or a $300,000 high-tech dog kennel, who are we to judge? But that is not to say that there are times when luxury tech boggles the mind. Here are five super-expensive and exclusive gadgets can be difficult to wrap one's head around—and not necessarily because of their price tags.
The gold-plated grill BeefEater Barbecues, an Australian company known for producing grills and kitchenware, decided to go full bling back in 2009 and came out with a fully gold-covered grill. Yes, everything except cooking surfaces was bedecked in 24-carat gold. This six-burner barbecue came with a wok burner, quartz-start ignition, warming rack, roasting hood, vaporiser grid and more. Retailing at $165,000, the company claimed it was targeted at those who had 'the money to burn'. It does not seem to feature on their online catalogue at the moment, more's the pity.
The British design company Stuart Hughes made what could arguably be the world's 'most unique' gadget, the iPad 2 Gold History Edition. Apart from the 53 sparkling gems inset in the 24-carat solid-gold backing, the front of the iPad is framed in a 75-million- year-old stone from Canada infused with pieces of a T. Rex's thigh bone. If you're already rubbing your eyes in disbelief, wait till you hear the price—$6.5 million. Pity that the iPad in question is almost a dinosaur.
Coffee-lovers are likely to be familiar with Dutch coffee-machine makers, Keesvan der Westen. It is true that the company is renowned for their high-end coffee machines and the brew they produce is supposedly legendary. However, their top model, the Spirit, is sure to set the senses abuzz whichever way you look at it.
Aimed at coffee shops and high-value customers, this $20,000 coffee machine is built for 'extreme precision'. We hope that means the best cup of coffee you could imagine.
A personal submarine from Hammacher Schlemmer that looks like a killer whale might just be what would make a well-heeled water baby's eyes sparkle. This $100,000 two-person submarine has articulated 'pectoral fins' for rolls and dives, just like the mammal it mimics. It can function as a hydroplane up to 80 km/h on the water surface and cruise up to 40 km/h while submerged. A snorkel integrated into the 'dorsal fin; provides air supply to the engine up to a depth of 5 feet.
The magnetic floating bed If money can buy you a good night's sleep, then this $1.6 million bed from the Dutch company Universe Architecture ought to give you the best rest you could ever have. The bed floats 16 inches off the ground thanks to magnetic forces, while four cables tie it down to the floor, apparently to keep it from floating off, thus, making it a bed that 'hangs up' by defying gravity.