With about two dozen different espresso and coffee flavours available in single-serve pods, making that perfect cuppa is as simple as pressing a button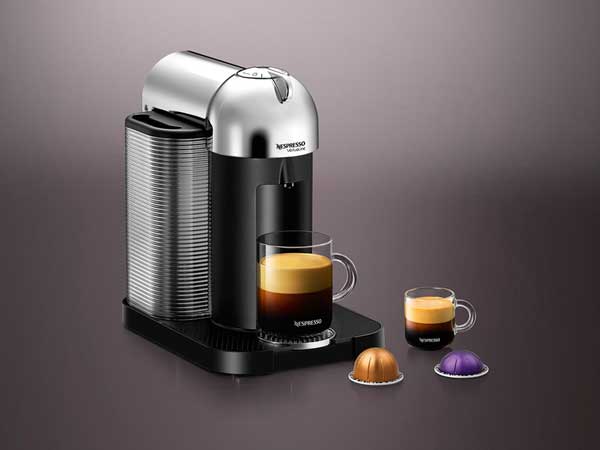 There are times when writing about luxury tech feels like one April Fool's joke after another. From everyday gadgets gilded to a perfect shine, to computer peripherals dressed down to look like they belong a hundred years ago, to toilets that can wash and dry you, to exotic timepieces hand-crafted to perfection—it seems we've seen it all. Until the next unbelievable gadget comes along and resets our meter to zero. This time, it comes in the form of GioBagnara's bespoke leather-finished Nespresso machine, complete with the best of European calf leather and the magic of French skill and artistry. Yes, it makes great coffee too.
Traditionalists might scoff at the Nespresso machine itself, but for those who want a consistent coffee output with minimum fuss, this gadget is just the thing. With about two dozen different espresso and coffee flavours available in single-serve pods, making that perfect cuppa is as simple as pressing a button. With this latest version, now you can make a faultless brew in style. The leather-clad Nespresso unit comes from Pigment France, a luxury brand renowned for dressing up tableware and appliances in a variety of materials, including leather. Pigment France is part of Giobagnara, an Italian company with its own luxury offerings in leather and suede.
These dapper Nespresso machines are covered in calf leather sourced from northern Europe and tanned in Italy. They are specially treated to be waterproof and scratch resistant as well. Finally, expert artisans in north France craft the perfect finish to fit the Nespresso's curves. There is a choice of colour—dark chocolate, cappuccino, cream and cinnamon—and finish—a quilted channelling as well as a diamond pattern. Plus custom colours and options are available as well. And, of course, there is a matching box to store those Nespresso capsules.
This beautiful leather-finished coffee machine was first seen at the Maison de Objet, the French trade fair for interior design, held in Paris. It's probably no surprise that as far as coffee machines go, this one isn't the sort you're likely to impulse-buy off your favourite online retailer—prices start at around $4,500, that is, almost Rs 3 lakh.
And if the understated sophistication of Pigment France's artisanship in case of the Nespresso machine is your style, you might want to take a look at the lest of their catalogue. They have a range of tableware finished in rattan, fine willow and techstraw (a braided polyamide material), giving these everyday items a touch of never-seen-before elegance. Pigment France's crafters can weave, plait, interlace, knot, polish and otherwise dress up just about any tableware product as per custom specifications.
Giobagnara, the parent company, are also known for their deluxe offerings, mostly in fine leather. They specialise in "luxury without ostentation", and claim to have "one of the most comprehensive offers of leather home accessories on the market". Their collection includes items for décor, storage, office and tech, travel and bathroom, lighting, jewels and accessories, lighting and more. This, of course, doesn't include "dressing up" homes and other interiors.