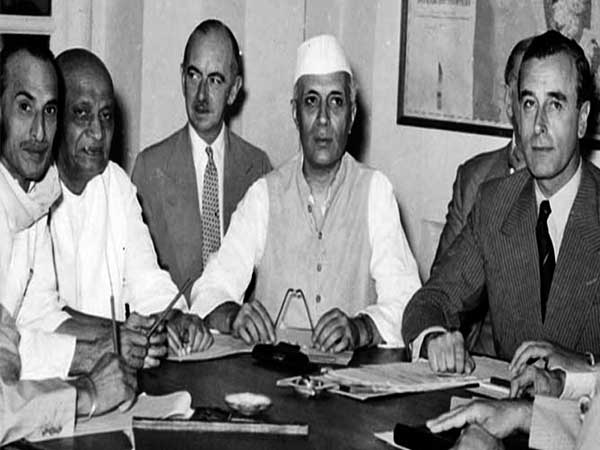 Like a slingshot, it struck at the very heart of the new Indian democracy's show window. It came abruptly and yet seductively, blindsiding everyone in the Nehru Administration. The United States had quietly started circling the wagons. By the early 1950s, the United States had realized that Kashmir should be part of its sphere of influence. As a prolonged period of the Cold War was setting in, the Soviet Union's presence was growing larger with the passing of each day in areas of proximity. Kashmir was seen as one such prime target, given its history of political instability and strife. The Americans were worried that with the Russians flexing their muscles in Azerbaijan, Kashmir was the next target because of the political vacuum it offered. The growth of Communism in the Valley was something that both the Americans and the Government of India suspected and feared for long. Top leaders in India like Jawaharlal Nehru and Ram Manohar Lohia were aware of Communist activities in the Valley. Bakshi Ghulam Mohammad himself was casting aspersions on the activities of American Ambassador's wife Mrs Loy Henderson in Srinagar. As such, the Government of India as also the State began to monitor the presence of Americans in the Valley. Nehru had to make intuitive choices while taking hard decisions. And as a believer in non alignment, he maintained equidistance from the two poles responsible for the Cold War. Supposition did not matter for Nehru since Kashmir was sui generis to Indian secular identity, the template of the Congress party and the very basis of its functioning. There was no one-size-fits-all in this dynamic environment and Nehru's counter narrative did not include any meddling by either US, Russia or India's erstwhile coloniser Great Britain.
A covert intelligence report filed in the summer of 1951 shows up this trend, as the uncoiling of history happened rapidly. Excerpts from the report:
"I met Frank Collins of the State Department last night. Collins and Meyers used to come from the State Department to New York every time the Security Council met to discuss Kashmir. Along with Mr Mafet, advisor on Security Council affairs to the American delegation, they were out contacts on their side. Collins and Maffet were very much alike in their attitude towards the Kashmir issue — both pro Pakistan, pro Muslim, pro British and anti Indian on the Korea-China issue, Maffet being tougher than Collins, but both with a one track mind, unwilling and incapable of understanding points of view other than their own, neither having studied the Kashmir documents carefully.
"In contrast, Meyers showed some degree of maturity in his knowledge, judgment and approach. Collins arrived suddenly in Delhi on July 5. This morning he left by air for Calcutta where he hopes to spend a couple of days and from where he proposes to return to Bombay via Madras to catch a plane for the US.
"My plans to have detailed talk with him were upset by a dinner engagement thrown by Mr Bourne of the USIS who insisted on both of us attending it. I could not therefore find out with any certainty what had brought him to India apart from the fact that one of his objectives seemed to be to find out how the USIS was operating in India and with what degree of success.
"Considering that he arrived in Delhi while Dr Graham was here, I suspect that his visit may have had something to do with Kashmir also. I commented on the manner in which the Security Council decided to meet suddenly and practically without notice to consider a letter from the Pakistan Foreign Minister in which he had taken an exception to the proposal for a Constituent Assembly in Kashmir, the same Security Council ignoring our charges against Pakistan about continuous incitement to war.
"Collins replied that despite pressure from Pakistan and in the belief that India would not welcome an early meeting, the Security Council had kept the Kashmir issue pending between September 1950 and February 1951. As for the talk about 'jehad' in Pakistan, the US government had tried, through its diplomatic channels to bring as much pressure as it possibly could to bear upon Pakistan in favour of restra8int.
"He added that the US still believed in a solution acceptable to both parties, though the US was not willing to leave the problem to the parties for settlement. He referred to Dr Graham as a sincere man with a high sense of integrity who, with the cooperation of India and Pakistan, could help a great deal in holding an early plebiscite.
"Plebiscite would not be such a difficult thing to hold, I said, if the S and UK called upon Pakistan to withdraw their tribesmen, nationals and troops and disband and disarm the Azad Kashmir forces and if the Security Council was willing to honour the assurances that had been given to India in respect of the sovereignty of the J&K government and India's responsibility for the defence of the State.
"Collins said that under the Resolution of August 13, after Pakistan nationals and tribesmen had withdrawn and Pakistan troops had begun to withdraw, India was required to begin the withdrawal of the bulk of her own forces, and that the question of disbanding and disarming the Azad Kashmir forces could be taken up only during the Truce period.
"I replied that such a view was not in conformity with the spirit underlying the Resolutions of August 13, 1948, and January 5, 1949, since the Commission itself had admitted in its Report that if it had known that Pakistan would use the intervening period to build up 32 battalions of Azad Kashmir forces, it would have dealt with this problem at a much earlier stage.
"This being the case, I went on, and bearing in mind the fundamental principle on which the August 13 Resolution was based, namely, the complete withdrawal from the state of Pakistan troops, nationals and tribesmen, the conclusion was irresistible that the spirit of the Resolution also required the disbanding and disarming of the Azad Kashmir forces before India could be expected to begin the withdrawal of the bulk of her own forces.
"Collins referred to the word 'disposition' of Indian and State forces in the January 5, 1949 Resolution, whereupon I answered that in the light of the assurances given to India, the word 'disposition' could only have one meaning, namely, the disposition of these forces within the state. At this stage the talk was interrupted and we did not get an opportunity to resume discussion".
However, earlier Collins asked the operative to tell him what he thought of USIS services in India. To illustrate his point, the Indian operative mentioned how the British who had first employed direct methods of publicity in India were gradually forced to abandon them largely on the ground that such methods had failed to prevent the Indian National Congress from getting stronger and stronger.
At this stage, Mr Wilkins, first secretary at the American embassy, who was also present, turned to Collins and remarked that direct methods were so contrary to US policy that they could never dream of employing them in India or elsewhere.
The aforementioned input provides an idea of the underlying credo with which the Americans viewed Kashmir. Many western powers post Second World War may have viewed Kashmir as the next playground of intrigue and subterfuge since it was perceived to be the last outpost of anti-communism in the central Asia/ sub-continental theatre of operations. And this view persisted right through the dark days in the run up to India's tryst with destiny.
The interim government featuring influential Indian political leaders like Pandit Nehru and Sardar Patel set up under Viceroy Lord Wavell was consistently kept in the dark about the surreptitious plans being hatched by the Political Department and other hardcore elements of the Crown authorities in India. This was particularly evident in the British Political Department's maneuverings to prop up key princely States. Incidentally, the vanquished British Conservative Party at the end of the Second Great War, led by Winston Churchill had in a parting message to Wavell during his trip back home on August 31, 1945 told him, "Keep a bit of India".
Hope lingered and princes, their prime ministers and dewans under the bidding of the British Political Department in frontline states of Kashmir, Hyderabad, Bhopal, Jodhpur and Travancore, played the procrastinating game. India prevailed over the wiles of these palace intriguers. But attempts were made till the end. The Nizam of Hyderabad held out till Sardar Patel surrounded his state.
The US State Department was active even then. It is reported that it was keen on the mineral resources of some of these states and was hoping that there would be separate treaties between these princely states and the new paramount power. Reflecting this trend, Lord Wavell in a memo dated February 26, 1947 to Lord Pethic Lawrence wrote: "Thomas E Weill, Second Secretary, S Embassy, New Delhi, came to see my deputy Private Secretary soon after His Majesty's Government's statement were made. He inquired about the government to which His Majesty's government would hand over power in the absence of an agreed Constitution framed by a Constituent Assembly. He asked whether it was the intention of His Majesty's government to make treaties with the Indian princely states, if there was no all India Constitution. He asked particularly with a slightly meaningful look, about Travancore and mentioned that Kalat might have oil".
A masterful expose of the time by Blitz was on the secret deal to export Thorium-Uranium raw material in the shape of monazite sands from Travancore to UK. The supportive evidence came through much later through the published documents (Transfer of Power series by Nicholas Mansergh and Pendrel Moon). This information was passed on to Panditji to bring him up to speed with what was happening within the Prince's frat.
Wavell and the British Political Department headed by Sir Conrad Corfield were reportedly hand in glove in these machinations. By the end of August 1946, Panditji using these information flows provided sufficient details of the deal and Sir CP Ramaswami Aiyar's collusion with the Viceroy to nip it in the bud.
Sir C P Aiyar was the wily and powerful Dewan of Travancore who, like Ram Chandra Kak in Kashmir, called the shots on behalf of his Ruler. Both established lines of communication with the Nizam of Hyderabad who in turn used the Chancellor of Princes Nawab of Bhopal as the conduit to Mohammed ali Jinnah. But Panditji, operating in tandem with Sardar Patel, asked Blitz not to go ahead with the story till a suitable opportunity presented itself for a public expose.
That came in the form of the Nawab of Bhopal's letter handed over to Jinnah prior to his departure for London to meet Winston Churchill. The letter, considered a bombshell, hinted at a commitment on the part of the Indian princes in conjunction with the Muslim League of the maintenance of the British connection either as individual units or as a combined state on part with the proposed State of Pakistan.
Confirmation of this move came through another devastating letter dated December 11, 1946, marked PRIVATE, penned by Churchill to Jinnah:
"I should greatly like to accept your kind invitation to luncheon on December 12. I feel, however, that it would be wiser for us not to be associated publicly at this juncture. I already greatly value our talk the other day and now I enclose the address to which any telegrams you may wish to send me can be sent without attracting any attention in India. I will always sign myself 'Gillatt'. Perhaps you will let me know what address I should telegraph to you and how you will sign yourself".
It was later learnt that 'Gillatt', a British woman, was Sir Winston's secretary and the address was her London home. Obviously a channel was kept open between the two and British interest watchers. In his speech to the AICC on July 7, 1946 and then again three days later in a press conference, Pandit Nehru spoke about the issue of minorities and how it was a domestic problem and how British interference in it was not desired.
This gave Jinnah the excuse he was looking for and he withdrew the Muslim League's acceptance of the Mission Plan on July 29, 1946. Nehru got the opportunity that he was looking for. Breaking the news at the opening of the Science Congress in Delhi in December 1946, Panditji went onto highlight the plan to fragment the subcontinent and export monazite sands from India. While denouncing the move, he made a veiled reference to the sources of his information and said that it was a friend who had given him this information (that friend proved to be this writer's grandfather K N Bamzai who was then chief of bureau for Blitz in Delhi and writer of these exposes, subsequently he became PS to J & K 's first PM Sheikh Abdullah and then OSD to PM Nehru till his death.)
To foil the Nawab of Bhopal's ambition of a combined state of princes on par with Pakistan, Sardar Patel moved with alacrity, parallel to Panditji's activities at calling their bluff. Together they brought the vagrant princes around after they disclosed the Nawab of Bhopal's role of a saboteur. Fighting the communal cleave, the Congress used the Maharajas of Bikaner, Patiala and Cochin to frustrate the Machiavellian role of Sir Hamidullah Khan of Bhopal who was using the Chamber of Princes as a bargaining lever to protect and perpetuate the princely order. Once some of these States entered the Constituent Assembly, the Chamber was weakened and Nehru's disclosures forced the Nawab to tender his resignation as the Chancellor of the Chamber of Princes.
Writing in the Last Days of the British Raj, Leonard Mosley provides a graphic account in the chapter Downfall of the Princes, Mosley wrote that just before assuming his job as the last viceroy of India, Lord Louis Mountbatten was summoned by his cousin the King George VI. During the conversation, King George said that he was particularly worried about the position of the Indian princes in the coming negotiations, since they enjoyed direct treaty relations with Britain and these would inevitably be broken with the onset of independence. King George said that the princes would find themselves 'in a dangerous vacuum' and urged Mountbatten to persuade them to accept the inevitability of the transfer of power and come to some arrangement with the new regime beyond their frontiers.
Mosley went on to say that Mountbatten did not have much time or admiration for the Indian princes whom he considered semi-enlightened autocrats at their best and squalid degenerates at their worst. He called them a bunch of nitwits for not taking the path of democratization when they saw the rapid emergence of Congress led nationalism. To quote Mosley: "The bold front which some of the princes, particularly the Nawab of Bhopal, had hoped to present to the politicians in British India was already in disarray by the time the Congress and Muslim League had agreed to accept the Indian independence plan. As chancellor of the Chamber of Princes, Bhopal was given a prior look at the general outline of the Independence Bill (even before Congress and Leaguers saw it), for it was felt his word not to divulge its contents was rather more likely to be kept than that of the politicians.
"His immediate reaction was to ask whether it was the intention of His Majesty's government to grant Dominion status to individual princely states in the same way as Pakistan and India. The viceroy replied that this was not HMG's intention. Bhopal, thereupon bitterly complained that the British were once more letting the princely states down, and that he, as the Muslim prince of a Hindu state, would be at the mercy of the Congress. Three days later, he resigned his position as chancellor and announced that he would consider himself free and independent the moment the British departed from India to choose the destiny of his State for himself".
It was clear that the scramble for shelter had begun. The Maharaja of Bikaner, as mentioned earlier, was instrumental in gathering a considerable number of princes together into a group which expressed its willingness to join the Indian federation before independence. But as Mosley wrote: "The truth was that Indian princes were on the verge of panic and practically on the run. The Political Adviser Sir Conrad Corfield had tried from the moment independence for British India became inevitable to persuade them to liberalise their administrations and to form a solid block with which to resist the encroachment of the politicians of British India. He was a convinced royalist himself and he hoped that the presence of the cousin of the King as viceroy would give him the backing he needed to keep the Indian princes out of hands of Indian politicians, particularly Congress politicians".
But the best laid plans often go awry. And Corfield and Mountbatten were constantly at loggerheads on the issue. Despite this Corfield kept at his game and was determined to make sure that at least two or three princely states, chief among them Hyderabad, would be saved from Congress engulfment. He also decided that he would make it as difficult as cold be for the other states to be absorbed.
For this he used the instrument known as Paramountcy, since the princely states were bound by treaties with the British Crown. So he began back channel diplomacy, blindsiding Mountbatten. He opened a direct channel of communication with Secretary of State for India in London Lord Listowel. Listowel finally agreed with Corfield to include a clause in the Indian Independence Bill which lapsed Paramountcy only on the day when India became independent, so that India – unless it could make arrangements by agreement before hand – would be confronted on August 15 by nearly 600 princely states containing 100 million people, each State completely independent.
But the move failed. On June 13, a meeting was held at the viceroy's house attended by Mountbatten, Nehru, Jinnah and Corfield among others, where Nehru in a boiling rage blasted Corfield for his shenanigans, saying, "I charge the Political Department and Corfield particularly with misfeasance, I consider that a judicial enquiry at the highest level into their actions is necessary."
Apparently, Corfield even had state documents which were likely to help the Indian government in their relations with the previous destroyed. Then the tide turned for Corfield as his sweet talk with some of the princes started paying handsome dividends. Travancore was first to announce that he would become an independent sovereign state after August 15, going according to Corefield's interpretation of the Indian Independence Bill. Travancore even said that he was appointing a trade agent with Pakistan. The next day the Nizam followed suit.
There was one problem though in keeping a bit of India. There were as many as 7000 to 8000 Indian Army personnel including armoured formations inside Hyderabad. So freedom at lapse of Paramountcy was not going to be easy. And Corfield had not contended with the wily Sardar Patel and his trusted lieutenant VP Menon who were not willing to give an inch. Their formula was simple: approach each prince and negotiate by asking them to accede to the Indian Union under three subjects only – defence, external affairs and communications. Further, the duo secured Lard Mountbatten's assent to negotiate with the rulers which turned out to be a masterstroke.
Mountbatten's press adviser Campbell Johnson says that the meeting on July 25 with the princes saw the viceroy using every weapon in his armoury of persuasion, making it clear from the outset that in the proposed Instrument of Accession, which VP Menon had devised, the princes were being provided with a political offer from the Congress which was not likely to be repeated. "He reminded them that after August 15, he would no longer be in a position to mediate on their behalf of Crown Representative and warned those princes who were hoping to build up their own store of arms that the weapons they would get would in any case be obsolete."
One by one the princes queued up to sign. But not all of them, Hyderabad stood aloof. So did Travancore, Bhopal, Indore and Jodhpur among others. As the Ministry of States began to break new ground, VP Menon protested against Corfield's interference and finally said that either he or Corfield would stay. And ultimately Corfield had to go.
Baroda signed and it was seen as a major breakthrough. Still some of the key princely states held out — Hyderabad, Mysore, Bhopal, Jodhpur and the Nawab of a small state in Kathiawar called Junagadh. The States Ministry discovered, according to Mosley that British members of the Political Department had more or less convinced Maharaja Hanwant Singh of Jodhpur not to sign the Instrument of Accession, and instead choose Pakistan. The young Maharaja made a secret visit to Jinnah and took with him the Maharaja of Jaisalmer.
On his return to Delhi, Menon went to see him and escorted him to the viceroy's house. Mountbatten not aware of the happenings was convinced by Menon to see the Jodhpur Maharaja. The Maharaja told Mountbatten that Jinnah had offered him a blank piece of paper to write his own terms and asked the viceroy what he would be giving. Menon told him that he too would give him a blank piece of paper but it would mean nothing but false hopes.
And then Mosley writes that the Maharaja realizing that he had been tricked swung around at Menon with a revolver in his hand shouting that he was going to kill him. Menon's dramatic reply was "Stop these juvenile theatricals, this won't get you any concessions." The tension eased with this remark and finally Jodhpur came around three days later.
As everyone is aware Hindu majority Junagadh ruled by a Muslim prince was in many ways a test laboratory for Jinah and Liaquat Ali Khan. They wanted the world to see that if the Maharaja of Kashmir, a Hindu ruler of a Muslim majority State, opted for India, Pakistan would have every right to say No too.
Nicholas Mansergh writing in Survey of British Commonwealth Affiars sums up what transpired later. "Kashmir lay at the frontiers of both successor States, it was neighbor to both, and while its ruler was Hindu, its people were predominantly Muslim. There was no state in the subcontinent, the future of which, if left unsettled when the imperial independent authority withdrew, was more likely to occasion dissent between the two Dominions. The failure to concentrate more closely upon the problem it presented was destined to prove an oversight fraught with grave consequences". How true!
Even after Kashmir had been sewn up, Hyderabad remained. But let Mosley once again tell us what transpired. He wrote: "So long as Mountbatten remained Governor General of the Indian Union, VP Menon and Sardar Patel's hands were tied. The Nizam was allowed to continue his personal negotiations with Mountbatten. Two days after he left for England, the Nizam indicated that he would be prepared to accept the Mountbatten Plan. Replied Patel, 'Tell him it is too late, the Mountbatten Plan has sailed for home'. Shortly afterwards Indian troops moved into Hyderabad and occupied it. The Nizam continued as the figure head".
With that ended the story of the princely order and the British Plan through Corfield to keep a part of India.
Sometime in April 1963, Blitz ran another sensational story on the collusion between Sheikh Abdullah and Anglo Indian Political Service officials. It based its story on a four point indictment of Abdullah, supported by documents:
that Sheikh Abdullah contacted sometime in 1935, Sir BJ Glancy, then political secretary to the then British government and head of the British Intelligence Service otherwise known as the Political Service, and offered his services to the Raj;
that Glancy, ICS, passed him on, after checking his antecedents to one Lt Col L E Lang, a high ranking officer of British Intelligence who was then posted as the British political agent at Srinagar.
that in the course of his work as a willing collaborator, Abdullah received and carried out orders, instructions and wishes of one Col C W Colvin, another member of British Intelligence and then prime minister of J&K state;
that Abdullah knowingly acted as an agent of British Intelligence to rouse communal passions of Kashmiri Muslims with a view to fighting the rising tide of Indian nationalism.
Writing in American Shadow Over India, L Natarajan says: "The interest of the US arose in part from Kashmir's strategic location, close to the USSR and bordering of Afghanistan, Chinese Sinkiang, Tibet, India and Pakistan". The Indian government was not unaware of American interest in Kashmir as a base for operations against China and Soviet Union. Robert Trumball, writing as far back as October 28, 1947 in The New York Times said that there was sentiment in Ladakh for independence and that 'such fragmentation of Kashmir is what India wishes to avoid in this strategic State next door to Russia".
The following day Trumball wrote something that much stronger: "Indian officials quite frankly believed that possession of Kashmir vital to the security of India. Some high government sources interviewed today were thinking about the Soviet Union, which touches Kashmir at Gilgit at the state's north-west tip.
Even when the cease fire was instituted on January 1, 1949, a Belgian, General Maurice Delvoie, was appointed as military adviser for the NCIP. By February, UN Secretary General Trygve Lie sent thirty-six military observers, seventeen from the US, six from Mexico, five from Belgium, four from Canada and four from Norway. The original choice for plebiscite administrator was General Walter Bedell Smith who fell ill and was replaced by Fleet Admiral Chester Nimitz. Incidentally, Bedell Smith was to later become director of the Central Intelligence Agency (CIA).
A one point, even General Dwight Eisenhower was in the hunt for a mediator, a position which was subsequently taken up by Frank Graham. And so it carried on and every once in a while, American interference would surface in Kashmir. The summer of 1966, for instance, saw a fresh initiative. With the 1965 India-Pakistan conflict already a page in history, US State Department trouble shooters were once again trying to orchestrate a spanking new campaign to test the fertile waters of Kashmir. Known secretly as the 'Puerto Rican Formula', the State Department believed that this was the panacea for Kashmir's ills.
The State Department pointman in Delhi was Dewin J Pechaus, second secretary in the US Embassy who sent feelers to several top Indian government functionaries between December 1965 and March 1966 about a Puerto Rican type of Commonwealth status for Kashmir to resolve the dispute. Hs contention being that "if US could maintain control over Puerto Rico, who shouldn't India follow the same example in Kashmir?"
Around the same time, a Washington Daily News correspondent Richard H Boyce filed a story from Srinagar dated June 9, 1966 as part of the same plan: "And despite the Tashkent Agreement of last December to settle their differences peaceably, no real progress has been made towards Kashmir peace. Technically India was the aggressor last year. Although Pakistan troops crossed the cease fire line, Indian troops crossed the international border into Pakistan. Indians think they dare not make any concessions on Kashmir for political reasons at home. Same motivation hardens Pakistan's resolve not to give in.
"Both the Governments wrongly tell their voters they won last year's war. Privately high level Indian officials confide they have discussed a Puerto Rico type associated states for Kashmir – not fully an Indian state, but with some degree of internal self government though still belonging to India. "The hard fact remains that India possesses more than two thirds of Kashmir and is unwilling to talk with Pakistan about it. India figures neither US nor Russia will force her to give some of Kashmir to Pakistan. Pakistan is not strong enough to take it by force. But Red China's help could make a difference.
"China would like Kashmir and it has already infiltrated some of it along with north east and north-west edges. And pro-Peking Indian Communists and Chinese Communists have circulated in disputed areas for months. India resists an internationalization of Kashmir fearing this would only let China gobble up all of it."
This view point was found vile and obnoxious by a powerful section of the Indian government since Kashmir was, and is, an integral part of India. It is interesting to recount the Puerto Rican story here. Over the years, it has retained its unique status as a 'Commonwealth' voluntarily associated with the US. The US-Puerto Rico Commission in 1966 conferred upon the people of Puerto Rico equal dignity with equality of status and of national citizenship.
The island, lodged like a jewel, 161 km long and 56 km wide, is wedged between the Atlantic Ocean and the Caribbean Sea. Puerto Rico remained a Spanish colony till 1898, when it was ceded to the US after the Spanish-American War. Puerto Ricans were granted American citizenship in 1917 and were given the right to elect the Puerto Rican Legislative Assembly.
In 1947, the islanders were authorized to elect their own governor by popular vote. In 1952, the US Congress granted Puerto Ricans the right to their own Constitution, elevating the island to the unique status of a self governing free Commonwealth associated with the US.
But dispute the economic miracle, the question of identity remains. As long as Puerto Ricans live on the island, they cannot vote in the US presidential and congressional elections. Concurrently, they have the advantage of being exempt from US federal taxes, but then local taxes levied on the island are even higher.
It needs to be added that the Puerto Rican formula was explored when Jayaprakash Narayan discussed the Kashmir situation with Sheikh Abdullah in a series of meetings in September 1966 in Kodaikanal where Sheikh was incarcerated since May 1965. It is also believed that Sheikh Saheb agreed with Jayaprakash babu's idea of a Kashmir settlement based on full autonomy, almost like the status that existed for Sikkim before it was annexed.
@sandeep_bamzai