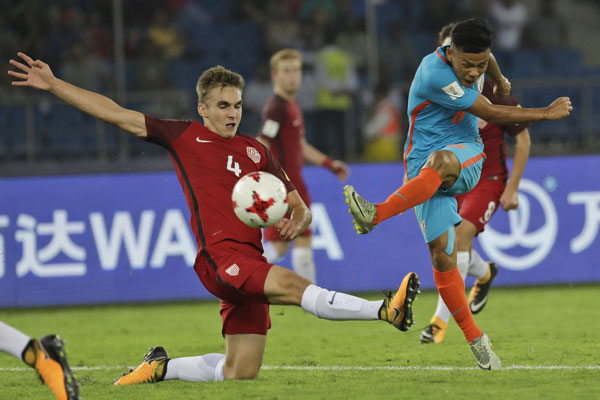 A few years ago, the then Portuguese ambassador to India, in a rare fit of undiplomatic candour, wondered aloud at a gathering at the India International Centre why a country of 1.2 billion was unable to produce a man who could kick the football hard enough.
You could question His Excellency's timing of posing a rather sticky question at a get-together that had nothing to do with soccer. Nonetheless, it is a poser that raised some basic questions.
In a country where cricket is religion — or so our marketing wizards would have us believe — soccer has been done in by scandalous sports administrators and venal politicians who cannot differentiate between a football and a cricket bat.
Can it be the case that Indians are not athletic enough to play the game at the highest level? Obviously not. It would also be completely inaccurate to say that the game has no popularity in the country; any football game at Delhi's Ambedkar stadium, no matter how local or unpublicised, gathers a good crowd. At Kolkata's famed maidans, soccer even today at the height of its neglect, can drum up quite a frenzy among supporters. And the game continues to be worshipped in parts of the country like Kerala, Goa and the North East.
Which is why India's position as the 154th soccer-playing country in FIFA rankings remains one of the most sordid, scandalous and shameful stories of strangulating a sport in which the country was once tipped to go places.
It was not always like this. From 1951 to 1962, India was among the rising stars of world football. Under the tutelage of legendary Syed Abdul Rahim, India became the best team in Asia — a position, which would today make the country an automatic qualifier to play in the World Cup. The decade of the 1950s started with India as host winning the 1951 Asian Games. In 1954, India finished a strong second in the Manila Asian Games – all this when an impoverished All India Football Federation could not afford boots for its players, who played barefoot against more prosperous rivals, often licking them.
At the 1956 Olympic Games, India finished fourth when they beat Australia, now a regular participant in World Cup soccer, losing finally to much-fancied Yugoslavia, then a World Cup participant, and Bulgaria.
In 1962, India won the gold at Asian Games besting South Korea, now a World Cup participant. In a crowning moment, India finished runners up at the 1964 AFC Asian Cup, where they lost to Israel.
Since then, it has been a slow but steady degeneration into nothingness. Blazing soccer fields once dominated by the likes of Chuni Goswami, Mewa Lal, Jarnail Singh and countless others, have fallen silent. Countries that India once dominated with ease are now showcased at the highest platforms of country and club games while India is busy — often unsuccessfully — testing its mettle against the likes of Nepal and Maldives.
No surprise then that in the ongoing FIFA U-17 World Cup, millions of Indians are cheering for foreign teams, fetching substantial revenues for TV networks with nothing to show except for the former talented Indian soccer captain, Bhaichung Bhutia, as an expert commentator on the box, who, with a bit of luck, in his heyday, should have been on the field rather than before the camera.
For most of the world, it is indeed mystifying that a country can be so obsessed with a sport as colonial as cricket, played by former appendages of the British Raj, rather than a game which is played throughout the world, irrespective of political dispensations or religious orders.
Hopefully, the ongoing Junior World Cup – the biggest soccer tournament yet on Indian soil – will prompt a new generation of soccer lovers in the country to look at the sport differently. Coming to the country's aid is its vast marketing potential and a population starved of watching quality football. The All India Football Federation submitted India's bid for staging this tournament in November 2013 after obtaining necessary guarantees on tax exemptions and security from the Union government. This would go a long way in rejuvenating Indian soccer and putting the country somewhere close to Asian sweepstakes, as a first step towards larger participation on the world stage.
Like in all sports, without top companies willing to act as sponsors, the future cannot be too bright. In this too, some late realisation has, thankfully, dawned. After all, one of the biggest economies in the world without global sporting laurels would be considered pretty much an anachronism. China's emergence as the 21st century economic powerhouse has run a parallel course with it blazing the Olympic trail.
The Indian Super League soccer, in its fourth term in 2017-18, has evinced new interest for the game. Started as a joint venture of IMG, Reliance Industries, Star Sports and the All India Football Federation, it has drawn celebrity superstars, former top notch starts from the European Leagues and a clutch of Bollywood personalities, as owners of teams that will be roughly organised on the lines of Indian Premier League cricket.
The currently frenzy with the Under-17 tournament is showcasing the world's best teams and even though Indian juniors are out of their depth in this league, it is still worth its weight in gold. From the place where Indian soccer finds itself, it can only go up.
ranjitbhushan@mydigitalfc.com