Gujaratis realise that a defeat for Modi would weaken him, perhaps beyond repair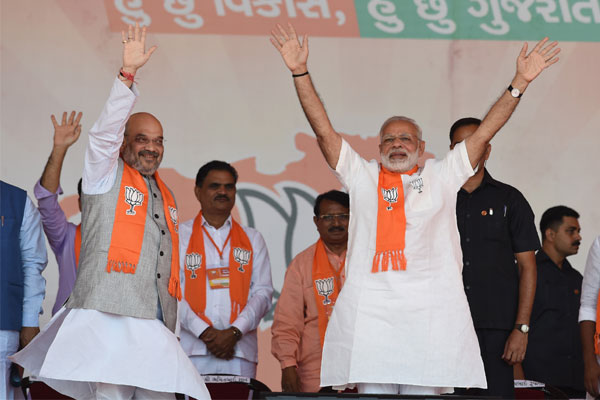 In India's federal structure, a politician derives his essential power base from his or her state before he or she aspires for a pan-India status. Mamata Banerjee's basic claim to be a national leader and a potential prime minister stems from her formidable standing in West Bengal. So does Mulayam Singh Yadav or Naveen Patnaik or for that matter, anyone else.
Without a strong base in the state, it is not possible for a leader to assert all India supremacy, even though this principle strictly does not apply to Rahul Gandhi, but then Congress remains – in even its worst days such as these – a national and not a regional party.
Narendra Modi is no exception to this rule. Perhaps, more than any other politician in the country, he made his name in Gujarat as a controversial chief minister and subsequently as an administrator and one who initiated economic reforms in a state, which in any case ranks higher than most others when it came to economic indices.
It follows logically therefore that if a politician (like Modi) loses his standing in his state it basically marks the beginning of his end as a mass leader of standing throughout the country.
Which is why the opposition in general and the Congress and Rahul Gandhi in particular, are going hammer and tongs at Modi during the course of a typically virulent Gujarat campaign (as opposed to let's say, the gentle poll crusade in Himachal Pradesh, which goes to the hustings on the same dates) hoping to make a dent in the Modi magic.
There remains good reason for their optimism. After 22 years, the BJP is up against formidable anti-incumbency; any party would and the saffron outfit is no exception. If Sheila Dixit, who arguably must be ranked as one of the builders of modern Delhi, was knocked out after three terms in the national capital, then the law of averages must catch on and India's robust democracy ensures that no one can claim a political office for keeps.
Naturally, after such a prolonged period in office, important social groups tend to either drift away or develop grievances against the ruling dispensation. The foremost among them in Gujarat are the Patels, who would have to simply be the most formidable of all socio-political groups in the state. For instance, all Gujarat cabinets since 1947, including the present one, are represented by Patels in substantial numbers. Their influence as a community spreads far and wide their sheer numbers, from Africa to London to the US.
By all reasonable accounts, there is disenchantment among the Patels, a factor that no one who wants to rule Gujarat can overlook. While demonetisation and GST have indeed disrupted Gujarat, the perennial land of traders, the Hardik Patel 'movement', which reared its head in 2015, has been squashed.
The state government has been unable to reach an accord with two of the most active Patel organisations in the state, the Patidar Anamat Andolan Samiti (PAAS) and the Sardar Patel Group. In what appears to be a tug of war, young Patels in September last year, prevented Amit Shah from honouring the Patel members of the new Vijay Rupani ministry. On September 12, PAAS activists clashed with BJP Yuva Morcha workers in Surat.
Last month, when Modi himself was laying the foundation stone for the Ahmedabad-Mumbai Bullet Train in the company of Japanese prime minister Shinzo Abe, Hardik Patel conducted a three-day Sankalp Yatra, which took him from Ahmedabad to Somnath. In his speeches, Patel accused the ruling BJP of being responsible for the imprisonment of dozens of Patidars and described the party as being an assembly of 'goons and dictators'.
Hardik's words represent not just the political but also the social media of Gujarat, in which young Patels have a major role to play. This resentment also originates from their comparatively deteriorating socio-economic conditions. According to the Indian Human Development Survey, their annual per capita income may have jumped from Rs 17,740 in 2004-5 to Rs 51,045 in 2011-12 gaining the top position in the state, but the Patels who have benefitted are not the 40 per cent who till the land, but the 19 per cent who are do business and another 19 per cent who are salaried. It would be no exaggeration to suggest that inequalities have increased more in the Patels than any other social group in Gujarat. The poor Patels are worried on another account – they are lagging behind the OBCs and the Dalits on the social ladder and hence the clamour for job reservations.
In political terms, after Modi, the succeeding chief ministers in Gujarat, Anandiben Patel and Vijay Rupani, have been unable to keep a lid on proceedings. Their managerial skills have proved to be no match in comparison to their formidable predecessor, now the prime minister of India.
Yet, when all the cold logic of reason has been poured, there is still no substitute for Gujarati asmitaor pride. Gujaratis realise that a defeat for Modi would weaken him, perhaps beyond repair. As Modi proved in the critical 2002 post-Godhra riots state assembly election, this Gujarati pride is something he can always count on. At least, that is what opinion polls about the forthcoming Gujarat election seem to suggest.
ranjitbhushan@mydigitalfc.com