Sheikh Abdullah is considered something of a complex character by countless opposed to his legacy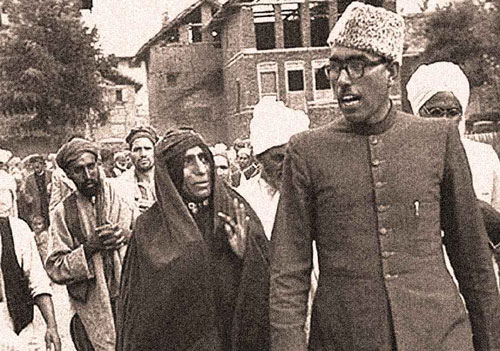 One of the most viral social media clips this week was Farooq Abdullah yelling at a TV anchor, who had dared to ask him whether he considered himself an Indian. 'Who has given you the right to ask this question', the son of the Lion of Kashmir, Sheikh Mohammad Abdullah, roared to a stunned anchor and the hastily assembled TV studio crowd.
Farooq, unbeknownst to most audiences in Delhi, was representing a contested if awesome legacy, that of his father, who passed away exactly three decades ago.
It has rightly been said that no other topic divides Kashmiris down the middle as much as the legacy of Sheikh Abdullah, former chief minister, ex-National Conference supremo and Kashmir's tallest politician to date at six feet four inches.
Commonly referred to as the 'Lion of Kashmir' by his followers, Sheikh Abdullah is considered something of a complex character by countless others opposed to his legacy. He attempted to climb Mt Everest, and did reach quite high, but sadly stumbled somewhere along the trek to the summit.
The Sheikh can be best described as a paradox, who knew his Iqbal well. Part anti-India, part pro-India, a prime minister now, a chief minister then, Jawaharlal Nehru's pal, Jawaharlal Nehru's foe, sleeping in India's first prime minister's bedroom at Teen Murti Bhavan in New Delhi one season to fighting swarms of mosquitoes in Kotla Lane jail the other. Like his persona, the inheritance of Sher-i-Kashmir is deeply split.
It is always going to be difficult to assess a man who challenged the might of the last Dogra feudatory at a time when entire villages were taken for bonded labour. It is equally difficult to place a leader who sets up the Plebiscite Front, telling a stunned India without fear that it should hold referendum in Kashmir under the auspices of the United Nations.
Yet, most Kashmiris were, and continue to be galled, when after years of political struggle and broken promises, the Lion of Kashmir walked into Indira Gandhi's promises, also known as the Indira–Sheikh accord of 1975. Less than a year after signing on the dotted line, Mrs G had the Sheikh conveniently removed from power.
It is difficult not to be astonished at the Sheikh's logic. By what alchemy did he expect to change the conviction of Kashmiris? What explains his volte faces? What was it that led him to hobnob with the great liberal Nehru, even after the Indian prime minister had him thrown into a dungeon for no less than 11 years?
Yet, despite the entire clamour back in the Kashmir Valley, Sheikh Abdullah, all quite suddenly and now famously, gave up Kashmir's earnest demand for plebiscite, apparently trusting Indira Gandhi, who assured him and the Kashmiris political space.
Cutting short his first and only Pakistan visit, the Sheikh rushed back to cry at Nehru's dead bed, willfully dismissing from mind his humiliating arrest in Gulmarg in 1953 on the prime minister's orders.
Little surprise then that Krishna Menon, Nehru's key aide, likened Abdullah to Leon Trotsky. The way Kashmir's tallest leader was put out of countenance by Delhi was not too different to what Stalin did to poor old Trotsky, before shoving him off to Mexico.
But old timers in Kashmir cannot get over the fact that every member of the team Sheikh Abdullah collected around him was a Marcus Junius Brutus in the making. The core team of Bakhshis, DP Dhars, Sadiqs plied Delhi with all the intelligence needed on the Sheikh. And when the time came, this very bunch of comrades, trusted sidekicks like Bakhshi (famous for saying all Muslims follow five tenets of Islam, I follow six; the sixth being Sheikh Abdullah's command) stabbed him multiple times in the back.
Old timers, naturally, rake up old issues. If Sheikh Abdullah really felt that independence was a 'charming thought but academic and impractical', then why on the earth did he wander all the way to Saudi Arabia and Algeria to garner support for Kashmir's right to self-determination? Why did he seduce an emotional populace with slogans like 'Throw my body in the Arabian Sea, do not bury me in a slave country'?
Then again, a few years down the line, he simply got up and conceded that the Instrument of Accession, ratified under Bakshi, was no longer subject to challenge. In other words, all those demands of plebiscite were null and void.
There are still those who believe that his lion-roars were meant for the galleries. Yet, it remains undeniable that he was the original lion-heart who truly emancipated the poor with his socialistic zeal, gifting land to the tiller, something that Pakistanis have been unable to do so far.
When he passed away in the September of 1982, Indira Gandhi (not taking off her designer sunglasses for a millisecond) came for the funeral. The Sheikh's body was wrapped in a tricolour, perhaps fittingly in some parting thank you gesture from India. A million Kashmiris marched that afternoon, beating their chests, howling.
But a man's historical importance is realised only after he passes away. More than anyone else, this applies to the Lion of Kashmir. Less than six winters after the Sheikh was gone, Kashmiris, mishandled by politicians from New Delhi, rose in a massive Pakistan-backed armed struggle. Millions marched on the streets again, minus the tricolour and of course, without the tall great man.
ranjitbhushan@mydigitalfc.com