The NDA's government last Union budget may tilt heavily in favour of rural India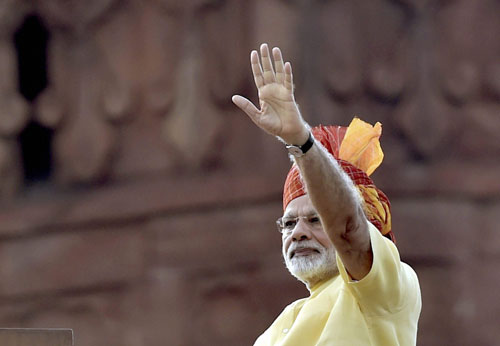 The 2011 Census reiterated what previous enumerations have concluded. Despite rapid urbanisation, of the 121 crore Indians, 83.3 crore lived in villages while 37.7 per cent were categorised as urban dwellers, the Census's Provision Population Totals of the rural-urban divide said.
These figures would have undergone some changes in the last seven-eight years, but the basic division remains the same.
In political terms, any party that seeks power has to keep its overwhelming rural population in good humour, because that also happens to be the biggest vote bank in the country.
Rural distress is a sure sign that a political party is in trouble and it is to this constituency that the ruling BJP will turn to while presenting the 2018-19 Union budget on February 1.
There are enough indications to suggest that prime minister Narendra Modi, seized of the rural distress that the country is confronted with, has instructed officials and his colleagues to ensure that the core of the NDA government's final budget will emphasise on rejuvenating the agricultural sector and create fresh avenues of employment.
What that means is that the government will likely look to organise more public investments without waiting for the domestic private investment to pick up.
There is also tremendous pressure on the ruling party from their RSS cadres at the grassroot level - which is also in a sense the eyes and ears of this government – on the need for creating job employment on a fairly substantial scale.
The CSO data in the government has reflected well on this farm distress. It has projected agricultural growth at a measly 2.1 per cent in the current fiscal as against 4.9 per cent in 2016-17. Such a slowdown is also best reflected in the farmer agitations that sprung up in various parts of the country in 2017 and would continue to rear their heads this year as well.
As ever, demonetisation has proved to be the bugbear of the NDA government. The disruption in the informal sector has hit villages the hardest: there have not just been substantial job losses in the rural areas, but also a big dip in rural incomes, leading to the accentuation of this distress.
While the prime minister has talked about – indeed it is part of the BJP manifesto – to double farmers' income, the government has so far not displayed the political and administrative will to create the necessary environment for achieving this well-intentioned goal.
A high-level government panel has suggested that to make agricultural more profitable so as to double farmers' incomes in the next five years, there is urgent need for adopting a liberal land leasing policy to recognise tenant farmers, contract farming, freeing up of agricultural markets and strengthening decentralised procurement of crops by the states.
It has suggested, most importantly, a change in the definition of the farmer to include cultivators, lease farmers and sharecroppers. This change in definition is expected to help cultivators and a large number of sharecroppers in receiving access to the support system and rural finances on their own.
Crucially, the panel's analysis reveals some staggering – if not virtually insurmountable - figures. It says to achieve the desired 10.4 per cent annual rise in real farm income, capital investment both by the private and public sector need to grow at 12.5 per cent and 16.8 per cent respectively per year for no less than seven years between 2015-16 and 2022-23. Calculated at 2015-16 price levels, both private and public investments need to go up from Rs 1.78 trillion in 2015-16 to Rs 4.86 trillion in 2022-23. By any stretch of imagination, it looks a very tall order indeed at this stage.
If that was not bad enough, the single source of big farmer discontent – lack of remunerative prices – looms large. Big farmers, it would be instructive to remember, control crucial vote banks. It is also important to keep in mind that it is difficult to keep such a demanding constituency happy at all times.
But under the current circumstances, farmers have taken a beating in the last two years due to lack of adequate remunerative prices for their products. They have either been dumping their perishable goods or their food grain harvests have not fetched them enough prices to cover their cost of cultivation.
On the other hand, farmers have been harvesting surplus produce, which means that they would continue to earn lesser than they deserve.
Apart from the other factors responsible for rural distress, the big issue that confronts farmers is selling their produce and finding market access at the right time.
As is now apparent, there is a severe lack of local market hubs where India's dominant small farmer can sell their produce. The small and marginal farmer account for 85 per cent of the total land holdings and hold close to 40 per cent share in the total 'marketable surplus'.
The government's market interventions such as procurement of wheat and rice through the FCI have mostly helped the big farmers. The dominant small farmers – also the single largest voter community in India – have been completely bypassed by such interventions.
Way back in 1970, the National Commission on Agriculture recommended the creation of 30,000 assembly markets by 2000 to enable small farmers to sell their produce. Forty-eight years later, India has reached a figure of 8,900 assembly markets.
ranjitbhushan@mydigitalfc.com