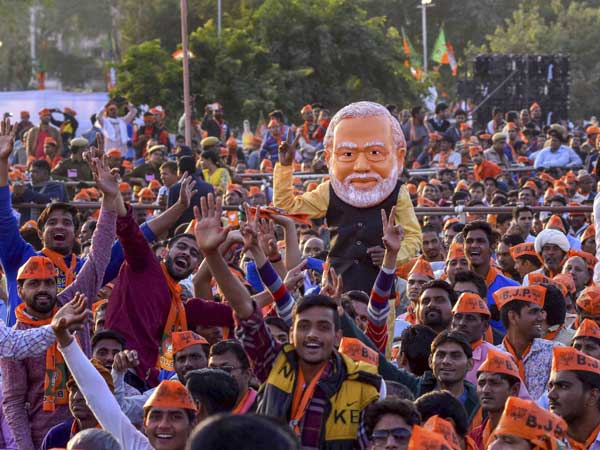 The fox is out of the cage and the hunt has begun. There is trepidation and anticipation depending on which side of the political divide you stand on in a rabidly polarised India. India has lurched from one election to the other in the last four-and-a-half years and the Modi magic remains intact barring the odd reverse. Elections are a way of life in India, but a besotted BJP wanting a Congress Mukt Bharat upped its game to such an extent using money muscle that elections became the centrifuge of all activity. The question is how do you deal with a wide variety of perceptual modalities? The political narrative in India has been hijacked by four types of clearly defined discourses — the vestiges of left-leaning liberal media in different parts of India which defy the rightwing establishment with the example of Telegraph in Kolkata, NDTV on telly and Wire and Quint in the digital world et al, the pro right media entities led by bellicose news telly voices, a slightly more ambivalent group which bends when kicked, but keeps it simple otherwise and of course the high pitched and shrill foreign wires and papers like Reuters, Bloomberg, NYT who are now running strident and ear splitting anti government narratives whenever the opportunity presents itself, which is quite frequently, case in point being the brutal violence over the Bulandshahr cow vigilantism. One would think that India stands divided and the media is obviously a microcosm and reflection of that. Not necessarily is what my understanding is for the bogey of Hindu majoritarianism is no longer a perception but a harsh reality.
Realisation
Elections in UP twice, Assam and even the Jammu division of J&K have proved that conclusively as Hindu asmita or chauvinism has gained traction across India and PM Modi's subliminal messaging has propagated this and turned him into a Hindu Hriday Samrat. Years of pandering to minorityism and appeasing of Muslims has led to this complex metamorphosis which goes beyond optics. Otherwise, how does one explain Rahul Gandhi blatantly pushing a Hindu agenda which is not restricted to merely a temple run or a visit to Kailash Mansarovar but convincing people that he is a janaudari Shiv Bhakt wearing his Dattatrey gotra on his sleeve? Somewhere deep down is the realisation that in a Hindu majority India or Hindustan, it pays to display Hindu machismo. Religious beliefs embedded in Hindu astha are suddenly all pervasive, the Congress and Rahul know that to stay in the game, this projection of soft Hindutva is a given. Irrespective of what the outcome of the five state polls is, one can see a distinct undercurrent of Hindu dominance and this is antagonistic of liberalism and even libertarianism. This is a new India, one in which Hindu might is right, secularism be damned. It has touched the hearts and minds of a wide and varied cross-section of people opposed to the idea of incessant appeasement of minorities.
In India, Sonia Gandhi changed the narrative in 2004, born out of European sensibilities and a recognition that the have-nots require safety nets. People of always in the past weren't necessarily interested in those of never, but she challenged that axiom and won again in 2009. PM Modi too realised this quickly and took an abrupt left turn, his politics predicated on making life for those inhabiting the congested space at the bottom of the pyramid better by giving them access to simple amenities, ergo his administrative reform unleashing pro poor schemes which are affordable and accessible. A function of the suit boot ki sarkar jibe which stuck. The bouquet of people friendly schemes — awas, arogya, dhan, ayushman, ujjwala, saubhagya, mudra etc — is his way of inclusion of the downtrodden and underprivileged. The jury is still out on the success quotient of these ambitious schemes. But, he has taken a party fronted by him and backed by some serious money bags to the apex of the slippery totem pole, winning election after election with his demagoguery skills and indefatigable work ethic. His connect with the aspirational youth voters was phenomenal and they rallied behind him as much as the Hindu vote aggregated and consolidated behind him. The BJP did not win the 2014 general elections, nor did it win in many of the state elections since, the larger than life image and persona of Narendra Modi triumphed. The party has been subsumed by his personality.
In politics and in war, the killer application is the timing, strength is exceedingly relative, the brain stem's processing vital. Indian polity is where the bizarre shakes hands with the inexplicable and where swallowing the spider to catch the fly may not perhaps be the right idea. Once again we stand on the cusp of a watershed election, a veritable mouth watering semi final to the gladiatorial contest in 2019, now just a few months away. The general impression would be that the ground beneath us has shifted dramatically, the Congress and Rahul Gandhi may have transposed the learning of recent state polls like Gujarat and Karnataka and improved their vote catching acumen. As we run the last lap, the exit polls taking over our mind space till the actual results are out on December 11, one would like to rehearse the lyrics from an Asha Bhosle classic:
Parde Mein Rehne Do Parda Na Uthao
Parda Jo Uth Gaya To Bhedh Khul Jayega
Allah Meri Tauba - Allah Meri Tauba
Mere Parde Mein Lakhon Jalwe Hain,
Kaise Mujhse Nazar Milaoge
Jab Jara Bhi Naquab Uthaungi
Yaad Rakhna Ke Jal Hi Jaoge
Parde Mein Rehne Do ...
Laboratory
The song from Dharmendra-Asha Parekh 1968 starrer Shikaar sums up the situation on both sides. Bhed Khul Jayega croons the mellifluous but flirty voiced Asha. Parda uthega aur bhed khulega, such is the nature of the beast, like it or lump it. Analysts and pundits will tell you that bypoll and state election results don't count, general hustings are fought on different issues and empirical data will be provided to supplement this argument. Kairana, Gorakhpur and Phulpur Lok Sabha bypoll defeats and Noorpur assembly vanquishing all in UP are distant memories, Congress running BJP close in Modi's own bastion of Gujarat and then architecting an alliance with HD Deve Gowda's JD (S) in Karnataka to keep the BJP at bay again consigned to the rubbish heap of history, bah the past doesn't count. Every election is a new one. It has to be fought differently with new stratagems and tactics. In the BJP's armoury or quiver, polarisation tactics are an unfortunate reality. One that uses the same Hindu dominance to ride roughshod over minorities, leaving a a bad after taste. The underlying odour noxious and nauseating. The incumbent party's pavement thumpers will distance themselves from this vile activity, but UP is now become a laboratory for such experiments.
Deepankar Basu and Kartik Misra of The University of Massachusetts at Amherst in their seminal paper, BJP's Demographic Dividend in the 2014 General Elections: An Empirical Analysis, wrote and corroborated the young voter phenomenon that I have mentioned earlier. Mining data by doing a deep dive, they found that in the 2014 general elections, 2.31 crore first time voters who came out in large numbers to exercise their franchise may have played a decisive role. According to a report, the BJP received 39 per cent support from the first time voters in comparison to the Congress who could only secure 19 per cent votes from them. Out of 81.45 crore voters, 2.31 crore belonged to the age-group of 18-19 years, around 2.7 per cent of the total voters, according to figures released by the Election Commission. Uttar Pradesh, where the BJP secured 71 out of 80 seats, 38.1 lakh voters in the age group of 18-19 exercised their franchise, according to figures released by the EC. On the other hand, West Bengal, where the party increased its tally, witnessed 20.8 lakh such voters. Similarly, in Himachal Pradesh 1.3 per cent youths came out to vote. BJP won all the four seats in the state.
The national capital also saw participation from 2.7 per cent youth voters. In Delhi North-West, West, North East, and East constituencies, 81,760, 55,620, 54,889, and 46,574 first time voters respectively came out to vote. BJP recorded a clean sweep in all seven seats in Delhi where Congress was pushed to the third place. The role of young (and first time) electors in ensuring BJP a victory again cannot be underscored. The importance of this constituency for the BJP was evident from the strong emphasis that their campaign laid on luring them by engaging them through social media and tailoring their manifesto in accordance to their aspirations and needs. The University of Massachusetts analysis shows that there is a strong positive correlation between the proportion of first-time electors and change in BJP's vote share (between 2009 and 2014) across Indian states. Thus, states which had a high proportion of first-time electors were also the states where BJP increased its vote share significantly between 2009 and 2014. For instance, total expenditure on the MGNREGA, the UPA government's flagship welfare scheme, stagnated since 2009. In 2009-10, total expenditure was Rs 37905.23 crore; in 2013-14, it stood at Rs 38537.60 crore. Thus, over a period of four years, when inflation was hovering at double digits, nominal expenditure on MGNREGA increased by a measly 2 per cent. This suggests that one of the important factors underlying BJP's unprecedented electoral victory was its ability to reach out to first time electors. If the infrastructure supporting the Modi campaign was monumental, the results were equally historic and unprecedented.
According to the data released by the Election Commission of India , the 2014 elections saw the highest ever voter turnout of 68.38 per cent which not only bettered the 2009 turnout of 58.19 per cent but also surpassed the 1984 record of 64.01 per cent as almost all states saw a significant increase in the number of people who exercised their right to vote. The majority of the increase in voting percentage, it seems, translated into increasing the vote share of the BJP that saw an increase of over 11 per cent in its vote share (from 18.80 per cent in 2009 to 31 per cent in 2014). The Congress on the other hand, saw a significant reduction in its popularity as its vote share fell from 28.55 per cent in 2009 to 19.31 per cent in 2014. In addition to increasing its absolute vote share, BJP managed to break fresh ground in states like Tamil Nadu where it not only managed to increase its votes from 2.3 per cent to 5.5 per cent but also succeeded in winning a seat. Similarly, in Assam its vote share more than doubled from 16.21 per cent in 2009 to 36.9 per cent in 2014. While an increase in vote share may not always imply a corresponding increase in seats, BJP also almost doubled its seats from 4 in 2009 to 7 in 2014 in Assam. Similarly, in Bihar, its vote share increased from 13.93 per cent in 2009 to 29.4 per cent in 2014. The corresponding increase in seats was from 12 to 22. In addition, BJP made its presence felt in the erstwhile Communist bastion of West Bengal where its vote share increased from 6.14 per cent in 2009 to 16.8 per cent in 2014. Even in the southern state of Kerala where BJP did not win seats, it managed to garner an impressive vote share of 10.3 per cent.
Data released by the Election Commission of India showed that 23 million 18-19 year-olds had been enrolled to vote, out of a total electorate of 815 million, in the 2014 Lok Sabha elections. Additionally, analysis of census data showed that there were 120 million people aged 15-18 at the time of the 2011 census, who were not eligible to vote in 2009 elections as they were too young, but became eligible to vote in 2014. These potential first-time voters formed 10 per cent of the population.This youth bulge might reflect the peak of India's "demographic dividend", as fertility declines and India's population begins to age. For instance, in 2001 Indians aged 15-19 years were only 9.7 per cent of the population. The United Nations' Department of Economic and Social Affairs' latest World Population Prospects showed that India's 15-19 years age cohort will peak in 2015 after which it will begin to decline as a proportion of the population. Before we look at the state-level data and analysis, it might be useful to recall the numbers for the whole country to convince the reader that first-time electors were a significant proportion of the electorate in 2014, and that they could have in fact made a difference. At the all-India level, our calculations from the 2011 Census show that there were about 120.53 million first-time electors in 2014. Since the electorate was about 833.06 million strong in 2014, first-time electors accounted for about 14.47 per cent of the same. To get a sense of these numbers, let us recall that 66.4 per cent of the electorate cast their ballots in 2014, of which BJP got 31 per cent and the INC 19.3 per cent. Hence, the difference in total votes polled by the BJP and INC was about 65 million, which is only about half the number of first-time electors who may have voted in 2014. Thus, any party which could tap into the group of first-time electors would certainly have gained in electoral terms. The key independent variable is the proportion of young voters, with the latter defined in increasingly exhaustive manner. Thus, the average proportion of first-time electors (age group 18-22 years in 2014) was 14.33 per cent, ranging from a minimum of 10.73 per cent (Kerala) to 17.23 per cent (Jammu & Kashmir). The average proportion of persons in age groups 18-23 years, 18-28 years, 18-38 years and so on, increases, as expected.
Youth
One noticed that in 2014, in most Indian states the proportion of "young" persons, where "young" is defined as the age group 18-29 years, was more than a third. This youth rump is what the BJP managed to tap to seal its electoral victory. In conjunction with the rise of Hindu majoritarianism, the role of the youth propelled Modi and the BJP to power. While youth power has been documented, the rise of Hindu dominance in UP (twice) and Assam (twice) is not politically correct, so while this writer has constantly articulated its unabashed unleashing with the help of data prints, most observers are loath to talk and discuss it. Just as opinion and exit polls see a lot of lather being worked up, the results often belie these shallow conclusions. I have provided a wide variety of opinion and exit polls from the immediate past (see box) so that readers can judge for themselves whether genuine psephology actually delivers transparent results. News telly channels in their unquenchable thirst to be better than the clumsy horde they represent have constantly got it wrong. Political parties themselves have ignored strong underpinnings of change — classic cases being Atalji in 2004 along with Chandrababu Naidu and SM Krishna, two powerful regional satraps who read the tea leaves wrong. What all three ignored was one of the worst droughts in 2002 when the GDP fell off the cliff coming in at 3.8 per cent flying in the face of the Ra Ra theme projected by all three politicians. This was part of three successive years of poor monsoon which led to distress and devastation in rural India — 3.8 per cent in 2000, 4.8 per cent in 2001 and finally 3.8 per cent again in 2002.
The India Meteorological Department (IMD) acknowledged that 2002 was "the first-ever all-India drought year" since 1987, while noting that the behaviour of the 2002 monsoon was "intriguing". In its end-of-the-season report, IMD noted that the aggregate rainfall received by the country as a whole during the year's monsoon season from June 1 to September, at 735.9 mm, was 19.35 per cent below the historical long period average (LPA) of 912.5 mm for this period. Further, 29 per cent of the area in the country recorded drought conditions, with rainfall deficiency (relative to LPA) exceeding 25 per cent. According to IMD, the country is said to experience a drought year when the overall rainfall deficiency is more than 10 per cent of the LPA and more than 20 per cent of its area is affected by drought conditions.
Now let us fast forward to PM Modi's I-Day speech from the ramparts of Red Fort earlier this August: "January 1, 2018, will not be an ordinary day — those born in this century will start turning 18. For these people, this is a decisive year of their lives. They are going to be the creators of the destiny of our nation in the 21st century. I heartily welcome all these youth, honour them and offer my respects to them. You have an opportunity to shape the destiny of our country," Modi said. It was no surprise that Modi was connecting with the youth directly. For in many ways, Modi was addressing an important electoral constituency that also has the power to shape his party's destiny: In the 2019 polls, 133 million young adults will get to cast their vote — 70 million young men and 63 million young women. Of them, 73per cent live in India's villages. The number of young women in rural India who will be eligible to exercise their franchise in 2019 alone equals the population of Spain. The number of young men who will cast their vote for the first time in 2019 is higher than the population of Britain. The Modi administration's sales pitch seems geared to peddle these dreams to this underprivileged workforce. As he has done in the past, Modi's I-Day speech was laced with references to "80 million collateral-free loans to the youth for self-employment", "millions of youth becoming self-dependent under the PM Mudra Scheme" and "youth should get employment and be able to provide employment". The politically sagacious and astute PM knows that this bloc brought him to power last time, he wants a repeat in 2019.
This is also where Sanjay Kumar's near-prophetic analysis before the last general elections in India still holds true. Writing for Heinrich Böll Stiftung, a Delhi-based German think-tank, Kumar had said: "The parties from the political left marginally attract greater support from the youth for their political agenda, but they have hardly shown any effort in addressing the issues of the youth, with unemployment being the largest concern. Not only have parties lacked vision, even the youth has not shown a great effort to demand policies that respond to their concerns. Under these circumstances, the youth remains invisible as an electorate that deserves particular attention." While what he says has value, the reality is that rural distress and acute discomfort viz pricing power has the farm community enraged, equally Dalits as a class are agitated for they are being subjected to repeated atrocities by the upper castes, the middle class is disturbed over constantly rising prices and the youth have no jobs while the minorities are being suppressed and repressed. In Bihar and UP which represent 130 seats in parliament, an axis of DYM – Dalit, Yadav and Muslim – could be a formidable
opponent for the BJP phalanx but only if the chieftains can keep their football field sized egos out of the confabulations. The Congress and Naidu's
TDP along with CPI and TJS appears to have done well with its Mahakutami or Prajakutami alliance, of course the proof of concept will only be known on December 11.
Of the five states on view — Rajasthan, Madhya Pradesh and Chhattisgarh are part of the Hindi Hindu heartland, one where the BJP has hit the pedal to the metal in the past, while TRS was birthed by the Congress and was part of an undivided Andhra Pradesh where YSR won Sonia Gandhi two general elections in 2004 and 2009. The battle is obviously attritional, incumbency is one of the factors in a complex calculus, but then the BJP has shown it can buck that trend too. Depending on which media strand you read or watch, you get a distorted picture on the ground realities. UP assembly polls was the best instance of a media house providing an anti-BJP narrative through its prejudiced writings. Exit polls (see table on page 6) as they roll in show that it is even steven. If the Congress can make it 3-2 or 4-2 on Tuesday, then it would give its running the board strategy a great boost for 2019.
Organisms are capable of responses, in a clash of brazen Hindu chauvinism and soft Hindutva; a blood feud has broken out which mirrors the visceral hatred that Modi has for the dynasty and vice versa taking political discourse to an unparalleled lowly depth. The issues that should dominate state of mind and dominate poll space have been relegated to the background as cheap theatrics and uncalled for cheap attacks take centre-stage. Vikas or development, jobs and employment, rural distress have lost their sheen as, Dalit bashing and Islamophobia dominate. All this stems from the same burnishing of the Hindu cult as majoritarianism acquires a primacy as never before in India. For the two principals in this humdinger election, it is for both to lose. More so for the Congress, for this is its best chance to move the needle on genuine bipolarity, the lifeblood of a functioning democracy. Equally, in an age where institutions have seen rapid emasculation and icons crippled through appropriation, a strong BJP provides stability while a khichdi throws India into disarray. The voters have chosen, now we await Tuesday for the verdict.
@sandeep_bamzai