Despite their long-standing cultural and strategic ties, India and Vietnam are now recognising the need for more interpersonal engagement among the youth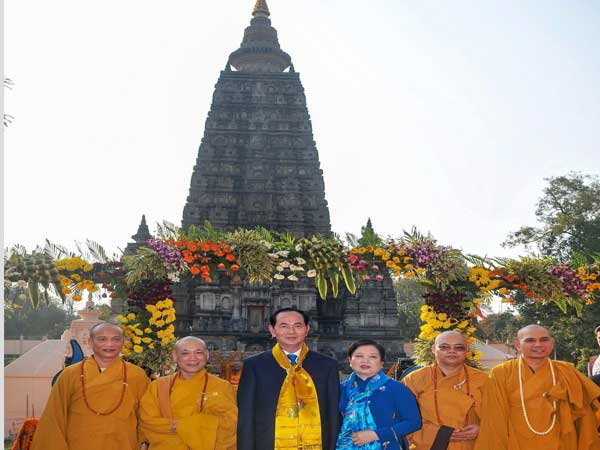 Vietnamese President Tran Dai Quang's visit to India last week marked 45 years of Indo-Vietnam diplomatic relations. The visit was an indicator of the close ties that New Delhi shares with Hanoi since Presidents rarely travel for such occasions. But it was also part of the regular exchange of visits between the two countries. A few weeks ago, Vietnam's Prime Minister Nguyen Xuan Phuc was chief guest for the Republic Day celebrations together with the other Asean leaders.
The two visits and President Quang's discussions with Prime Minister Narendra Modi strengthened the comprehensive strategic partnership between the two countries, adding further substance to their defence and maritime cooperation. Prime Minister Modi had visited Vietnam in 2016 while on his way to China for the G-20 summit.
Vietnam is one of the important segments of India's Act East policy and is among its closest allies in the Asean region. And the trust and confidence between the two countries has only deepened over the past decades.
Though India and Vietnam shared specially close and friendly ties in the early decades after independence, they grew apart as both countries began adjusting with the end of the Cold War and the collapse of the Soviet Union through the early 1990s. As Vietnam began re-working its ties with the United States, Hanoi's attention was diverted to managing and building new relationships. India and Vietnam revived their cordiality in the new millennium and in 2003, agreed on a Joint Declaration on Comprehensive Cooperation to create an arc of advantage and prosperity in the region. By 2009, the two sides had begun a comprehensive strategic dialogue, sharing several areas of convergence.
However, China has looked askance at India's increasing engagement with Vietnam even as it expanded its economic and military clout in the region, particularly in the South China Sea. Both India and Vietnam share similar views on the rise of China and its aggressive policies in the region. Though China is Vietnam's largest trading partner, Hanoi is keen to seek other partners, especially in these days of uncertain American policies under US President Donald Trump. In a recent statement, Beijing even objected to Hanoi offering oil and gas exploration projects to New Delhi.
In their joint statement, the leaders reaffirmed their support for freedom of navigation in the South China Sea as they called for a peaceful and prosperous Indo-Pacific region. They said that India and Vietnam played important roles in safeguarding and strengthening an open, transparent, inclusive and rules-based architecture and in further strengthening cooperation with Asean. The Vietnamese President urged Indian corporate houses to invest in oil and gas exploration in Vietnam, on land and sea, including in Vietnam's Exclusive Economic Zone. India and Vietnam have also agreed to collaborate on oil and gas exploration on a trilateral basis in third countries.
The two sides agreed to enhance joint co-production in the defence sector, including transfer of technology from India. India had offered a defence related credit line of $500 million to Vietnam in 2016. They concluded agreements to increase trade and cooperation in the field of agriculture research, and an MOU between their atomic energy institutions. They already have an agreement on cooperation in civil nuclear energy.
Bilateral trade has been growing in the last few years and is just over $10 billion. Both sides agreed to boost their bilateral trade to US $15 billion by 2020 by diversifying exports and expanding aviation and navigation connectivity to facilitate trade and travel between the two countries. Vietnam is a dynamic, high growing economy following its structural reforms; it is dependent on foreign trade and investment to maintain its growth rate of 6.81 per cent. India has over 175 business ventures in Vietnam; the Tata Group has built a $2 billion thermal power plant in the Mekong Delta region of Vietnam. Indian companies have invested in oil and gas exploration, mineral exploration and processing, sugar manufacturing, agro-chemicals, IT and agro-processing. India is among Vietnam's 10 largest trade partners while Vietnam is the fourth largest trade partner for India in Asean.
Despite the warm political relations, people to people contacts between the two countries is low. Tourist traffic between them is limited. The two leaders recognised this as they spoke of the importance of promoting people-to-people exchanges and creating awareness of the long standing cultural and religious connections between the two ancient lands among the younger generation. India is involved in a project to conserve and restore the UNESCO world heritage site of My Son and has offered assistance to preserve the Cham towers in the Ninh Thuan province. India and Vietnam have a robust engagement that is looking to consolidate the partnership in different spheres of activity.