India is cutting its currency off from neighbours when China is using its currency to gain influence in the region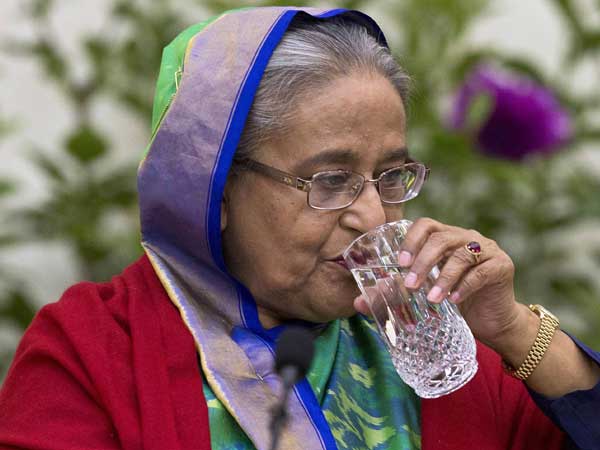 Bangladesh Prime Minister Sheikh Hasina has begun her fourth term in office with a relatively younger team. With 31 new ministers in her 47-member Council of Ministers, she has shed much of the baggage that attended many of the old-timers and given a positive look to the new government.
The last ten years have seen high economic growth, infrastructure development and improvement in social indexes, which are among the best in the South Asian region. Bangladesh has been termed an economic success story. But Sheikh Hasina's government has faced criticism for its authoritarian tendencies and the strong arm tactics used against opposition parties and dissenters, which have eroded democratic governance in the country.
The Awami League alliance of 14 parties won 288 seats in the 300-member Parliament amidst allegations of rigging and violence that cast a shadow over the result. Sheikh Hasina's landslide victory has left her without a credible opposition. The absence of an opposition in Parliament could have the effect of driving the opposing forces on to the streets, with the possibility of violence and further polarisation.
The Awami League government has provided political stability and an environment for investment in the past ten years. Despite the opposition criticism, the unprecedented third term indicates an approval of Sheikh Hasina's economic and foreign policies. India-Bangladesh ties have made steady progress in the past decade, resolving longstanding issues though some bilateral issues remain such as sharing the Teesta waters. Dhaka took care of India's security concerns over Indian insurgents operating from Bangladeshi territory. Both sides have invested in building strong relations. Relations with Bangladesh are among the best among India's South Asian neighbours. The suspicions and wariness of earlier decades has given way to a push for cooperation in a variety of areas, from trade and commerce, power and energy, connectivity and infrastructure. Land and maritime boundary issues have been settled. There is a substantial improvement in connectivity between the two neighbours with cross border passenger trains and bus services. The earlier sensitivity in Bangladesh on the question of providing transit across Bangladesh to India's northeastern states is no longer an issue as Indian cargo moves across Bangladesh to Tripura. The two countries began the construction of a 130-km long Bangladesh-India Friendship Pipeline between Siliguri in West Bengal and Parbatipur in Dinajpur to supply diesel to Bangladesh last August.
FThe Bangladesh government needs electric power to maintain the country's high economic growth and is looking at Nepal, Bhutan and Myanmar to import electricity in the future. Nepal and Bhutan, with their high hydro power potential, are planning to undertake large hydropower projects; the surplus power from these projects could be exported to Bangladesh through India. Regional cooperation would allow transfer of power across borders.
India has focused on building sub-regional cooperation in the past two years. As ties with Bangladesh have warmed up, sub-regional engagement such as BIMSTEC has drawn greater attention. However, regional cooperation requires a more integrated vision in India. The Reserve Bank of India has not issued the required notification for high value Indian currency notes to be made legal tender in Nepal leading to a new irritant with Kathmandu.
Indian currency was legal tender in Nepal till Rs 500 and Rs 1000 notes were demonetized in November 2016. Reserve Bank of Nepal had issued a circular warning Nepali citizens that Indian high value notes of Rs 200, Rs 500 and Rs 2000 were not valid tender in Nepal. Incorrectly described by the Indian media as a ban on high value Indian notes, the circular sought to warn Nepalis that the Indian currency notes should not be used or stored in Nepal.
The RBN also wrote to Reserve Bank of India to issue the notification that would allow high value notes to be used in Nepal and also to resolve the long pending matter of demonetized old Indian currency notes that are held in Nepal.
Indian currency was also in use in Bhutan and in May 2017 the Indian government resolved the issue by exchanging the demonitized notes with the Bhutan government. But the issue has remained pending with Nepal.
Indian currency is held in Nepali and Bhutanese banks and is used by traders, Indian tourists, travelers from Nepal, those living in the border areas as well as money carried home by Nepalis working in India. At present, only Rs 100 notes are valid in Nepal causing difficulties for ordinary Nepalis and Indians. Incidentally, this is happening at a time when China is making efforts to get its neighbours to use Chinese yuan, especially for border trade with Myanmar and China. Beijing has signed an agreement with Nepal for boosting use of their currencies for trade. India is cutting its currency off from neighbours like Nepal when China is using its currency to gain influence in the region.