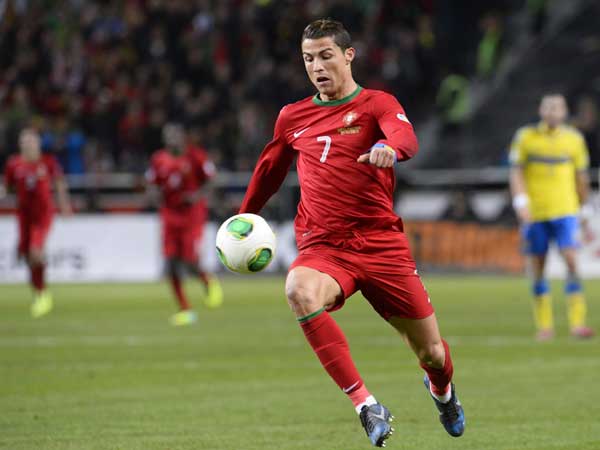 I am still the master of my fate and destiny, this is my last shot at redemption. Equally, fear is an infectious condition, there is no latitude for misunderstanding or error. The pressure is enormous, for I am driven by a fear which is like a cacophonous machine which doesn't stop till you pull the plug. There is no room for deviations or surprises. I have to go through all the hoops that one goes through – pride, passion, honour, self esteem and self respect – if I have to make my tryst with the football World Cup. History simply cannot be airbrushed. You can be a mega star earning in zillions with fame and wealth kissing your feet, but till you win the World Cup with your own two feet, only then will you be remembered as a footballing legend. The 2018 World Cup has many who will test the final frontier again – Christiano Ronaldo, Neymar Jr, Lionel Messi etc. You can win the La Liga, EPL, Champions League and what not but to be remembered as a true great, you have to win the World Cup. Pele, Maradona, Mario Kempes, Paolo Rossi, Zinedine Zidane, Andres Iniesta and even Ronaldo won it with their own feet. Dutch legend Johan Cruyff will tell you that you have to win. Or end up being a non sequitur. Otherwise you are consigned to the ashes of history, forever.
The likes of Messi, Neymar, Ronaldo, their minds in a whirl know that they have to deliver on the biggest sporting stage and this is the last shot at absolution and vindication. Sunil Chhetri may have got fans coming to watch India, but the harsh truth is that begani shaadi mein abdullah deewana (the cult song from Jis Desh Mein Ganga Behti Hai) holds good, India has no locus standi in world football. And yet we are consumed by the same hysteria and madness for the beautiful game. The ebb and flow of South American football so unique and yet different has captivated the global audience. The gritty and tough tackling European style its very counterpoint. But within South America, there are two powerful and influential styles and traditions – historically, Argentinian football is based on the 'grinta' which is roughly a kind of violent, physical and extremely offensive type of play. Coach Marcelo Bielsa considerably changed the way it was originally played by also adding more tactics (total football) and better rigor. Brazil's 1-7 thrashing by Germany came to be termed as a national shame in the 2014 World Cup semi final. Brazil has to emerge from the brutalised psyche of that rout and disgrace in front of their own home supporters four years ago, Both Brazil and Germany reached the semi-finals with an undefeated record in the competition, with the Brazilians' quarter-final with Colombia causing them to lose striker Neymar to injury, and defender and captain Thiago Silva to accumulation of yellow cards.
Despite the absences, a close match was expected, given both teams were traditional World Cup forces and foes, sharing eight tournaments won and having previously met in the 2002 FIFA World Cup Final, where Brazil won 2-0 and earned their fifth title. This match, however, ended in a shocking loss for Brazil; Germany led 5-0 at half time, with four goals scored within six minutes, and subsequently brought the score up to 7-0 in the second half. Brazil scored a consolation goal in the last minute, ending the match 7-1. Humiliation and shame. Described as Ginga, the Brazilian style is the creative soul of the country played to the drum beats of the Samba. Brazil plays a very unfundamental and distinctive style with dribbling being the centrifuge. Many people criticised former head coach Dunga because of the pragmatist, fundamental, defensive-minded style he brought to Brazil. After Brazil's failure at the 2010 World Cup, Dunga was fired and Mano Menezes became the head coach. With the aid of young talents such as Neymar, Lucas Moura, Paulo Henrique Ganso and Co, Brazil wants to touch the zenith. Now under Tite, a solid nucleus has been built which goes beyond just Neymar; Philippe Coutinho, Thiago Silva, Marcelo, Marquinhos, Willian, Paulhinho, Gabriel Jesus, Roberto Firmino and Fernandinho forming the new nucleus and core.
Brazil's goalie
It seems strange to say this about a Brazilian team full of attacking verve and flair, but one of the key strengths is their goalkeeping position. Alisson Becker came into the limelight at AS Roma after the departure of Wojciech Szczesny. He has since proven his worth especially this season making exceptional saves for his team, always keeping them alive and was a key part in leading them to the semi-finals of the Champions League. The other option for Tite is Ederson Moraes who made a big money move to Manchester City from Benfica. Ederson is a great goalkeeper and has been exceptional for the English Champions in his first season. Not only is his shot stopping first class, his distribution can turn defence into attack in an instant. It is ironical that Brazil which has always had a weak defence has two of the best goal keepers in the world in the same squad. Brazil were the first team to clinch qualification for Russia and had memorable wins on the way, including a 3-0 success over Argentina in the same Mineirao stadium of the 2014 semi-final humiliation. It took the appointment of Tite in September 2016 to revive Brazil. Under his helm, there have been 13 wins, three draws and only one loss - in a friendly against Argentina.
Against this is Jorge Sampaoli's Argentina which has lost three major finals in a row – the 2014 World Cup and the Copa Americas in 2015 and 2016 – and a team that suffer a worrying mental brittleness will be under plenty of pressure. In fact, both Brazil and Argentina suffer from this problem of succumbing to pressure, leading to much national trauma and soul searching. Let 'Guardian' explain the Argentine problems: Willy Caballero rarely featured at Chelsea last season and his deputies lack experience on this stage. In defence there is only one player of international quality, Nicolás Otamendi, and the performance of the entire back line has left a lot to be desired under Sampaoli. The coach has changed personnel and formations frequently, eventually settling on a conventional four-man defence. Gabriel Mercado, on the right, does not feel comfortable in that position and may be another Achilles heel. There are also plenty of questions to answer in midfield, and Lucas Biglia's injury – a double fracture of his lumbar vertebrae that casts doubt on his fitness going into the tournament – adds to the uncertainty. A lack of leadership and initiative to take hold of the ball and control a game in the middle of the park has posed significant questions; the players' answers have been hesitant. Two of those midfielders symbolise the mood surrounding Argentina and this World Cup. On the one hand Javier Mascherano, who turns 34 on June 8 and plays in a weak Chinese league, is clearly in decline and seems to mirror the plight of the national team. On the other Giovani Lo Celso, aged 22, who will have to assert more influence if Bielsa's side are to do well. He is a moderate player, able to create attacks, who proved his worth last season at PSG. He is more engaged with the whole unit than some of his peers; he can initiate attacks and pass between the lines to the forwards. And therein lies another concern. Messi's explosive partners – players such as Sergio Agüero and Gonzalo Higuaín – must not let their captain toil alone if they dream of winning the cup. Argentina may lose with Messi, but the sense is that they will never win without him.
Ronaldo's chances
There is also Portugal which cannot be ignored. Cristiano Ronaldo's hopes of winning the World Cup with Portugal are running out. Portugal have proven they have the mettle needed to win major international tournaments after they ground though the 2016 European Championship and stunned hosts France in the final despite an early injury to Ronaldo. Portugal will take the large part of that experienced squad to Russia. Pepe is a physical enforcer in defense, Joao Moutinho adds passing skills to its midfield, and newcomer Andre Silva can help Ronaldo in attack. Though Cristiano Ronaldo (Real Madrid) at 32 is no longer the goal machine he once was. Key to success in Russia could be how he is managed by Madrid, and can be rested in less significant games.
As always the world's eyes will be riveted on Argentina and Brazil and who knows they may well be blindsided by a European powerhouse like Germany (Italy will be missing from the WC for the first time ever), yesterday's team Spain led by Sergio Ramos, they still have massive experience and technical excellence, as Italy found to their cost in qualifying. A rival coach observed: "They move the ball with one touch at devilish speed." Look at the impressive names in that team: David De Gea, Sergio Busquets, David Silva, Isco, Ramos, Gerard Pique, Jordi Alba, Thiago Alcantara, Andres Iniesta and possibly a fresh Diego Costa up top. As Lionel Messi said: "You'd rather not face them." And then of course there is another champion side in France. Ian Drake reckons France seem to have an embarrassment of riches though that might be a problem for coach Didier Deschamps, who captained his nation to victory in 1998 (the last hosts to win, by the way). Antoine Griezmann was the leading scorer (six goals) at Euro 2016 and might be a decent bet to repeat that trick in Russia. Then there's the brilliant youngster Kylian Mbappe, N'Golo Kante's energy in midfield and a very decent centre-back pair of Raphael Varane and Samuel Umtiti. Paul Pogba will play despite his problems at Manchester United. He is a key man for France and might find pulling on that blue shirt galvanises him again. The worry for France is that they flopped when it mattered in the final of Euro 2016, were held by Belarus and Luxembourg in qualifying and recently blew a 2-0 lead in losing to Colombia.
Meanwhile, much has been said and written about how Indian football continues to plumb the depths of mediocrity. After all, it is cited that India did reach the semi finals of the Melbourne Olympics in 1956 and the steep, so sudden and precipitous fall, cannot take place so quickly. The reality is that the 1956 Olympics had just 11 participating nations, due to cancellations. It was an undistinguished tournament that featured mismatches and walkovers. Following five withdrawals, the tournament featured three Eastern Bloc teams and four from Asia in a tournament that matched professionals against the amateurs required in Olympics.
India's cup of woe
India came into the tournament after competing in the two previous Olympics at London where France vanquished India 2-1 in the first round and then again in Helsinki where they suffered a similar ignominy, losing 10-1 to Yugoslavia in the preliminary round. Due to a much tighter field in Melbourne, India actually benefited getting a bye in the first round and then defeating Australia 4-2 thanks to a Neville D'Souza hat trick, making the semi final where nemesis Yugoslavia beat us 4-1 and then finally Bulgaria beat us 3-0 in the third place play off. And that was the end of that.
By a quirk of fate, India qualified by default for the 1950 World Cup finals as a result of the withdrawal of all their scheduled opponents. But the governing body All India Football Federation decided against going to the World Cup, being unable to understand the importance of the event at that time.
For some strange reason, football is synonymous with Bengal, although Goa and Kerala will claim equal suzerainty over it. Punjab in the past produced high calibre players. One remembers Inder Singh of Leaders Club Jalandhar and JCT Mills, Phagwara fondly.
In the early 1980s, I landed in Kolkata having grown up in Delhi. Imagine my horror, when I, a cricket junkie, found Kolkata was completely football crazy. The towering statue of Goshto Pal on the maidan, at the very intersection on Red Road where the holy trinity of the megalopolis football craze converged – Mohun Bagan, East Bengal and Mohammedan Sporting – was nothing short of a pilgrimage for a neophyte like me.
Having played football in school and a more bruising form later in the tea plantations, I too trooped to the makeshift stadia to make my tryst with the Kolkatan version of the beautiful game. And the passion on display was unbelievable – Shyam Thapa with his bicycle kick, the speedy Subhash Bhowmick, Subrata Bhattacharya tall and stately in defence, Gautam Sarkar, Mohd Habib, Mohd Nayeem and many more were part of a fabled pantheon worshipped by all of us. Calcutta had witnessed Pele in an exhibition game in September, 1977 and the afterglow of his presence still remained in the city's maidans.
New playing style
But this flirtation with football was to receive a rude jolt. Two Iranians landed in the city – Majid Bakshar and JamshedNassiri – and they opened up a whole new playing style. Nassiri was the poacher in the strike zone, while Majid was the playmaker and ball passer. They made a fantastic combination; Majid with the flair, daredevilry and derring-do in the mid field, making the play for his compatriot Nassiri who struck home with dexterity and timing with both head and foot. The duo came from the province of Khuzestan, and Majid even represented Iran in the 1978 World Cup played in Argentina. Both came to Aligarh Muslim University to pursue higher studies, but were spotted by talent scouts and recruited by East Bengal. Subsequently, they joined Mohammedan Sporting Football Club and Kolkatans flocked to the maidans. The duo's entry into the football cauldrons of Kolkata was a defining moment in Indian football. Football supporters were astonished at the artistry with which the two Iranians played the game, in stark contrast to the rest of the league.
This first glimpse of real football was 'revolutionary', a term that may be politically incorrect given that Kolkata was then in the throes of Leftist rule. The end came swiftly as the more talented of the two – Majid – was debilitated by substance abuse. He returned to Iran, while Jamshed stayed on in his adopted city Kolkata.
Jolt number two came with the advent of the Nehru Cup in Kolkata in 1982. My memory of that tourney was of the Uruguayan player who could throw the ball into the D, such was the power of his arm. The robust playing style, the smart set pieces and the sheer agility of the Uruguayan players was a delight to watch as they vanquished China 2-0 to win the inaugural tournament. The Uruguayans had shown all too well why the South American style was a killer app in world football. Two years later in 1984, Poland showed their hard tackling man-to-man marking style and defeated China. Kolkatans awoke with a start to the pace and speed on display in the Nehru Cup final.
The final decapitating blow to the 'art form' practiced on Kolkata's maidans came with the introduction of live television, which beamed pictures of the 1986 football World Cup for the very first time.
India's love affair with the World Cup football tournament started in 1982, when for the first time the semi finals and final had been telecast live on Doordarshan. There was also deferred telecast of some of the earlier round matches. Brazil's brilliance in that tournament, showcased by the attacking flair of Zico, Socrates, Falcao and Toninho Cerezo, won them many supporters.
In the eighties, the majority of India supported Brazil. Over the years that changed. In 1986, for the very first time the entire World Cup was telecast live in India. With Mexico being the hosts, the tournament gained notoriety.
Almost overnight, pocket dynamo Diego Maradona became a star with fans all across the globe, and Kolkata being no exception. Exposed to 'real' football, Calcutta switched off from its own home-grown stars gradually. The yawning gap in skills and talent having been thrown into stark relief.
The goal, which was voted the 'Goal of the Century' in 2002 on the FIFA website, saw Maradona running past five English players before scoring. With 20 minutes to go, the introduction of John Barnes as a substitute changed the tide of play in England's favour, as he pinged in cross after cross into the Argentine penalty area and with just nine minutes left, England striker Gary Lineker got onto the end of one and scored. Lineker almost repeated six minutes later but was unable to reach the ball thanks to a timely block by Olarticoechea: 2-1 to Argentina remained the final score line.
The goals made Maradona a superstar. In the semi finals, he struck twice in the second half as Argentina beat Belgium 2-0. The final against Germany did not see the same magic but Maradona did enough to see his country home. With seven minutes remaining, a pass from him gave Jorge Burruchaga the chance to score the winner for Argentina.
Argentina's victory managed to turn Kolkata's world upside down. Maradona's staggering display of running, passing and goal scoring was viewed as a tour de force and since then, nothing has remained the same.
The 1983 cricket World Cup win ignited a renewed passion for the game and even Calcutta was consumed by it. Strangely, it was a Marwari businessman from Calcutta who then realised that it was time for the true commercial exploitation of cricket using the axis of commerce to take the game to the next level in terms of a wider and deeper dispersal. Jagmohan Dalmiya became the instrumentality as he marketed the one-day game across India. In the process he may have extinguished whatever passion there was for football in the aforementioned pockets.
In a cricket-obsessed nation, football thrived only in a few pockets and qualitatively was caught out in the 1980s. Now it is nice to see the Indian Soccer league trying to revive interest in the most loved sport around the world, but it will take a lot more than a league to pump prime it.
If football is so popular in the country as the crowds for ISL seem to be suggesting, then what prevents us from playing it well. We don't have the skill sets or the stamina to play top quality soccer. The all-pervasive presence of cricket has subsumed most other sport. India, however, has managed to do well in individual sporting disciplines like badminton, tennis, shooting, wrestling, boxing, where we are slowly building competencies.
@sandeep_bamzai