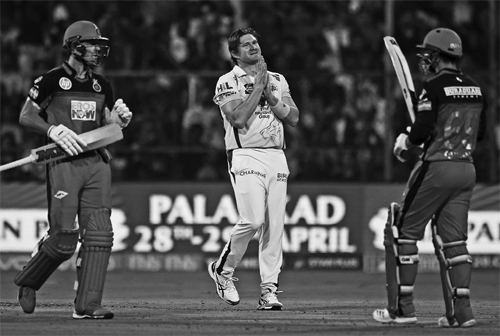 The Indian Premier League (IPL) has successfully turned the halfway mark and some very interesting findings have emanated from it. The matches in most cases have been closely fought and the excitement it created among the viewers has been excellent.
Kane Williamson of Sunrisers Hyderabad and MS Dhoni of Chennai Super Kings have shown outstanding leadership qualities. They seem to have understood their players' abilities extremely well and this precisely is the reason why they are on top of the table and just two matches away from securing a place in the final four.
Understanding one's team and the entire squad of players is the most challenging aspect for the coach and the captain. They have to be comfortable and trust each other's judgement completely. The Moody/Williamson and Fleming/Dhoni combination, who have been with each other earlier, have a distinct advantage. They are like a pair of good bridge partners. Knowing the capabilities of every player in their squad and utilising them well has got both these teams off to a brilliant start in the tournament. This is where many of the other sides have failed, as they are still experimenting and still haven't found the correct combination.
The first victim of the IPL is Gautam Gambhir. It was a bold move by the Delhi Daredevils leader to step down because the team was not performing well and he was not happy with his batting form. He has shown astute quality. It must have been a very difficult decision for him to give up his role as the captain, especially in the midst of a tournament in which he could still have made a mark. Rohit Sharma was in a similar position for Mumbai Indians, but he continued and although he did flourish with one good inning, the team is in a dire situation to qualify for the playoffs at the present juncture.
Gambhir has shown unbelievable characteristic, by not only handing over the reins to young Shreyas Iyer but also by forfeiting the additional crores of rupees that had been promised to him. One was quite amused, as on that very day that Gambhir opted to give up his leadership position because of bad performance, the papers had a poor annual result from a leading Indian bank and a corporate house. The CEO from both these institutions, with enormous salaries, didn't for a second decide to step down. Refusing any bonus amount would be unimaginable. One truly marvels Gambhir and the way he has selflessly handled the situation. Indian corporates and government organisations need to learn from it.
The most worrying outcome of the IPL is the way the uncapped and young Indian players have approached the tournament. Most young players may not have studied marketing management but they sure do understand the importance of branding. The 2018 IPL has had many of the foreign recruits struggling to get runs. This has given the Indians an opportunity to show their skills on a platform that could make them superstars if they flourish. The only rider in this is that they have to get branded as hard-hitting, quick scoring batsmen. The reason many of the sides have lost chasing smaller targets is that the players are not playing according to how they would have normally tackled the situation. Players such as Karun Nair, Mayank Agarwal, Sanju Samson and many others are technically correct and chase a score through clever placements. But they are scared to do so, or else they may get branded as Test match players. The sufferers have been Cheteshwar Pujara, Hashim Amla and Rahul Dravid in the past and even the likes of Murali Vijay and Ajinkya Rahane at present. The young Indian cricketer wants to play the IPL as this is where he can earn and also attain fame. So many of them are playing shots, more for the gallery. They feel getting out while trying to strike the ball has more advantages than accumulating runs sensibly and cleverly. If they play carefully and then get out, they would be branded as technically good but not fit for the limited over version. This would then reduce their chances of playing the IPL drastically.
The established players, who do not need to prove their batting skills, are the ones doing well in the IPL at present. Twenty20 is proving to be quite an interesting format. A good start does not necessarily mean a good total at the end or losing quick wickets early does not spell doom. One never imagined that there were enough overs or time for a team to recover from a bad situation, but the recent results have shown that just one bright spark, while batting or bowling, could change the match situation quite radically. This is where one gathers the bookies are having a field day and the quicker the government introduces legalised betting, the better it will be for them financially and for all the others concerned.
The side that is looking confident is Chennai Super Kings. They seem to have established a batting combination that has many match winners. With Shane Watson, Faf du Plessis, Ambati Rayudu, Dwayne Bravo and an in-form Dhoni in its ranks, CSK looks like a side that will be hard to beat. Even after defeat, the leadership qualities of Dhoni were quite prevalent in the press conferences. He did not harbour over the normal reasons of scoring more runs or not capturing wickets at a crucial junctures or dropping catches. He turned the negatives into positives by saying, "There will be some downs and we will not only learn from those situations, but convert them into success the next time, as we are playing some very good cricket."
The top three teams —Chennai, Hyderabad and Punjab — seem to be quite comfortably placed to qualify. The fight now is between Kolkata, Rajasthan and Bangalore for the fourth place. None of them can afford to lose any more of their matches. Delhi and Mumbai, the bottom rung teams, are capable of upsetting their applecart and drag them down.
(The writer is a former Indian cricketer)