The inner wear hosiery industry in India has grown exponentially and the road ahead looks full of promise, writes Ritwik Mukherjee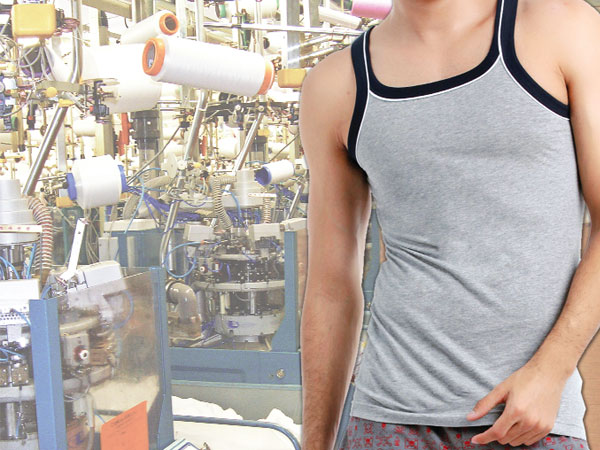 What do presiding deities, Amitabh Bachchan, Virat Kohli, Shah Rukh Khan, Ranbir Kapoor, Varun Dhawan and a host of others have in common? Well, it seems a passion for selling innerwear hosiery.
Visualise Ranbir Kapoor in a stunning, new role, the recent Macroman M-Series TVC, that captures perfectly the GenNext philosophy of those who celebrate the spirit of being unapologetically themselves.
It showcases how an indomitable Kapoor – a fourth generation of India's most famous film family - in multi-coloured, multi-hued Macroman M-Series (with his mysterious, if inevitable, Macrowoman beside him) answering all those who question his daring spirit with just two screen-splitting words – LIVE OPEN.
In the Macrowoman W-Series TVCs, 'millennial models' dare to bare their LIVE OPEN mantra. The campaign is pretty obviously aimed at making Macroman M-Series synonymous with youth, style and fashion.
It is in the true sense, the 'inner' voice of today's generation.
THE MILLENNIALS
The millennial is not just a different generation; they are also a different breed. Unconventional choices and modern philosophies define their thought process. They believe in breaking societal stereotypes and are comfortable in their own skin! They live on their own terms and set trends rather than follow one.
This social phenomenon possibly explains why the domestic innerwear market in India is going through an exciting churn.
While leading domestic innerwear players are trying to eat into the large unorganised sector, major foreign brands are gearing up to eat an even bigger slice of the premium and ultra premium pie.
Amidst all this excitement, Artimas Fashions Private Limited, an arm of Lux Industries, acquired the manufacturing and marketing rights for premium innerwear category for Indian skipper Virat Kohli's brand One8.
Lux will now manufacture and market a unique collection of one8 branded socks, innerwear and sleepwear. It assumes particular significance in wake of the fact that the overall size of the innerwear market in India can be anywhere between Rs 16,000 crore and Rs 30,000 crore.
There is a large unorganised sector, which is as large, if not larger, than the organised sector, according to industry estimates.
Add to this melee the premium and ultra-premium innerwear market in India, which has witnessed an increasing influx of foreign brands.
According to some estimates, of the nearly Rs 30,000 crore hosiery industry, the premium segment is valued at about Rs 6,000 crore-7,000 crore.
The domestic innerwear market, currently dominated by players like Jockey, Lux, Rupa, Dollar, Anmol, J G Hosiery, has an estimated contribution of 70 per cent by the unorganised sector (local players).
Not surprisingly, with changing tastes, most leading Indian brands subscribe to the view that consumers today are more brand- conscious than ever before. Resultantly, local brands are finding it difficult to hold on to their winning ways and the market share day by the day.
Figures vary. While Vinod Kumar Gupta, managing director, Dollar Industries Limited, says the Indian innerwear market is booming and its market size is nearly Rs 15,870 crore, Saket Todi, senior vice president, Lux Industries, puts the organised sector closer to Rs 23,000 crore.
The unorganised sector is even larger. Both of them, however, agree that the innerwear market is growing at an impressive CAGR of 10-12 per cent.
Therefore, Kolkata-based Lux Industries' interest in acquiring Virat Kohli's brand-One8 is understandable.
Artimas fashion, a wholly-owned subsidiary of Lux Industries, will now collaborate with Cornerstone Sport, the license owner of One8, to establish the brand as the most successful trendy innerwear line for the young in the premium category.
These products under the One8 brand name will be created in collaboration with Lux Industries, who will provide their knowledge and expertise in manufacturing, designing, marketing and retail for the brand.
The premium innerwear, socks and sleepwear range to be manufactured by Lux Industries will now incorporate One8's subtle branding, look and feel, emphasising the simplicity of Virat's personal style, while the dynamic colours of the products will be a reflection of Virat's on-field persona, which needless to say, is fiery.
Clearly then, brand One8 will aim at providing superior product quality coupled with comfortable feel, designed to grab instant attention of the youth.
Explains Udit Todi, senior vice president, Lux Industries Ltd: "Lux Industries' plan to associate with Virat Kohli is to fill the need-based vacuum that is created in the premium innerwear category and with One8 we would be able to provide a perfect synergy to that requirement. Through this partnership, we wish to explore the territories unexplored and needs unmet." Well put.
Lux is not the only one trying to tap the premium or high-end innerwear segment. Kolkata-headquartered hosiery major Rupa & Co have done the same, bringing in FCUK from French Connection last April followed by Fruit of the Loom more recently.
Says Siddhant Agarwal, vice-president, project and acquisition at Rupa & Co: "This vision of getting foreign brands to India or teaming up with premium brands started after a market survey from which we realised that once you enter the premium and super-premium categories, consumers, with high awareness, mostly go for foreign brands. That is why we thought of getting foreign brands to India, beginning with FCUK from French Connection last April followed by Fruit of the Loom now."
Oban Fashions Pvt Ltd, the newly-formed subsidiary of Rupa & Co, is now managing these two foreign brands with its separate sourcing bases and marketing network.
Rupa is one of the top most knitwear brands in India, covering an entire range of knitted garments from innerwear to casual wear. Starting as a dream in the far-sighted vision of three men of enterprise, the company has evolved to become the frontrunner in India and a leading player in global markets with far-reaching footprints.
Likewise, Page Industries has exclusive licence to manufacture and distribute US's Jockey brand in India. Page has been enjoying high margins with a market share of 21 per cent in the men's segment.
Page's Jockey actually rules the premium end of the market although Rupa & Co has been trying to take on Jockey with its own premium offering, Macroman.
The other offerings from the Rupa stable include Frontline, Euro and Bumchums.
Vinod Kumar Gupta, managing director, Dollar Industries, too feels that the "The hosiery market deals with the basic necessity of a human being. Therefore it is important to delight the customers through a range of products that not just deliver comfort, but are constantly upgraded to keep the styling in line with the latest trends. That's exactly what Dollar has been doing. All recent moves are aimed at that."
MODEST BEGINNINGS
Significantly, the most fascinating part of India's innerwear story is that quite like Lux, which has its origin in Biswanath Hosiery Mills, most leading branded players of today had modest beginnings as unbranded local hosiery players at one point of time.
Created for the urban male, Macroman M-Series has grown phenomenally with a PAN-India network. Following the success of Macroman M-Series, the brand launched an equally powerful female version, Macrowoman W-Series.
Today, the portfolio boasts of over 150 products with numerous designs available in a variety of fabrics and finest blends.
Macroman M-series and Macrowoman W-series products range from innerwear, sportswear to leisurewear. Starting off as an innerwear brand, Macroman M Series has now grown up to be a formidable player with its large range of fine innerwear, leisurewear, sportswear and casual wear.
Over the past few years, Macroman M Series has, as a brand, spread its wings in casual menswear category and is currently producing a vivid range of summer and winter wear.
Macroman M Series innerwear ­comprises the widest range of highly-styled briefs and vests segmented into different collections, targeting diverse needs. Conceptualised by top of the line designers, Macroman M Series International Collection briefs and vests are crafted from the best fabrics.
Available in a variety of colours and patterns, with interesting accents and a range of exciting cuts, this collection is a bold mix of fashion and comfort.
Macroman M Series International Collection also boasts of a luxurious line developed by the world's best blends like Supima Cotton, MicroModal and Bamboo fibre cotton.
Points out Vikash Agarwal, president and brand director - Macroman & Macrowoman: "Amidst the players dominating the market today, Macroman aims to be the most admired for its international design aesthetics, in depth and continuous R&D, the best of fabrics, in short the best wearable premium experience."
Van Heusen, India's power dressing brand from Aditya Birla Fashion and Retail Limited's stable, has also forayed into the fast-burgeoning men's innerwear and athleisure market in September 2016.
Since then, the new business segment has grown manifold and is currently available across 1000-plus multi-brand outlets and leading departmental stores across South India, with an exclusive outlet in Chennai.
Since its foray into the new segment last year, Van Heusen has built a strong affinity with its customers in Bangalore, Hyderabad, Chennai, Mangalore, Vijaywada and now offers the all new Van Heusen innerwear and athleisure range to consumers in Kerala.
Crafted on the principles of fashion, innovation and performance, Van Heusen innerwear and athleisure offers sophisticated styling with new and innovative product features for the best in class comfort and fit.
The innerwear sales in India, according to the company, is growing at 13-14 per cent a year and the premium segment is growing even faster with the market showing it has a lot of potential for growth in the years ahead.
Van Heusen's 'Innerwear' range comprises as many as four collections including Classic, Platinum, Signature and Active. Each collection has been designed to offer a differentiated range to various consumer segments.
Van Heusen's plan is simple: to offer stylish, trendy and new-age products to its consumers - the complete fashion solution to the Indian men, if you please.
A senior market analyst points out that while in the US there are a plethora of options in men's innerwear - styling, the fabric, the waistband, the entire purpose and the experience - in India the men's innerwear segment has zero fabric choice with options limited to black, grey, white and blue. Designer options, on the other hand, remain too expensive and out of reach.
Therefore there was always a huge opportunity to break through the clutter of mundane innerwear lining on the shelves, both offline and online.
NEW PLAYERS AND STARTUPS
If so many branded and established players come forward, can entrepreneurs and startups be far behind? Obviously not.
Yogesh Kabra did exactly that by rolling out XYXX, a comfortable, elegant, yet quirky brand of innerwear. XYXX is a premium category of comfortable innerwear at accessible price points. Aimed at an 18-40 year-old-male audience, the brand places the cool, comfortable and energetic youth of today at the centre of their product development.
The brand combines comfort and style, luxury and value, elegance and fun. The idea was to make the first garment choice of the day a more exciting and fulfilling affair for everyone, points out Kabra, who comes from a textile background and is a specialist in supply chain management and design thinking.
But with so many strong established players already in the business, how would this new brand stand out and survive?
Kabra believes he has the answer. The fabric, he explains, is used for the innerwear is Lenzing MicroModal, which is the most premium underwear fabric across the world. It is extracted out of the pulp of beech wood tree in Austria. MicroModal is three times softer than cotton, is feather light, cooler to touch, and upto 50 per cent more moisture absorbent than cotton, making it the perfect fabric for India's tropical weather.
MicroModal is also biodegradable and natural. This means, any clothing made with MicroModal will return to the earth in one's lifetime. The waistbands in XYXX innerwear are made using Microfiber yarns, which is very gentle on the skin and leaves no rashes.
In other words, innovative product thinking is at the heart of XYXX's product philosophy and is reflected in the range of shapes and designs that is offered under the XYXX range.
The current product range offers trunks, briefs, boxers, bikinis, boy shorts, cheeksters and hipsters. Kabra claims his latest collection BEND (IN) is inspired from the motion of bending and focuses on the bands of the innerwear, which is a refreshing change in the innerwear category.
He has made his products available on major e-marketplaces such as Myntra and Amazon, other than his own platform. And what's more, it is selling.
Neither is Kabra alone in such off-beat experimentation. Monica Anand, founder of Switchers and creator of the lingerie brand "Undercover", claims that she has brought in an all-new innovation in the lingerie segment, which is here to stay.
Reminisces Anand: "It all began with a question. Why can't a comfortable, everyday bra also be high fashion and complement every occasion? Different days or even different times of the day aren't the same. Why can't a bra keep up? Most outfit changes call for a bra change. That's expensive and painful to maintain. Plus your sexiest bra in all likelihood won't be the most comfortable or supportive one. It was time to go back to the drawing board."
And that is precisely what she did. The launch of Switchers by Undercover has brought to India an exclusive range of detachable, mix-and-match bras. One can completely take apart the bra by removing the back portion and shoulder straps, then rebuild it with colourful accessories to improve the fashion quotient on one's attire.
"They are stylish, quirky, fashionable, cute, yet extremely comfortable and supportive. No more struggling or having second thoughts while picking out your favourite tube dress, off-shoulder, backless or racer back tops. Just pick from Switchers line of shoulder straps and backs to perfect your look," advices Anand.
Interestingly, each switcher accessory can be paired with different kinds of outfits. Diamond studded straps can be paired with a traditional outfit or hand-embroidered straps can go in for the classic evening look.
If on-the-go is more your style, Switchers also offers quirky prints and bright pop-coloured straps to add more character to your casual wear.
Not just this, you can style one bra and wear different straps with it in many ways. Just buy one single bra along with different styles of shoulder straps and backs and you are all set to style any outfit with it.
The range of lingerie is available on its own digital platform. The collection is also live on leading fashion and e-commerce portals in India. The Switchers Bra and all its accessories have been priced within the range of Rs 199 to 1,999. Prices also vary as per the design and preference, says Anand.
While XYXX and Switchers are keen on exploring the e-marketplace, there are some other players – like Tablez India - who rely on the retail format.
"There is a huge influence of international brands in India, especially in the overall apparel space. Going into 2018, our expansion plans will take the brands across major metros of India. We plan to open nine stores of Springfield and six stores of Women'secret in Bengaluru, Mumbai and Delhi. By 2022 we hope to open 75 stores for both brands," says Adeeb Ahamed, managing director, Tablez India.
Part of LuLu Group International, this company is bringing in Women'secret for the Indian and Sri Lankan markets by opening up Springfield and Women'secret outlets in different parts of the country.
Both the brands are owned by Grupo Cortefiel, a leading Spanish fashion retail group with a marked presence in over 89 countries.
Women'secret, with its 630 stores across 50 countries, is a lingerie and innerwear brand from Grupo Cortefiel and will be retailed through exclusive brand outlets in India.
The brand offers a wide range of women's lingerie, swimwear, beachwear and sleepwear in styles that are stylish yet comfortable. This winter, Women'secret has updated its sleepwear collections with super feminine pyjamas, joggers, T-shirts, sweatshirts and dual-purpose garments that are even more versatile.
Tablez, on its part, currently operates more than 35 outlets globally and plans to expand to 250 outlets by 2020.
Talking about international brands in this space, Rupa's Oban Fashions Private Limited, has launched Fruit of the Loom innerwear and leisure wear products for men and women in India.
More than 87 styles across the men's and women's range have been made available in over 2,500 points of sale (PoS) in the first phase by end of December 2017. The products are also available on e-commerce websites from the first week of January 2018.
Interestingly, for the first time ever, Fruit of the Loom will showcase a special "Intellifresh" day-long freshness feature extensively on all products in India through a unique tie-up with Dow Chemicals.
Earlier this year, Oban Fashions Private Limited entered into a License Agreement with Fruit of the Loom, INC., whereby they had acquired the exclusive license to manufacture, distribute, advertise and sell innerwear and outerwear products for men, boys, women, girls and toddlers in India, under their brand names and marks.
Headquartered in Bowling Green, Kentucky, USA, Fruit of the Loom, a subsidiary of Berkshire Hathaway, is one of the largest manufacturers and marketers of men's and boys' underwear, women's and girls' underwear, printable T-shirts and fleece for the active wear industry, casual wear, women's jeans wear and children's wear.
Predicts Rupa's Siddhant Agarwal: "The unique 'Intellifresh' feature adds the X-factor to Fruit of the Loom. A special category-first multimedia communication campaign titled 'Start Happy' will be unveiled soon in India on the lines of a global awareness campaign. Fruit of the Loom is all set to be the most-talked about brand amongst fashion-conscious Indians and will occupy center stage in premium innerwear segment in years to come."
A recent Technopak study suggests that the premium segment of the innerwear market has a very high premiumisation – i.e. price point of Rs. 500 plus - and in 2016, this share represents Rs 9,500 crore of annual sales growing at 18 per cent per annum.
There is no surprise therefore when Agarwal adds, "We are proud to present Fruit of the Loom, one of the world's most recognised clothing brands - a brand people all over the world know, love and trust. We are positioning Fruit of the Loom as a premium brand that delivers authentic quality, value and style while combining comfort, performance and fun every day."
The price range of Fruit of the Loom starts from Rs 150 to Rs 400 MRP. It is the second international brand, which will be manufactured and marketed in India by the Rupa Group after FCUK (super premium category), which is already doing well.
The group is gearing up for rapid expansion and exploring multiple opportunities in global brand licensing. It leverages its robust manufacturing infrastructure, experience and expertise to forge associations with iconic global brands such as Fruit of the Loom.
Rupa's strategy is to make every aspect of the brand exciting - design, packaging, visual merchandising or day-to-day interface on the social media. In India, the products are being manufactured in Tirupur, Indore, Daman and Chennai.
The road ahead is positively delightful. Even with so many brands and sub-brands from its own stable in addition to international names, for Rupa director Vikash Agarwal, "This is just the beginning."
Lux Industries Ltd, the other Kolkata-headquartered innerwear company, seems to be, equally, a long race horse.
In its endeavour to consolidate market position and concretise its relationship with its loyal customer base, ONN, the premium innerwear and casual wear brand from the house of Lux Industries Ltd, has forayed into an associated segment -a new range of thermal winter wear for women and children.
ONN has been offering a range of fashionable winter wear for men with products like round neck half-sleeve thermal top, full sleeves round neck top, V neck full sleeves top and trouser.
It has also got into assorted winter garments with round neck 3/4th sleeve top, round neck full sleeve top and thermal trousers for women and children.
Explains Saket Todi, senior vice president, Lux Industries Ltd: "ONN thermals have contributed more than 8 per cent to the total turnover of ONN in FY16-17 and we expect it to contribute around 10 per cent to its turnover this time. In the last couple of years, the ONN thermal range for men has been highly appreciated and accepted. We were receiving queries for winter wear for women and children and thus we have forayed into this segment. Our R & D team has focused on reaching out to greater mass understanding of consumer requirement. Continuing the brand promise of comfort, style, quality and affordability, we are confident that the entire winter wear range will strike a chord with the target audience and satisfy the consumers on these parameters."
The brand is now offering a holistic range to establish itself as a complete winter wear brand, besides owning a range of premium innerwear for men and casual range of outerwear.
Psychographic segmentation of tier II and III cities has shown the changing and evolving nature of lifestyle, bringing in a sea change in the Indian winter wear industry.
ONN, naturally, desires to become the best youthful innerwear-sportswear and leisure wear brand with top of the mind recall. Super star Shahrukh Khan and star Varun Dhawan have already endorsed the products, strengthening the brand image in accordance with the brand identity and values.
More recently the company signed Big B – the first time that iconic Amitabh Bachchan has signed for a hosiery line - as the brand ambassador for its line Venus and Cott'swool. These brands exude elements of faith and dependability and have the rich legacy of ruling the choice of the masses for more than three decades.
Associating with one of India's finest actors, the legacy of Venus and Cott'swool marks a phenomenal leap in marketing terms, states the company.
Says Ashok Todi, chairman, LUX Industries Ltd: "Venus is one of the largest innerwear brands in India and Cott'swool is synonymous with winter wear. Each brand exudes superlative levels of comfortability and rules the market with its price efficiency. This is a moment of immense pride for us at LUX Industries as we believe that the legacy of these brands is crowned by getting on board actor extraordinaire Amitabh Bachchan as our brand ambassador for the first time by any hosiery brand in India. These brands are liked by people of all demographics, similar to Mr Bachchan's iconic legacy as an actor, the brand appeal synergises with his personality. We hope with this association we will be able to communicate and reach a wider segment of customers."
Explained Pradip Todi, managing director, LUX Industries Ltd, "We want our diverse portfolio of brands individually to grow and sustain its leadership position in the market, while we aim to continue bonding with our brand evangelists in a more meaningful and engaging way. We believe the endorsement of LUX products will further strengthen the bond with the masses, give our users a greater sense of purpose and help the products scale newer heights over the course of the next few years."
The very fact that almost all leading players in the space are trying to get their different brands endorsed by great fashion and youth icons is a testimony to these companies' revamped new-age and progressive vision. The idea is to have an emotional connect with their target group and last but certainly not the least, add substantially to the overall growth story of the segment.
ritwikmukherjee@mydigitalfc.com