Positioning as an integral element in the life of a common man, Gujarat Narmada Valley Fertilizers & Chemicals aims to connect with millenials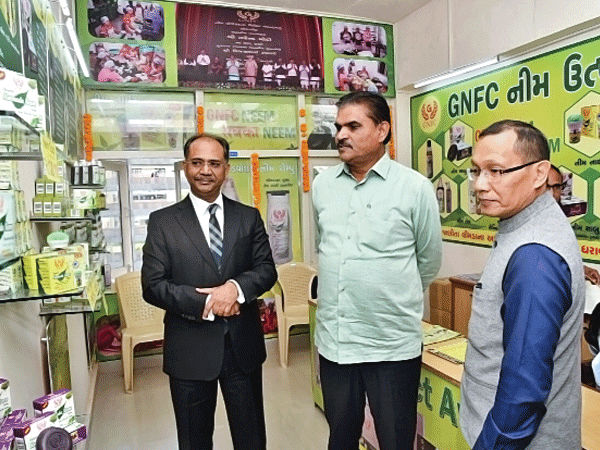 Repositioning brand value
The top brass of Gujarat Narmada Valley Fertilizers & Chemicals Limited (GNFC), one of India's biggest fertiliser, chemical and petrochemical companies, is burning midnight oil to further position the brand as an integral element in the life of a common man in the country and abroad. GNFC is already touching the lives of millions of people directly or indirectly through its wide basket of neem base products. This reflects that the brand is already in every aspect of a common man's daily life. Its products like TDI (used in bedding, furniture and automotive seats), Formic Acid (used in tanneries, ink, etc), Urea and ANP (used by farmers) are the broad range of products which is available for everyone on the street, said Rajiv Kumar Gupta, IAS, managing director, GNFC.
Quite interestingly, the State-run company headquartered in the native state, the prime minister hails from, has been successfully leveraging PM Modi speaking high of various neem products on various occasions. Gupta minced no word in admitting that PM's observations have come in handy to them in promoting their brand.  "The new initiatives of GNFC, that is, niche Neem-based products are already spoken with high regard by none other than the Prime Minister of India and hence, we have been able to gain crucial brand position through its virtuous products. The success of GNFC's cashless model is no secret either. The term cashless/less cash and GNFC goes hand in hand. Country's top policy think tank NITI Aayog has appointed GNFC as the nodal agency to facilitate digital transition of residential townships in the country," said the GNFC MD.
Unlike many other products and brands, GNFC has a firm belief that real brand building comes as a result of sustained improvement on all vital parameters rather than creating through artificial media hype. Gupta , who is also the additional chief secretary (labour & employment department) Gujarat government, said, "One of our first step, as an organisation, was to turn around the performance of the organisation and you can see the result of the turnaround in the form of plethora of awards and recognition that we have been receiving. The performance is easy to track as well since we are a listed organisation and hence always in the public domain." From a whopping Rs 450 crore net loss to highest ever PBT of Rs 715 crore with highest ever market capitalisation, highest ever exports and highest ever EPS, GNFC appears to be on a high growth path now.
GNFC's Neem Project is, in true sense, fulfilling the vision of the Prime Minister, claimed Gupta, adding that it is not only contributing towards his vision of Neem coated of each grain of urea but contributing effectively towards the cause of women empowerment and rural development.
"One of our strategic plans in the Neem Project has been the forward and backward integration of the business and therefore we have spread our wings far and wide to states like Maharashtra, MP, UP, Rajasthan etc. We have been able to make landmark progress in seed collection and product marketing in these states. With the KVIC unit, we intend to cover more than 7000 khadi outlets across India. GNFC has also opened first of its kind Neem Stores and Neem Parlours in various cities of Gujarat. We also supply Neem Products to more than 1500 outlets of Central Police Canteens across India and will soon also be supplying to more than 3000 defence canteens of the Canteen Stores Department (CSD). We also supply to around 100 Kendriya Bhandars in Delhi," said Gupta.
He further added, "We are also shortly entering into agreement with the Department Of Posts for sale of the Neem Products from the Post office counters across Gujarat. Based on the initial response, the Post office model will be replicated in other states. We are also in an advanced stage for exporting the products to the US and Gulf countries."
Neem parlour is another innovative and out of the box idea from GNFC. It has opened 17 company-owned outlets and 24 garden parlours in Ahmedabad, Surat, Vadodara and Rajkot. The company has lined up plans to increase its footprint to nearly 40 stores and 40 parlours. It is also exploring options to introduce the franchisee model and would have a uniform design in line with our own Neem Stores and Neem Parlours, Gupta pointed out.
"At GNFC, diversification and conquering new frontiers is at the core of our business philosophy. In line with that, at present around 30 per cent of the revenue comes from fertilisers and 67 per cent comes from chemical business whereas around 3 per cent is contributed by Information Technology (IT) business. As we are practically a debt free company now, we have plans to increase the revenue contribution of our non-fertiliser products significantly in the years to come," said Gupta.
The company has also invested nearly Rs 300 crore so far, and lined up plans for shelling out another Rs 100 crore this year for reducing energy requirement of urea manufacturing to achieve target fixed up by the Centre. Its primary focus is on technology innovation ecosystem that provides a comprehensive solution to energy challenges, that will eventually make its energy system more efficient and providing a more diversified base.
If one goes by what Gupta, the man instrumental for GNFC's spectacular turnaround, feels, the increasing preference for organic food does not pose any threat to the company's business. "The preference for organic food/products is caching up, however, it has long way to go since for better productivity and quality, chemicals and chemical based fertilisers are highly essential. These are thriving even in advanced economy. India is still a growing economy and hence, for long time to come, these businesses are not only going to survive but will thrive," said Gupta.
ritwikmukerjee@mydigitalfc.com