Interview: Raj Manek, Managing Director, Messe Frankfurt Trade Fairs India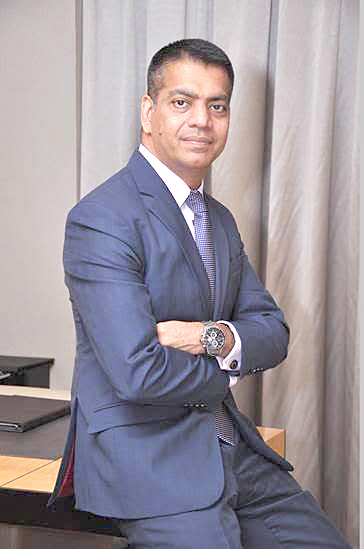 How many exhibitors are participating in the expo?
Over 165 exhibitors are participating from India, China, Indonesia, Switzerland and Thailand. The Indian edition of these globally renowned fairs will not only present their collections to domestic buying agents but also a plethora of modern design concepts, native décor themes, art, colour trends and fresh business ideas through a host of supplementary events. From themed exhibits to inspiring product designs, seminar sessions and experience zones, the platform will offer a quality experience in terms of business and industry networking.
On which sector are you focusing more for exports?
This show focuses more on the domestic market and not exports. However, due to our international presence, we do get a certain percentage of International buyers visiting the show for sourcing.
In 2017, Ambiente India & Heimtextil India hosted 1871 visitors from 14 countries. [India, Nepal (10), USA (7), Germany (3), UAE (3), Thailand (2), Turkey (2), UK(2), China(1), Italy(1), Kingdom of Bahrain(1), Korea(1), Mexico(1)]. The general feedback was that they would like to see a larger mix of contemporary Indian products. We are working on diversifying product groups to ensure larger participation and to this end, some acquisitions and announcements are in the pipeline.
Major focus country for business?
The major focus for both Indian and international exhibitors is India's domestic buying market. Within the domestic market, retailers, distributors, architects interior designers and hotel chains are the main focus for our clients.
Home decor market to grow at a CAGR of 4.2 per cent during the forecast period 2015-2020 and is expected to garner $664 billion by 2020. Total export of handicrafts from India grew by 11.07 per cent to $3.66 billion in FY 2016-17. Indian handicrafts exports may cross Rs 24,000 crore mark by 2020. Online home décor market in India to grow at a CAGR of 50.42 per cent over the period 2014-2019.
Similarly, global home furnishings market to grow at a CAGR of around 6 per cent between 2016 and 2020. This market in India projected to grow at CAGR of 8 per cent during 2015 – 2020. In 2018, home furnishing market in India is expected to reach $5.29 billion.
During the same period, market for curtains and upholstery and rugs & carpets will grow at CAGR of 8 per cent and 9.4 per cent. India's domestic home textiles and home furnishings market is growing by 40 per cent p.a. It is projected to cross $6.15 billion by 2020 and be over $13 billion by 2025.
The Indian retail industry is the fifth largest in the world and is projected to grow from $550 billion in 2015 to $2.1 trillion by 2025, almost 4-fold increase.
Modern retail to grow at a CAGR of 22 per cent from $40 billion to $320 billion in next 10 years. E-commerce likely to grow 26 times, from $5 billion in 2015 to $130 billion by 2025.
Key highlights you would want to share
New product launches: First-look and season's new collections launched by leading brands such as D'décor, Reliance, Aditya Birla, Hira Hastkala, R R International, Manorama.
Indian Art & Crafts: Presenting the best of heritage art and crafts of India at the Council of Handicrafts Development Corporations, (COHANDS) Pavilion
ILA Experience Zone: Innovative concepts in interior spaces showcased at this special zone through a design face-off between product and textile designers. Finalists belong from Delhi, Mumbai, Bangalore, Ahmedabad, Jaipur, with the age groups 20 to 50+, will showcase concepts on the theme of "My Heritage, My New Age India". Winners will represent India at Ambiente Frankfurt & Heimtextil Frankfurt next year.
There is a Special Skills Zone where live demonstrations of different art forms by underprivileged get a chance to showcase their talent and finished products to India's top visitors, buyers, designers etc.
Hospitality, interior designers, retail day: buying agents association, hospitality procurement association and Indian interior designing association members will be present in large numbers to present their buying fraternity. Renowned international speakers are talking about trend forecasts for 2019 (French & Nordic designers to come to India). India is partner country for Ambiente 2019.
With its population of over 1.3 billion, India has an incomparable diversity, a rich culture and also a tradition of art and craft.
India is one of the major exporter and supplier of handicrafts and gift products to the world market.
India has always been among the absolute top countries in terms of exhibitors at Ambiente Frankfurt every year.
India's participation at Ambiente 2019 will add to the vibrancy and diversity of the fair and familiarise global manufacturers, retailers and brands with the robust entrepreneurship in Indian textiles, apparel and consumer products industry and will open up opportunities for sourcing and investment in India.
We are in talks with the Ministry to develop concepts that can highlight the best of modern Indian art & crafts.
India is looking forward to this collaboration that will help to develop long-term sustainable partnerships of Indian industry with the value chain in Germany and other countries.
(Raj Manek is managing director of Messe Frankfurt Trade Fairs India)