With new brand campaigns, Casio is aggressively targeting India while celebrating 35 years of absolute toughness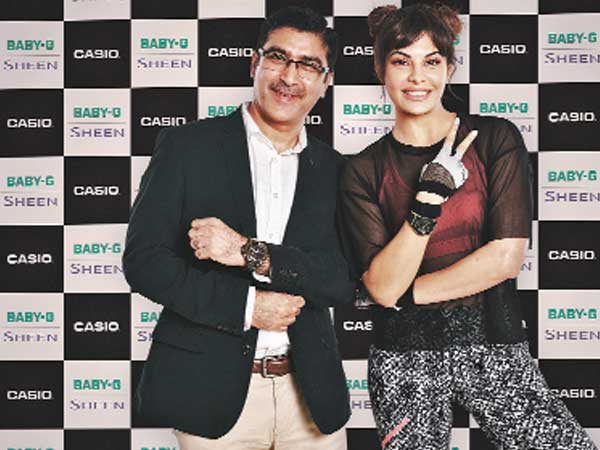 Recently, Japanese watch manufacturer Casio, roped in Bollywood actor Jacqueline Fernandez as brand ambassador for its women's range of wrist watches – Sheen, Baby-G and Enticer. With Jacqueline on-board and a growing range of women's watches, Casio has an exciting line-up of activities and launches being planned over a period of time.
According to the watchmaker, Jacqueline is a fashion maven, recognised for her distinct and vibrant choices. Her natural inclination towards lifestyle and fitness works as a perfect alignment with our extensive selection of women's watches. "While we were looking at brand association, we realised that Jacqueline Fernandez fits pretty well to communicate the philosophy of all our brands. She has the cool and tough attitude for our Baby-G Watches, class and style to communicate Sheen's philosophy and the simplicity for Enticer. With Jacqueline on-board and a growing range of women's watches, we have an exciting line-up of activities and launches being planned," says Kulbhushan Seth, Vice President, Casio India.
So far the creative is being done inhouse. The company is in talks with ad agencies.
While the Enticer campaign is yet to be rolled out, in the Baby-G Campaign one can see Jacqueline in athleisure wear with a tough and cool attitude that syncs with the brand personality. For Sheen, the actor is seen to flaunt an elegant look with the watch. "Post announcement of the association in media, we rolled out newspaper ads followed by amplification on both offline and online media. The campaign will be sustained through various integrated activities that help in getting mind share of the customers, especially during the End of Season Sale," says Seth.
India is a very important market for Casio, claims Seth. Factors like increasing purchasing power and interest in watches as a fashion accessory rather than just timepieces that have led to the growth of the category. "We are keeping up with the trend because our watches, specially G-Shock and Baby-G watches are inspired from the latest fashion. With seven brands in our portfolio – G-Shock, Baby-G, Edifice, Sheen, Enticer, Youth and Pro Trek – we are confident on increasing our market share with strategic planning," explains Seth.
According to a recent report studying the global luxury watch market status and forecast Casio, Citizen and Seiko are major manufacturers that rule Asia. With Casio aggressively working on branding of its women's watch series in India does reflect the company's growth plans in the country. Says Seth, India has a great potential and Casio is ready to tap the market.
Seth says G-Shock enjoys strong followership globally. The attitude and toughness of the watches resonate perfectly with the youth of today who have a never-say-die attitude towards life. "We carry the same philosophy in the brand communications. The tone of toughness and inspiration is set to sync with the youth and it is supported with various activities targeted to the audience. This year we are celebrating 35 years of absolute toughness and of 1,000,000 pieces with G-Shock," he explains.
Edifice as a brand, says Casio targets working professionals who have an inclination towards racing because the watch designs are inspired from racing cars.
Casio has an international tie-up with Toro Rosso team and it gels well with the product philosophy and design. The tagline "Speed and Intelligence" also resonates with the youth of today who love the thrill and are smart enough to take up the fast paced life with ease. Seth feels the campaign for Edifice is – Driven By Passion. The core communication is for working professionals to encourage them to keep their passion alive while keeping the work-life balance intact.
Speaking on her new role, Jacqueline had earlier said, "I have always admired and connected with Casio's modern, efficient and extraordinary designs across its wide collection of women's watches. Completely in sync with the latest international trends, Casio has something for every occasion and style, we can go from sporty and fun casual with Baby-G to sophisticated and subtle with Sheen and everyday stylish with Enticer. I am thrilled to be part of Casio's journey in India, a brand that has such a rich legacy of designing iconic timepieces."
sudeshna.banerjee@mydigitalfc.com