NFDC Presents 'Good Cinema'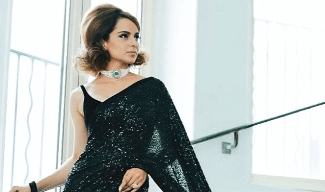 In recent years, the famous India Film Institute in Pune — responsible for nurturing so many of India's most famous stars — has been under a rather dark cloud. However the National Film Development Corporation (NFDC), seems to be going ahead with its primary task of encouraging a 'Good Cinema Movement', by successfully 'planning and promoting an integrated and efficient development of the Indian film industry'. NDFC's next offer Angrezi Mein Kehte Hain, is scheduled to be launched across India on May 18. A quirky film, set in rustic Varanasi, Angrezi Mein Kehte Hain boasts of real-life characters and situations one can relate to, especially for those who are or have ever been in love. Presented by NFDC and produced by Manav Malhotra, New York Film Academy Graduate, writer, director and producer of Drumroll Pictures and associate Bunty Khan's Shiny Entertainment Productions, the film should fit in perfectly with NFDC's aims of fostering 'excellence in cinema'.
The trailer of the new film (AMKH) has recently been launched. 'Angrezi Mein Kehte Hain' is directed by Harish Vyas and stars Sanjay Mishra, Ekavali Khanna, Shivani Raghuvanshi, Anshuman Jha and Pankaj Tripathi.
At the launch, the entertaining mood of the film can be imagined by the comments of the film's stars. Sanjay Mishra and Pankaj Tripathi's camaraderie was evident in the course of the event. On playing the lead in a romantic drama Sanjay Mishra said "Hum actors Aloo hain, mutton ke saath, sabzi ke saath, kisi ke saath bhi mix ho jaate hain." To this Pankaj Tripathi had an anecdote to make every one laugh, "Par iss baar Aloo, solo aa raha hai." "lekin thode jeere ke saath ... aur woh flavour dene wala jeera main hoon iss film mein."
Director Harish Vyas, a Fine Arts graduate and an Artist by profession, has directed several films, short films, documentaries and corporate films. According to him "AMKH will always be a special film for me not because it's my Hindi debut but because it's a subject that I have grown up with. When I used to see my parents in a dry and non-communicative relationship I was unable to imagine a happy picture of a marriage. But with this film I assure you that happiness is possible and easily achievable, even after years in a marriage."
Actor Sanjay Mishra who plays the lead role of Yashwant in the film says, "AMKH is a film that talks about the common man and what love and relationships mean to him. In the daily rat race love gets lost, and one lands up taking relationships for granted. Sometimes one may not get a chance like Yashwant but if one does, you should give it your all, Unbelievably I realized post shooting this film and I did tell my wife: I love you"
Actor Pankaj Tripathi says, "I play a lovable character of Feroz, It has been a refreshing change for me, a leap from being a gangster and a bad guy. This is the first time I am playing a romantic character." For actor, Anshuman Jha – "Love is universal. is relevant and entertaining in the same measure because the one thing the younger generation can definitely share with the elder generation is the ease of expression. It's a love story for all ages." Actor Shivani Raghuvanshi adds,"The younger generation can easily express themselves. However, it was not the same for my parents, this is exactly why I feel that this film is extremely relevant for people like us so that we don't become like them."
Over the years, NFDC has funded and presented over 300 films in various Indian languages — many of which have been winners of National and international awards. After all how can we forget that NDFC was also co-producer for the spectacular international films Gandhi and Salaam Bombay.