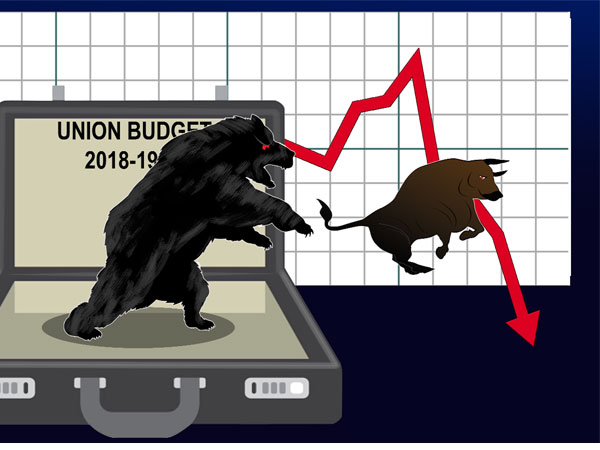 With the Union Budget presentation, a major event risk is over for the equity market. Though the budget largely kept to the trodden path with its rural bias, the fiscal slippage and the tightening of the long-term capital gains (LTCG) tax left the stock market a bit disappointed.
After wavering on the budget day by dipping and then recovering, the market has taken a definitive down turn the next day, on Friday. The benchmark indices plunged by 2.3 per cent on that day and the broader market mid-cap and small-cap indices crashed between 4 per cent and 4.65 per cent, drawing a scary scenario for stock investors. The volatility in the market has also risen sharply as the volatility index India VIX rose by 8.10 per cent on Friday to 15.25 points. But the general expectation is that this trend, too, shall pass.
Many market analysts see the ongoing correction halting sooner than later, as the market would shift its focus to the ongoing third quarter earnings and the Reserve Bank of India's monetary policy stance.
Vinod Nair, head of research at Geojit Financial Services, said, "Higher than expected fiscal deficit target for FY19 of 3.3 per cent, rising inflation and yield may push RBI to be more hawkish on interest rate in the upcoming monetary policy. Introduction of LTCG will have a short-term impact on the market. But history points out that budget-led volatility may not extend for the long-term and the focus will change to earnings and macro developments."
Nair said the emerging trends in the earnings season "is giving a sense to the participants to accumulate (stocks) as the long-term prospects remain intact."
It is also felt that apart from the likely lag in implementation, the budget proposals will not have any immediate impact on stocks in several sectors, as the valuations are already pretty high and leave little room for further gains.
Picking the cement sector, HDFC Securities, in its budget analysis, said, "Under the Pradhan Mantri Aawas Yojana (PMAY) 5 million houses are to be constructed in rural India and 3.7 million houses in urban India. New airports under UDAN and irrigation projects under the Prime Minister Krishi Sinchayee Yojana (PMKSY) are positive, will drive higher cement demand. However, this will be mostly institutional demand, which favours' efficient players over premium-priced ones. Also, pricing in these deals is lower than 'trade' levels. We retain a cautious stance on cement stocks given high valuations."
Indian equities now look overvalued on a standalone basis and relative to select emerging markets, analysts said.
Dhaval Kapadia, director and portfolio specialist at Mornin-gstar Investment Adviser India, said, "Going ahead, markets would take cues from the impact of rise in MSPs and crude oil prices on inflation; and global central banks policy action. Based on our valuation-implied return estimates, we continue to see Indian equities as being overvalued on both an absolute basis and relative to select emerging market peers, hence lowering return expectations."
The foreign institutional investors who have made a late entry into the Indian market at high valuations may prefer to invest more now as mid-cap and small-cap stocks have corrected sharply in the last two weeks and may look attractive with earnings recovery in progress.
Foreign portfolio investors were net buyers by Rs 950 crore on Friday when Sensex and Nifty fell more than 2 per cent.
However, some analysts see foreign inflows getting impacted by the budget proposals. Neelkanth Mishra, Deepali Bhargava and Prateek Singh, research analysts at Credit Suisse India, said, "The introduction of 10 per cent tax on long-term capital gains on equities is negative on sentiment; the marginal dollar saved would be slightly less likely to be invested in Indian equities."
Sonal Varma and Aurodeep Nandi, research analysts at Nomura, see no significant budget impact on the market as the budget largely sticks to the path it traversed in prior years. "This budget is not a game-changer in either direction – positive or negative; it is largely a neutral event. However, compared with our expectations, it is a slight disappointment. Higher support prices, the slower pace of fiscal consolidation in FY19, and pushing out further of the 3 per cent fiscal deficit target are concerns and suggest some compromise on macro-stability at the margin due to election priorities."
"At the same time", the Nomura analysts said, "spending on infrastructure has been maintained, with funding managed deftly by relying on higher tax buoyancy (better growth and more tax compliance), asset sales and more off-budget funding by public sector enterprises."
Vivek Rajpal and Prashant Pande, research analysts at Nomura, said, "the introduction of the long-term capital gains tax appears to have disappointed the market and has led to some selling pressure in local equities and the Indian rupee. Although the long-term capital gains tax can be viewed as a marginal negative for equity investors and foreign equity inflows, the positive angle is that the proceeds (budgeted at Rs 200 billion) will help support India's fiscal consolidation path."
Like these analysts, most market players are also die-hard optimists, who will find reasons to re-assert their faith in the long-term India story, shrugging off the mini-disappointments that come along the way.
raviranjan@mydigitalfc.com