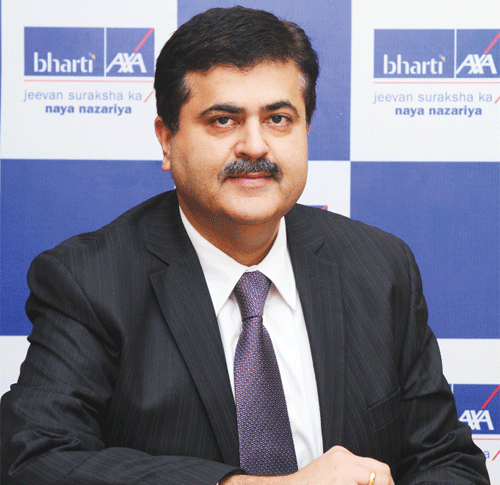 The pace of recovery for public sector banks depends on timing and extent of recapitalisation. The government should recapitalise them earlier than later so that they are also able to participate in the anticipated credit cycle pick up, said Sandeep Nanda, chief investment officer at Bharti AXA Life Insurance, in an interv­iew with Falaknaaz Syed. Excerpts:
How do you see Q1 earnings? When do you expect a revival?
We witnessed broad based dema­nd pick-up across sectors during the last quarter. This confirmed the ongoing recovery in the Ind­i­an economy. This, however, did not translate into overall profit beat because of sector specific re­asons –banks had larger-than-expected slippages and provisions; few sectors like automobile, pharmaceuticals and cement had we­aker-than-expected profitability and some companies had larger-than-expected gratuity provision. We expect demand recovery visible in Q4 to continue in Q1 across sectors. We can expect high teens earnings growth in Q1.
How are you reading the market? How do you see the valuations now and where do you see the index this year-end?
The market is discounting the fear of unknown. At global level, one does not know how trade war ac­ross different countries will pl­ay out and how commodity prices will react. At the domestic level, there is a poll-led uncertainty. Combining these two unknowns along with interest rates cycle reversal had impacted liquidity flow into equity asset class. It's the reason why the broader market is seeing a sharp correction against largecap indices. Consensus expectation is of the Nifty earnings to grow at 20 per cent CAGR over next two years led by general demand recovery in domestic consumption sectors such as automobiles and staples; fall in loan-loss provisions for banks, and we­aker rupee, which will support profitability of global commodity and services sectors.
At 10,800 of the Nifty, the market is broadly at 19x P/E on FY19 and 16x P/E on FY20 consensus earnings – not euphoric valuati­ons. Once uncertainty goes away in few months, the market should again deliver decent returns. For a long-term investor, current vol­atility is good opportunity to add.
What's your outlook on foreign fund flows into India with the looming Fed hikes and imp­rovement in the US economy?
For year-to-date, FIIs have withdrawn over Rs 31,000 crore from the Indian market. The outflow is not India-specific. The entire em­erging market basket is seeing ou­tflows. While a part of it is becau­se of the Fed hikes, the recent ou­tflows are more driven by uncertainty around trade wars and its impact on emerging economies.
From the Indian perspective, impact should not be significant and as realisation of this grows, we will expect outflows to moderate. Rupee direction will more be a function of oil movement and current account deficit position and less of portfolio flows.
Which sectors are you bullish on?
Our investment strategy in the current environment of uncerta­in macro and improving micro is to stay invested and raise overweight in growth sectors like private lenders, retail-facing NBFCs and consumer discretionary sectors and to buy expensive value stocks that are beneficiaries of rupee depreciation and improving company-specific issues. Another theme where we are selectively adding weight are sectors/firms that are benefiting by policy initiatives of the government, revival of private sector capex and pick up in infrastructure spending.
Bond yields have surged quite a bit. To what extent can this impact the market?
Reversal in bond yields has taken most by surprise. While some co­rrection was expected, the pace and magnitude of rise has surp­rised even the most ardent bears. The impact is visible as the market turnover is down by almost 40-50 per cent with muted demand from PSBs being one of the factors. Devolvement in the government bond auctions initially, hurt market sentiment further. Banks suffered losses forcing th­em to seek relaxation on MTM re­cognition. FPI's & mutual funds have been net sellers throughout highlighting the skewed demand supply picture. Companies that once tapped the market are now forced to seek other avenues. The shift in trend of corporate borrowings, including many NBFCs, to banks is quite visible.
With oil prices rising, what is the scope for fiscal prudence and the impact on fiscal deficit?
Significant rise in oil prices has led to demand for rollback of indirect taxes on fuel. The central go­vernment has expressed solidarity with the need to ease the burden on consumers, while reiterating its commitment to fiscal prudence. Positive traction in GST collections, helped by stronger growth should offer breathing space. At present, we don't fore­see high chances of the governm­ent meaningfully deviating fr­om the path of fiscal consolidation.
What do you expect RBI to do in August policy?
We have moved forward to a pha­se where both growth and inflation are picking up. Surge in core inflation is consistent with local demand pick-up. Near-term pri­nts are likely to overshoot RBI for­ecast for H1FY19, helped by the base effect amidst other factors.
However, rates seem to be pricing in 2-3 hikes. Any adverse rate action by MPC may not manifest itself in market rates immediately. But both global and domestic macro environment has changed over the past year. Glob­al central banks' persistence with policy normalisation is accelerating capital outflows from emerging markets. There is increased focus on twin deficits, especially CAD, which is expected at 2.50-3 per cent in FY19. This may eventually culminate in BoP risks. In addition, currency leakages & credit growth pickup is expected to keep banking system liquidity under pressure. It coupled with increased supply in the second half of an election year, may keep rates elevated through the year.
Will the recent tariff barriers erected by the US, China and other trading blocs turn into a full-blown trade war? What will be its impact on India?
There are lot of sound bites and noise around trade barriers. The­re is still no clear direction of wh­at on the ground steps are being taken. Full blown trade war is in no country's interest. Once the dust settles, trade environment will be better than what's being feared. Any escalation in trade barriers will slow world economy and to that extent it will impact India too. But direct impact on India will be significantly less th­an other emerging economies.
Do you see more pain for midcaps going ahead?
Midcaps that were driven by sentiments and liquidity flows could possible see some more correction. But, quality midcaps with sound business fundamentals; high earnings growth and strong franchisees should possible bottom out in near future as valuations become reasonable.
falaknaazsyed@mydigitalfc.com