,

Monday, 13 November 2017
Double-digit revenue growth in two-thirds of BSE 500 firms and select earnings beat give out hope that earnings revival is not far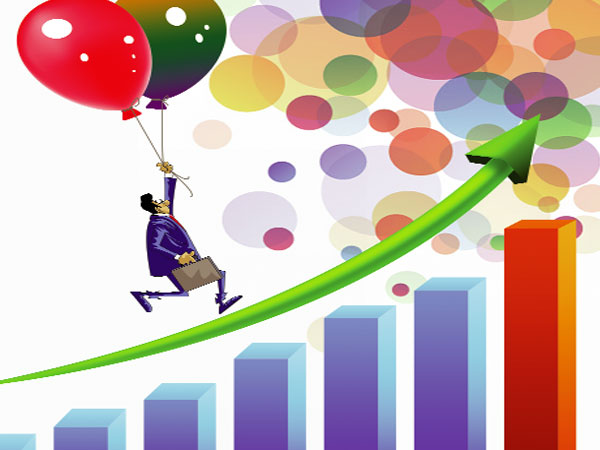 Over two-thirds of the BSE 500 companies have declared their second quarter earnings, but they leave no signs of the much-longed for earnings revival. For three years now, India Inc has been delivering weak-to-flat earnings quarter after quarter.
This time, however, the results have been relatively better and give out a hope that corporate India is on track for an earnings revival. For one, revenues have moved into double-digits, though operating profits have lagged far behind. On the whole, there have been pockets of good performance.
As many as 343 companies in the broader BSE 500 Index have shared their July-September 2017 working results. An analysis shows that their sales, or revenue, went up by 10.50 per cent in the second quarter of FY17-18 compared to the same quarter in FY16-17.
At Rs 9,77,057.58 crore, revenue for the 343 BSE 500 companies was up by Rs 92,865.68 crore over the year-ago figure of Rs 8,84,191.90 crore.
However, the profit after tax of these companies were flat at Rs 91,670.73 crore compared with Rs 91,528.48 crore in the year-ago quarter, showing a miniscule rise of Rs 142.25 crore, or 0.15 per cent.
The Ebitda, or earnings before interest, taxes, depreciation and amortisation, for these companies rose 4.61 per cent to Rs 3,40,459.58 crore in the second quarter against Rs 3,25,426.3 crore a year ago.
The sectors that did well included metals, consumer durables, automobiles and oil & gas. In the pharma sector, select firms, like Dr Reddy's Laboratories and Aurobindo Pharma, have posted good results.
The sectors which remained under pressure—with some good exceptions—included information technology, public sector banks (PSBs), and telecom, though investors were seen buying shares of PSBs and telecom firms based on their future outlook.
In fact, each sector saw select earnings recovery, more by the leader or a prominent company within that sector.
The banking sector delivered a mixed set of numbers. Leading public sector behemoth State Bank of India reported an improvement in asset quality, leading to a six per cent vault in its stock on Friday. In contrast, private sector lenders Axis Bank and Yes Bank showed a deterioration in asset quality.
SBI reported a surprising sequential fall in fresh slippages to Rs10,630 crore for quarter from Rs 30,060 crore in the first quarter of this financial year.
Said Asutosh Kumar Mishra, senior research analyst-banking & financials, Reliance Securities: "Sharp fall in fresh slippages has positively surprised us, as we were projecting slippages of around Rs15,500 crore for 2QFY18. On the core operating front, the bank delivered a healthy operating performance, as its operating profit surged by 22.7 per cent quarter-on-quarter to Rs 14,560 crore, led by a strong growth in net interest income (NII) and other income from normal operations, which were up 32 per cent QoQ."
A Care Ratings analysis of the second quarter performance of 23 banks, of which 10 are from the public sector and 13 from the private sector, confirmed a slowdown in non-performing assets, credit growth and deposit growth.
"After growing by a significant 105 per cent in Q2FY17, growth in gross NPAs slowed down to 26.3 per cent in Q2FY18. This may be ascribed to a cautious approach undertaken by the banks in lending, owing to increasing stressed assets in the past few years. Also, on an incremental basis, the recognition of NPAs has slowed down," Care Ratings said.
In the automobile space, Tata Motors came out with surprisingly good results. LKP Securities, in an earning review, called it a "great recovery in profits for Tata Motors after a lacklustre first quarter performance.
Tata Motors' Q2 consolidated numbers showed a 7.2 per cent year-on-year growth in top line, as both Jaguar Land Rover volumes and domestic business posted healthy growth. At the standalone level, revenues rose 35 per cent YoY on strong volume growth in commercial vehicles and passenger vehicles.
"Prudent cost savings coupled with higher volumes led to a sharp sequential surge from 1 per cent to 6.2 per cent. Also, JLR Ebitda margins zoomed up to 11.8 per cent from 7.9 per cent QoQ, as the forex hedge book losses reduced to 343 million pounds from 454 million pounds QoQ. As a result of this, the net profits grew by 174 per cent YoY to Rs3,080 crore," LKP Securities said.
Results in the oil & gas sector proved a saving grace, with both Reliance Industries (revenue of Rs 71,761 crore and profit of Rs 8,265 crore) and ONGC (revenue of Rs 18,964.85 crore and profit of Rs 5,130.74 crore) delivering higher profits.
Though it is too early to draw a conclusion on the Q2 corporate performance, the pessimism among analysts is giving way to optimism, with more good results and few bad ones and the pains of GST and demonetisation coming down significantly. Select companies said they were seeing a resurgence in demand post-GST implementation.
ICICI Securities, in an analysis, said, "Q2FY18 earnings of Nifty-50 companies have been in-line with expectations thus far, unlike the previous few quarters, which were marred with earnings downgrades. Corporate earnings thus far in Q2 have not belied expectations and have resulted in consensus EPS for FY18 and FY19 remaining stable." ICICI Securities said 10 companies in the Nifty-50 Index had beaten analysts earnings estimates by at least 5 per cent while only five companies had missed earnings estimates.
The 10 companies that beat earnings estimates included Reliance Industries, Ambuja Cements, Zee Entertainment, Infosys, HDFC, Maruti Suzuki, Bharti Airtel, Ultratech Cement, Tech Mahindra and Bajaj Auto.