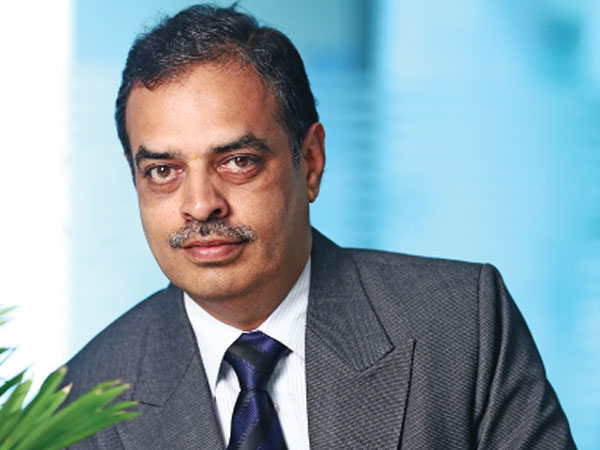 Valuations are a function of sentiments, interest rates (and hence P/E ratios) and earnings trajectory. Though our market looks sli­ghtly overvalued for the time being, if inflation and interest rates come under control around June /July and the US 10-year bond yields abroad don't stay above 3 per cent for long, then our valuations may not undergo a sharp de-rating, said Deepak Jasani, head (retail research) at HDFC Securities, in an interview with Ravi Ranjan Prasad. Excerpts:
The market has taken a bre­ather from continuous rise and volatility. How investors should approach such a market?
Volatility is a part of the equity market. Investors should not get complacent in good times. They must review asset allocation pl­ans at regular intervals. When the weightage of equity crosses their desired level, they should take profits and switch the required portion to other asset classes including debt. When the market is on the downturn, investors sho­u­ld spe­nd more time reading about firms and shortlisting them to buy at particular entry levels. Investo­rs must also keep in mind their strong and weak points and stay away from the action that would accentuate weak points. Hence, if the market seems to be in an intermediate downturn, investors may want to bottom-fish at every price. But unless they also have a trader's mindset, they would end up buying stocks, whi­ch after rising a little start falling – thus locking up their funds.
The institutional investors ha­ve taken a divergent view of the market with FIIs turning net sellers in February. Is India story not looking attractive any more?
Selling by FIIs is a function of 4 things: rising interest rates abr­oad, macro situation taking long­er to improve, corporate earnings recovery taking longer to recover with recent bank issues likely to result in more pain for the near-term and the rising concerns ab­out the outcome of 2019 general elections. FIIs compare dollar ret­urns likely to be earned in diff­e­r­e­nt markets vis-à-vis inte­rest rates pre­vailing in the devel­oped eco­no­mies. With interest rates on the upswing, they need more co­nfidence about the earning higher equity returns from different markets and stability in that market's currency vis-à-vis the dollar.
Are MF managers being prudent enough to deploy funds in market when the outlook is getting worse by the day?
Fund managers have a constraint not to keep anything beyond 6-8 per cent cash in their equity sch­e­mes as they are supposed to inve­st and stay invested in all marke­ts. In an uncertain market, the­ir job becomes more difficult rega­r­ding deployment of fresh inflows. They would typically put money in defensive and/or relatively che­ap under-owned stocks to ou­tp­erform peers and benchmarks.
The return from the benchma­rk indices in 2018, YTD, has tu­rned negative after close to 25 per cent return in 2017. What's yo­ur expectation from the market?
Investors have to scale down exp­e­ctations from equities in 2018 after a great 2017. In a year ahead of general elections, likelihood of equity as an asset class outperfo­rming and that too on a large base is not considerable. Review of asset allocation by investors to protect profits and raise cash to buy in market panics is one strategy that they can follow. Valuations are a function of sentiments, interest rates (and hence P/E rati­os) and earnings trajectory. Tho­u­gh our market looks slightly overvalued for the time being, if inflation and interest rates come under control around June/July and the US 10-year bond yields abroad don't stay above 3 per cent for long, then our valuations may not undergo a sharp de-rating.
Oil prices and GST collections will remain the key monitorables. The bond and equity markets will wait for a sustained rise in GST revenues from Q1FY19 and dow­nturn in inflation from Q2 before reacting either way. Any disappointment will lead to higher bond yields and lower equity market multiples. Interest rates could stay high, given the 3.3 per cent fiscal deficit projected for FY19 reducing the lure for equiti­es and impacting corporate profitability.
What are the next big triggers for the market after budget and Q3 earnings getting over?
Monsoon, GST collections pickup, growth in GDP sustaining and inflation moderating could be the next few positive triggers till the general elections are out of the way. In the meanwhile, the ruling alliance should not face big reverses in state polls due in the interim. While manufacturing see­ms to be reviving, global trade momentum must be maintained so that exports keep rising.
IT stocks saw a sharp rise in a falling market. Will there be a tu­rnaround by the next quarter earnings announcement?
IT stocks (both largecap and midcap) have done well and the BSE IT index has risen about 24 per cent since the September 2017 lows. This is a function of both mean reversion (the index and stocks didn't do much over the previous 10 odd months) and improving visibility for IT companies. Having risen well so far, they could consolidate for a while before starting the next upmove.
Which sectors may see big impacts of the government efforts to fulfill its poll promises?
Rural and infra are two spaces that could see a lot of momentum over the next few quarters. The effect of these spends will be visible immediately to boost chances of the ruling alliance in the next elections. Trickle down impact of these two spends can be felt in other sectors like metals, cement, engineering, automobiles, consumer durables, tractors, fertilisers, agrochem and FMCG.
What's your assessment of corporate performance in Q4FY18?
A year after economic disruption owing to demonetisation, corporate earnings are yet to move into high gear. Firms focused on the domestic market, especially cons­umer goods players, have recovered well in Q3. But higher energy and commodity prices have st­arted hurting local manufacture­rs. In any case, the negative impact on margins was cushioned by slower growth in staff co­sts, as well as interest and depreciation charges. Higher operating leverage owing to sweating of assets (higher capacity utilisation) has also helped. The Q3 corporate performance reveals a recovery in de­mand, partly aided by a favo­u­rable base effect (from last year's demonetisation setback), along with fiscal stimulus and improvement in global trade. Positive momentum reflected in a pickup in rural demand, translating into improved performance by auto­mobiles and consumer firms. Im­provement in global conditions, coupled with fiscal support, benefited sectors like metals, ports, construction and rural. Limiting factors include the lingering impact of GST transition, re-emergence of cost pressures, land acquisition issues, pricing power remaining feeble, continuing asset quality issues for PSBs amidst rising G-sec yields, and persisting distress in the agriculture sector despite the government policy interventions.
raviranjan@mydigitalfc.com