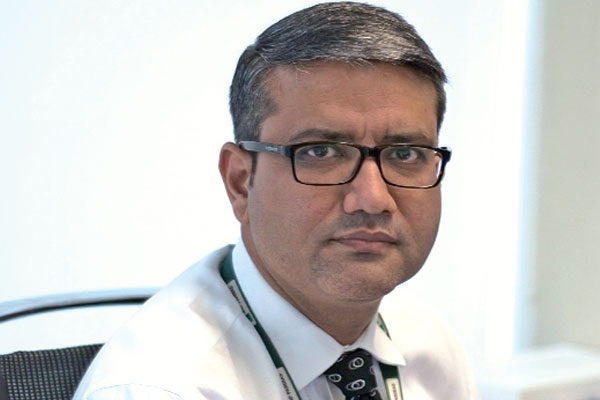 Referring to the recent outflows by foreign institutional investors, Ritesh Jain, chief investment officer, BNP Paribas Mutual Fund, tells Falaknaaz Syed that FIIs maybe, reallocating their capital to other emerging markets, which are cheaper than India, but a possible correction in both currency and equity markets could actually lead to inflows later during the year. Excerpts:
How do you read this quarter's results? Are there any signs of revival?
Demonetisation and destocking related to the goods and services tax (GST) may not give the right picture of corporate earnings on the domestic front and that's why we would have to be cautious about extrapolating this data. On the exports front, the companies have been facing headwind of currency appreciation, which has been reversing recently, and lack of growth opportunities.
Investment revival can give us broad-based growth and we don't envisage it happening for the next couple of years. Hence the revival of companies' earning is expected be narrow, led by consumption and government expenditure.
What is your outlook on foreign fund flows into India with the looming Fed hikes?
Foreign funds seem to be finding Indian bonds more attractive than Indian equities at present as India is having very high positive real rates and the competition for flows against other economies is less. In equities, foreign funds have not only made money in the rising markets but have also made attractive returns in currency because the Indian rupee was appreciating against the dollar.
The shrinking of the US Fed balance sheet could lead to volatility across asset classes and could be negative for the rupee. Slow depreciation of the rupee is not bad and could actually support earnings for select exporters and bring much needed inflation required to support the domestic industry.
The market is not responding to the risks emanating from North Korea? How do you see the valuations now and where do you see the index in the next 12 months?
It's difficult to predict and price event risks and generally rational markets don't respond to event risks. Equity valuations are expensive on most counts and hence there is an urgency of earning support. The government spending could bring earnings to select set of companies wherever this spending touches and hence the growth could be narrow and not broad-based.
Which sectors are you bullish on? What big themes are you betting on?
We are bullish on private financials, rural economy, select PSUs, materials, gas utilities and companies expected to benefit from China's drive to curtail pollution.
What is going to be your stock picking strategy – bottom up or top down?
We have been following a bottom up approach in identifying companies with sustainable earnings growth. But we also take into account fundamentals of a sector to which the company belongs. If fundamentals of a sector are improving then there are more chances of getting the companies right within that.
Why are foreign investors selling Indian equities the most among emerging markets? Will the outflows continue?
Foreign investors have seen good returns due to equities outperformance and the Indian rupee's appreciation as well. They are overweight on India compared with some other markets like China. So, they maybe, essentially, were reallocating their capital to other emerging markers that are cheap compared with India. A possible correction in both currency and equity markets could actually lead to inflows later during the year.
India's gross domestic product (GDP) hit a three-year low in the April-June quarter…
The Indian economy was not firing on all cylinders even before demonetisation but the April-June quarter GDP was below expectations. The extent of slowdown was more broad-based than previously thought about. Also, it was compounded by the short-term impact of both demonetisation and GST rollout. To counter the short-term impact of these two events it may be necessary for the government to run counter-cyclical fiscal policy by spending more in the underinvested areas of economy.
Should investors look at buying gold? Also, what's your take on debt funds?
We are in early stages of inflation and this stage is good for equities. This is also the stage where fixed income starts underperforming because rising inflation is bad for interest rates. Over the next 12-18 months it is possible this inflation might get entrenched and start negatively effecting corporate profitability.
That stage could eventually be good for gold. Thus investor should look at gold but only after one year or so.
What do you expect RBI to do at its upcoming policy meeting on October 4? What's your outlook on rate sensitive sectors?
We expect RBI to stand pat on interest rates because there is nothing RBI maybe able to do with the monetary policy to revive growth. On the contrary, any rate cut when inflation is rising could actually lead to rising interest rates and falling currency. We are cautious on weaker liability franchise banks and NBFCs, which were beneficiaries of demonetisation. The cost of funds for this sector may rise much faster than their re-pricing of assets, hence a chance of disappointment over next year.
What major global and domestic negatives could weigh on the market?
The US Fed shrinking balance sheet is actually one event that needs to be taken more seriously along with chances of US tax reforms. Both these are bullish for the dollar. Rising crude prices impact India more than any other G-20 countries hence this could be a headwind. On the domestic front, the market is underestimating the rise in inflationary pressures, which could also act as headwind for fixed-income markets.
What's your outlook on the banking sector?
We have a fairly positive view on the private sector banks as they not only are beneficiaries of financialisation but also taking market share from their PSU counterparts. In rising inflation and falling currency scenario, we need to be more careful in picking the right banks with good liability franchise and pricing power on the asset side.
falaknaazsyed@mydigitalfc.com
Promote to FC Interviews: