Time to invest in countries that would benefit from rising crude oil prices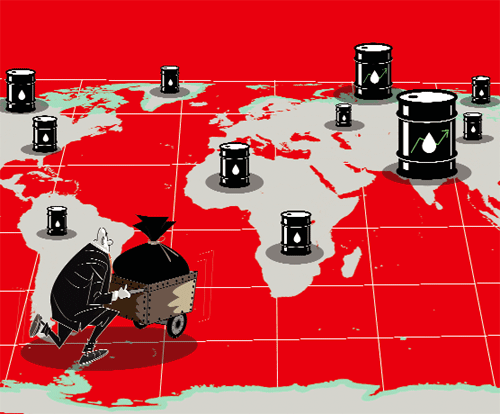 The year 2018 hasn't started exactly with a bang. Rather, a whimper could be heard from the very beginning that this was going to be a volatile year for India's capital markets. Four state elections scheduled for the year, seen as semi-finals to the critical 2019 general elections, were seen as scary enough to send money sitting on the fence to outside the market. Never mind that valuations have turned reasonable post-corrections in February-March.
While falling valuations and worries over the 2019 poll outcome have raised the anxiety levels on Dalal Street, a few international developments have changed the sentiment towards emerging markets, especially towards economies that have an adverse relationship with rising crude oil prices.
Crude oil has not only moved higher, crossing the $76-a-barrel-mark, last week but also stayed at elevated levels for more time than thought when this round of upward moves started in late November. Expectations that increased US shale oil production would cool off oil prices were also belied. The US has to pump out more shale oil if crude oil prices have to be tamed on a sustainable basis. But that hasn't been happening.
Another issue that vexes the market is the rising bond yields. The yield on 10-year debt paper has gone up sharply this year in India and abroad, raising the prospects of interest rate hikes across the global economy.
All this has placed the Indian equity market up against heavy macro headwinds, and the speed of winds would only increase going forward.
The market anxiety is already getting reflected in mid-cap performance and in market breadth. Mid-cap indices, which had done extremely well in 2017, have seen more bad days than good this year. The market breadth has remained negative even on days the Nifty moved in the green zone. It is only a matter of time before the sentiment gets even more pronouncingly reflected in valuations.
Given the way things are panning out, volatility is going to rise in the next couple of quarters.
When it happens, two trends would appear on the Street. First, the tendency to bring fresh money into equity would come down drastically; which means stock prices have to labour hard to move up. Second, incidences of sudden profit-booking would grip the market, in turn, pressuring the broader markets.
In such conditions, investors have two options, either to move out of equity as an asset class, or re-align their portfolio and buy stocks that fall less compared to high beta stocks. Most investors would shun the first option. But the second option gives one only partial protection, as even the defensive stocks had suffered value erosion in market downturn in the last ten years.
That calls for trying out something new to get positive returns. What about looking beyond the borders?
It may not be a bad idea to invest in countries and companies that gain from high oil prices. Brazil, Russia, Middle East and even the US can be investment destinations now for the domestic investors to gain from the rising oil prices.
However, some of these countries do not have a good stock performance record, since low oil prices had hurt their economies in the past. But their recent performance cannot be taken as an indication of their possible future performance. In fact, going by the concept of reversion to mean, their underperformance increases the chances of their improved performance.
Investors can board a flight to these markets through the mutual fund route. The Indian market has more than 70 mutual fund schemes—including same scheme variations—that invest in equity assets abroad. Schemes are available to invest in Brazil to Russia—which have the strongest correlation to oil prices, not to forget the US, China or Japan. Some schemes even focus on mining companies and the Chinese market through the Hong Kong route. Most of these schemes have done well.
The schemes that invest in equity markets across the globe have given better one-year return than many diversified schemes focussed only on the Indian market.
Still, mutual fund houses, for reasons best known to them, have not been selling these funds aggressively to retail investors. No wonder, assets under management (AUM) of some of these schemes are as low as Rs 5 crore. Most have abysmally low double-digit AUM to showcase. Just five schemes have crossed the Rs 100-crore figure in AUM. Maybe, fund houses must be thinking why bother when India investments are doing well?
Surprisingly, the cost of taking exposure to overseas markets is also not high. But for a few schemes where the expense ratio is more than 2 per cent, most schemes have highly competitive expense ratios compared with domestic stocks-focussed schemes.
So, savvy investors can stop worrying about the volatile Indian market and start thinking of possible opportunities available across the globe.
To start with, instead of putting in fresh money, it would be better for investors book profit in some Indian exposure and put a part of that in diversified schemes investing in overseas markets. Since investing in global sectoral funds has relatively higher risks, it is better to avoid sector-focussed funds, unless one is well-clued on the issues facing those sectors.
If one is still nursing the fear of the unknown and visualising an unexpected turmoil in global markets, keep in mind that no markets can weather a global turmoil. There is no phase in the history of global equity markets that the US market had witnessed a major correction and other equity markets managed to keep their head above water. Time to strap up for globetrotting.
rajivnagpal@mydigitalfc.com
(Rajiv Nagpal is consulting editor, Financial Chronicle)