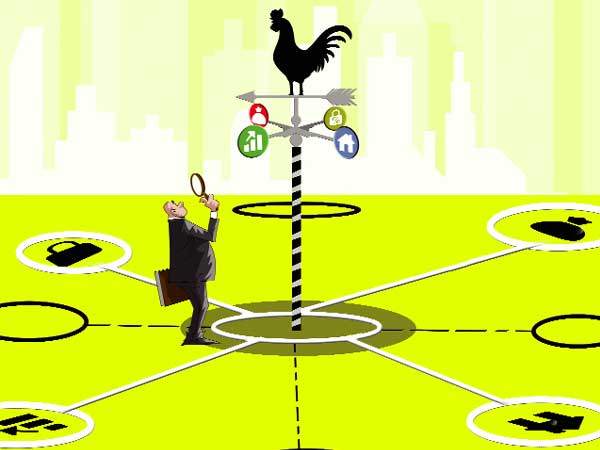 Market analysts are wont to get hyperactive twice a year. They get into a compulsive habit of reviewing the performance of various assets classes at the end or start of a calendar year. The second review, which perhaps happens only in India, is at the start of a new financial year. Just a couple of weeks back, the market was flooded with research reports giving out projections for the new financial year. A look at the projections and forecasts of the previous years might show most such predictions were way off the mark.
A primary reason for their projections going wrong is the inherent assumption that economic cycles see some kind of a reset at the start of a year, be it January or April. The assumption that the basic dynamics of an asset class would change for the beginning or end of a year is plain wrong.
Asset classes don't follow a month or year, rather they go through phases of extreme pessimism—when nobody wants to touch them—and extreme optimism, when everybody wants to own them. Now this desire to own or not to own an asset class depends on many factors. Essentially, when the underlying factors change, an asset class also changes its direction.
Instead of looking at various asset classes once or twice in a year, a better strategy for investors would be to find out if an asset class has remained stagnant for a long time. If so, it means that the asset class has been going through a phase of pessimism and can change for the better. Also, if an asset class has performed extremely well within a short span of time, it points to over-optimism in that asset class, and sooner or later the trend would change.
Broadly, investors can look at five asset classes to maximise their returns. These are: equity, debt, real estate, commodities and gold. Prices of the first three are largely dependent on the domestic economy's course while the other two are led by global developments.
Except equity, every other asset class has been overtaken by pessimism and bearishness for the last couple of years. These assets have hardly given any positive return in this period. So, a trend reversal, from bearish to bullish, would possibly come in asset classes with the longest stretch of underperformance.
In this context, real estate looks like a likely candidate for trend reversal. If the current assumption is that the economy is on course to a rebound, then there is no reason why realty should also pick up. The real estate market has been stagnant, or in decline, for almost seven years now and adjusted for inflation, the returns from real estate would be negative now. Whether it is residential or commercial property, the demand for it is related to how the income curve of individuals and corporates moves, and this curve can only be to upward from the present levels, barring unforeseen occurrences.
True, the real estate market is oversupplied now, but the lack of new supplies would take care of this problem over the next few years. A typical thing about the realty market is that when supply and demand are just about to match, prices move up exponentially, as momentum money also then starts coming into this space.
It does not mean an investor should jump into the real estate market next morning. But it is time to start looking for possible good investment opportunities. Indications that smart institutional money is ready to move into this space are evident from the large number of bids received for real estate companies going under the hammer at the National Company Law Tribunal.
Another long-languishing asset class, commodities, is a complex one to deal with. No single factor is responsible for price trends in most commodities in which the pricing mechanism is transparent. The reference to "transparent" here is about price being determined by demand and supply, and not controlled by vested interests. In the case of agro-commodities, rampant price manipulation is a bad enough reason why retail investors cannot even think of investing in them.
The prices of non-agro commodities are dependent more on the global economy than the domestic developments. As the recovery in the global economy gains more ground, metal prices will also move up. A global recovery would strengthen the US dollar, triggering volatility in commodity prices. This would present traders with opportunities to trade with a bullish bias, but would raise the risk for corporate investors.
Gold, a much preferred asset class in India, has seen a rising trend in the last two decades. The first leg of the rally in gold started in 2003, mainly from increasing liquidity in the global market. The second phase of rally was prompted by the global financial crisis, as money fled from the US dollar to gold. The yellow metal could be in for another phase of up-move if the geopolitical tensions escalate. One can see trading opportunities emerging in gold from the Middle-East tensions and trade war rumblings. Even a little bit of uncertainty would bring investor interest back to gold, as there is no over-ownership in gold now, even by institutional investors. Institutional flow of money to gold via exchange traded funds had not been high in last two years. Even a marginal rise in ETF demand could see a disproportionate increase in gold prices in the short-term, as gold has the tendency to attract the maximum amount of floating global liquidity.
Coming to debt, somehow, most investors have a problem with the term fixed deposit. Partially, the problem is from the perception of low return on fixed deposit. But it is often overlooked that when other assets give negative returns and capital is eroded, the fixed deposit and other debt instruments are at least protecting the capital, and if inflation is low, debt instruments will give good real return. At this point, when the yield on ten-year government paper has started to rise, it would not be the right time to look at debt instruments. Investors also have to remember that when the economic revival happens, interest rates would also move up, thus, eroding bond value.
As for equity, investors have to understand that indices and equity are two different things. While the lead index may do well, if the stock in one's portfolio is not doing well, the index performance has no relevance to one. As valuations arestretched, it is time for investors to track the prices of each stock, and move out of stocks with fired up valuations.
rajivnagpal@mydigitalfc.com
(Rajiv Nagpal is consulting editor, Financial Chronicle)